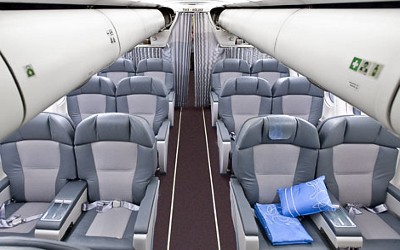 There is a slightly better seat and a handheld video console
Iberia has revamped its business class cabin for its medium haul routes around Europe. Rather than a radical change, it's more a move forward with a slightly better seat and a handheld video console.
Iberia - based as it is, down at the bottom end of Europe - has some very long thin routes, with not many customers on small planes that travel a long way. Consequently it uses an Airbus A319 on routes up to 6 hours long: nearly a trans-Atlantic flight, but with a decidedly cramp plane.
The new seat has a 50 inch pitch (1.27 metres), and reclines to half way horizontal, allowing an OK sleep. There are only 2 abreast on each side of the cabin, and unlike the old adjustable seat, this is a true, large, Business Class recliner, giving 14 seats in the Business Club section which are 21.6 inches wide, and have adjustable backs, head rests (four positions), leg rests and foot rests. There is a coat hook and a number of cubby holes for storing shoes and books.
The new seat has been installed on one of Iberia's A319 aircraft, with four more due to be fitted. The first flight takes off from Madrid to Malabo in Equatorial Guinea. Business Club seats will also be available on flights between Spain and Lagos, Moscow, Tel Aviv, and Cairo.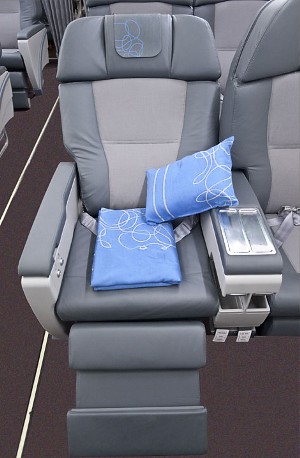 There is also entertainment - of a kind - on board. It has a PSP console preloaded 10 high-definition films, 10 television episodes (one in English), and ten audio channels. Alas, as bmi found when it introduced a similar system, it may not prove popular with passengers who have to choose between holding it, or putting it on the tray table, and not eating.
Business Club passengers are handed an new design of amenity kit and can use a soft pillow and matching double-sided blanket, with a polar surface for extra warmth.
Onboard the service is pretty similar, although there is a food service which includes an extra drink and snack, and new main course dishes designed by Spain's celebrated master chef Sergi Arola. A selection of Spain's unusual regional wines is stocked onboard, however these can be of an acquired taste.
Iberia's new class- called la Business Club Iberia - is part of Iberia's Strategic Customer Service Improvement Plan, which also includes the upgrading of Iberia's VIP lounges, some of which, like Barcelona, were in desperate need of a refurbishment.
In other news for Iberia, it is ramping up its New York flights from Madrid to twice a day, and also putting on the A340-600 Madrid to Boston, where there will be six flights a week in the summer. However Madrid to Washington is biting the dust at the end of the Autumn schedule.