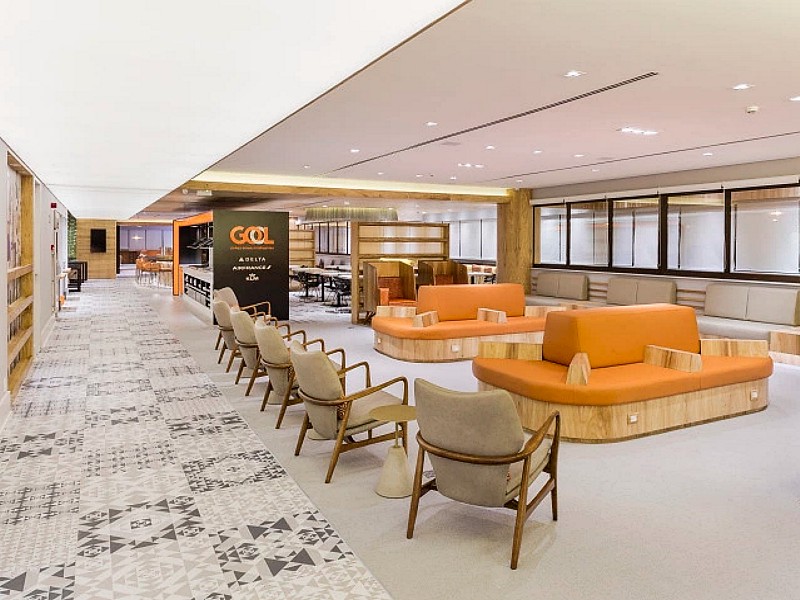 A brand new quasi Sky Team lounge has opened in South America. The GOL Premium Lounge at Sao Paulo airport now serves GOL, Delta, Air France and KLM business class, and elite frequent flyers. There is a great bar, balcony, and impressive dining.
A brand new lounge has opened at Sao Paulo airport in Brazil. Oddly, it has been opened by GOL, the largest low-cost airline in South America, where passengers can buy entry in addition to their ticket.
However it is sure to become a firm favourite for those on Sky Team airlines, with Delta, Air France and KLM business class, plus elite Skyteam frequent flyers, being offered access on main Delta and codeshare flights from Sao Paulo airport.
GOL's Premium Lounge in the international departure area of Sao Paulo Guarulhos airport Terminal 2 has a Brazilian inspired architectural design, and a great view of the airport. As soon as you enter you see a vast rammed earth wall, which the airline says is considered to be one of the most authentic manifestations of colonial Brazil culture.
Add to this an acoustic wallpaper installation, plus furniture created by Brazilian designers made from Brazilian native wood, and the lounge is one of the most unusual on the international circuit.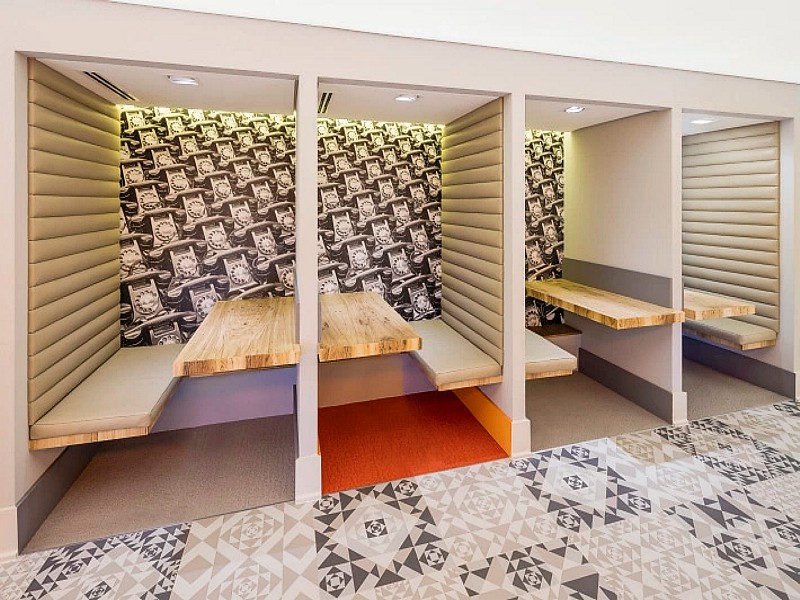 There is a large bar area, where drinks can also be made to order by a bartender, and what is titled a 'gourmet area', with a buffet.
The most spectacular feature is a balcony, 15 meters long, overlooking the airport, which like the rest of the lounge was designed by the studio Sa & Cioni Architecture and Interiors.
A TV room, computer centre, and free wi-fi complete the lounge.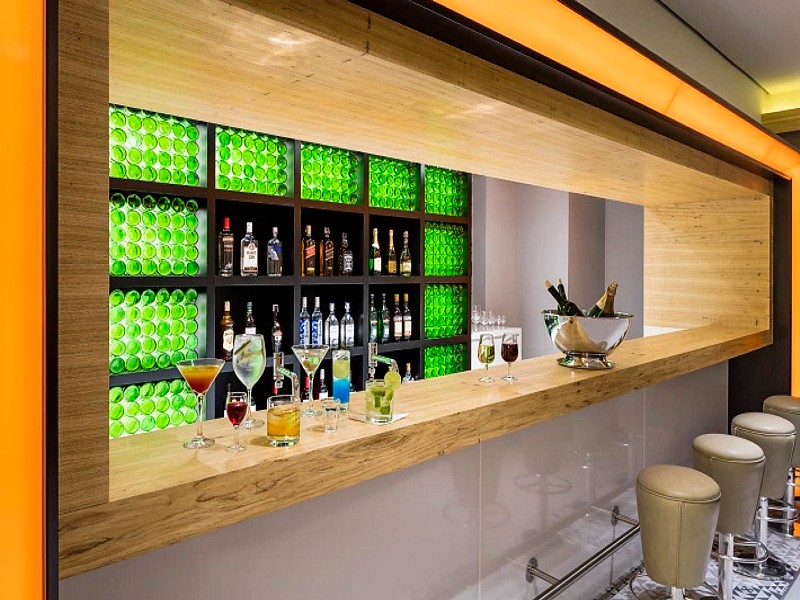 "GOL Premium Lounge was prepared so that our customers can enjoy a warm and modern environment, with wide range of differentiated products and services, making it the most exclusive travel experience," said Paul Miranda, director of Products and Customer Experience GOL.
The shower suites are certainly impressive, and the 'hanging' black brick seats in them will definitely become a talking point. As are the geometric tiles.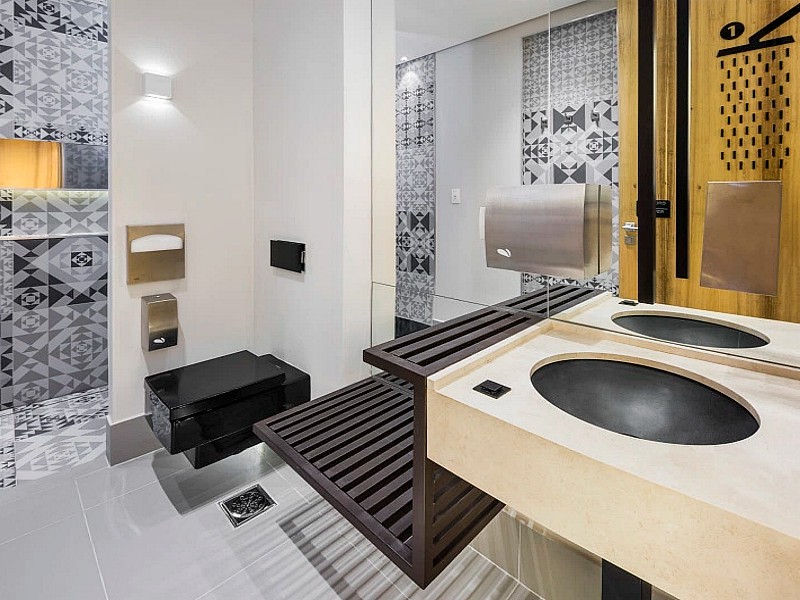 The new space GOL Premium Lounge replaces the old GOL VIP room in terminal 2 at Sao Paulo Guarulhos airport. The airline is also opening another new domestic lounge in Sao Paulo, and two new lounges in Rio de Janeiro.
The airline GOL incorporates a large part of Varig, which was sold to GOL in 2007 when it was under bankruptcy protection, and GOL operates many of Varig's old routes from Sao Paulo.
There is complementary access to the GOL lounge Sao Paulo for Diamond and Gold members of the GOL Smiles Program, and customers with cards Priority Pass Lounge Club Lounge Pass, Diners and Lounge Key.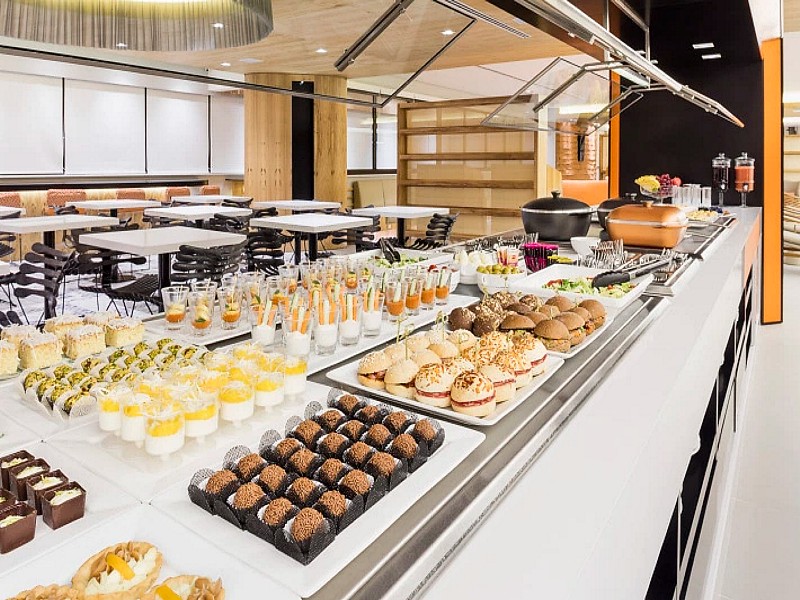 Delta business class, plus elite Skyteam frequent flyers, are given a voucher for access at check in. KLM and Air France depart from Terminal 3, however there are plenty of code shares that use Terminal 2, and here these elite passengers will also have access to the GOL lounge at GRU.
The lounge is also the Sao Paulo airport pay in lounge, at a cost of $50 USD.