The new noodle bar in the Cathay Pacific lounge at Vancouver is its main attraction, according to the airline which has fully opened its new Business and First Class lounge at the western Canadian city.
The new Vancouver Cathay Pacific lounge offers a Noodle Bar with a selection of soups including wonton noodle soup, dan dan soup and authentic Hong Kong-style fish ball noodle soup.
The new lounge measures over 500 square yards, with seats for one hundred people offering a comfortable environment of understated luxury in which passengers can relax before their one of the two daily flights out of Vancouver to Hong Kong or the daily departure to New York.
Designed by Studioilse, the London-based design firm led by Ilse Crawford, the new lounge features warm wood veneers and walls, in the same warm, natural materials that can be found in the other signature lounges for Cathay Pacific.
Lighting is kept dim - reflecting the natural light in the north of Canada, to create an environment that helps passengers feel relaxed by engaging the senses and focusing on 'wellbeing' as a core principle.
There are expanded food facilities at the new lounge provided by the Hong Kong carrier for its premium passengers. It offers and vista views through walls of glass overlooking the runways and the North Shore's mountains.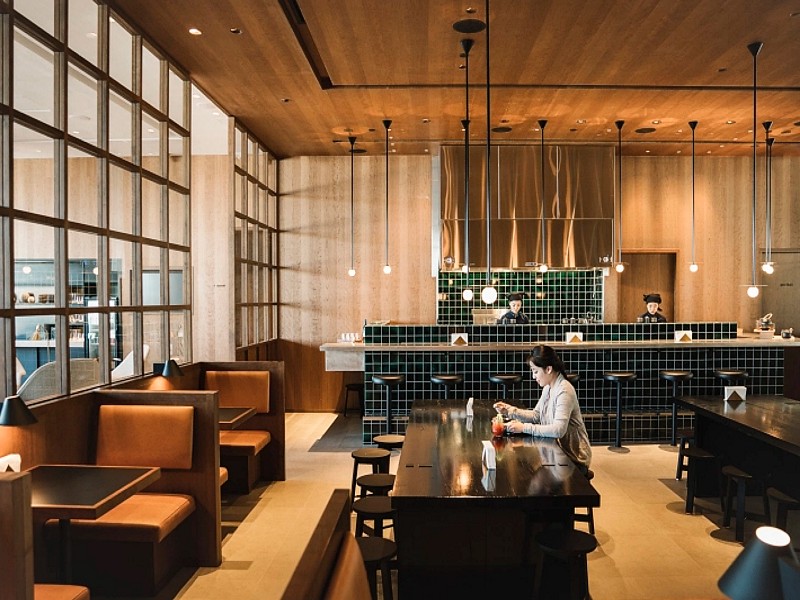 The new lounge is part of a larger initiative that Cathay Pacific has been undertaking to entice new business class customers.
"This is part of a much larger rollout of lounges around our network," said Nick Hays, Vice-President, Canada for Cathay Pacific, adding the airline faces a competitive market and is focused on reinventing itself both in the air and on the ground.
Specially sourced artwork reflects the local culture of British Colombia, along with many pot plants, and cherry wood walls and a limestone floor.
There are bespoke chairs and side tables with in-built lamps and mains power sockets placed by the windows passengers can enjoy views of the airport runway and mountains beyond.
There is complimentary Wi-Fi throughout the lounge and three individual workstations with iMacs and printers in The Bureau.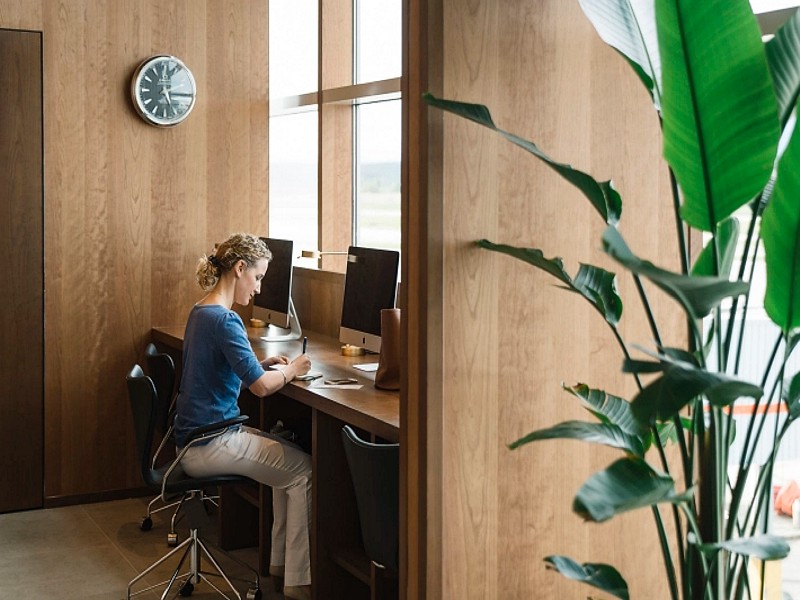 Located on the fourth level of the international terminal, the new Vancouver lounge is between departure gates D66 and D67.
The Vancouver Cathay Pacific Lounge is open daily from 10.30am to 3.00pm and 8.00pm to 2.00am.
Open to Cathay Pacific First and Business Class passengers, and members of the Marco Polo Club with Silver Card status, the new Cathay Pacific Vancouver lounge also accepts British Airways Silver and Gold members, and oneworld members with Sapphire status.