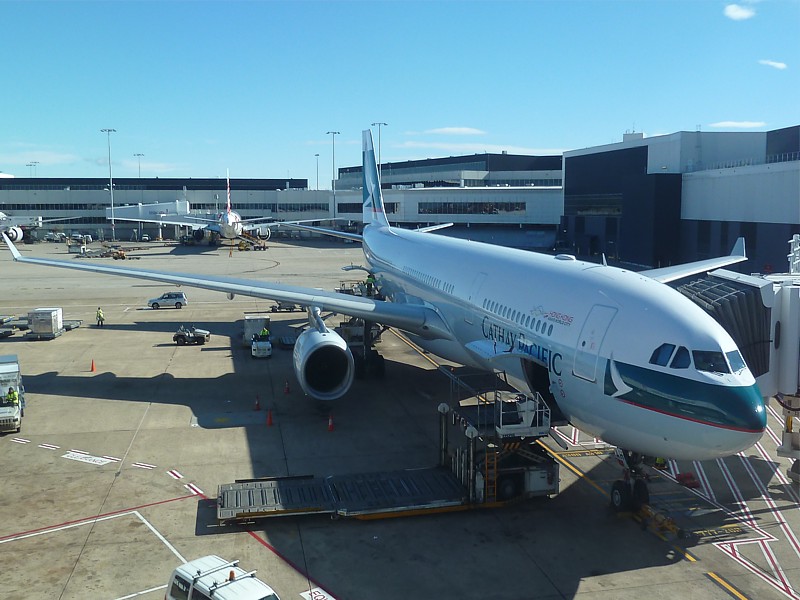 The newly revamped Cathay Pacific frequent flier scheme, the Marco Polo Club, will now offer some good rewards to high spenders, but firmly clamps down on perks for economy passengers flying on lower priced tickets. Open doors for Diamond members has been axed, and it will be much harder to earn status.
The new Cathay Pacific Marco Polo Club will move to a points-based system for status, which the airline says more accurately reflects their spend with the airline. However Cathay Pacific and Dragonair acknowledge the shake-up will hurt economy class and short-haul passengers.
Changes to the points-based model will hurt regular travellers flying only short-haul. For example, at the moment 80 economy class flights between Hong Kong and Taipei earns top-tier Diamond club status, giving access to the First Class lounge. That bar has been moved considerably higher, to 240 flights; in effect meaning that passengers would have to fly on Cathay every other day of the year to get access to the First lounge if in economy.
Marco Polo will continue to have the four tiers, but the new points based system means more flights are required to get status.
Travellers who can only just qualify for basic mid-tier membership will find it more difficult to retain that status. This is the lowest level of Cathay status which offers lounge access. However, a previously rumoured plan to axe that perk entirely has not been implemented, possibly because it is a listed perk with oneworld.
It is very similar to the changes which British Airways and Qantas have implements. For example, we at lux-traveller reported a few years ago on Big British Airways Executive Club changes which meant that Gold status no longer gave open doors access to the lounges, and which increased the points required for Gold from 800 to 1500 for EU members.
Fees
Members of Marco Polo who fail to earn enough points (a basic of 100 a year) to stay in the club will be ejected or face an annual renewal fee of US$100 (HK$775) instead of a one-off US$50 joining fee.
This $50 fee to get Green status gave members access to priority boarding , just the same as business class passengers. Cathay Pacific will keep this, but the fee is now $100.
Tier Levels
'Club Points' will become the new and sole determinant of Marco Polo Club status, superseding both 'Club Miles' and 'Club Sectors'.
The number of Club Points you'll earn in the air depends on the airline you're travelling with, the class of service, your specific fare type and the distance of your flight.
For example a cheap economy flight from Hong Kong to Taipei earns just 5 points. Even a Business Class seat earns just 15 points.
Flying the 5990 miles from London to Hong Kong now earns just 10 points in economy (S,N,Q class), requiring 60 flights in a year to get lounge access. However a first class flight earns 125 points, so just two and a half flights a year gives Gold status, and lounge access to the basic Business Class lounges.
A new change is that the cheapest economy class tickets, S, N and Q classes can now accumulate points towards status, much as with the BA changes where cheap economy tickets now also earn towards status.
Sitting in the middle, in Premium economy, earnings are pretty much the same, with a return flight from Sydney to Hong Kong earning 70 to 90 points, depending on the fare type.
Old
New
Oneworld status

Green
Four flights
100 points

Silver
30,000 miles or 20 flights
300 points
Ruby

Gold
60,000 miles or 40 flights
600 points
Sapphire
(lounge access)

Diamond
120,000 miles and 80 flights
1200 points
Emerald
(First lounge access)
At the half-way point between each tier upgrade, members will be given at least one business class lounge pass for one-time use.
There are also four bookable upgrades for regional sectors at 1,000 points for Gold members
Distance Zones
The new Cathay Pacific Marco Polo club status point distance zones are based on miles flown.
A real curiosity is that Cathay Pacific have a huge mileage range for what it classifies as 'short' flights. These are from 751 to 2750 miles. By contrast British Airways considers anything over 2000 miles to be worth of very long haul tier points. This includes for example trans-continental in the US and Australia (Perth to Sydney is just over 2000 miles), however Cathay consider it only a short hop worthy of short status.
Ultra Short flights include flights from Hong Kong to Taiwan. Short is most of China and Japan. Medium is just Cairns and Dubai. Medium-Long has the rest of Australia and Doha. Long is Vancouver, Paris, Frankfurt, Rome, Amsterdam, Auckland, London, and Los Angeles. Ultra long is Toronto, Boston, Chicago, New York.
Fare Classes

Ultra-short

1-750 miles

Short

751-2750 miles

Medium

2751-3700 miles

Medium-long

3701-5000 miles

Long

5001-7500 miles

Ultra-long

more than 7501 miles

First
F, A

20

35

70

100

125

140

Business 1
J, C

15

30

60

85

105

120

Business 2
D, I

15

25

50

70

90

100

PremiumEconomy1
W, R

10

15

30

45

55

60

PremiumEconomy2
E

10

15

25

35

45

50

Economy 1
Y, B, H, K

10

15

25

35

45

50

Economy 2
M, L, V

5

10

20

30

35

40

Economy 4
S, N, Q

5

5

5

10

10

10

Example
HongKong to

Taiwan

China (Beijing, Chengdu, Qingdao, Shanghai), Japan, and India and Indonesia)

Cairns and Dubai

Adelaide, Brisbane, Melbourne, Perth, Sydney and Doha

Vancouver, Paris, Frankfurt, Rome, Amsterdam, Auckland, London, and Los Angeles

Toronto, Boston, Chicago, New York
The new points-based system at Cathay Pacific will start on 15th April 2016.