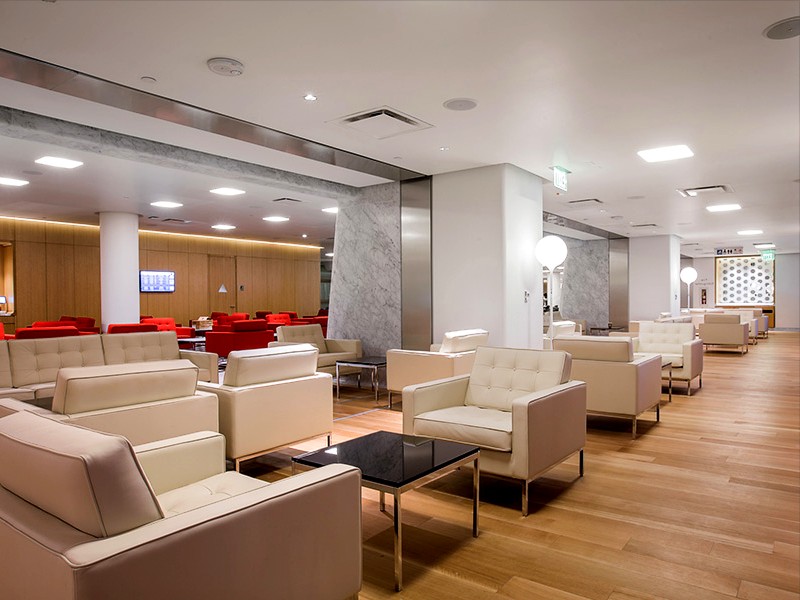 The combined Qantas, BA and Cathay LAX lounge has an 80 seat restaurant and long cocktail bar.
The Los Angeles LAX Qantas First Class lounge is now fully open.
The Qantas lounge is the LAX oneworld lounge, and as such it is also the new British Airways and Cathay Pacific First Class lounge Los Angeles.
And what a lounge. There is an 80 seat restaurant and bar with an theatre style kitchen and an la carte dining options from a Neil Perry designed menu - yes, him of the Rockpool restaurant fame.
Although initially when it opened some facilities weren't ready, it is now fully up and running, the full glory of the Marc Newson designed lounge is ready, with an updated, very contemporary look which more than triples its previous space.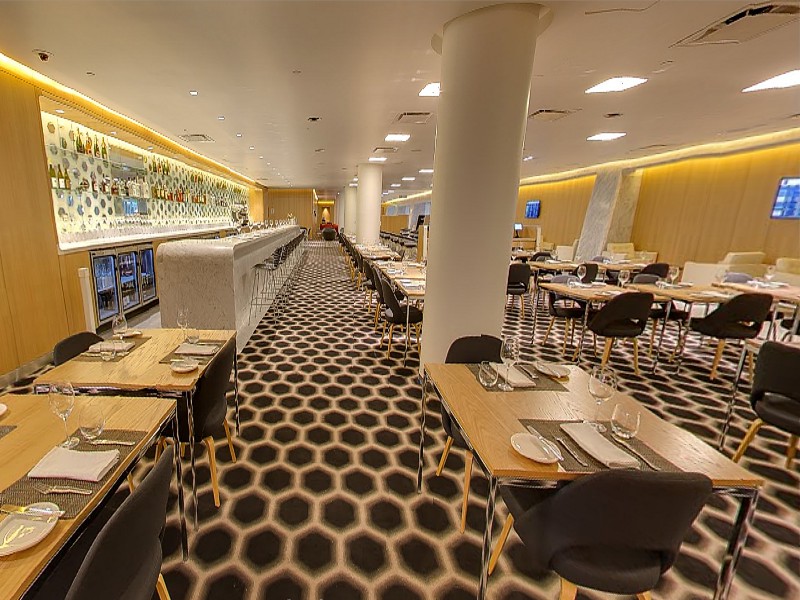 Light, bright, and welcoming, the Qantas First Class LAX lounge includes a very 'local' influence, with Newson selected Californian Knoll furniture, walls made of American oak, a vast floor with Tuscan Carrara marble, a bar that is nearly 50 feet long and Tai Ping wool carpets from Hong Kong featuring the Qantas First Lounge hexagonal design, which also features in the new Hong Kong and Singapore lounges.
The main body of the lounge has Qantas large white leather armchairs, on a wooden floor, while opposite the vast floor to ceiling windows are large deep red chairs, perfect for a slumber while watching the planes go by.
On the inner part of the lounge there is that eye-popping hexagonal carpet, with similar arm chairs but this time in deeper orange.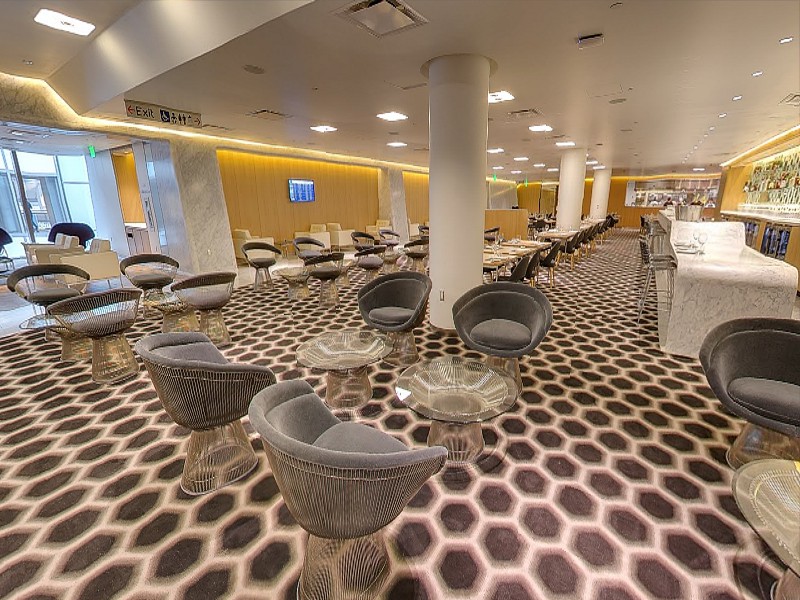 The bar is on the inner wall of the lounge, and as you might expect it is one long piece of marble, with racks of spirits behind, and the classic smaller bar stools, which we can confirm are pretty high off the ground: you need to use one to climb into another.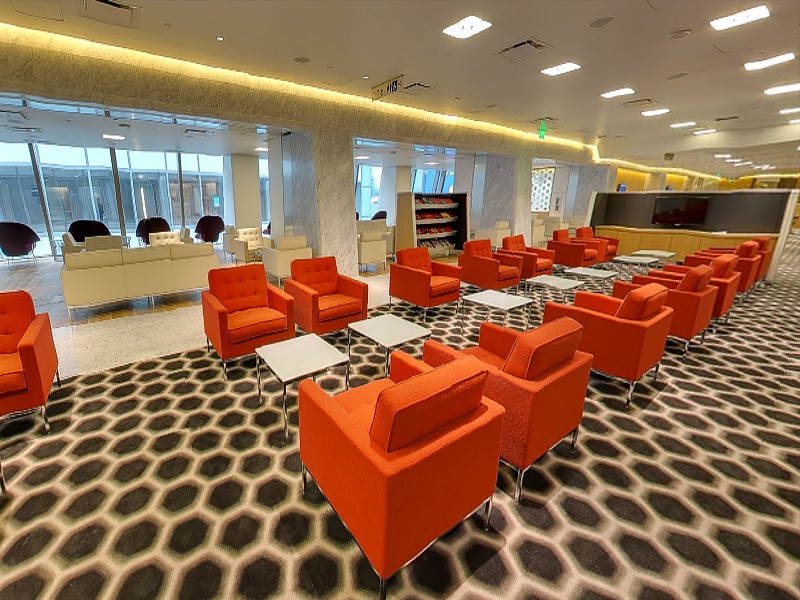 The bar offers almost as good a wine selection as the Qantas First Class lounge in Sydney, but with some Californian wines for good measure, as well as the ones from New South Wales and Victoria.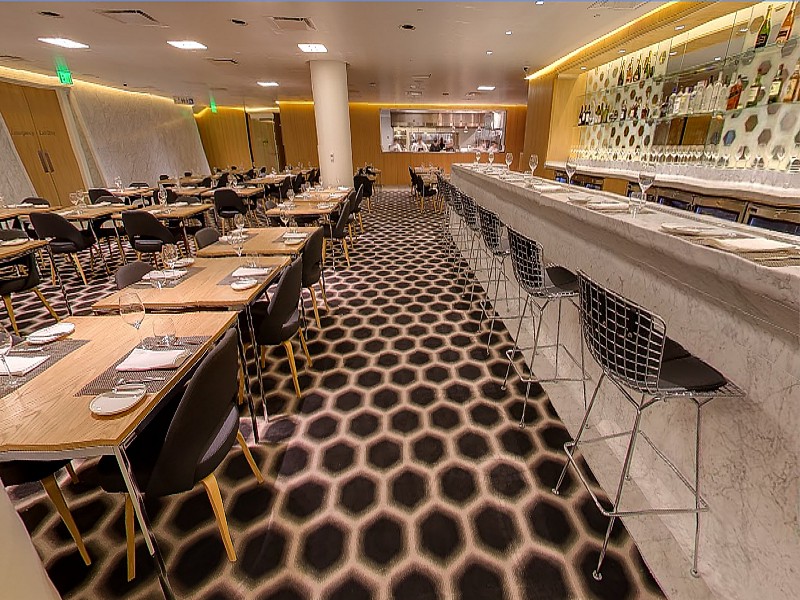 The bar is open all day, as is the restaurant, which has classic signature dishes similar to those on offer in the Sydney lounge, including Black Angus steak with chipotle lime butter. There is also a good selection of dishes inspired by the city of Angels; in effect Italian and Mexican food, with a lot of pasta.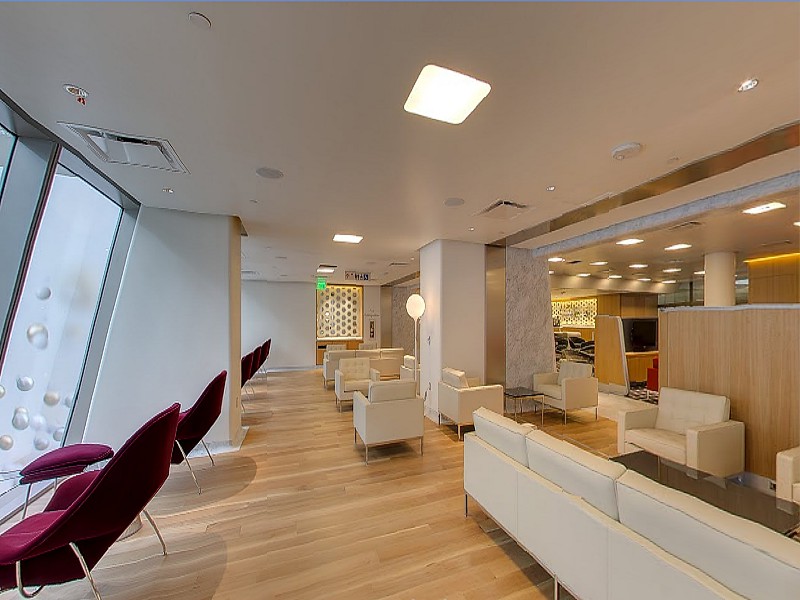 However if you wish to dine at the seats around the lounge, you can also eat from smaller plates either at the bar or at your seat.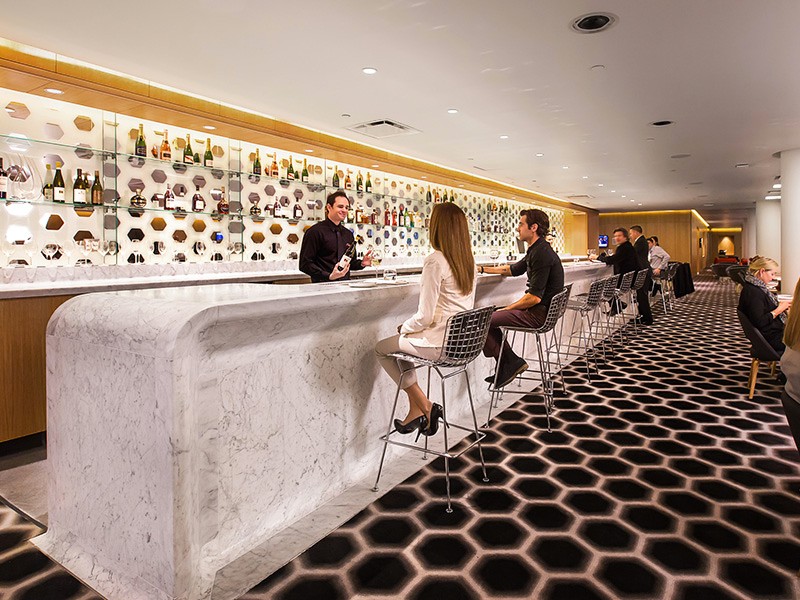 Business facilities are kept pretty low key, with just two private work suites, although you can book these free of charge, plus seven shower suites featuring Australian Aurora Spa products.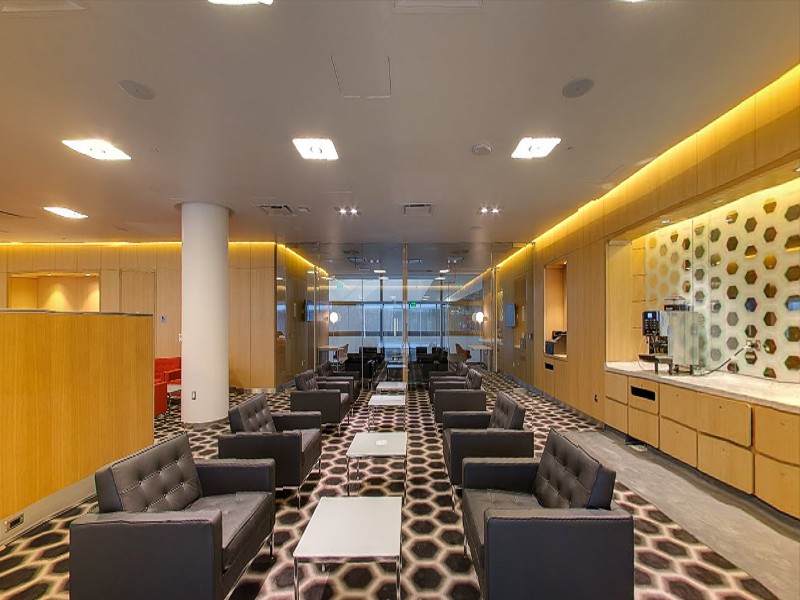 Now that the First Class lounge is fully open, Qantas has turned its attention to overcrowding in the main Los Angeles Qantas Business Class lounge, which lux-traveller reported on in June. The 400 seats there often get full, and Qantas is half way through expanding that lounge to 600 seats, with more seating on the terrace outside the Qantas business lounge LAX.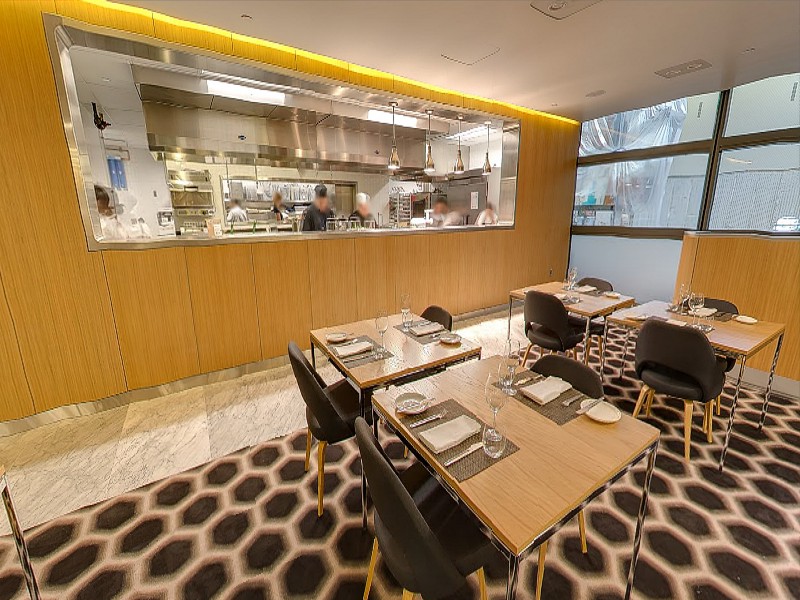 The lounge is in the new Tom Bradley International terminal, or TBIT as the terminal is inevitably known. The newly revamped terminal has a 'Great Hall' with 140,000 of restaurants and shopping. From October if you arrive on a domestic flight from T3 or T4, you'll be able to walk straight into the International Terminal without the need for an additional security check through secure corridors to Terminal 3 and 4.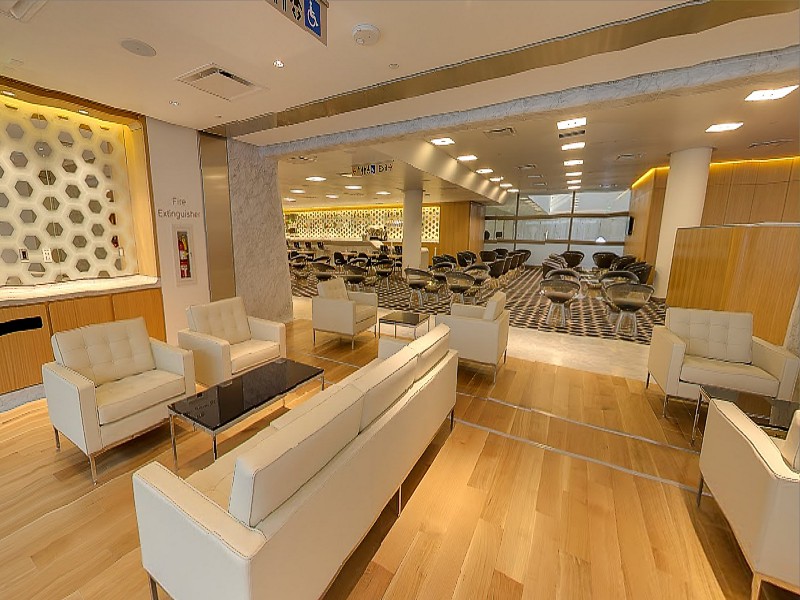 Both lounges are airside on level 5 of TBIT, and open 0630 to 0030. For access you'll need a First Class ticket on Qantas, British Airways, Cathay Pacific ticket, or any other oneworld carrier, a British Airways Gold or Qantas Platinum frequent flyer card, or oneworld Emerald status.