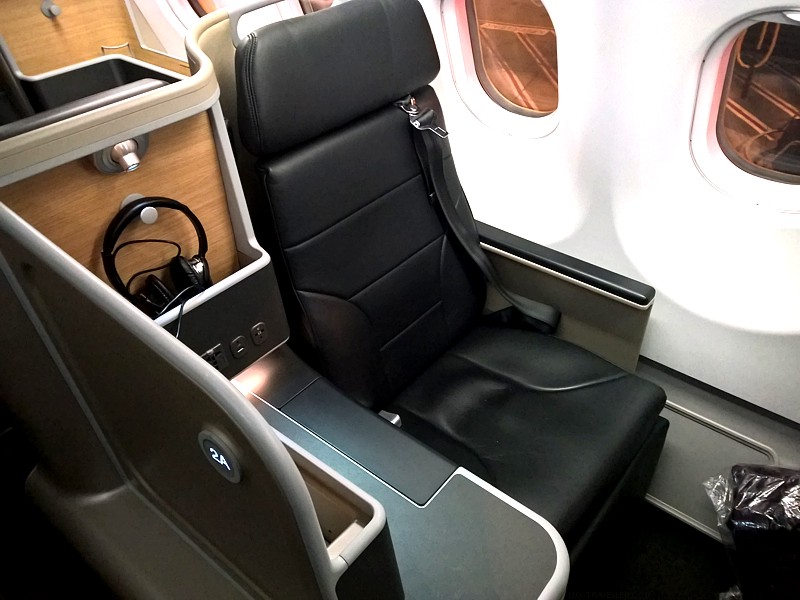 Qantas is continuing to revamp it's wide-body domestic aircraft, and now has five domestic Airbus A330s reconfigured with the new Business Class seat. To celebrate Lux-Traveller took a trip to check out the new cabin.
Qantas' latest generation business class seats converts into a fully flat bed 80 inches long, which is just over 2 metres. The seat is 25 inches (63.5cm) wide including the arm rest, is leather covered, and it is possible to have the seat partially reclined during a flight's taxi, take-off and landing stages.
Seats are arranged in what is fast becoming a normal 1-2-1 configuration, with one seat by a window, and the opposite staggered, so your feet fit into the hole created by the following cocktail table. However, this is great if you are on your own, as it gives one-step access to the aisle.
Aisle side seats have an armrest which retracts to effectively add an extra 5cm to the total seat width, however window side or half of the middle seats do not.
There are pairs of seats in the middle, with a large partition that doesn't slide down, and which doesn't allow you to walk - or indeed talk very easily - from one side of the aircraft to the other.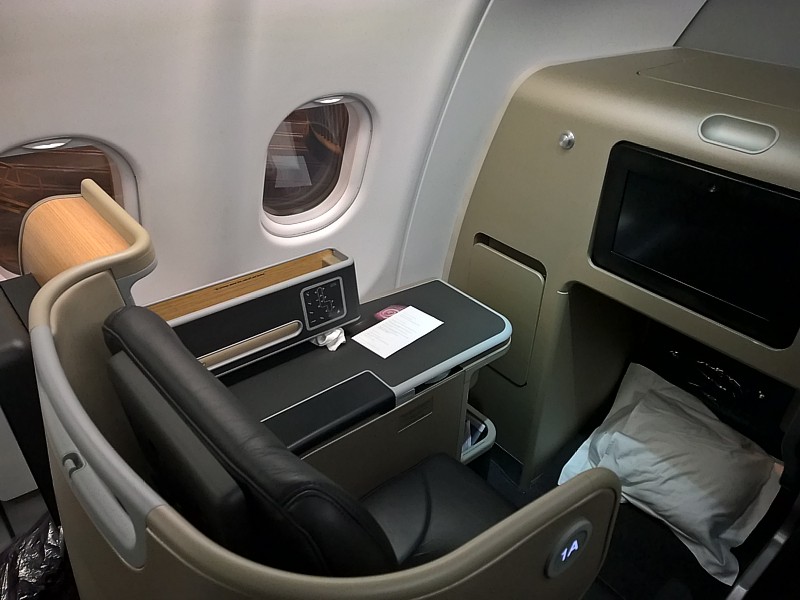 Every seat has a side table created by a console next to the seat, and there is a large L-shaped shelf with a side bar for stowing magazines, menus, and indeed the noise-reducing headphones which are on a hook next to the seat, along with an LED reading light, complemented by another light under the shelf. On the outside of the shelf are sockets for the headphones, USB and AC power.
Even on daytime flights, each seat has a sleep service mattress and cover which you can put on if you want some shut-eye. There is also a Do Not Disturb light you can press to ensure you get some decent sleep.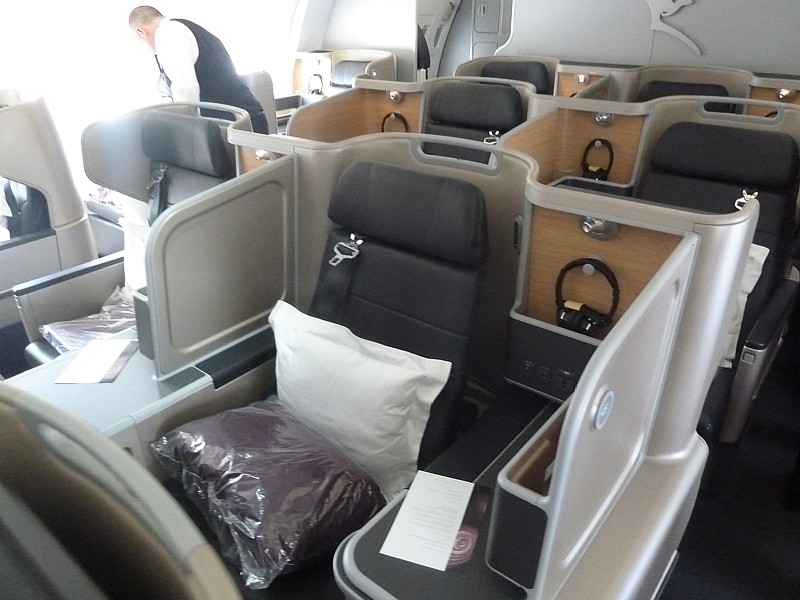 There are some nice touches too, such as a mirror concealed inside the lid to the remote control to ensure you look your best on landing. Only bulkhead seats get a pop-out hook for jackets: on the rest there is a small cut out in the seat back handle, which also works.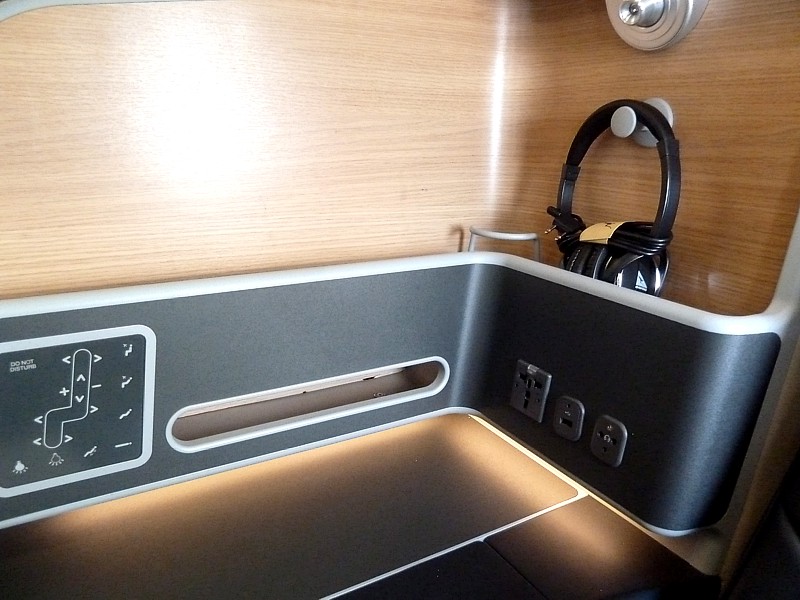 Every Business Class seat has a 16 inch video screen, with AV on demand. The interface is new and pretty intuitive, but watch out for pressing the little man button. This doesn't show your settings - it brings the crew running. Pressing the airplane button at the bottom of the screen brings up the usual moving map. The screens are touchscreens, but also work with the older controller under the flap.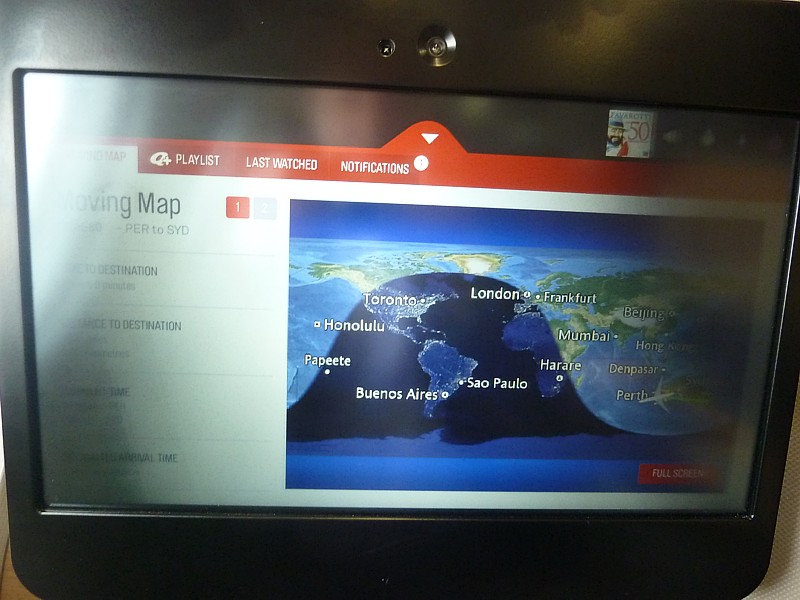 The cabins are also now revamped for Qantas' Q streaming wifi system, which means you can watch inflight films and TV programmes from a tablet or smartphone.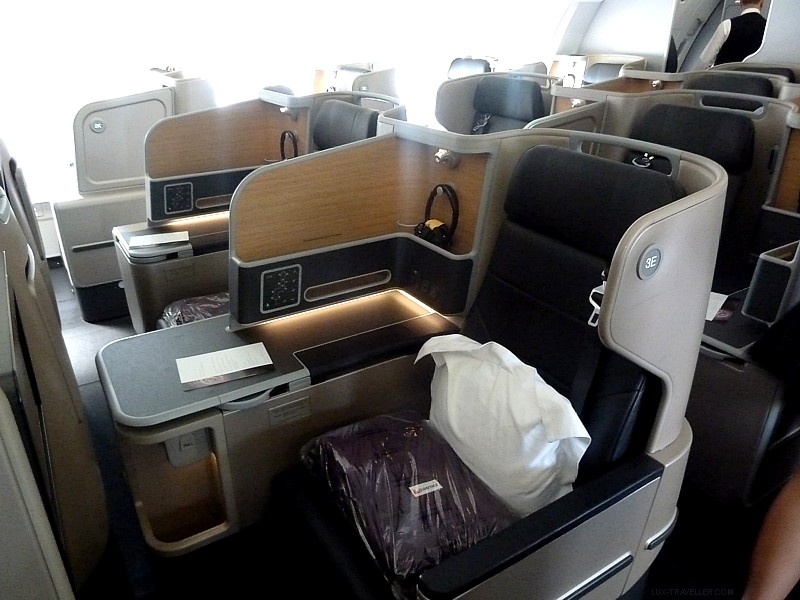 The old 36 recliners at the front of the A330-200 have been replaced with 28 'Business Suites'. There are two cabins - the main Qantas A330 Business Class cabin has 22 seats at the front of the plane, and is followed by a much second smaller cabin, separated by the Galley and right ahead of economy with just six seats, of which only two are windows, sitting in glorious isolation.
The new Qantas A330 Business class seat is also approved for a gentle recline during the taxi, take-off and landing stages, however on our flight the crew insisted on the seat being totally vertical, and seemed to be experiencing the seat for the first time.
The reclined position requires the use of a three-point seatbelt for maximum safety, although again our crew insisted on its use at all times.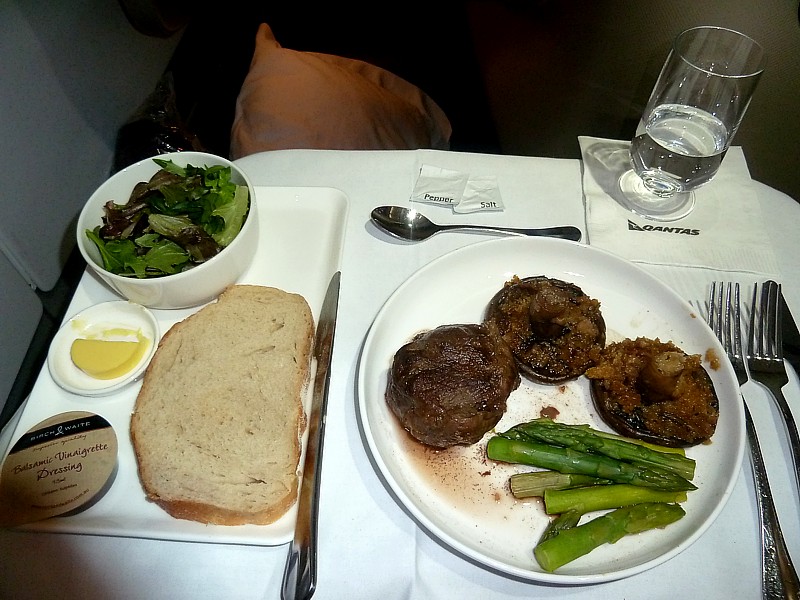 The A330 Qantas Business class seat slide out tray is large - very large - and rotates out from under the side table. The only hassle is it impossible to move out past it if you need to when it is set.
Meals are fairly standard affairs if you are fly east-west coast, with a three course lunch or dinner. Menus are on the seats before you sit down, and then trolley comes down first with drinks about an hour into the flight, and then with the first course. Alas this generally comes with what Qantas call a salad, but which is actually just a bunch of lettuce leaves.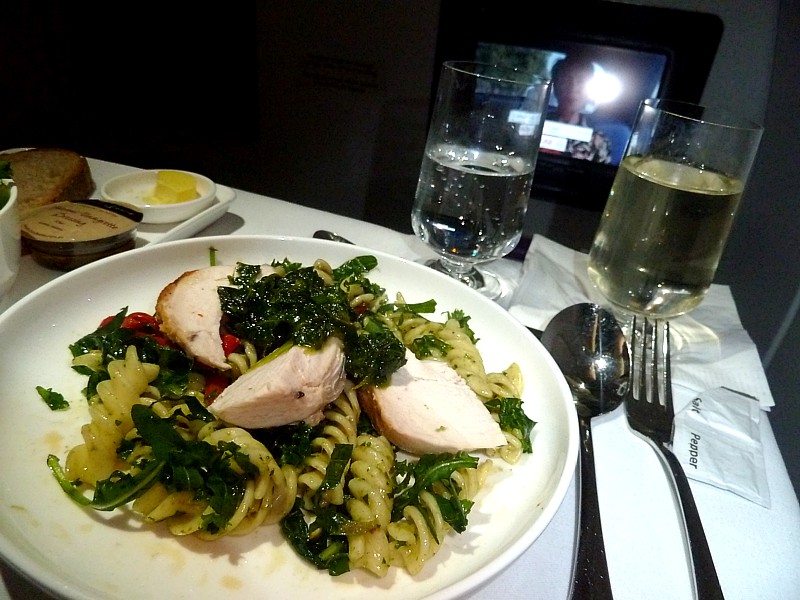 However, the crew on our test flight just seemed to want to get home, and after running around with the main course, left the cabin to fend for itself, only coming out to top up drinks nearly an hour later. A test press of the call button took 12 minutes for the crew to come, and another 17 minutes for the requested cheese course to arrive.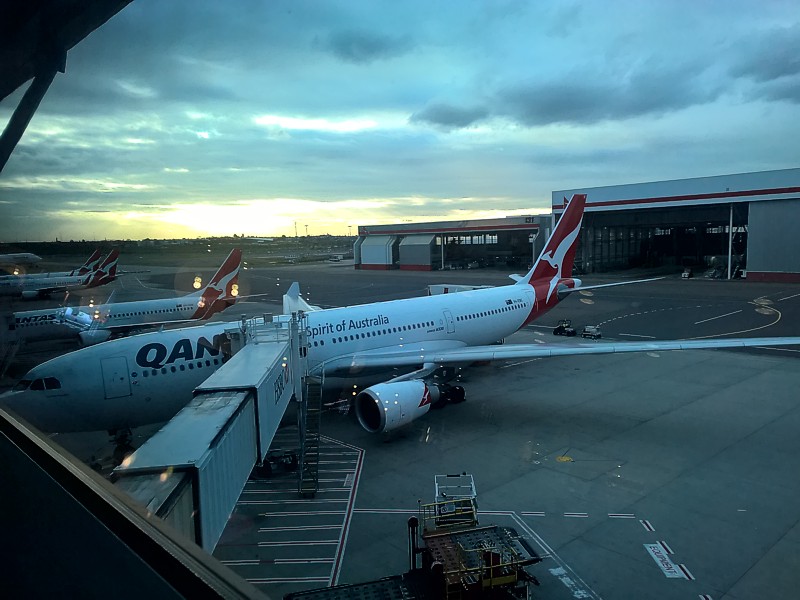 Things have come a long way since the first domestic service with the new cabin in the A330 ran between Sydney and Perth in late December 2014. There is now a reasonable expectation of flying in the new cabin how that Qantas A330-200 VH-EBS has returned to service. It had been under maintenance in Brisbane since late April, but has now been reconfigured with 28 Flat Beds in Business Class.
The Business Suite will most often fly on the transcontinental routes of Sydney and Melbourne to Perth, but also occasionally appear on Sydney-Melbourne and Sydney-Brisbane as Qantas works to make the most of its twin-aisle Airbus A330s.
Converted aircraft are the first, VH-EBV, plus EBA, EBJ, EBS and EBN. Examining the past week of flights, the converted aircraft seem to most often appear on Brisbane to Perth, QF597 and QF589 plus Perth to Brisbane QF598 and QF650, Melbourne to Perth the best flights are normally QF481 and QF485 plus Perth to Melbourne QF648 and QF652. Perth to Sydney QF568 and QF580 plus Sydney to Perth QF583 and QF575.
Qantas says that more than half of its A330 fleet is expected to be refurbished by the end of December 2015.
Lux-Traveller flew on the Qantas A330 in Business Class at our own expense. All photographs are copyright Lux-traveller, and are not permitted for use on any other website.