New Cathay Pacific Tokyo Haneda lounge opens
The Noodle Bar serves Dan Dan Noodles and there is also a new Short Bar.
The new Cathay Pacific Tokyo Haneda lounge opened this morning.
It is one of the largest lounges outside Hong Kong for Cathay Pacific, with nearly 1000 square meters of space, and seats for 200 people.
As befitting a lounge where flight times are generally short to Hong Kong, many people will choose to eat on the ground, and as a result the lounge has a strong focus on food and the bar.
There is a version of The Noodle Bar, an iconic feature of Cathay Pacific lounges worldwide. Here you can take a seat (round leather ones this time) at the tiled bar, where there are the usual favourites of freshly prepared Asian noodles including Dan Dan Noodles and Wonton Noodles in Soup.
However reflecting the local area, in the early morning until 11am, authentic Japanese breakfast items and French toast are also served, although noodles are still there too. If you don't want to sit at the bar, you can take a seat at the neat 1+1 tables opposite the bar, or lining the windows with a fine view of Tokyo airport apron.
There is a more European flavour to the Food Bar, where there are wraps, sandwiches, quiches and salads.
However it is the Short Bar which is sure to be popular. Open all day, there are cocktails, including Cathay Pacific's signature drinks, plus the usual beer and wine, and a Japanese hint with three types of Sake rice wine, as well as barista-made coffee, pastries and other desserts.
Hotel Okura Enterprise manage the food and drinks for Cathay Pacific. A Japanese chain, it has a good reputation for quality.
The main part of the lounge has a large number of comfortable arm chairs ,most of which have big side tables with inbuilt lamps and power sockets. The decor is main cherry wood walls and a limestone floor. There are large floor to ceiling windows with a great view of the airport.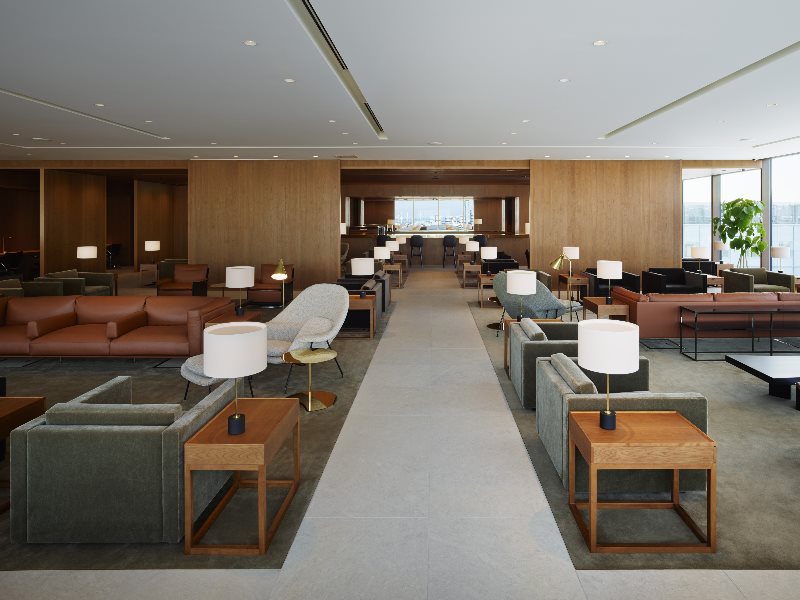 There is a small business centre, called The Bureau, which has four workstations with Cathay's usual iMacs, plus a printers.There is the usual free Wi-Fi throughout the lounge.
Designed by Studioilse, the London-based design studio led by Ilse Crawford,with design touches including glazed screens and green ceramic tiles. The new Cathay Pacific Tokyo Haneda lounge is tucked away on Level 6 near Gate 114.
The Cathay Pacific Tokyo Haneda lounge is open from 0730 to 1700.
The Haneda lounge is mainly used by Cathay Pacific's two daily flights to Hong Kong, at 1045 and 1625, but it also becomes the Haneda lounge for Qatar Airways, however the British Airways lounge Tokyo Haneda for the evening flight to Heathrow, remains the newly revamped JAL Sakura Lounge & JAL First Class Lounge Haneda, which is open until 0130 in the morning.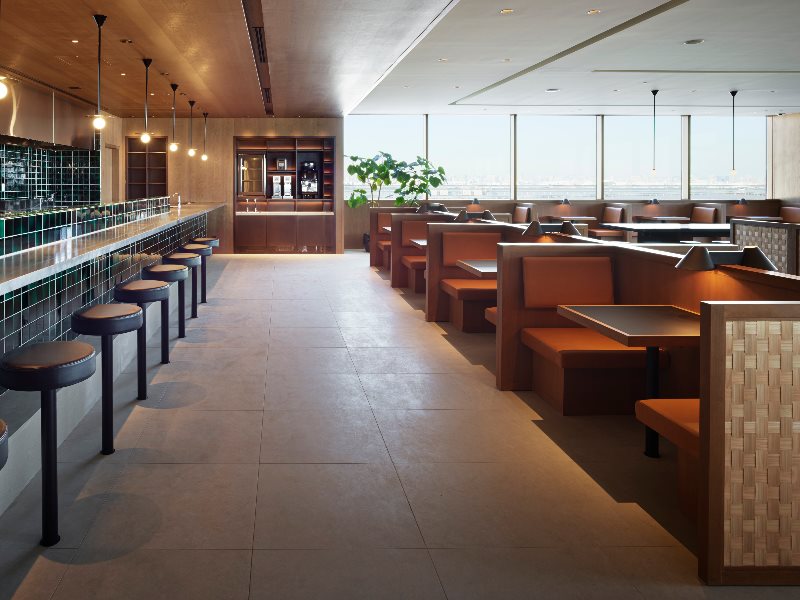 Tokyo Haneda is rapidly becoming popular for international flights, because it is only 25 minutes from the city, compared to over an hour on an expensive express train from Narita airport.
Qantas will also start daily flights to Tokyo Haneda, and will use this lounge, from August 2015.