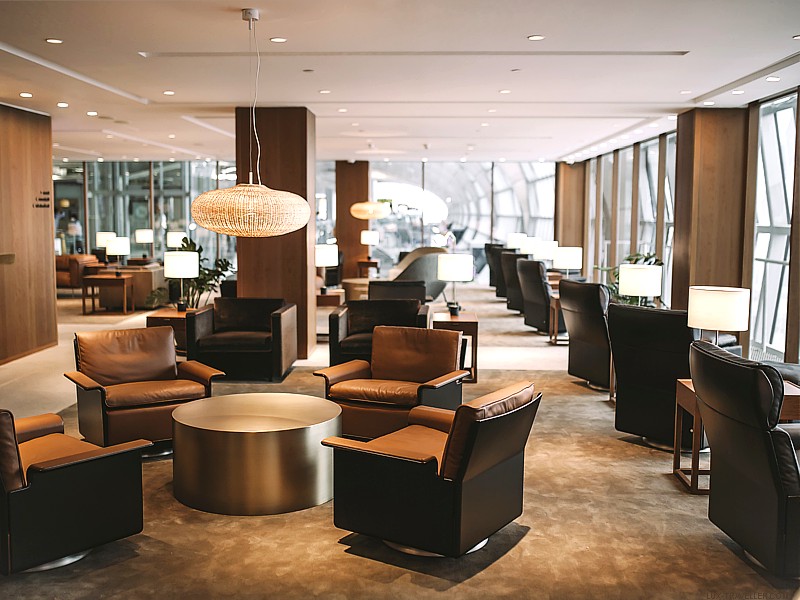 Cathay Pacific have opened a new lounges at Bangkok, with a noodle servery and cocktail bar.
Cathay Pacific have opened one of the airline's best new lounges at Bangkok, seating 140, with a noodle servery and cocktail bar.
Feeling more like a living room than an airline lounge, sunlight filters through the windows. There is designer furniture and lighting with bespoke chairs and side tables
The new lounge at Bangkok Suvarnabhumi Airport, replaces its older much smaller facility, in part by using a large section of the old British Airways lounge, which with the large cutbacks to the BA service from Bangkok is no longer needed.
The Cathay Pacific lounge in Bangkok uses what is being described as a 'new lounge design', similar to the latest Cathay Pacific lounges in Haneda Airport in Tokyo and Manila.
The Cathay Pacific Bangkok lounge is a large 679 square metres, with seating for no less than 140 people, however it is designed as a combined First and Business Class lounge, with no separate areas.
The BKK CX lounge was designed by Studioilse, the London-based design studio led by Ilse Crawford, who wanted to create an environment that felt relaxed, and engaged the senses, while focusing on wellbeing as a core principle.
To do this the new lounge has been built with warm, natural materials like wood and stone, softening the acoustics where possible and adopting a considered approach to lighting.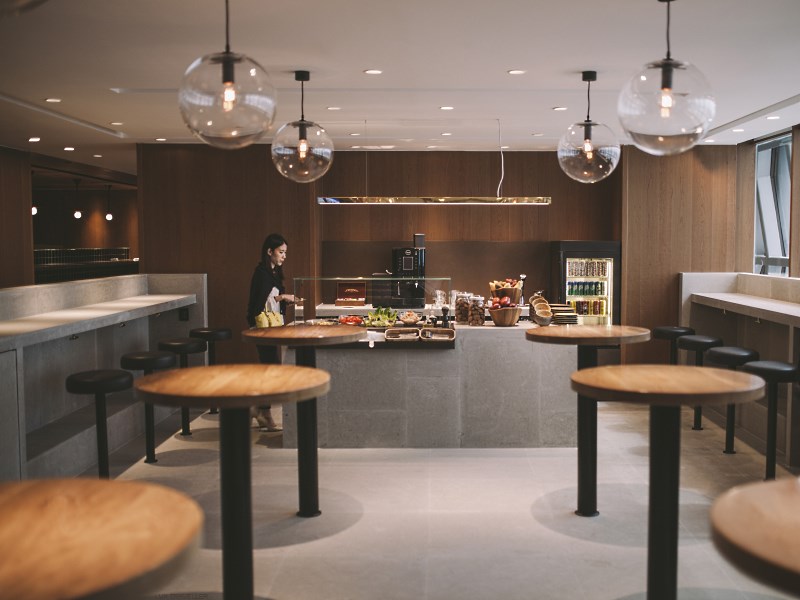 Cherry wood walls and a limestone floor are framed with details such as glazed screens, green ceramic tiles in The Noodle Bar, bronze highlights in the main entrance and brass in the Bar. Lots of plants add colour to the space while specially sourced artworks reflect the local culture.
The overall feeling of the Bangkok Cathay Pacific lounge is of a designer space with well chosen furniture and lighting, including bespoke chairs and side tables. We are pleased to see there are in-built lamps and sockets everywhere for charging tablets and laptops.
There are OK view of the airport runway although the years have not been kind to the old BA space, with the curved glass somewhat opaque.
The new Business Centre is called the Bureau which provides three individual workstations with dual operating system iMacs and printers. Free Wi-Fi access is also available throughout the lounge.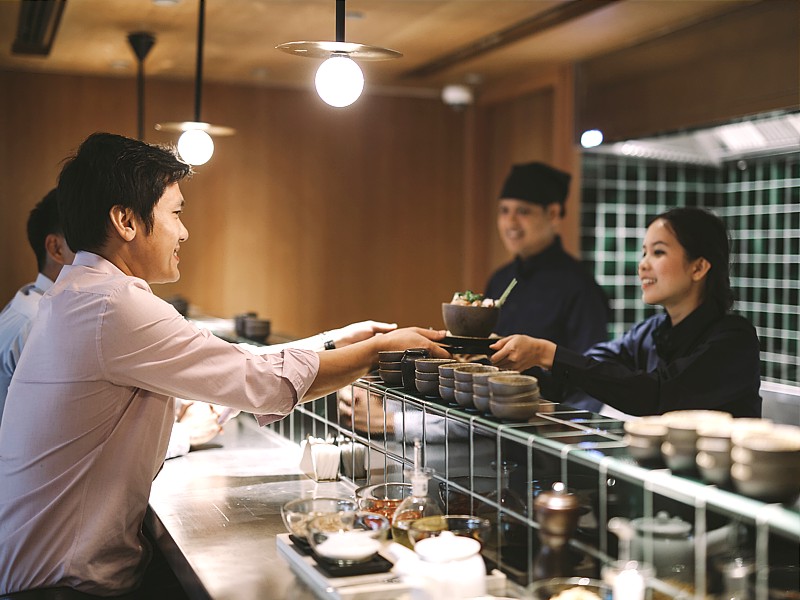 The Cathay Pacific Bangkok lounge dining area features Cathay Pacific's signature The Noodle Bar, which offers a selection of Asian noodles including wonton noodle soup and tom yam soup, freshly prepared by a chef. During the morning, until 11:00am, there is an authentic Thai breakfast.
For more mainstream food there is the Food Bar with salads, pastries and other desserts.
And there is of course The Bar with a good cocktail list, plus wine and beers.
The new Bangkok Cathay Pacific lounge is located at Level 3 in the Concourse G Departure Hall, and so the old Cathay Pacific First and Business Class Lounge at Level 3 in the Concourse D Departure Hall is now closed, as is the British Airways Bangkok lounge.
BA passengers with a Silver or Gold card, or in Business Class can use the Cathay Pacific lounge for the newly retimed three class only afternoon flight back to London Heathrow.
The new Bangkok Cathay Pacific lounge is open 0530 - 1930, except on Tuesday, Thursday and Saturday when it closes at 0030.