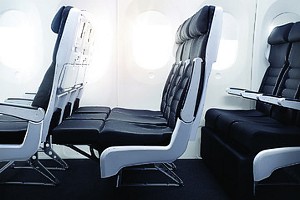 It is called the 'Skycouch', and comes in a specially designed row of three seats
Air New Zealand has come up with the holy grail for economy class seating - a flat bed in economy. It isn't quite a flatbed as you'd get in Business Class, but it will allow you to sleep totally horizontally on AirNZ's long flights over the Pacific.
It is called the 'Skycouch', and comes in a specially designed row of three seats, which have been engineered to create a lie-flat, flexible space all the way to the seat-back in front, providing the holy grail of economy travel - a flat surface for adults to relax and sleep. Air New Zealand also says that the space is designed for 'the kids to play', but that may be less appealing for the other passengers in the cabin. The seats have been designed in house and built by Recaro. There is a large flip-up cushion that comes up to fill the space between the end of the seat and the next row. Arm rests then retract and you have a totally flat surface. A novel form of seat-belt extender then enable you to be strapped in when lying down. Mind you, you will have to be rather short to lie down without your feet getting into the isle.
Twenty-two sets of Skycouch seats will be available, being the first 11 window rows in the Economy Class cabin. The pitch is 33 inches, width is 17' and there is a 6' recline. When laid out as a bed, it is 5'1' long. For two adults travelling, purchasing the Skycouch will be based on buying two seats at standard prices with the third seat at approximately half price. Full fare details will be announced when it goes on sale from late April.
Air New Zealand's Chief Executive Rob Fyfe says 'For those who choose, the days of sitting in economy and yearning to lie down and sleep are gone. The dream is now a reality, one that you can even share with a travelling companion - just keep your clothes on thanks'. Indeed.
Air New Zealand's Premium Economy cabin has also had a dramatic makeover with a new 'Spaceseat'. It will be configured in a 2-2-2 layout, compared to the industry standard 3-3-3 in 777-200s. It really is more like a light version of business than economy extra. The seats feature hard back shells so a passenger in front cannot recline into the personal space of the person behind, with seat recline (all of 9') created by a base that slides forward and angles up. The seats angle outwards from each other, providing some privacy or the space can be combined so couples curl up or even dine at a common table. The sets of two window seats are angled so as to offer much more privacy for individual passengers. The new interior design scheme includes a move away from traditional blues and greens to a more luxurious blend of chalk and deep ink colours. 'Contour of Wales' will manufacture the seat under license, providing Air NZ with a new revenue stream.
Air New Zealand are to introduce a new type of oven to the galleys which will allow food to be freshly prepared, which means that all classes have gained a complete on-demand food and beverage service. Although the food offerings include such things as a pizza for two in Premium Economy. Up the pointy end in Business class you can order a steak done to your liking, and in economy there are freshly made toasted sandwiches. All can be ordered using the in-flight entertainment system and touchscreen.
Air New Zealand's award winning Business Premier cabin has also been enhanced with complete on-demand food and beverage service more akin to premium dining.
Chief Executive Rob Fyfe adds this has a 'shared-meal experiences more familiar in tapas restaurants or bistros than at 35,000 feet'. That will be coupled with some of the world's best wines like gold-medal winning sauvignon blancs from Marlborough, pinot noirs from Central Otago and cabernet merlots and syrahs from Hawke's Bay. There is also a minor revamp of the business class seat, giving it more comfortable cushions.
The 340 seat 777-300 aircraft will be configured with 246 seats in Economy (with a 33' pitch and a 17' wide seat) which is laid out 3-4-3 (including 66 seats creating 22 Skycouch combinations), 50 in Premium Economy and 44 in Business Premier.
The first routes to offer travellers the new seats will be on NZ5 and NZ6 services between Auckland and Los Angeles from December followed by dedicated return services on NZ1 and NZ2 between Auckland and Los Angeles and through to London from April 2011.
Air New Zealand expects to also refit its fleet of eight Boeing 777-200 aircraft from mid next year, with all Asian, North American and UK services to have the new product by around 2012.