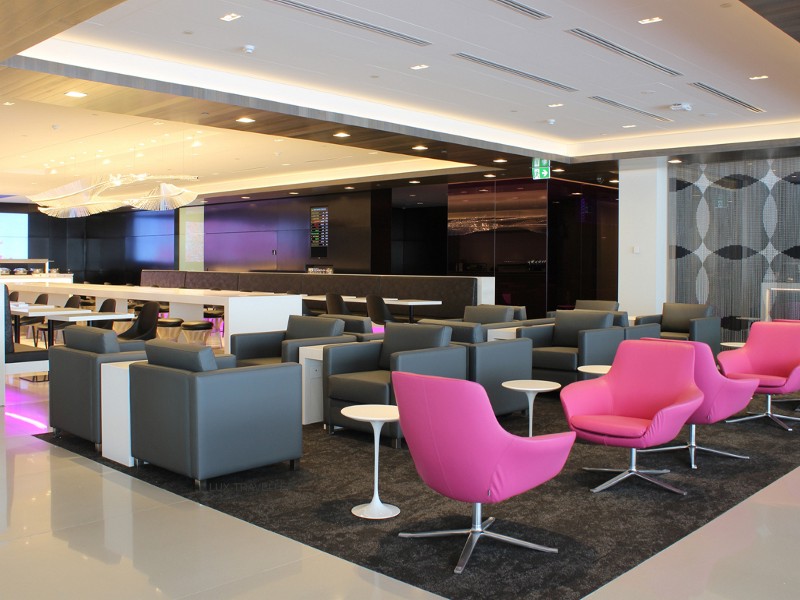 Air New Zealand has unveiled its new flagship international lounge. Called the Koru Club, it is a radical update at the airline's Auckland hub. It takes styling cues from the already updated Air NZ Sydney lounge.
The brand new Air New Zealand Auckland business class lounge is a great change from the previous lounge, which almost dated back to old TEAL days, and which after 20 years was looking seriously dated.
The most impressive feature is the covered outdoor terrace area overlooking the runway which comes complete with a fireplace. It was built out from the airport's former observation deck. The ceiling can be open to the skies on Auckland's rare sunny days, and at the back of the lounge are three suspended chairs giving the lounge an almost 1960s atmosphere.
Here there is a living green wall is home to ten types of native New Zealand flora.
Facing the outside terrace are a rack of seven purple daybeds looking out over the runway. These a quiet zone where there are delicate string screens provide a subtle backdrop for relaxation.
To keep noisy children away from this area there is a separate children's room, and it is a very good one indeed. This area is separated by glass and heavily soundproofed, while also modelled on a split level tree house.
However most passengers will make straight for the bar, which again is a radical change from the old refrigerator in the corner of the old Koru Club. Instead, it is a fully tended bar, following the recent trend among many airline lounges.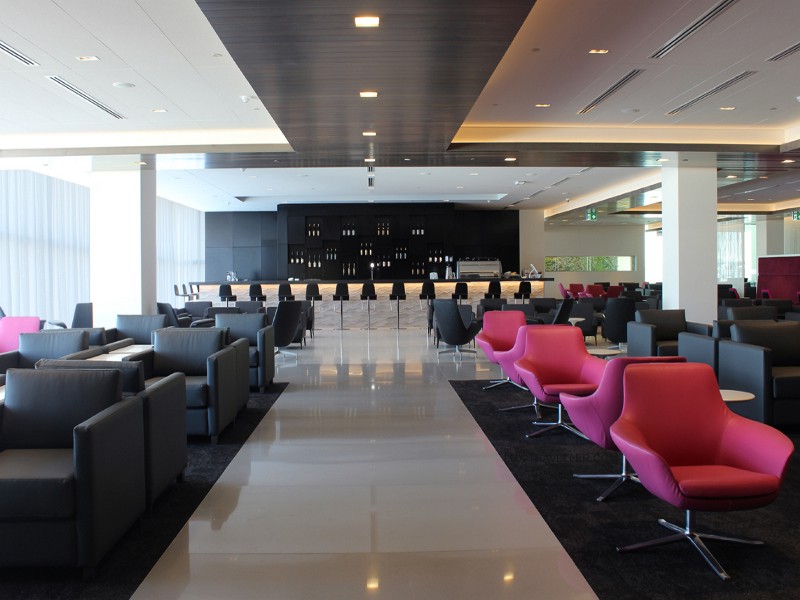 As you might expect, the bar does a great line in premium New Zealand wines, in particular the sparkling. There is also a great cocktail list, and Kiwi beers too, with Steinlager on draft, while Stella and Corona are in the fridge.
Beside the bar is an iPad, on which you can order barista-brewed coffee.
There is also a vast dining room, which is a complete turn around from the old buffet area. With benches along the walls, and 2+2 seat on white tables, the whole area looks very smart.
Naturally, the dining room includes a 'food theatre' station where chefs will prepare food as you watch.
A separate self-serve buffet is more for 'food on the run' if you only have a few minutes before catching a plane, and includes sandwiches and salad, muffins, and a great Kiwi cheese plate.
To one side of the dining room is a TV room, with four rows of vast black leather armchairs which also have white side tables to place you Steinlager on.
There is a small business centre, but again following the lounge trend, there are no computers in here: it is a strictly bring your own device type area. However, all the workstations and indeed the large white table in the middle of the lounge has inbuilt power sockets (Australia/NZ type only) and USB power ports.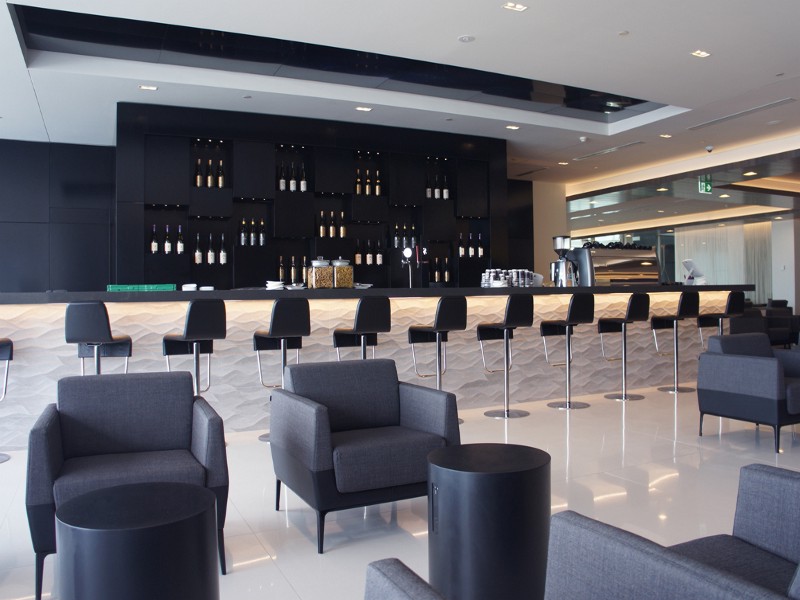 There are also nearly 300 power sockets and USB power ports located throughout the lounge, although they can be hidden away: some are under the benches for example.
The lounge was designed by architectural firm Gensler, which also worked with Air New Zealand on the Sydney and Los Angeles lounges.
Covering 21,000 square feet of space, the new lounge is significantly bigger than the previous one and is located in a different area, where over 350 people can be seated.
Access is given to Air New Zealand's business class passengers, Air New Zealand Koru Club members, Airpoints Elite and Gold members, Virgin Australia Gold members, and Star Alliance gold level members.
The Auckland Lounge opening hours are 0430 until the last departure.