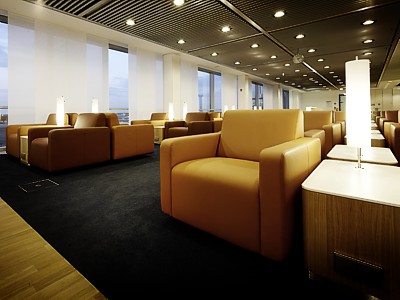 The Senator lounge is first on Lufthansa network with a spa.
Lufthansa have opened a new lounge at the airlines hub in Frankfurt. The Senator lounge is first on Lufthansa network with a spa.
It is still pretty small, at a third of the size of a cricket pitch or 1,800 square metres, but Lufthansa's new Senator Lounge introduces facilities that start to move Lufthansa lounges away from their rather staid image in the past, into a premium lounge. There are the usual large armchairs, with small tables between (which also have power sockets).
A revolution for Lufthansa is the introduction of showers. Customers can for the first time enjoy what is being called a modern wellness area in the Senator Spa with ten showers and two spa rooms, offering massages, facials, full-body treatments or other beauty treatments by renown firm Babor, but you have to pay an extra fee of €50 (or 15,000 Lufthansa miles) for a half hour massage.
The bar has also had a revamp. Gone are the old bar taps, and instead there is the City Lights Bar, whose name - spelled out in one-metre-high letters - forms a room divider into the area, which seems rather like a trendy cocktail bar. The bar incorporates unique lighting effects that have been created with over 30,000 LEDs no less.
You can sit around the bar on high bar stools, looking at the lights behind it. There is a barman to mix cocktails, however this means service is decidedly slow, particularly at peak times. On the bar top is the cocktail list, with two alcoholic and two non-alcoholic cocktails. A separate bar area has two beer taps, spirits on the glass shelf, beer in the cooler on the worktop, and 3 white and 2 red to the left of this.
Food, too, has been slightly up-rated. Called the bistro area there are the usual Lufthansa lounge offerings of cheese and lard, olives, rice, ham and salad. Alas the eating area is dull, with little natural light, having just a curved wall with small tables, and three long planks to eat on.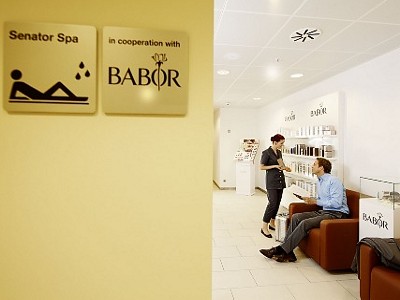 There are a few computers in the business area, and free wifi, plus luggage lockers and a smoking room. A cinema room at the back has two TVs on the wall. Newspapers are on a rack - there are alas no English papers, but plenty of German and overseas papers. There is a small and uncomfortable sleeping area, with curved recliners (which do not recline) in an area that seems to be used as the main corridor for employees. Called the relaxing area, relaxing it is not.
The new Lufthansa Senator lounge at Frankfurt Airport Terminal 1, is the airline's largest lounge to date, however it is still some way behind other lounges, like British Airways and Virgin at Heathrow, particularly in atmosphere. The lounge is however a welcome change from the old Senator lounge, which was opened in 1996, and which was looking decidedly tired, despite new furniture a few years back.
The lounge is close to the old Senator lounge, in Terminal 1 on Concourse B by gate B43 on the top floor. It is in the non-Schengen area used for international flights, however you can access it from the Schengen area with an EU passport if only travelling inter-Europe. There is a great view over the B gates at Frankfurt.
The lounge is open from 0530 to 2230 for Senator members of Lufthansa's Miles & More frequent flyer program, and travellers on other Star Alliance airlines holding equivalent Gold status. Business class passengers are not permitted entry, and you can't buy your way in on the door, however you can buy access to the Red Carpet Club, which gives access.
Indeed, part of the problem of the Senator lounges in Lufthansa's network is that Senator level is very hard to reach, however Star Gold is much easier on other Star Alliance schemes, and as such, there tends to be a lot of overcrowding in Lufthansa's top level lounge. However, this will change next year with the opening of new lounges (including Business and Senator lounges) in the terminal extension to pier A.
Curiously, the old Senator lounge in pier B will become an Air Canada Maple Leaf lounge, which will also allow in Star Gold members, as does the United Red Carpet Club, giving options for a lounge crawl around Frankfurt once in the International Pier..