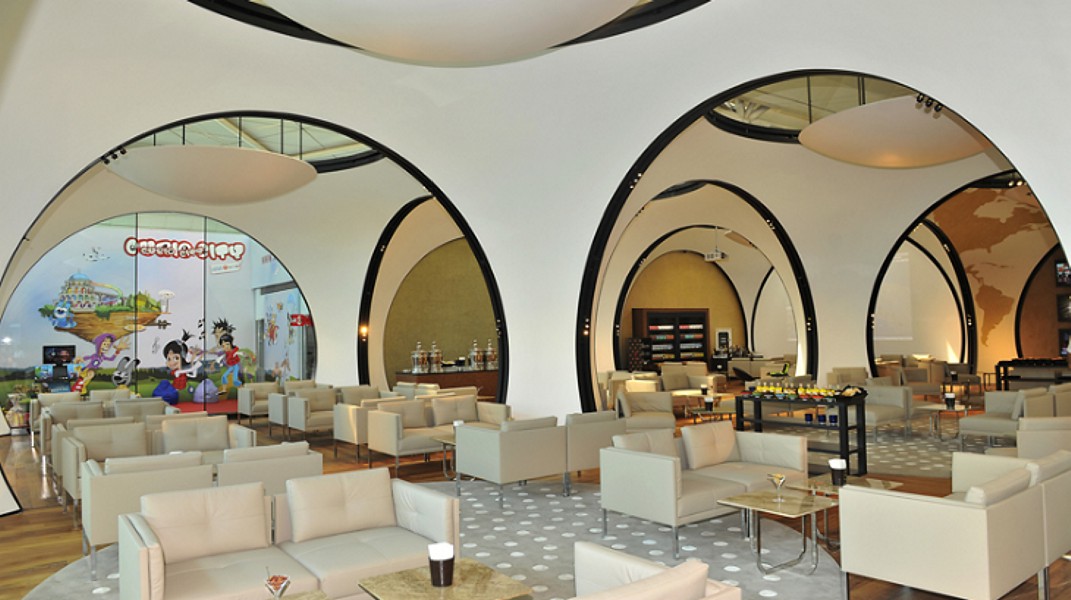 Turkish Airlines open new lounge
Turkish Airlines has opened the doors to its new Business Class lounge at Istanbul Ataturk Airport. The lounge has a patisserie, massage & relaxation rooms, shower facilities, a library with pool table, a movie room and popcorn, occupies 3000 square meters, and is designed for 2000 passengers a day.
The lounge has several distinct areas, under large circular arches which define the lounge. There are comfortable squashy armchairs dotted throughout the lounge, although they are fairly scarce, and at peaks times (7am and 10pm) finding somewhere to sit can be a problem. There are large flatscreen TVs dotted about, although most of these show Turkish TV, apart from one in the central area which shows CNN. There is even a grand piano in the lounge.
There is a library area, with plenty of books and albums on Turkey and Turkish history. In the middle of this room, rather incongruously, is a pool table. To keep children out of the way, there is a play room for children and private infant room also available for passengers travelling with their children.
Showers are very good, a vast improvement over the old lounge, with special toiletry kits (ask at the desk by the showers for these). The relaxing rooms are in a darkened area, and even have a bed, with a TV at the end of it.
Food is supplied by Do&Co of Vienna (As is most of the airline's catering) and it is very good. There is a barbecue grill where Do&Co chefs prepare kofte (meatballs) plus Pide. And Prejudice is not evident against western catering either, with salads, meat pies, ham and cheese all available. In the morning it's possible to get a full cooked English, with a kitchen in full view serving sausages, eggs, mushrooms and grilled tomatoes. Yogurt and museli is available for those with a healthier bent.
The bar is excellent, and includes Turkish beer, Australian wine, and a good range of spirits including Martell XO and Johnnie Walker Blue. Soft drinks are in the vast fridge, and include Organic Apple Juice, Eker Ayran, Sour Cherry, homemade mint and non-mint lemonade. There is a juice machine, and a real cappuccino machine
There is a decent computer room, with eight iMacs, plus some other laptops in other areas of the lounge, and free wi-fi. One ten person meeting room is also at the back of the lounge.
The CIP lounge at Istanbul Ataturk Airport is accessible for Turkish Airlines' business class passengers, Miles&Smiles Elite and Elite Plus card holders and Star Alliance Gold members. There is no access for Priority Pass, and no pay-per-entry day passes.
The lounge is a radical change from the old Turkish Airlines lounge, which was only 1000 square meters, and was decorated in Arabian style, with plenty of gold and bling. Its radical styling caused some Star Alliance airlines, such as Lufthansa, to decamp to more traditional Millenium lounge at Istanbul.
There are two main entrances to the lounge: either from landside, where there is a separate security check, or to the left hand side of the main international departures hall next to the Cafe Crown. A novel feature is automated entry to the lounge, via gates with bar code readers. It is open from 05:00 am to 01:00 am.