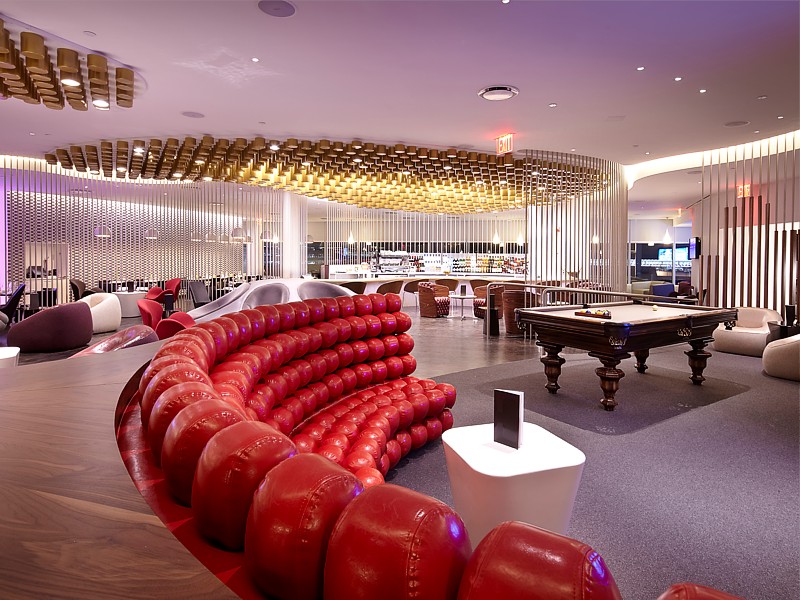 Virgin Atlantic has unveiled its new Clubhouse at New York-JFK Airport.
Virgin Atlantic has unveiled its new Clubhouse at New York-JFK Airport. The new space is inspired by the theme 'Understatedly Uptown, Unmistakably New York'.
It has cost five million pounds (US$7 million) to rebuild the 10,000 square feet facility at the Virgin Atlantic JFK Clubhouse, inside Terminal 4 at New York JFK International Airport.
The lounge is big - really big - with more than double the space of the existing Clubhouse. As you walk in you are first struck by the walls, with curved shimmering stainless steel rods and walnut fins hanging from the ceiling creating lots of much smaller spaces within the lounge, while at the same time allowing you to see the whole area. On the ceiling are gold pods with down lights which soak up a lot of noise and vibration: a good idea considering most of the surfaces are reflective, including the polished hardwood floor. There isn't much of a view in the lounge, except at the far end where floor to ceiling windows give decent views of the runway. Alas most of Virgins flights leave after dark, so you won't get to see much of the view, unless you are here for the 6pm flight.
The seats are on the cutting edge of art, with quite a few of the strange four-way squashy seats, as well as some small patent-leather stools with low backs - they scream achingly trendy, but there are woefully impractical. At most seats there are no places to put drinks, or indeed plug in a laptop. To complete the eye-popping look, there is a sofa made from red balls in the entertainment zone.
In the quiet corner of the JFK Clubhouse, passenger sized round cavities have been carved in the walls, lined with wool, with intimate lighting, in case you have had a hard day and you want to retreat into your own private zone.
Naturally, the heart of the the Virgin Atlantic Clubhouse JFK is the bar; it is mocked up as what Virgin call a 'sultry, uptown cocktail bar'. There is a resident mixologist (barman) who will pour cocktails. The range of spirits has to be seen to be believed: not only with your usual premium brands, but also with some more obscure bottles, including a large range from Mexico. There is also sparkling wine, and some of New Yorks microbrewery ales. Alas, if you're hunting for some beer from the UK, you may be out of luck.
Food is as you would expect good, but again there is no self-serve snackbar. Now, just as the bar is great if you've got plenty of time to wait and you don't mind hanging around for the butlers, if you are in a hurry this can be a real downside. The moral is, allow plenty of time. There are menus on all the tables, and there is a more formal brassiere area, with proper dining tables. Here, you can order a full five course meal á la carte. The desserts are especially good, as are the clubhouse burgers. There is a strong New York bent on the menu, including pork sliders, tin baked steak and Brooklyn Ale pie.
There are of course computers in the work area, with a meeting room with high-backed chairs. There are also newspapers here, with a good set from the UK, including the Telegraph and the Daily Mail, but no Guardian or Independent.
There is one final delight in the lounge - it has a Clubhouse Spa. This is the first Virgin have offered outside of London. There is also the usual hairdresser, offered by New York City salon Bumble and Bumble: for haircuts you normally have to book in advance.
Finally, if you really want to embarrass yourself, you can slip into the usual Virgin Atlantic sleeper suit in the Clubhouse: you're given a hanger for your suit so you can carry it on board.
The new airside space has been designed by Slade Architecture in collaboration with the Virgin Atlantic in house design team.
The New York JFK Virgin Atlantic Clubhouse opening hours are from 1400 to 2200 every day. It is available to Virgin Atlantic Upper Class passengers, Flying Club Gold members, Australian Velocity Gold members with an international ticket on Virgin Atlantic.