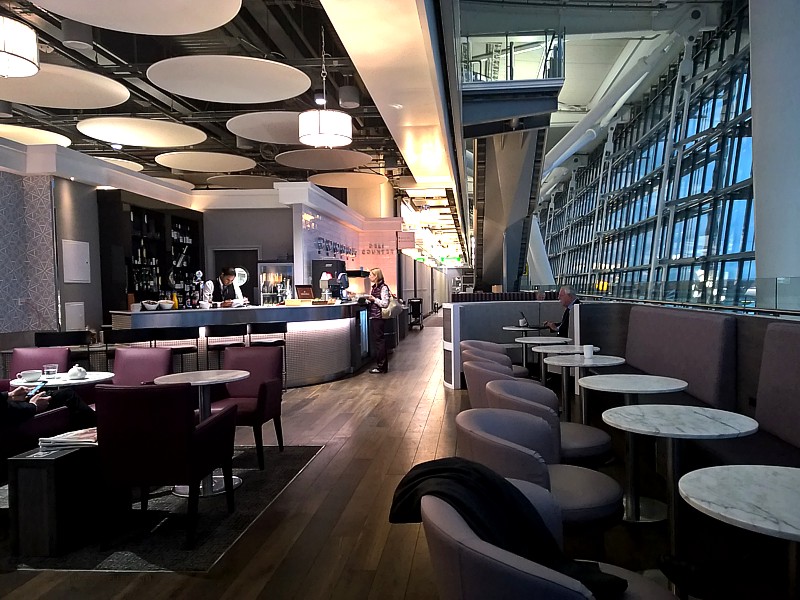 The first independent lounge in London Heathrow Terminal 5 has now fully opened. Lux-traveller has paid a visit to sample the new LHR T5 lounge.
The new "Aspire, the Lounge and Spa" is located at Terminal 5 near Gate 18 and is available to anyone passing through British Airways' hub terminal, regardless of their class of travel.
Up until now, the only lounges at Terminal 5 were for British Airways, and there was no access for economy passengers who wished to pay for entry.
The new Aspire lounge is certainly a revelation for Terminal 5, and to have a pay-for entry lounge in Terminal 5, with comfortable seating and complementary snacks and drinks, has been an almost the holy-grail of travel since Terminal 5 opened.
When lux-traveller visited the lounge, we found it large light bright and open, with the entrance at the south end of the terminal, past the BA lounge escalators, and to the left. Initially past the reception desk the lounge seems to be small, with just small 1+1 seating on the right, but then the lounge opens up into the main room, with comfortable seating and complementary snacks and drinks.
There are two main areas of large armchairs, and tables high up between them, then at the 'corner' of the lounge, a large semi-circular snug area, with a commanding view out over the active runway and towards London.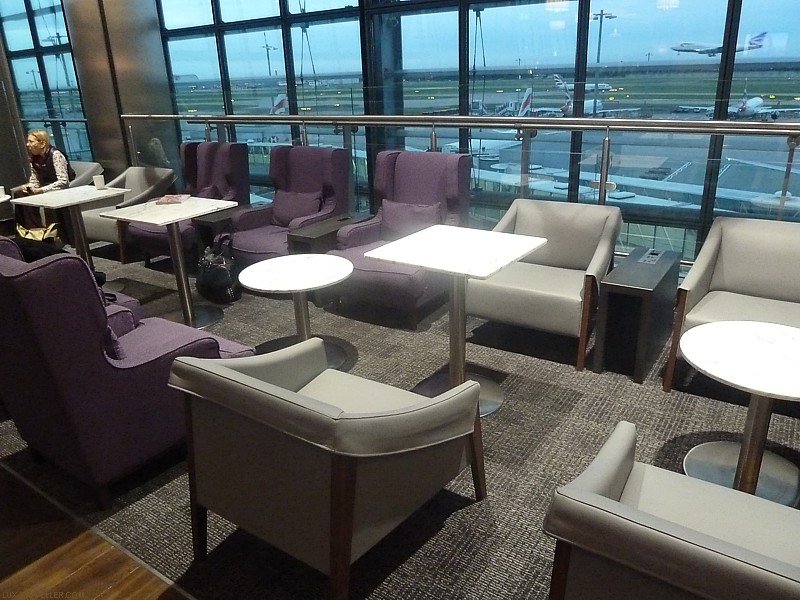 Along from here is a long bench, with eight seats opposite, and opposite the main dining area with four more tables under the departure screens.
However it is the small bar here in the lounge which is most imposing. It is at the most convenient walk up point right in the centre of the lounge. It's not self-serve, but there is usually a barman in attendance.
For complementary beer there is Moretti lager is on draft, and London Pride and Tiger available in bottles, plus Guinness in cans. Wine and spirits are mostly complementary, including Prosecco but some premium items need to be paid for, including some of the better wine: the list on offer is quite comprehensive and much better than you normally get at a pay-in lounge.
Cocktails are £6. Perrier-Jouet Grand Brut Champagne comes in at £35. The range of spirits is really quite impressive for a lounge, with everything from Baileys to Bacardi.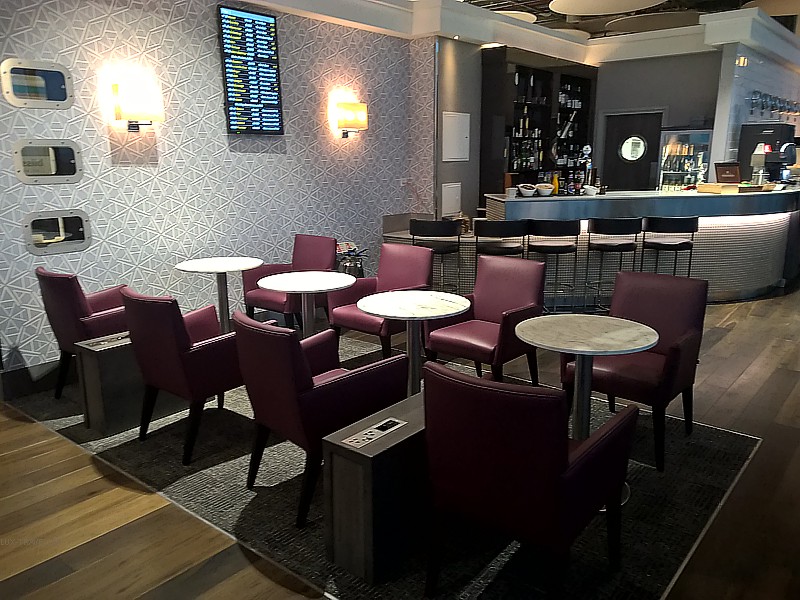 Food is on the hotplate and fridge just around the corner from the bar. At breakfast time before before 11am when lux-traveller visited there was cereal and bacon rolls, plus scrambled egg and croissants. In the fridge were yoghuts and cheeses. After 11am some food is free, with sandwiches, Pork Pies, Scotch Eggs, and cake. There is also a cheese board, and a fridge with salad.
For larger food items you have to pay, with £7 for a Steak & Guinness Pie or £10 for Mushroom Risotto.
Further around again there are fourteen work benches and tables, each with a power socket for charging laptops and tablets, but no computers. As with most lounges now, it's is almost expected that you 'bring your own device' and just need to charge it. Indeed, in the Aspire T5 lounge, that isn't a problem, and it's good to see a large number of power sockets available (UK square pin only).
There are also six comfortable 'rest pods' with a recliner, and a shelf next to a power socket which is at just the right height to charge your phone while you nap. The pods are directly opposite the vast floor to ceiling windows, but thankfully there is a blackout curtain which cuts out most of the light.
The new Aspire lounge occupies a small space which was previously the access corridor to the British Airways First Class lounge fire escape, which still occupies a dominant location right in the middle of the lounge. Indeed, the Aspire T5 lounge can at times seem like a small corridor, with only room for about 80 travellers, however the lounge is larger than it may seem and even at busy periods there is enough space to move around.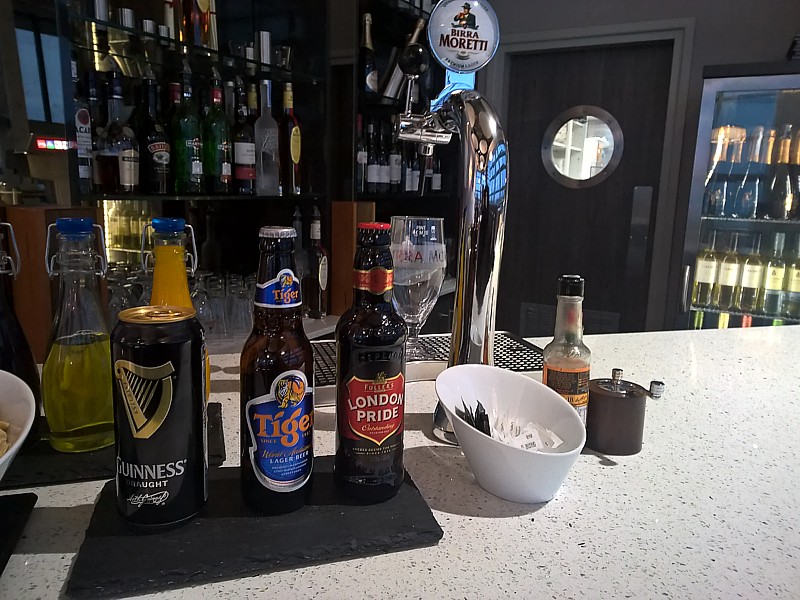 Further around past the fire escape stairs there is a bench and chairs, and this is often the most quiet part of the lounge.
There is free Wifi, and most of the daily UK newspapers on a trolley by the door.
You can access with Priority Pass or Aspire's own membership scheme, which costs £260 a year.
For a daypass to the London Terminal 5 lounge, the cost is £40 a visit, or £30 per child (2 to 17 years).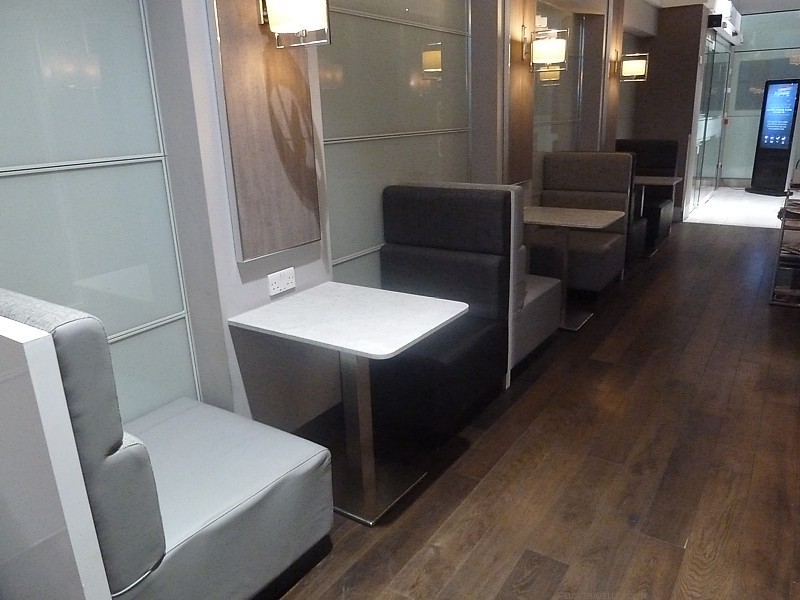 Showers cost £20 for 30 minutes, and spa facilities are £20 for 20 minutes, £40 for 40 minutes. There is a comprehensive selection of spa treatments, and indeed, as the spa occupies a large footprint of the lounge, so to a large extent this may be the main reason for a visit.
There is a smart casual dress code. Baseball caps, football, rugby and vest style tops are forbidden.
The Aspire LHR T5 lounge is open 0500 to 2300 daily.
This story has been updated following a visit to the lounge by lux-traveller