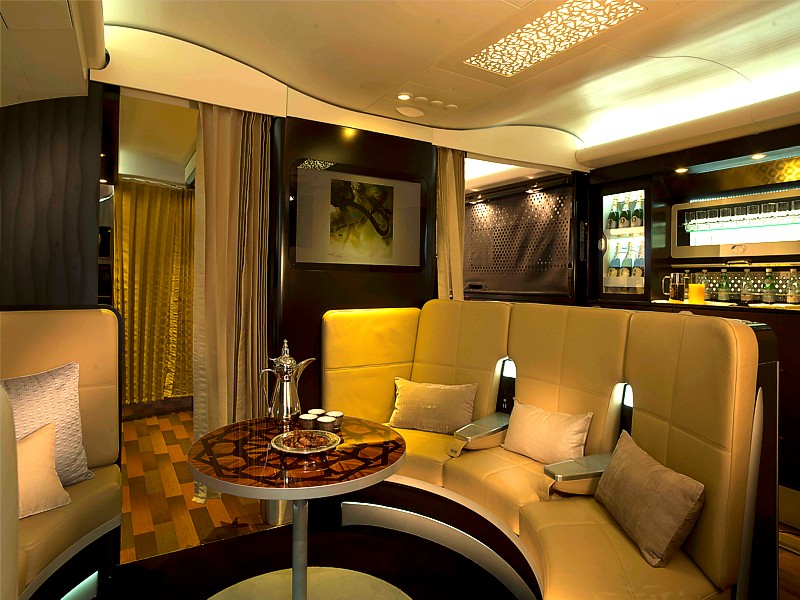 Etihad Airways is now flying the Airbus A380 from Abu Dhabi to London Heathrow.
Etihad Airways are now flying their new A380 aircraft, with the first scheduled flight taking place later than planned, on New Year's Eve 2014.
A ribbon-cutting ceremony was held at the departure gate at half past two in the morning as part of the festivities, attended on behalf of Etihad Airways Chief Operations Officer Richard Hill.
The Etihad A380 inaugural flight to London marked the debut of the airline's new First Class and Business class seats, plus the heavily promoted "The Residence by Etihad", which occupies the front top deck of the A380.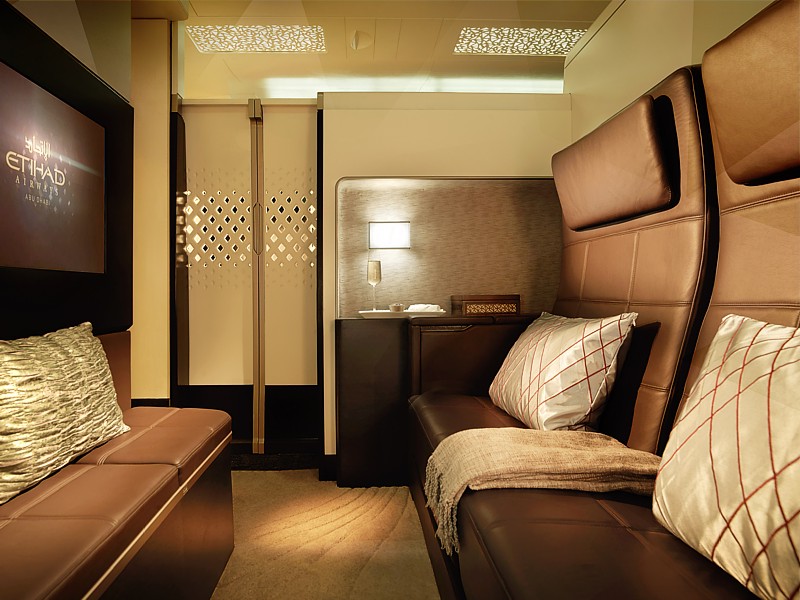 Not surprisingly it is "The Residence" cabin which has attracted the most attention, and is definite a 'class above First Class'. It is a three room separate cabin with living room, bathroom and bedroom with a double bed.
The main living area has two bench seats on either side, and two flip down tables. This cabin doubles as the dining room, which is served by a private butler. On the wall is a 32 inch widescreen TV.
Next door is the bedroom, with six foot eight inch long double bed, and which naturally has linen sheets. This part of the cabin is right in the front nose of the A380, which narrows with a sloping roof: on Emirates, this part of the A380 is occupied by the showers.
There is also a private bathroom between the two cabins, with a shower on Etihad's A380. You are limited to only four minutes water supply, and there is a clock with a countdown showing how much time is left. Acqua di Parma amenities are in a rack in the shower.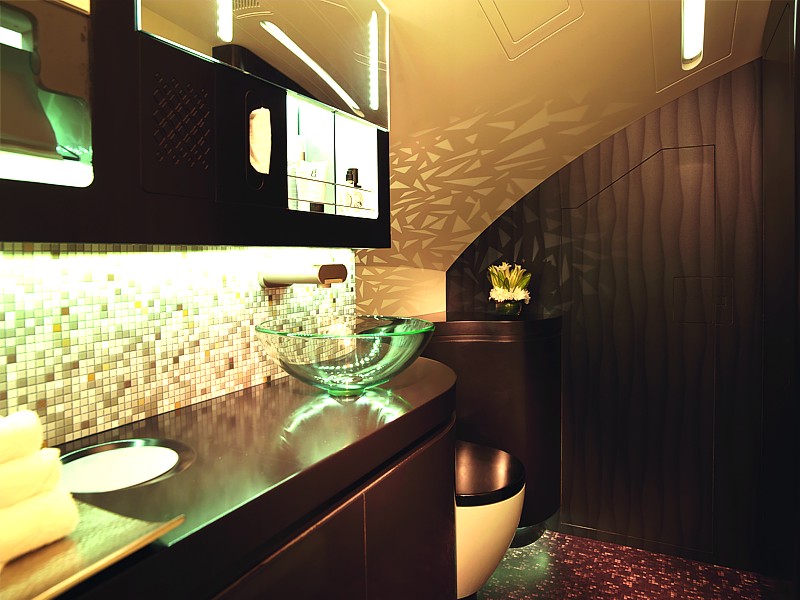 Behind the single Residence cabin, is the rest of the Etihad A380 First Class cabin. These have large, squashy arm chairs opposite a full length ottoman, which folds down into a six foot six long bed. There is a small privacy divider at the head of the bed which can be folded down for couples. There is a huge 28 inch touchscreen TV ahead of the bed. The first cabin also has a (non-alcoholic) minibar beside the seat.
All the First Class seats have access to a bathroom, which also has a shower.
The rest of the top deck has Etihad A380 Business Class seats, in a 1-2-1 layout. Etihad have taken a leaf out of United's and British Airways' club design, and half of the seats face backwards: in context however this design really works giving a lot more space at each seat, with a nook into which your feet slide. The bed is just over six foot long, and slides fully flat and level. There is a mattress topper which helps to make it feel more comfortable.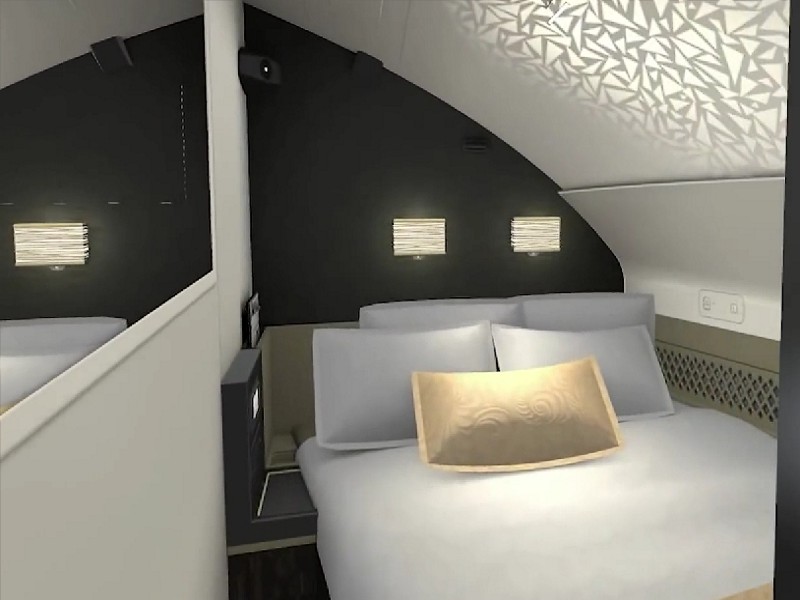 Etihad's Airbus A380 also features an inflight bar. Much smaller than Emirates bar, the Etihad Lobby lounge and bar, is accessible to business and first class and located in between the two cabins. It is also self service - which might speed up the drinks service. There is a white wine fridge - with eight bottles - a similar cupboard for red, and seven bottles of spirits. However there are only six seats at this bar: everyone else has to make do with the long shelf that runs down the aisle on the left side of the aircraft.
The whole of the lower deck is for Etihad A380 Economy Class. Seats are in a 3-4-3 layout, in four separate cabins, and each seat has seatback TV with AVOD, which means you can start and stop films on demand. Etihad are making much of the fact that each seat also has a 'fixed wing' headrest on each seat.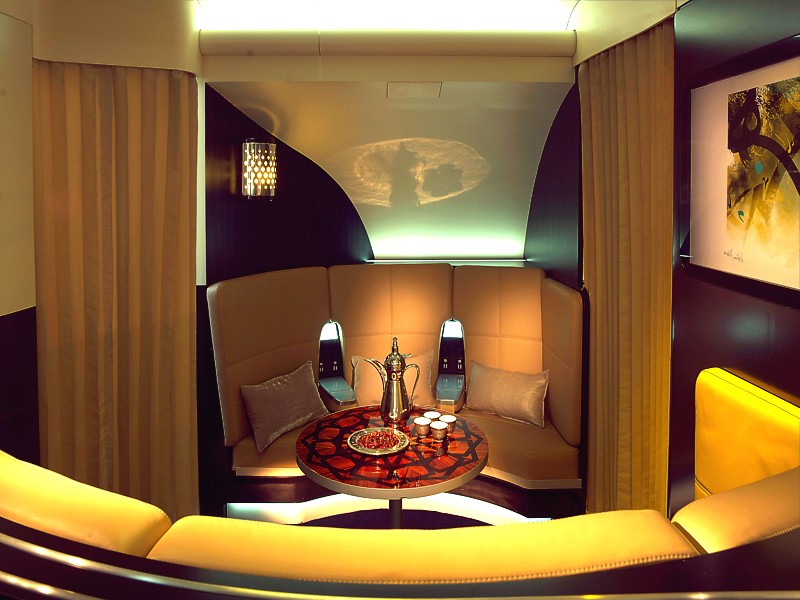 Initially Etihad's A380 double decker super jumbo aircraft will operate on EY11, one of the three daily London Heathrow services, departing at 2.35 am and arriving at 6.35am. In the retrn direction Etihad's A380 leaves LHR - the Europe's busiest airport - at 9.15am, to get into Abu Dhabi at 8.15pm.

By August 2015, every Etihad Airways flight between Abu Dhabi and London will be an A380 service. Sydney gains an A380 service on June 1 2015. A return trip to London Heathrow from Sydney in the Residence cabin starts at AUD$87,000.