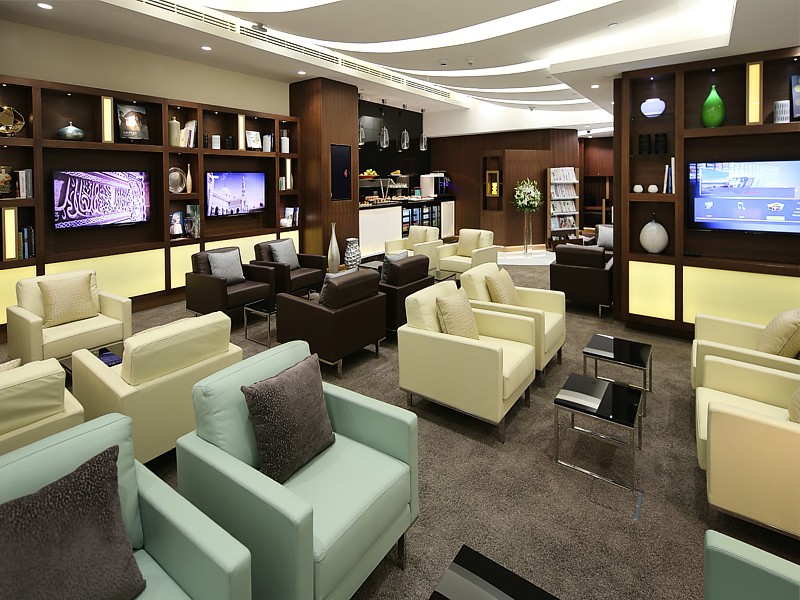 There are showers plus shoe shine & steaming of suits and a free shaving service.
The Etihad arrival lounge Abu Dhabi has now opened, and it offers a chance to freshen up after a long haul flight before heading into the city.
There are complimentary showers, 10 in total, plus shoe shine & steaming of suits and a free shaving service with qualified barbers. There are three iMac computers, and free wifi.
The 10-minute clothes steaming service is designed so your clothes can be steamed while you do likewise in the showers.
Most passengers on Etihad will be heading here for breakfast after an overnight flight before hotel check-in hours, and as such it offers a hot breakfast, canapá£ęs & snack, tea coffee and juice.
The luxurious, if rather small, arrivals lounge is also the first and only Arrivals Lounge to be operated by Etihad Airways. The lounge is halfway between Terminals 1 and 3, immediately after customs in of the Abu Dhabi International Airport.
Etihad arrivals lounge Abu Dhabi entrance is only for first and business class guests on Etihad Airways-operated flights. There is no access on codeshares by Virgin Australia, or with frequent flyer status.
Emirates operated a similar arrivals lounge in Dubai for many years, but closed it recently due to lack to demand, and many passengers just go straight to their complementary taxis.