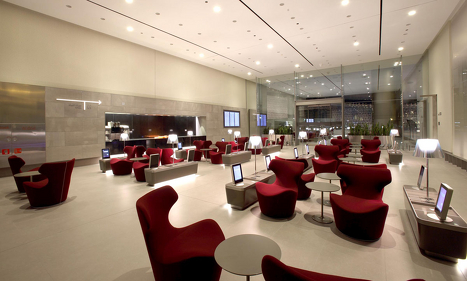 Qatar Airways has unveiled its new Al Mourjan Business Class Lounge at Doha's Hamad International Airport
The brand new Qatar Airlines Al Mourjan Business Lounge has opened. It is by far the largest and most opulent lounge at the brand new Doha's Hamad International Airport.
The lounge is vast - 10,000 square metres, which has enough room for over a thousand passengers at a time. As you enter there is a huge reception desk, and at the entrance a 15x7 meter infinity pool water feature, which is under a huge spiral staircase illuminated by a four-tiered crystal chandelier.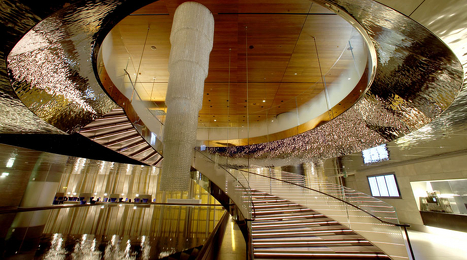 The main part of the Qatar Al Mourjan Business Lounge is a vast aircraft-hanger style area, with a central raised wooden stage with high upright chairs separated by glass screens from where there is more comfortable seating and sofas.
Many of the chairs on the lower level have their own personal tablet on a side table next to them - here you can check flight departures and browse the internet, and also plug in USBs and play them.There is a headphone socket.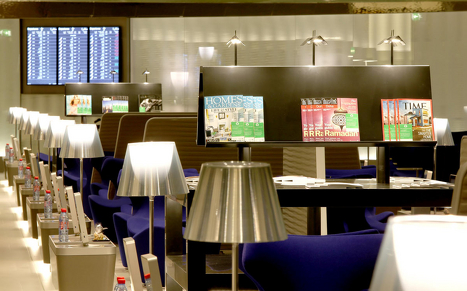 All the seats have UK power sockets (which also take Euro plugs) and 2 USB charging ports. At each table there are also fresh bottles of Vittel water.
When designing the lounge, Qatar Airways say they designed bronze walls featuring traditional calligraphy which create ?an ambience that infuses contemporary elegance with Arabian heritage?. And they might be right - it really is quite good.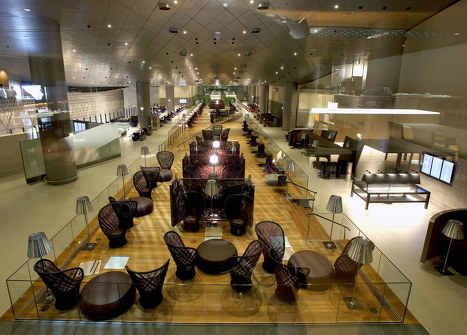 There are various places to eat in the Qatar Al Mourjan Business Lounge : from a buffet on the ground floor with a continental brasserie, a deli and a patisserie; although in truth these places do resemble a snackbar in the middle of the night. There is also a proper sit down restaurant.
Entrance is restricted to business and first class flyers of Qatar Airways and its Oneworld partners including British Airways, Cathay Pacific, Royal Jordanian and SriLankan Airlines.
Unveiling the Al Mourjan lounge is the latest step in opening the new Hamad International Airport at Doha's new airport. When fully open the airport will have a hotel, spa, gym and even squash courts.