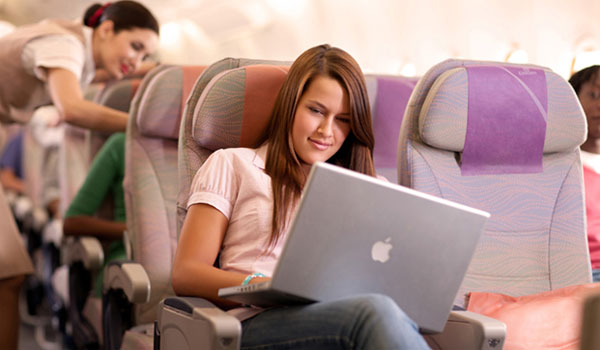 Emirates now offers 10MB of free wifi internet on board its flights, and says free onboard Wi-Fi is the future
Emirates Airlines now offers 10MB of free wifo internet on board its flights, and would like to offer more. What's holding it back are technical factors.
Indeed, the airline claims if it could offer good quality in-flight Wi-Fi connectivity for all passengers on its flights, it would do so for free.
However, the carrier said at this stage the airline faces a slew of technical limitations and hardware costs which they are "working hard" to address with the industry at large.
Emirates however have a problem in that many of its flights overfly water, and in these area satelites are used for the connections. Fast in-flight Wi-Fi is widespread in the US, where it connects to ground based mobile stations, however some countries like Australia and parts of Europe lacks the same level of ground mobile phone coverage for fast service because many flights overfly areas with no mobile coverage.
"If we can offer good quality Wi-Fi connections for everyone on board at no charge tomorrow, we will do it. But we face a slew of technical limitations - from speed and bandwidth availability and cost, to the supporting hardware and software - all of which we are working hard to address with the industry right now. Ultimately, we believe that on board Wi-Fi will become a free service, and a standard that customers will expect on a full service airline, just like on board refreshments and personal inflight entertainment. Emirates is leading the way on this, and we are working closely with our suppliers and various stakeholders towards this vision, "Emirates president, Tim Clark said.
The airline invests 15 million pounds (US$20)annually in its Wi-Fi, and has reported a 200% surge in usage last month with over half a million passengers opting in to connect to the internet on board Emirates flights, and demand is only expected to increase exponentially.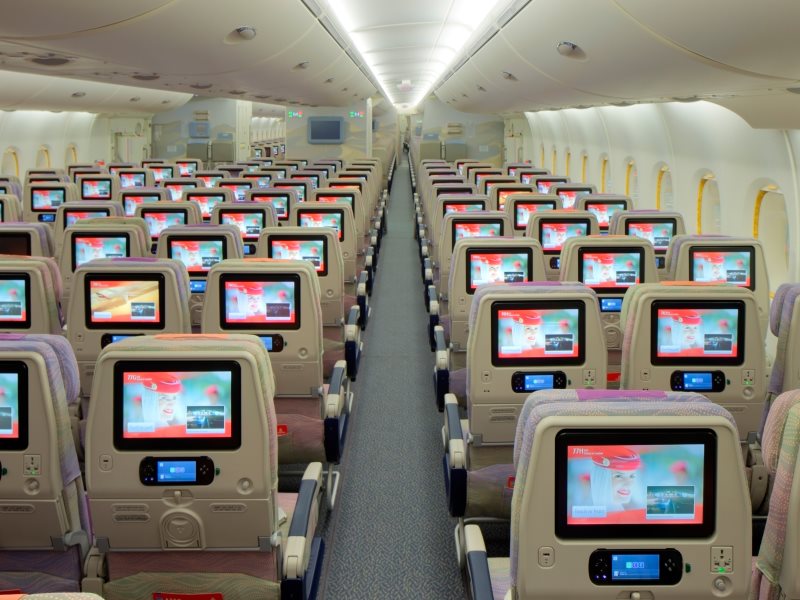 "We've always viewed Wi-Fi as a service and a value-added part of Emirates' overall product, rather than a revenue stream," Tim Clark said. "It is a fact that our customers want on board connectivity, and this demand is only going to increase as more people embrace an 'always-on' digital lifestyle, and carry smart mobile devices when they travel.
Wi-Fi is currently available onboard all of Emirates' 53 A380s and on 28 Boeing 777s, and will eventually see its entire fleet Wi-Fi enabled. The airline said it has been subsidising or waiving the high cost of buying data for passenger use.
The first 10MBs of data is free for passengers on its Wi-Fi enabled flights, which the airline said was sufficient for most travellers to check in on their social media accounts. Subsequently, a token US$1 charge is imposed for the next 600MB.
However, on some A380s and 777s, "it is not currently possible to offer the first 10MB free for technical reasons" the airline said, but is working to resolve the issue in coming months.
In October the airline reported a daily average of 3,500 passengers using on board Wi-Fi, at an average of 28MB per user. The highest number of Wi-Fi users on a single Emirates flight was recorded on an A380 with 153 passengers connecting, and the highest internet volume recorded on a single flight was nearly 8,000MB from 26 users on board a Boeing 777 flight.
The sites EK passengers most frequented onboard included Google, Facebook, and chat services Skype, WhatsApp and BBM, "reflecting travellers' strong desire to stay connected and their use of social media channels to do so," the airline said.