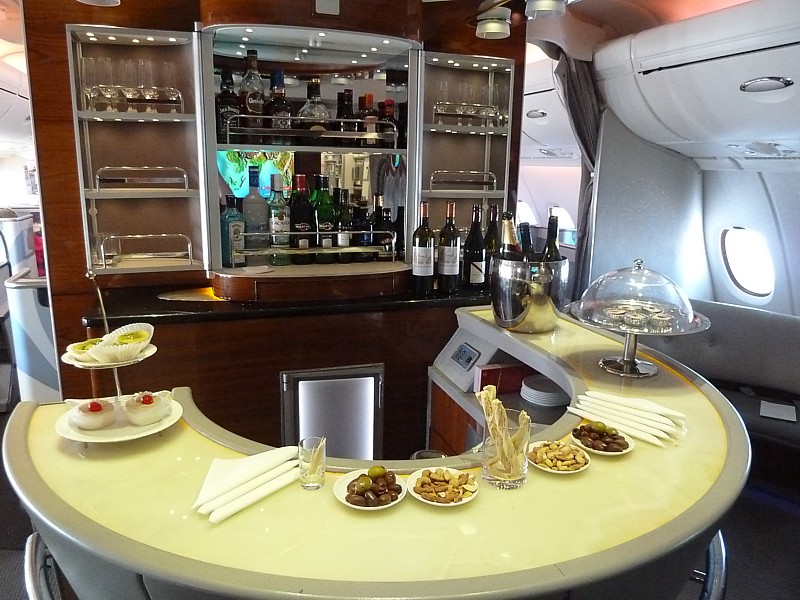 Emirates are to abandon the First Class cabin on a number of the airlines new Airbus A380.
Emirates are to remove the First Class cabin on the airlines new Airbus A380, giving a denser seating layout with 615 passengers.
All 14 First Class seats will be axed, and business class moved firmly forward, giving only 58 flat-bed seats in Business Class. The on-board bar will remain, although some doubt remains as to whether it is at the front or the rear of the cabin.
If Emirates decide to accommodate some economy passengers on the upper deck, it will have to be moved forward from the existing rear doors to upper deck door 2, giving economy class passengers glimpses of the bar through the curtain.
However if it is at the front, the existing shower suites can be used as the on-board lounge, in a similar fashion to Qantas' A380.
Certainly initial Emirates A380 two-class seat plans show 14 rows of business class, including five rows where there are currently only 4 rows of first class, giving 9 rows behind it, back to row 16, and the bar behind this. Economy would then occupy rows 22 to 26 of the current business class, giving 12 rows, in a similar fashion to Singapore Airlines early A380.
There will be 557 economy class seats. With these seats in a 2-4-2 layout on the upper deck, they will undoubtedly be popular thanks to their slightly larger size, due to Emirates always insisting it has no plans for Premium Economy.
Emirates says it will continue to use the existing three class A380 on high demand routes, but the two class for lesser routes and holiday destinations. British Airways carried out a similar plan, with four class Boeing 777s used or converted to three class without First on holiday routes such as Bangkok where the demand for premium seats is greatly reduced.
See the existing Emirates A380 Seating Plan.
The announcement was made to coincide with the news that the Emirates Super Jumbo will fly to Copenhagen for the first time in December 2015. It leaves Dubai at 0820, arriving at 1220, returning at 1420 and landing back in Dubai at 2335, allowing good connections to Asia and New Zealand.