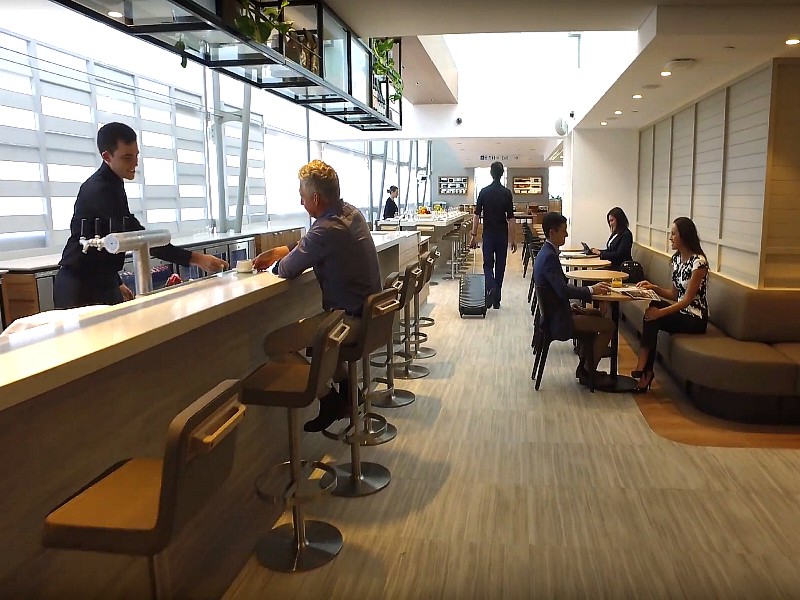 The new Brisbane International Lounge is now open. The new Queensland themed lounge has styling elements close to that of the new Hong Kong and Singapore lounges, but it includes a quirky twist with a new wood lined cafe, an upstairs breakfast bar, and with interior colours reminiscent of the reef.
Qantas customers travelling from Brisbane now have a stylish new space to relax, work and dine before their overseas flight, with the opening of the Qantas Brisbane International Lounge.
The Qantas Brisbane International Lounge is based on the award winning Hong Kong and Singapore Lounge concept, with the food and interior design taking inspiration from the local region.
The Brisbane Qantas lounge is still on the upper level of the terminal, up the escalator, where a double reception desk greets you. At the top a new art installation called 'The Pulse of our Ancient Land' by Jenna Lee of Indigenous design company Gilimbaa, based in Brisbane. Inlaid into the glass is an interpretation of the land of the region viewed from above, brought to life through glass, watercolour and lights.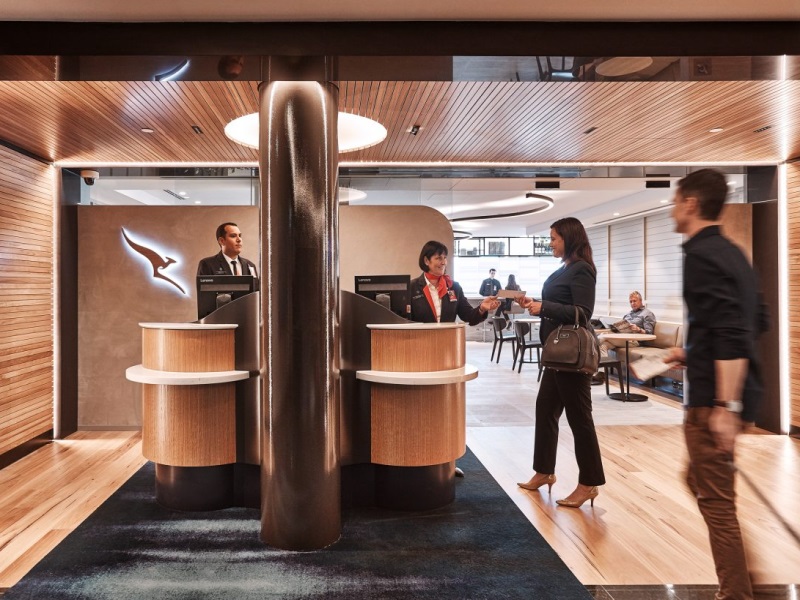 The lounge - split across two levels - offers nearly 30 per cent more space than the previous lounges, with interiors reflecting the Queensland landscape. The furniture is inspired by a relaxed approach to living in the tropical north with timber cafe seating and low slung lounges, and inset rugs bring colour and texture reminiscent of the reef, sandbars and waterways of Queensland's coast and inlets. The light blue and cyan carpeting is a wonder to beyhold.
It really does work - it is a very pleasant area to spend a few hours, and very different from the old Qantas Business and First lounges. It is a 'one class' lounge, with Brisbane being without a First Class service for many years.
Once you are past the Brisbane Qantas lounge entrance there is a small enclosed 'touch down' space for passengers who are just staying a few minutes, although with semi-private seating it can be used by visiting VIPs.
Ahead of here is the very long, thin bar with spirits, wines and cocktail at all hours of the day. There is no 'pour it yourself' like the old bar. Instead there is Squire's Pale Ale or cider, Hahn, or Heineken on draft. You can however pour yourself sparkling wine, with Seppelt in a Bucket on ice. Perrier-Jouáęt Champagne is offered to Platinum One frequent flyers, but this isn't advertised. There is also an all-day barista coffee by Vittoria.
Next to the bar is a small white marble island bench, for dining.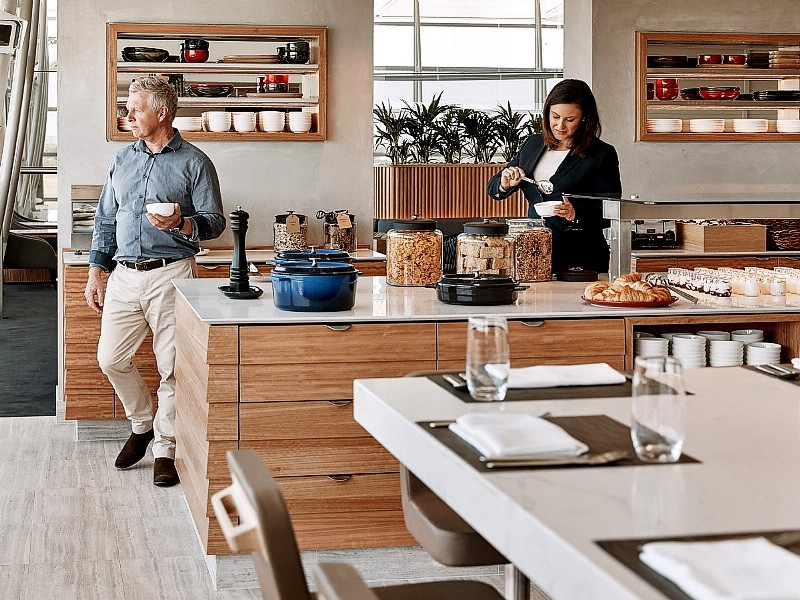 The bulk of the Qantas Brisbane lounge is taken up with seats overlooking the view. And what a view. The lounge looks into the main departure terminal, and the gates beyond, from a high up position where you can see the hoy paloy below, from neat armchairs with small round cocktail tables.
There is also an island banquet in the middle of the lounge, incongruously decked with pot plants, while in the corner are some hidden private seats, surrounded by white slats, presumably for celebrities who appreciate their privacy. One of these private areas also has an iMac computer.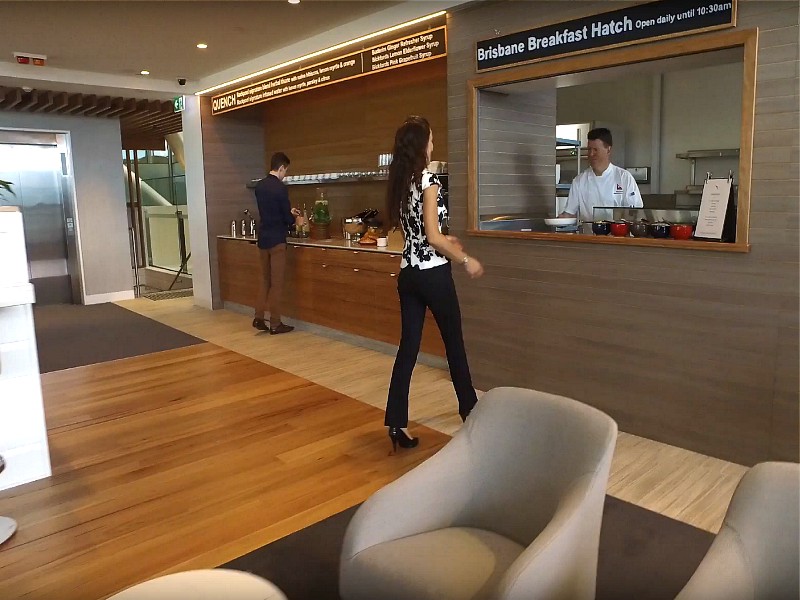 However the joy of the lounge is the upmarket loft area, up the stairs to a much more intimate area, with a special small observation deck, and with special options for breakfast (until 10.30am) including the 'Brisbane Breakfast Hatch' with Rockpool-inspired dishes, and what Qantas call 'Quench'.
The new signature breakfast hatch on the mezzanine level will see chefs serving Rockpool-designed breakfast dishes to order such as healthy breakfast bowls, bircher muesli and French toast.
Quench focuses on hydrating customers before they fly and serve a range of non-alcoholic beverages including syrups from Bickfords and Buderim Ginger and a signature tisane blend designed by Rockpool.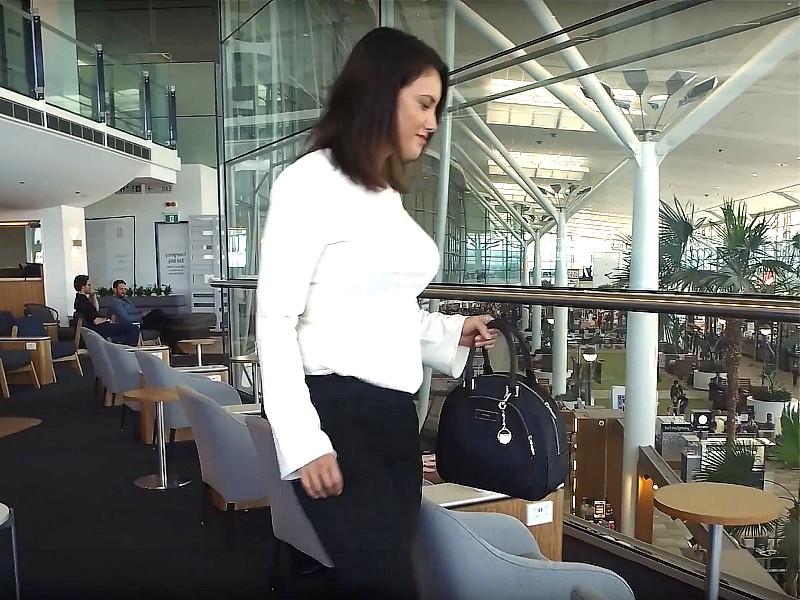 Seasonal menus are designed by Qantas Creative Director of Food, Beverage & Service Neil Perry with a focus on working with local food producers. The lounge will also offer a premium hot and cold buffet on the lower level.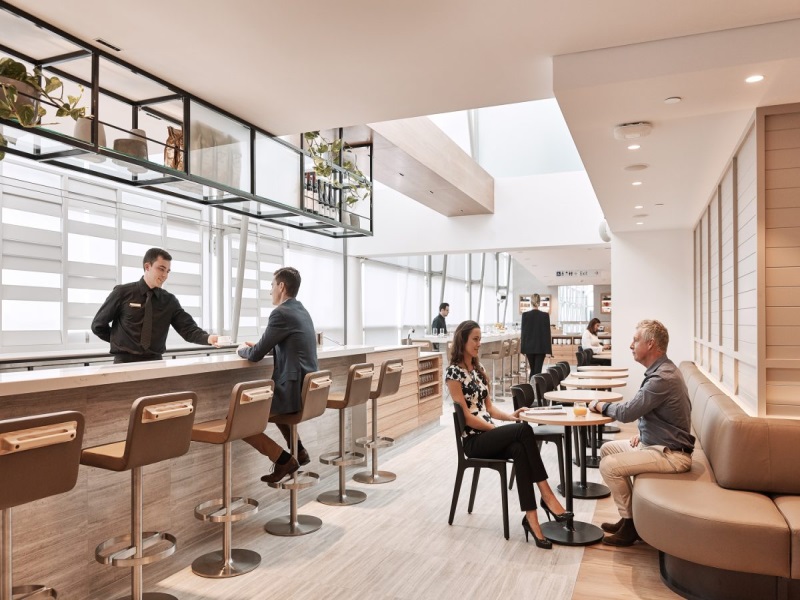 The Qantas Brisbane lounge also features a business centre with iMac computers, and free Wi-Fi through the lounge.
Within the Qantas Brisbane lounge are four shower suites with amenities by ASPAR Aurora skincare products and service by Sofitel trained staff.
Qantas International CEO Gareth Evans said the international lounge "reflects the natural beauty of the Queensland landscape through natural light, furniture and design, offering a new standard in premium travel from Queensland's capital.
Qantas domestic lounges at Brisbane are also set for a complete redesign in coming months, with a new Business Lounge and refreshed Qantas Club - including a new Valet experience - from early 2017, as lux-traveller has previously revealed.
The Qantas Brisbane International Lounge id open to Qantas customers travelling in Business, plus passengers in Business on Cathay Pacific and Fiji Airways, plus Emirates (although Emirates also have their own superb lounge).
Passengers in economy, with a oneworld Sapphire or Emerald card, and Emirates Skywards Gold, and Platinum can also access the lounge, as can Qantas Club and Admirals Club members, and Jetstar Business Max passengers.