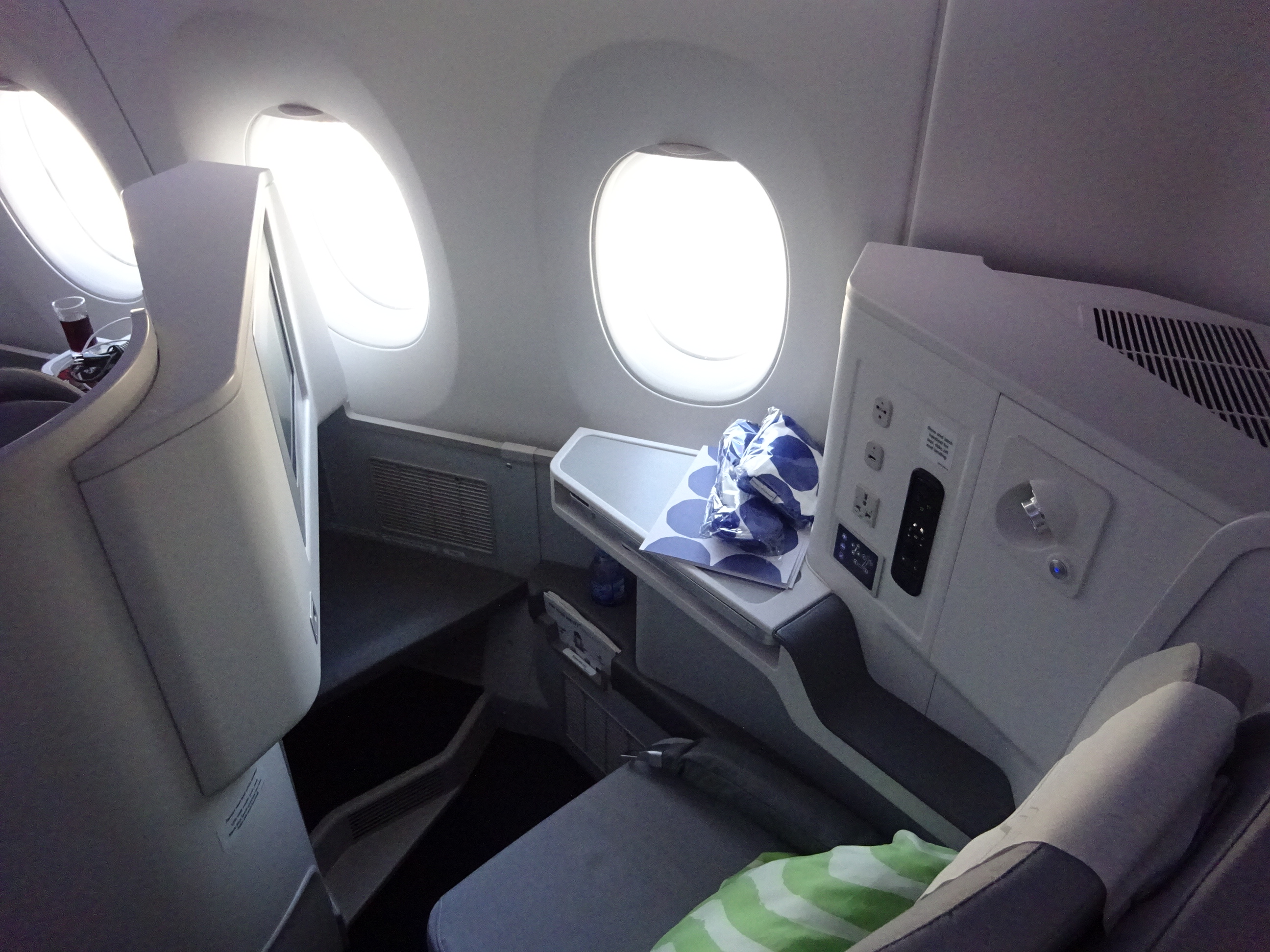 Not only is Finnair regularly flying the new A350 to Asia and America, the airline has recently revamped the business class meal selection, which you can order in advance, and the new Helsinki oneworld Emerald lounge.
Lux-traveller has been along for the flight from Bangkok to Helsinki, to check out how the meals and the lounges both stack up, on the new Finnair A350.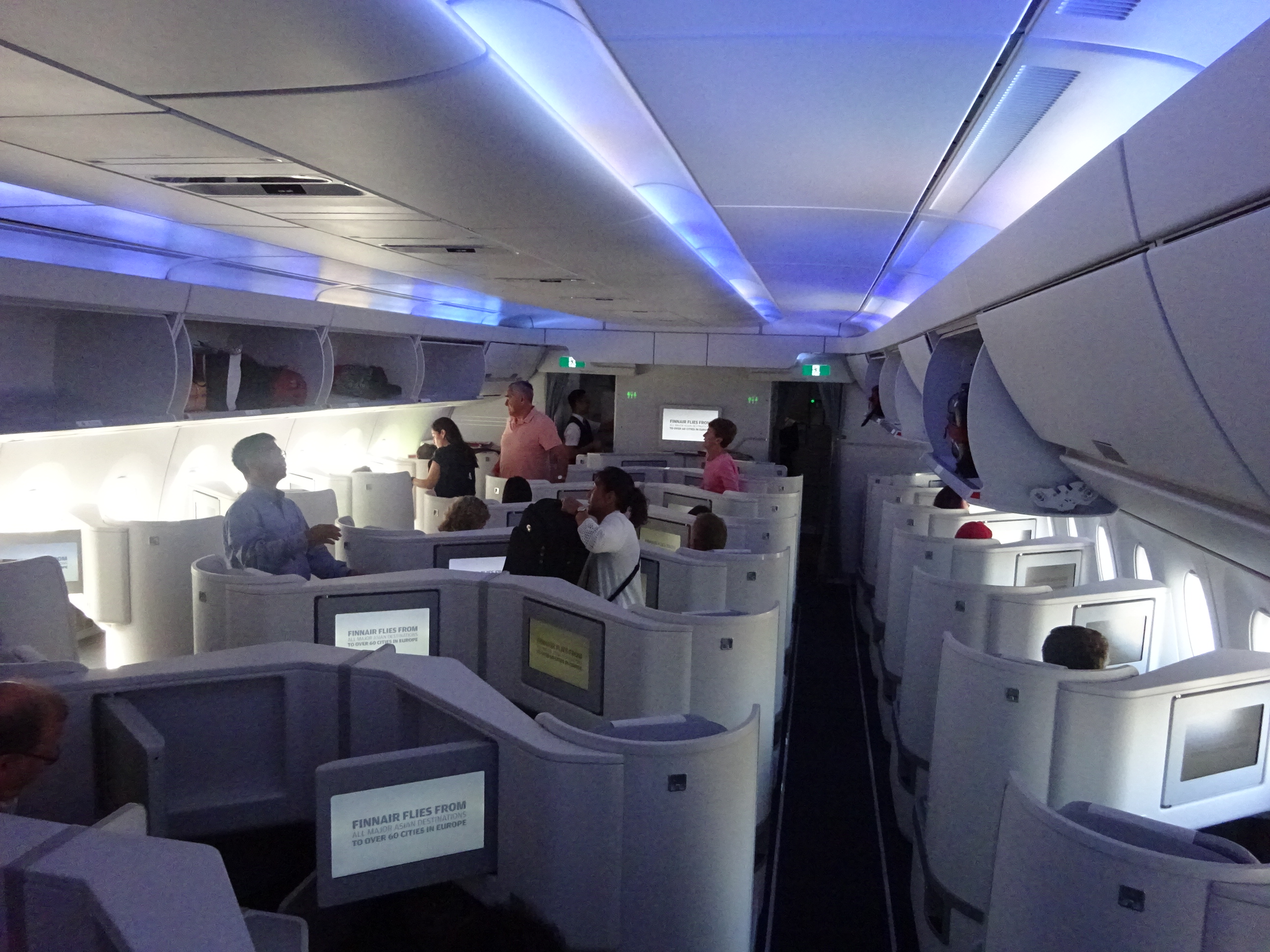 Finnair has recently revolutionised its in-flight experience, with a new cabin and amenities for the Finnair A350. Eventually Finnair will have 19 A350s, replaced in stages until 2023, replacing the ancient A330s and A340s.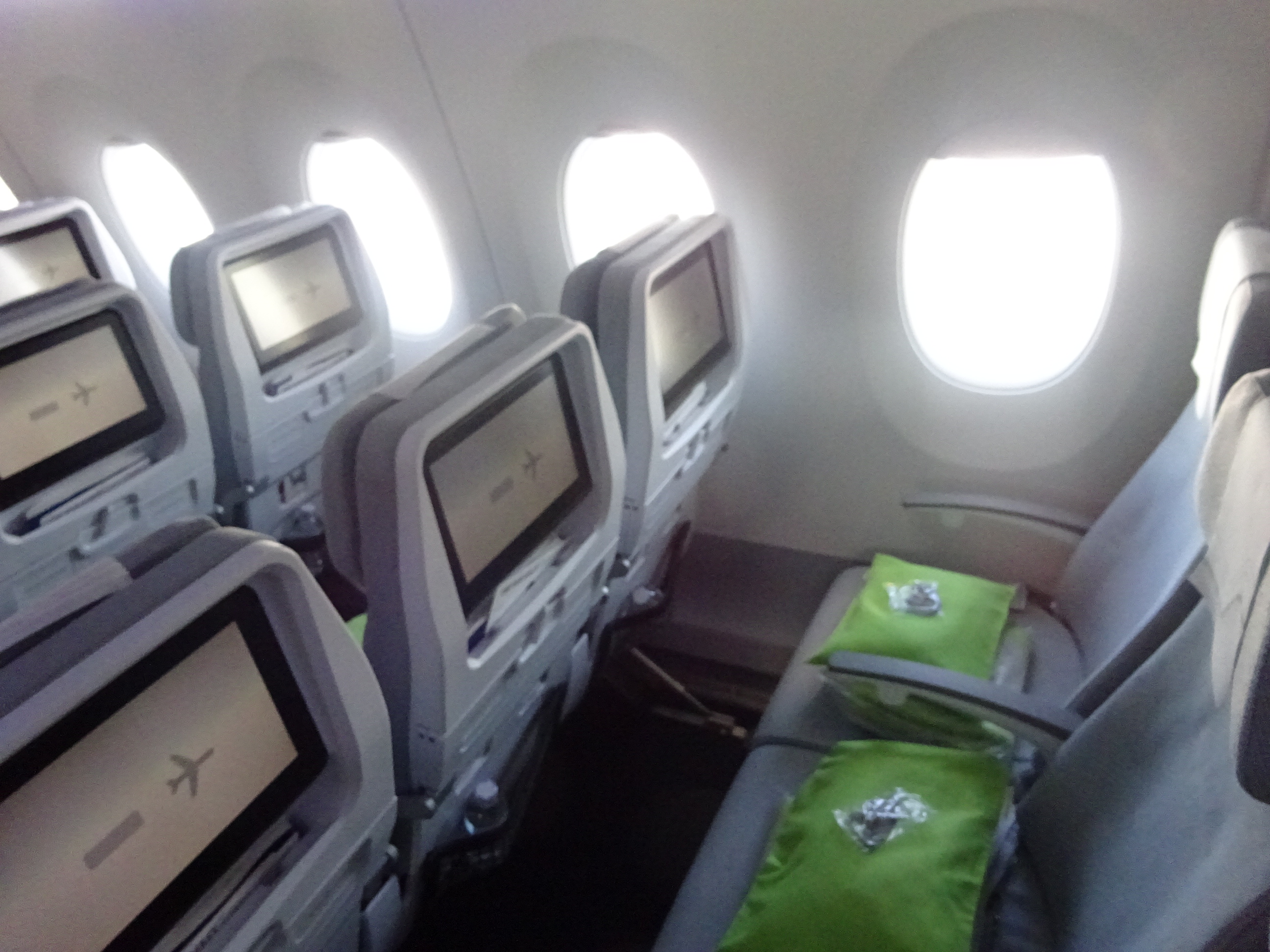 It's now bolstering that inflight quality with a great new lounge at the Helsinki hub, and the ability to order business class meals in advance.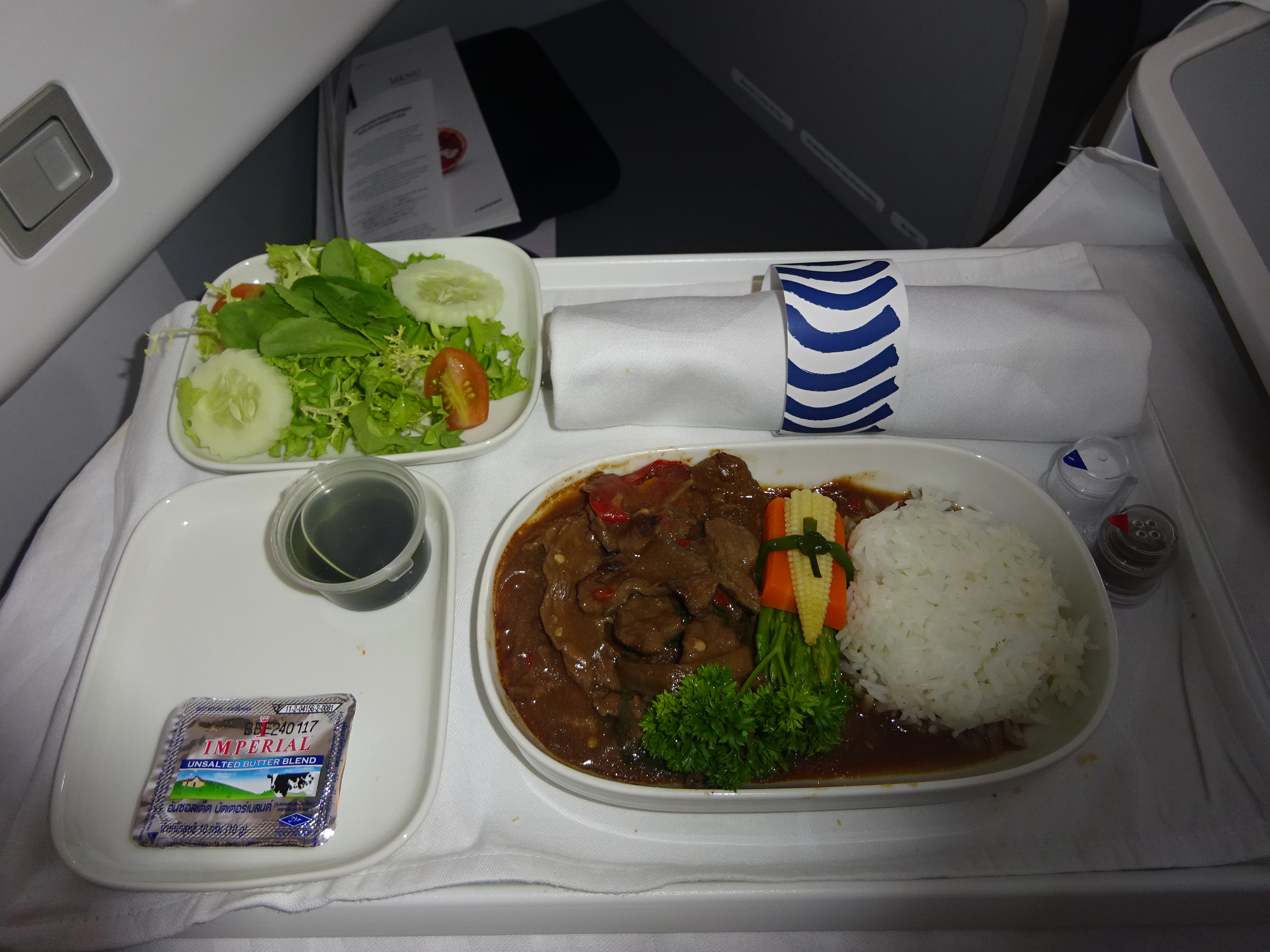 Of course, being Finnish, the meals have a twist, with a special reindeer course for more adventurous diners.
Finnair A350 Business Class seats
The new Finnair Business Class is very swish, with 46 seats in a 1-2-1 herringbone layout, giving every seat aisle access.
The new economy class on the Finnair A350 isn't bad either, with a 3-3-3 layout, and large screens, We took a trip to the back of the 'bus to try it out, and the seats are certainly pretty good and more than OK for a long haul flight.
There are now regular A350 flights from Bangkok and Hong Kong, which Lux-traveller was determined to check out. We'll have a analysis of the meals in the next edition, but along the way we thought we'd check out the ability to pre-order your preferred main course in advance.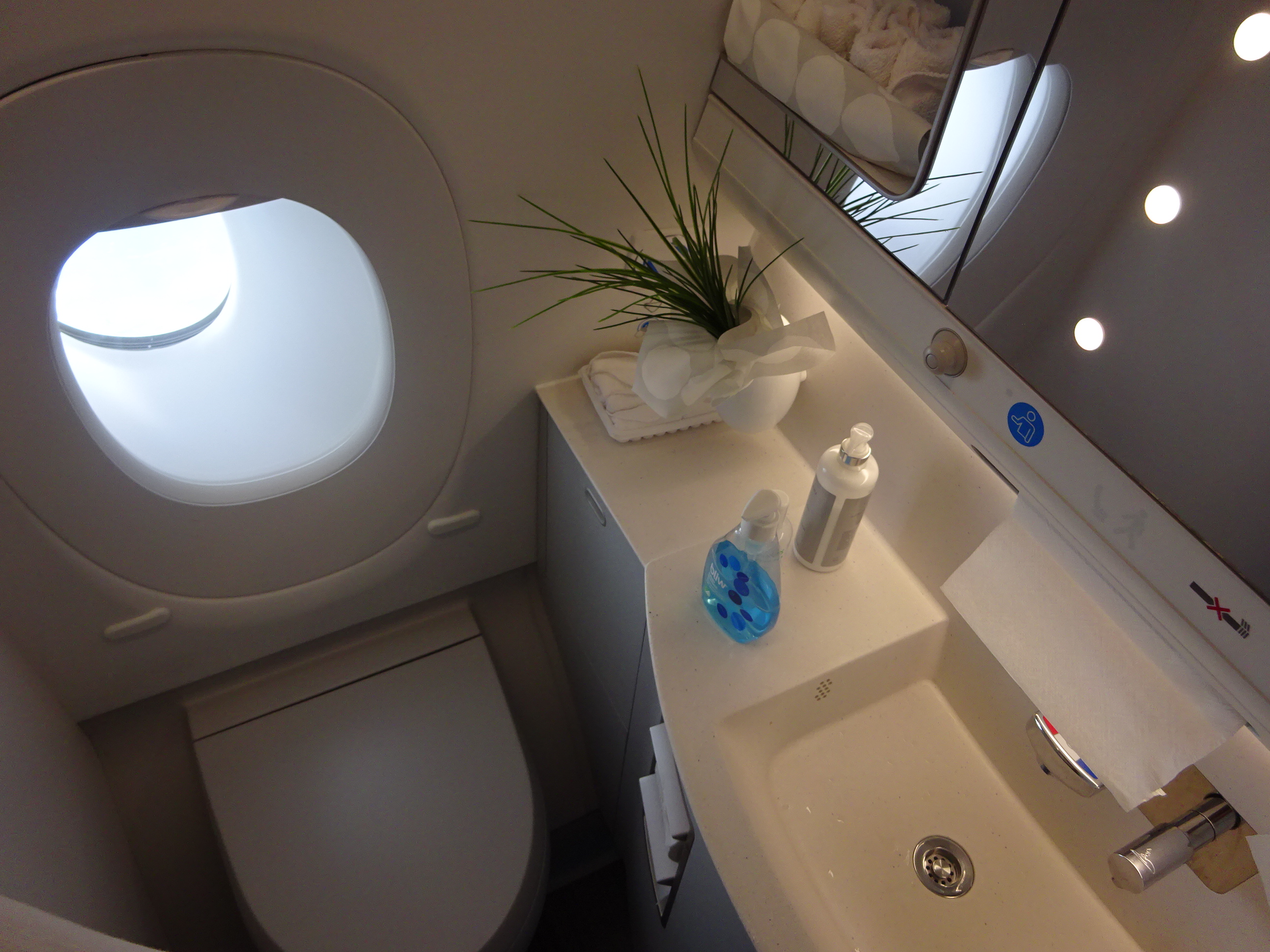 Primed by Finnair, we also wanted to check out the newly announced, but 'secret', dishes for those elite passengers who know to ask in advance. On flights from Helsinki, there are three extra options that passengers on-board never know about.
It was also a trial of the extra indulgence package, where you can ask for a box of chocolates to be delivered to your seat. Sadly, this never happened, as our pre-booked treats were never loaded.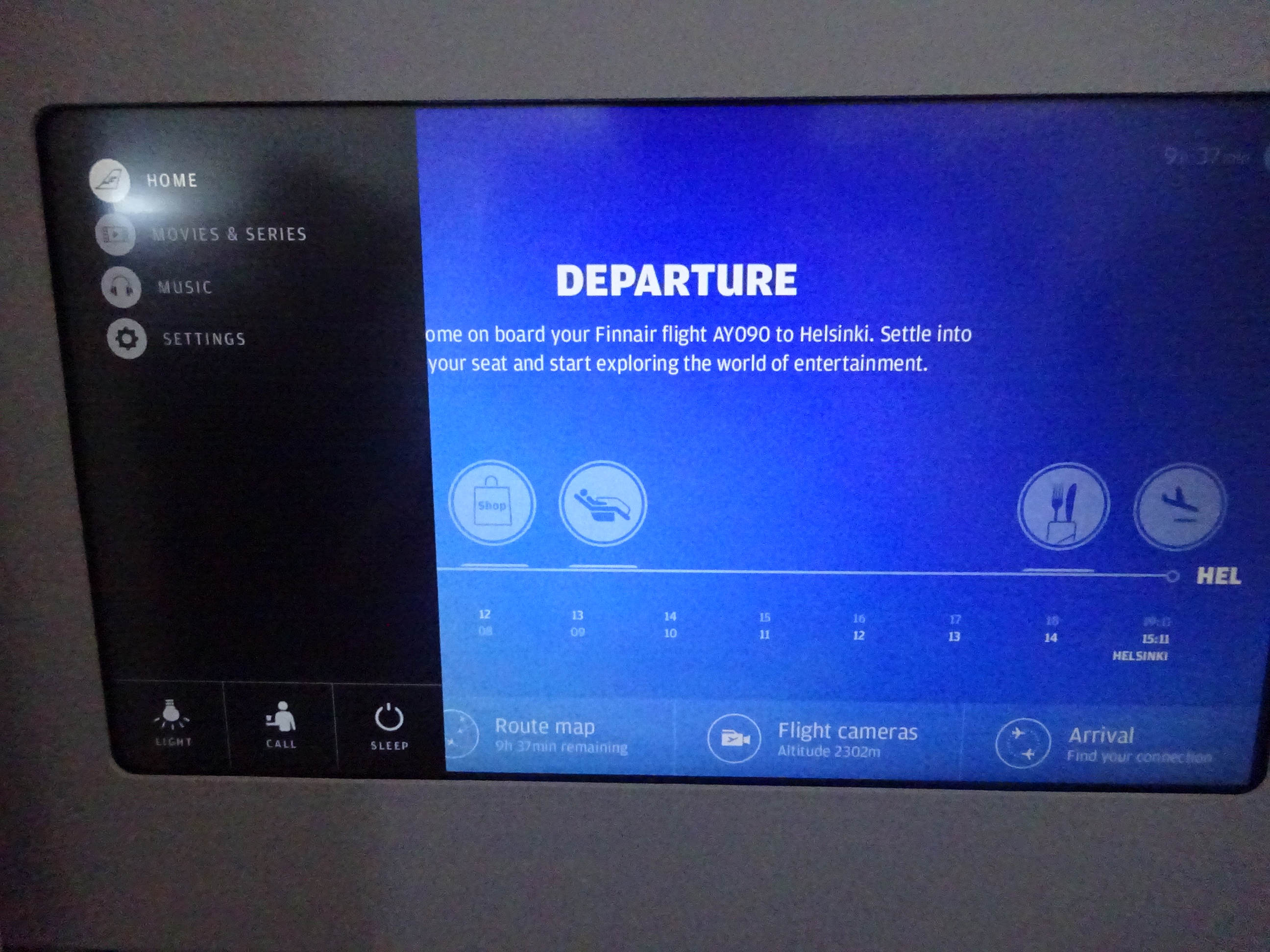 Finnair A350 IFE
First up for our test, we wanted to see how the new Finnair A350 Inflight Entertainment stacked up.
The answer is, pretty well compared to the old secondhand A340 that used to fly the route.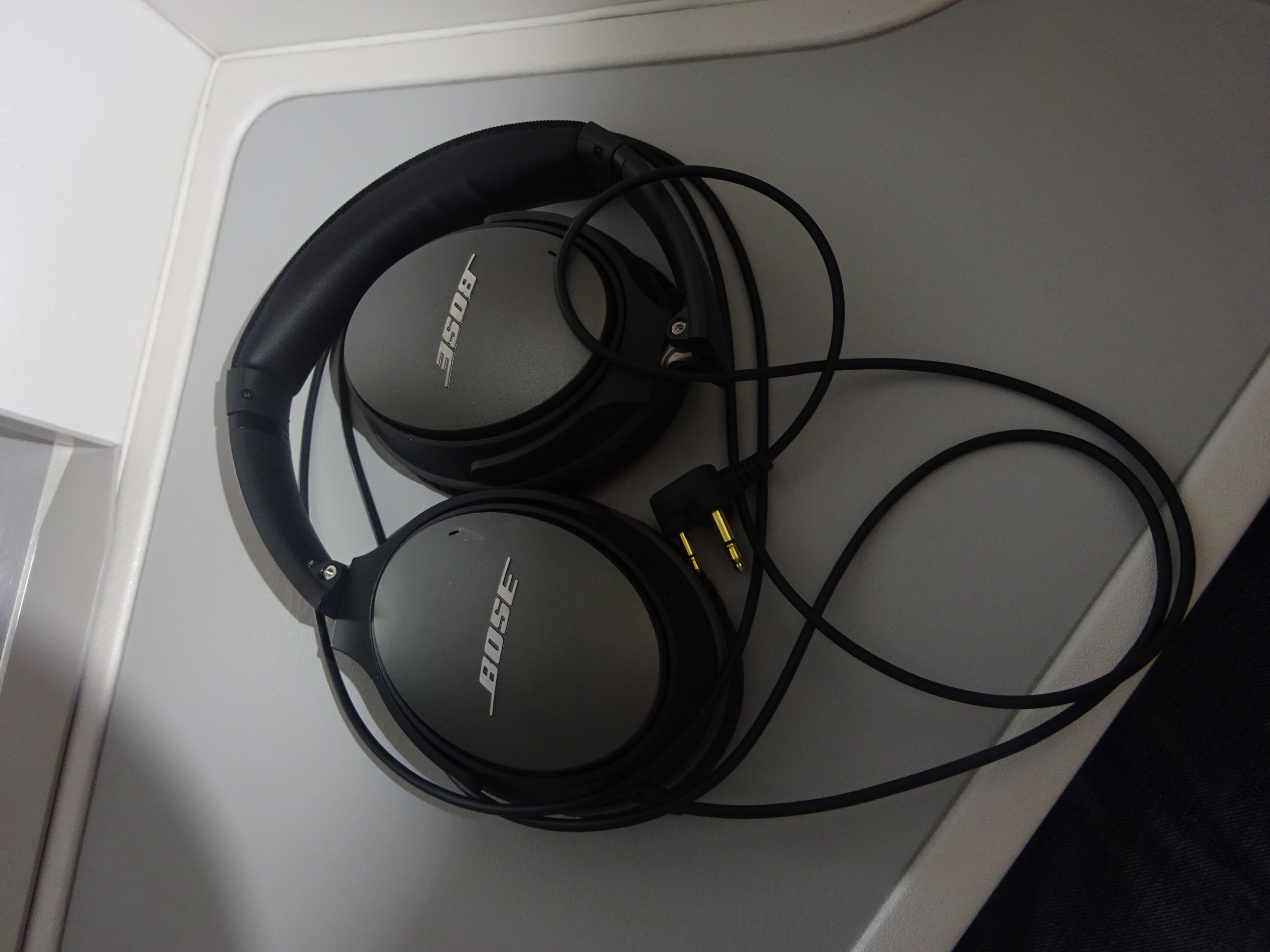 There are good noise cancelling headphones, and AVOD (On Demand video) as you might expect, plus free wifi.
The good news is the screens are large, and video quality is amazing. Less good is the actual content. We're not asking for much, but it might be nice to include a decent blockbuster that didn't sink without trace, something thinky, and maybe the odd film from the UK? Alas, the film selection on Finnair is pretty basic. Furthermore Finnair doesn't list it's inflight movie selection online for the month, so there is no way to know what you'll get until you get on board.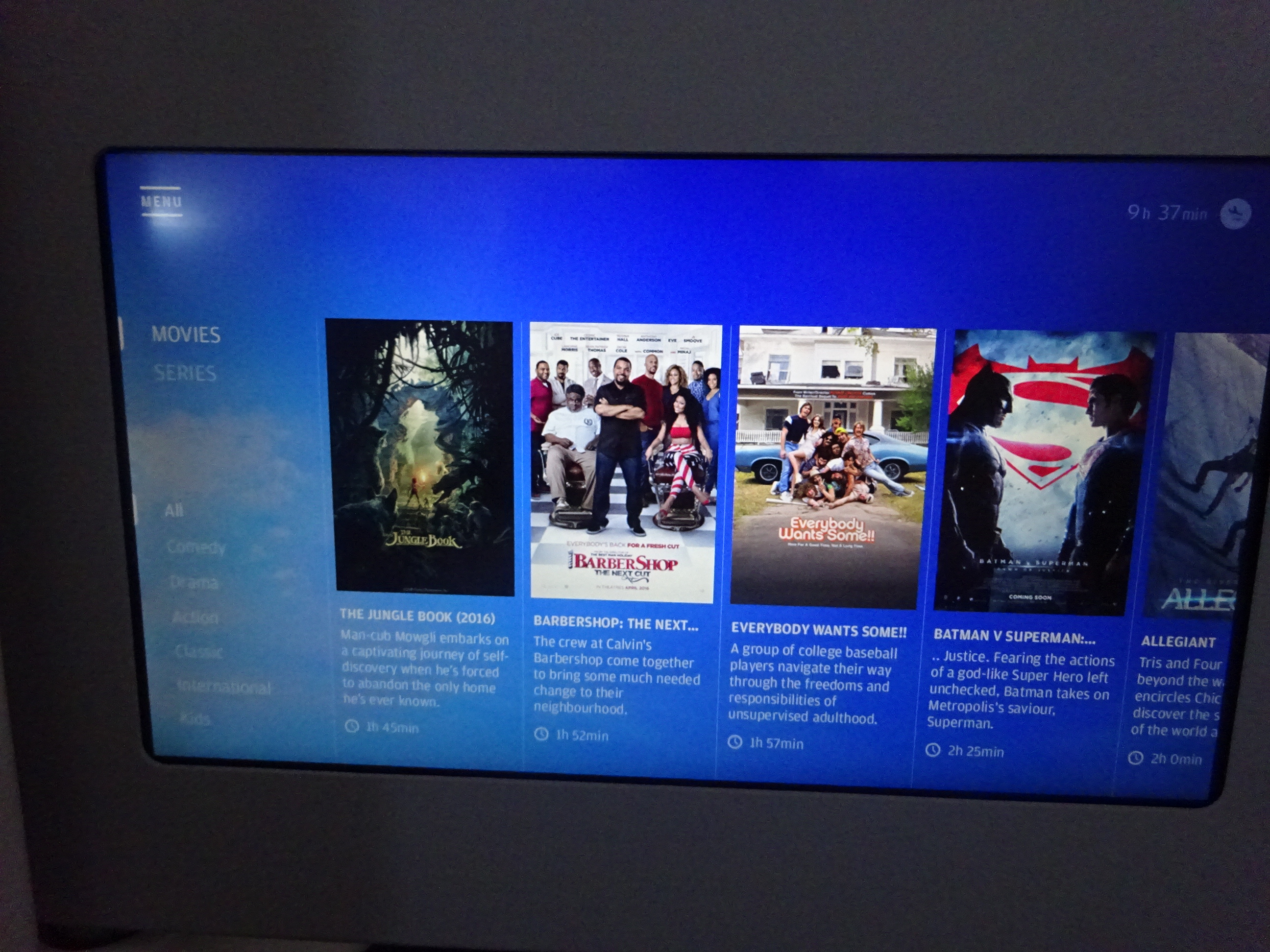 The Finnair inflight Wifi also promises a great deal, but it's such a pain to use. For the first hour of the flight, it was impossible to even get to the register page to try it, as everyone on board attempted to log on. When we did manage to register, it was very slow, but finally, about six hours into the flight when most people had given up, the speed crawlled up to an OK 256k/s.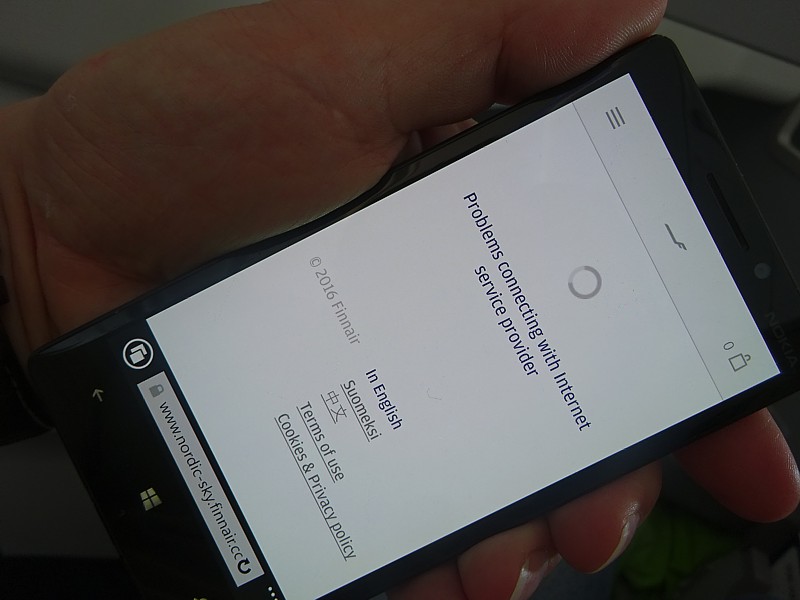 It's acceptable for reading emails or posting to Facebook, but woeful for watching video.
Finnair preorder meals
Finnair showcases its 'Nordic Kitchen' on flights from Helsinki, which means the most adventurous fare is from the Finnish Capital, but it also has local meals on flights from other cities such as Hong Kong and Bangkok, where the airline has various different celebrity chefs to design the inflight menus.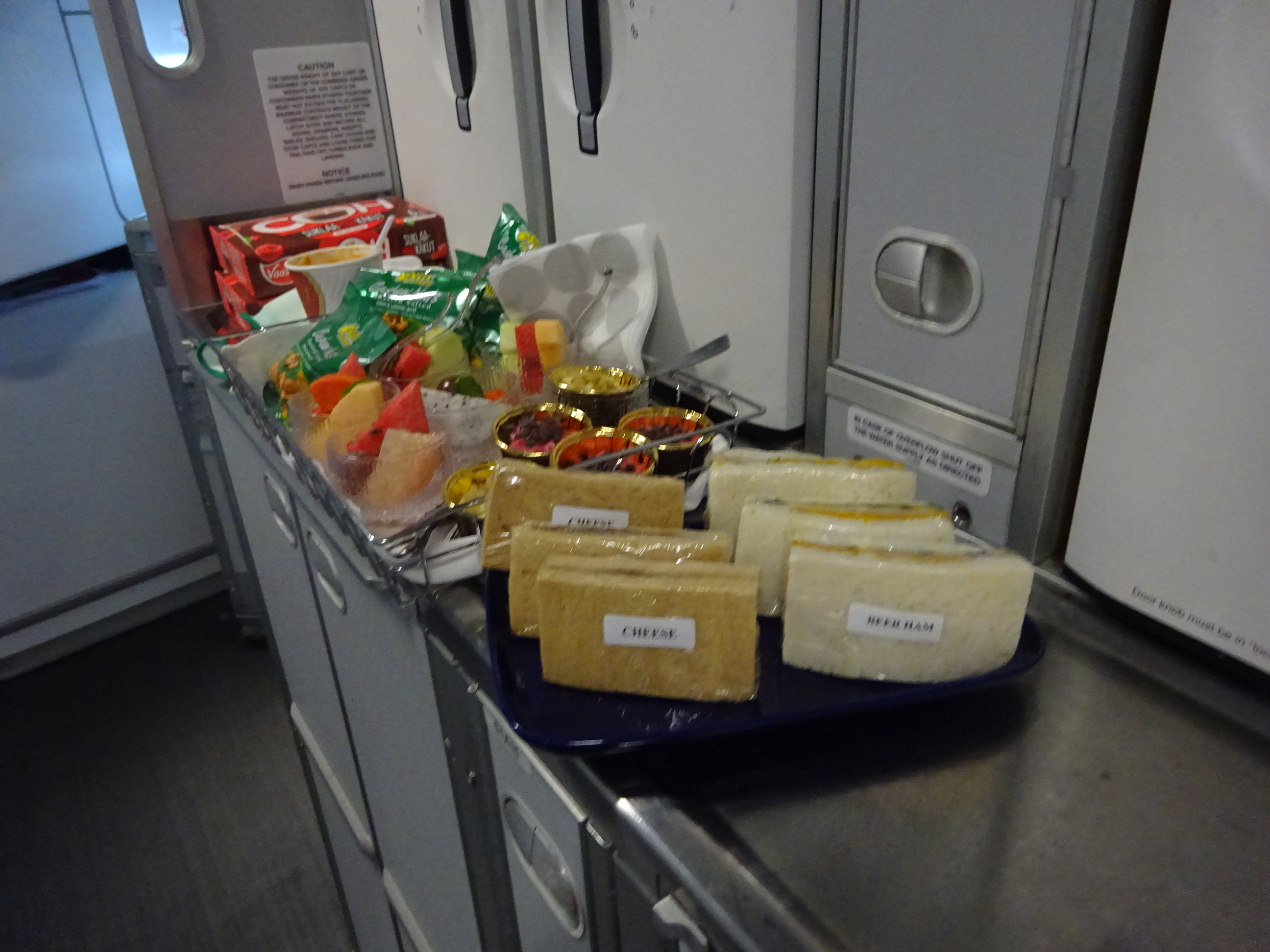 We also checked out the well publicised inflight snackbar on the A350,. Alas, this consisted of pre-wrapped sandwiches laid out in the galley, and packets of crisps.
That wasn't available on our flight from Bangkok, so we were faced with just the normal Chicken or Beef meals from the Thailand.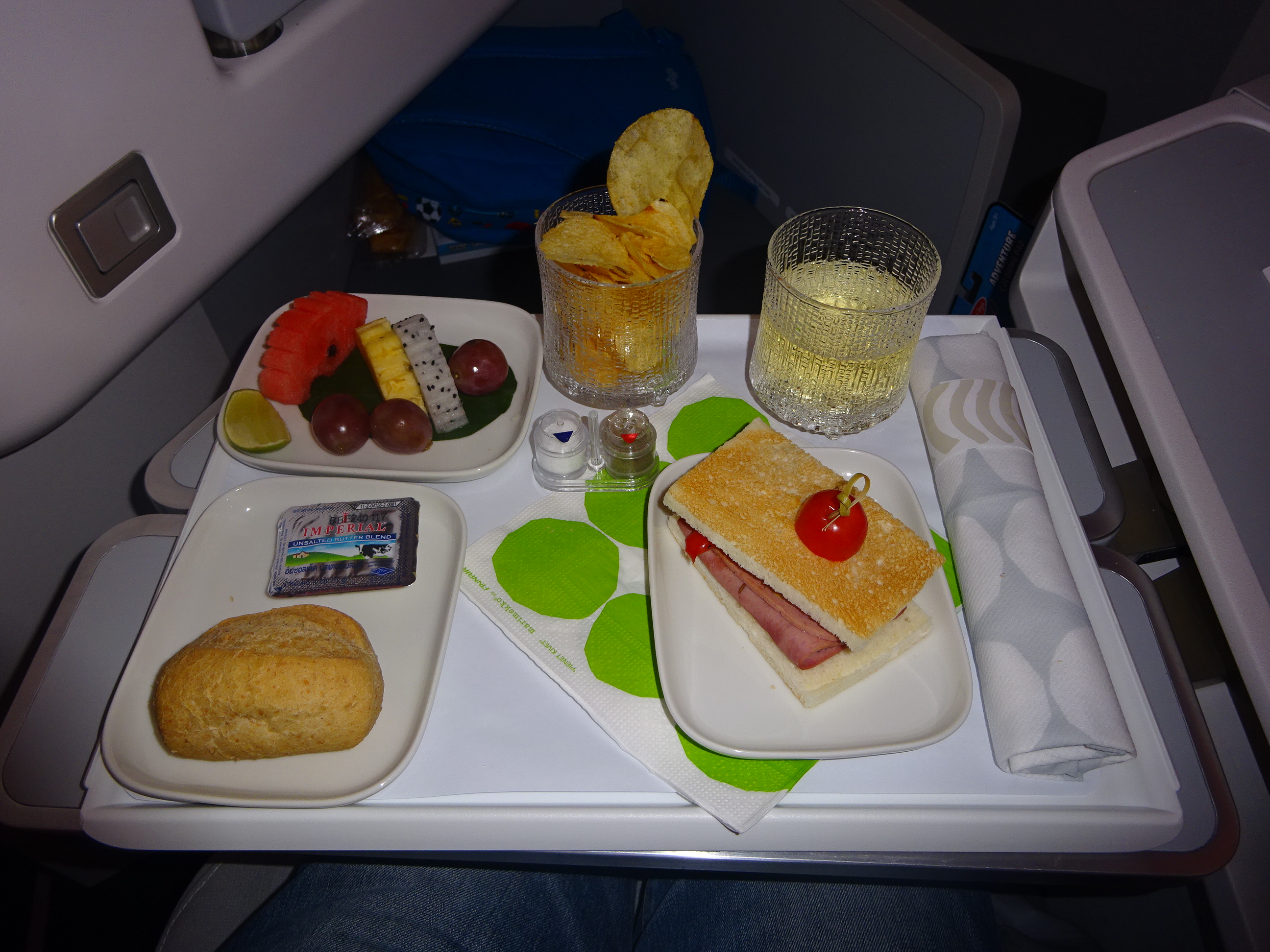 From booking until 24 hours before departure, the Finnair website allows you to book meals - but the options are well hidden. When you get an email from Finnair with your booking, click on 'select your seat' which brings up your booking then scroll down the larger 'meals' button. This brings up further details, and hidden on the small text is the line. "For more information about the Business Class meal options for this flight, please click here". This is where you can see the meal options.
However, to actually book it, you need to go back into the main booking, and select a special meal. There, among the options, are 'Options 1-3' which reflect the regular inflight menu. Oddly, other options are the seasonal healthy and foodie choices, plus the reindeer option listed as 'chef's gourmet' no less.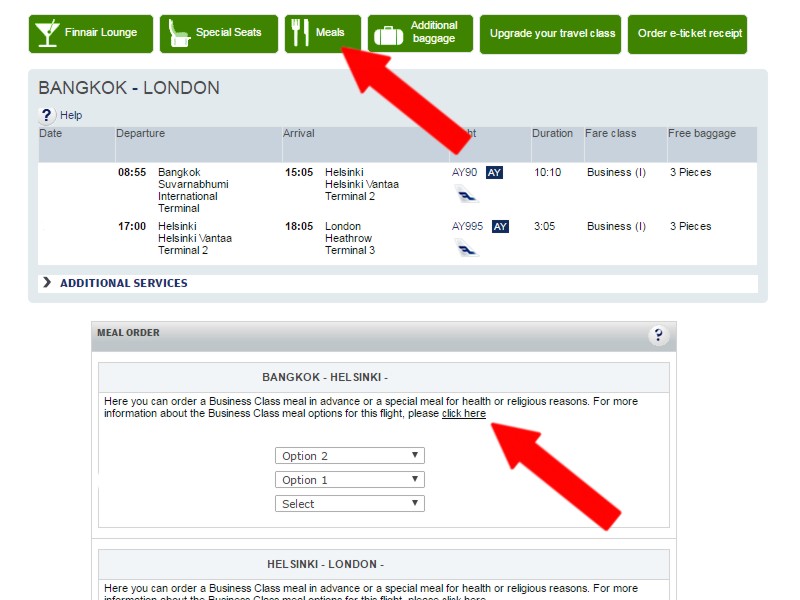 You can also pre-order a bottle of Dom Perignon for €144 (£100GBP) or a box of Godiva creamy mousse chocolates for €20 (£15), if you email asiakaspalvelu.finnairshop@finnair.com at least 72 hours before your flight. Alas, they were not loaded on our flight, but there are reports of it working from Helsinki.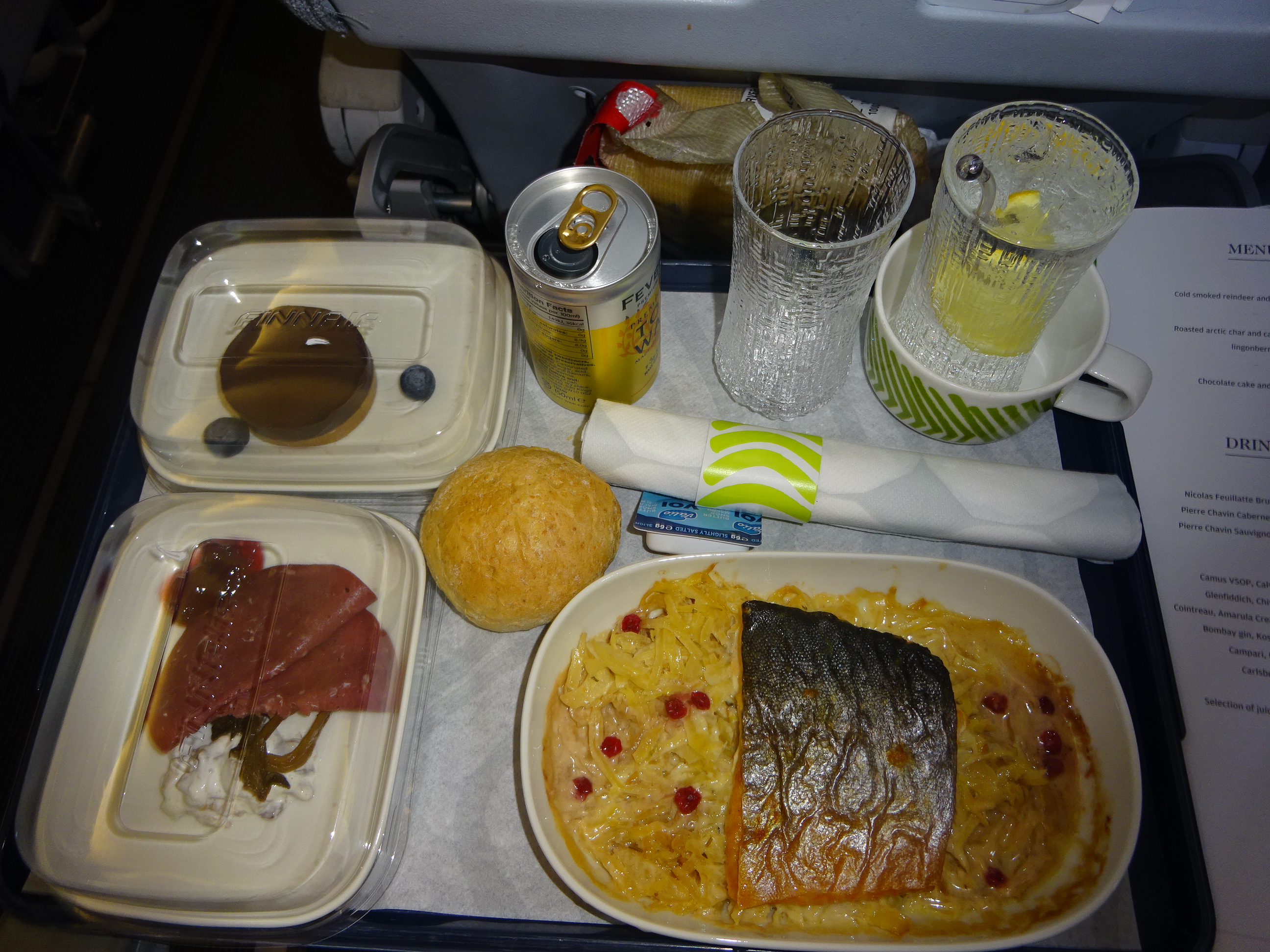 If you don't book the Dom, you'll be stuck with the normal Nicolas Feuillatte Brut Grande Reserve Champagne in flight. It's not the best bubbles in the world, and compares poorly with other wines on Cathay or Qantas, but its drinkable enough.
We found how the meals appear in flight somewhat different from the pictures offered, and quantity is a little lacking.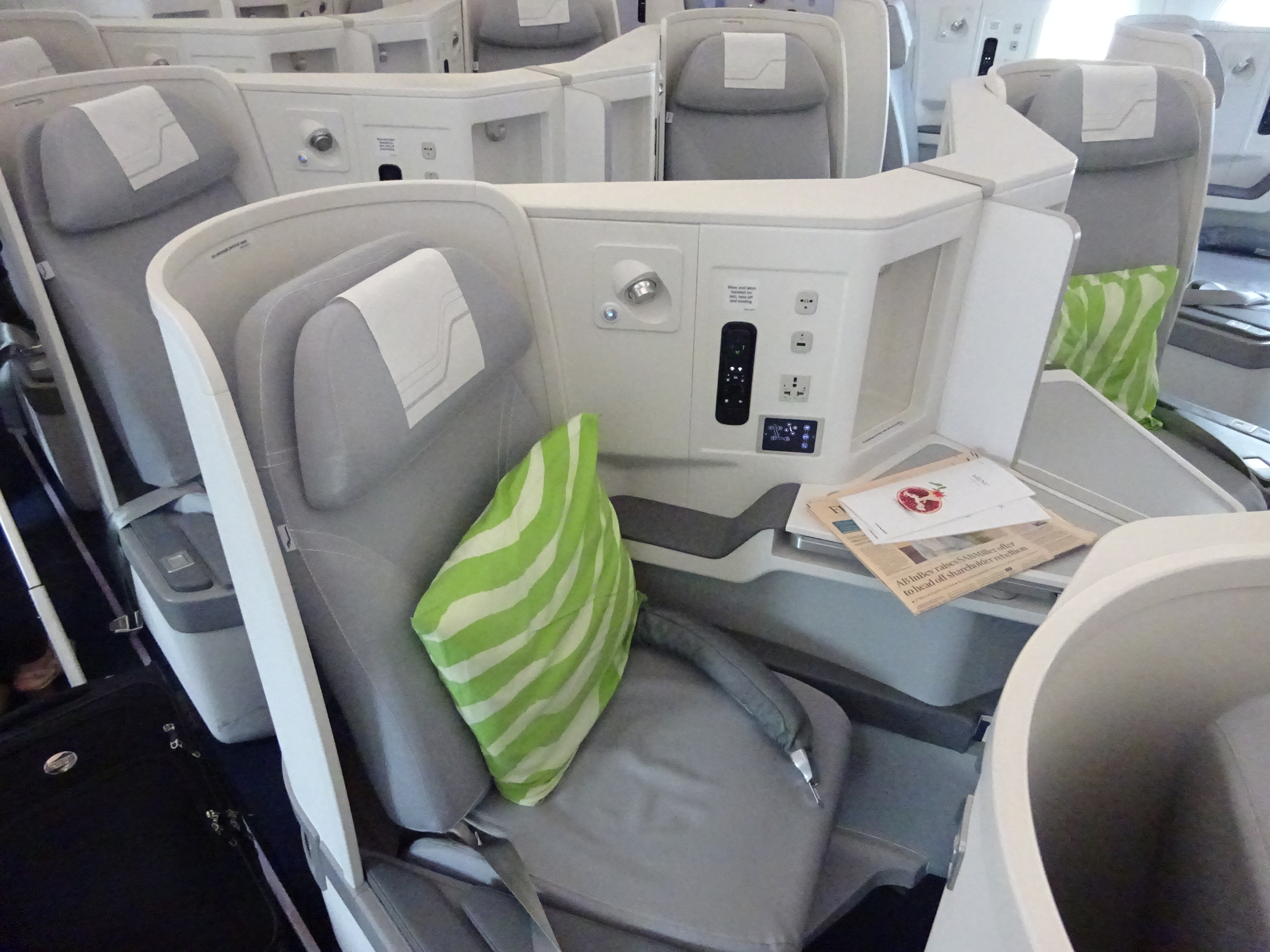 Finnair 'Premium Lounge' in Helsinki
Since Finnair no longer has a First Class cabin - that was axed back in the 1980s - the Finnair 'Premium Lounge' in Helsinki is designed for only top-tier Finnair Plus and oneworld frequent flyers.
A British Airways Gold card will get you in - but on Finnair you need to be Platinum or above in peak hours (3 to 5pm). At any other time, it is a regular oneworld Sapphire lounge. Business class passengers have no access.
The Premium Lounge near gates 36 and 37 in the non-Schengen area of Helsinki Airport. This is the part of the airport designed for long-haul flight out of the Schengen area, plus the UK of course. It is opposite the regular business class 'Finnair Lounge', which frequently gets packed during the day.
Once in the Premium Lounge, it is clear it is very definitely a step up from the humdrum Business Class lounge. Quirky and Elite, the focus of this lounge is on relaxing.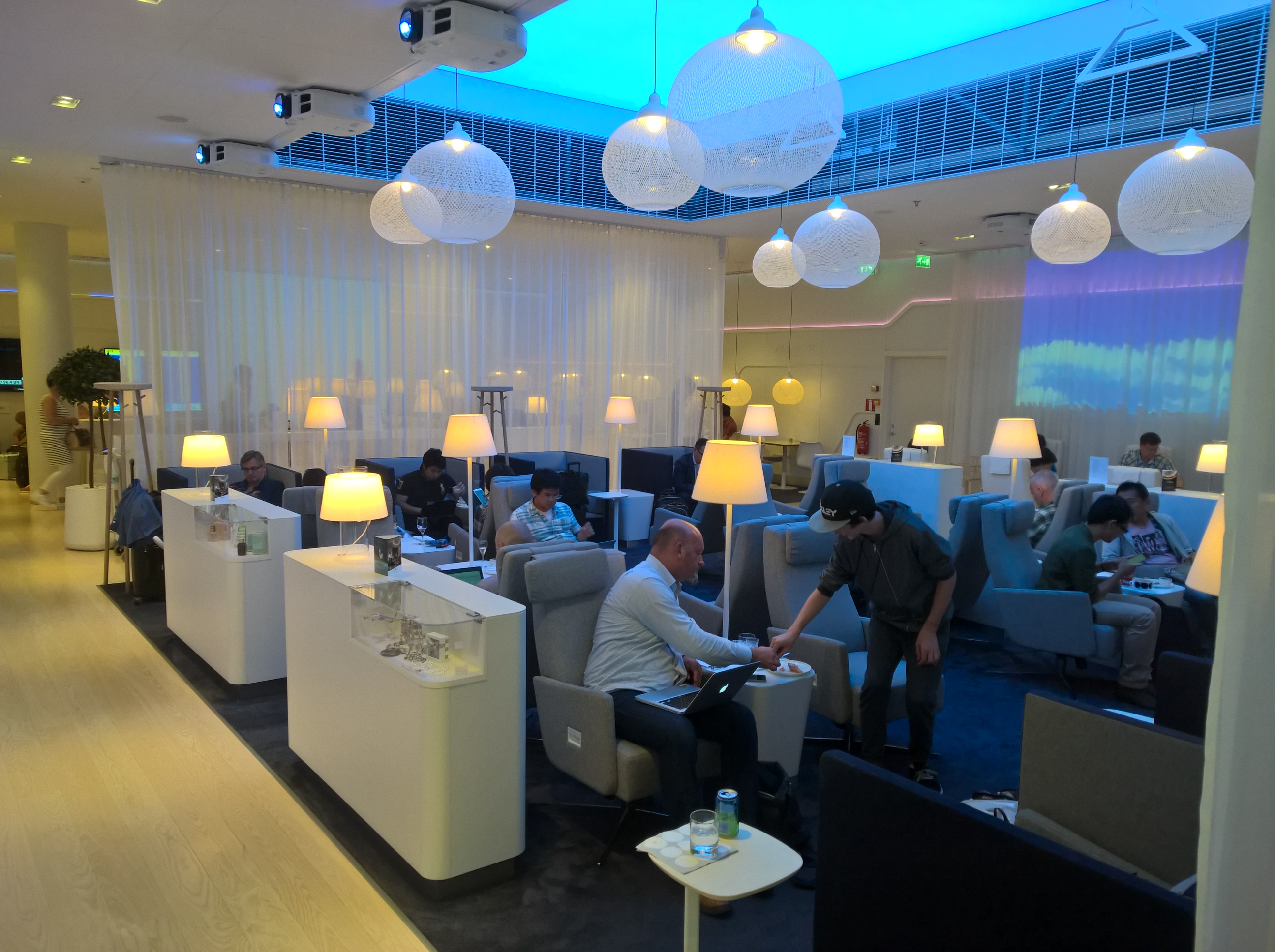 Right in the centre of the lounge there is a big space with mood lighting, from cool blue to sunrise orange. The moods change abruptly every 15 minutes, which can be a bit of a mental mind jump.
There is a great upstairs area, with a good separate relaxation space. There are square seat and a half seats for solo travellers, and white leather swivel seats, with power sockets. The view from here, out of the window, is great.
Upstairs there are also four relaxation chairs behind a door, each with their own privacy curtains and with pillows and blankets to snuggle down in the warm. Up here there is also the newspaper rack.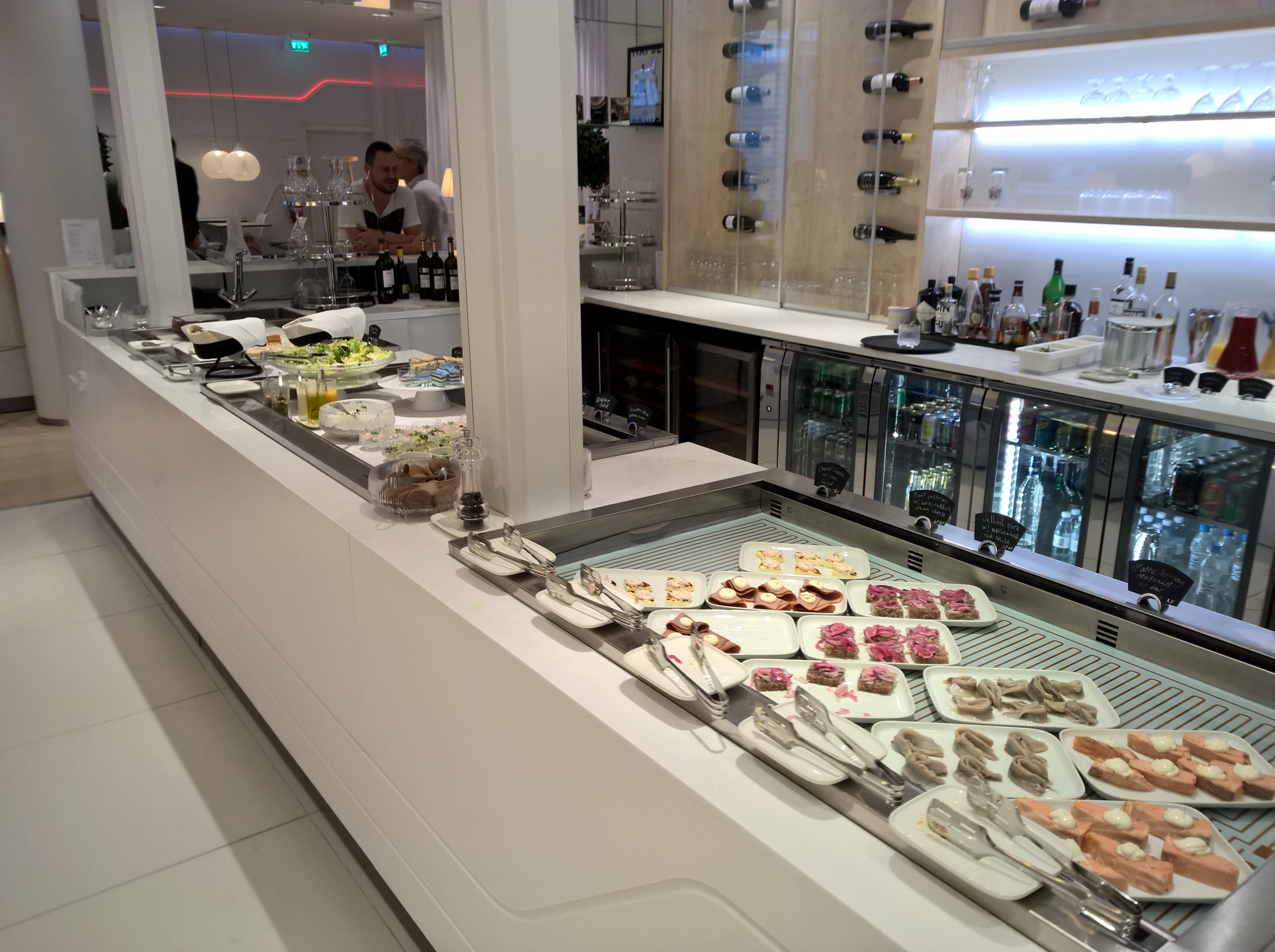 There are six shower suites, and next to the changing rooms there is also a mixed-gender, towels-optional sauna. Just remember this is an airport lounge.
There are no business facilities other than four iMac computers hidden away behind the curtains, but there is wifi thanks to the airport's own supply. It is blisteringly fast, making Heathrow look very poor by comparison.
However, the lounge is all about the food - and here it is great, with a dedicated dining room in the far corner of the lounge. However, you have to walk over to the buffet to get some food.
The food is pretty decent, with lots of cold cuts and cheeses. However, there's isn't much hot food on offer. The salads, wild boar pate, and cold chicken coleslaw is good. Leave room for deserts, as there are plenty.
Don't miss out on checking out the famous Finnair glasses. There is Ultima Thule glassware by Tapio Wirkkala.
The bar is great too, with Champagne with Nicolas Feuillatte Brut Reserve. The bar is fully tended, and mixes up a great cocktail.
The only real problem with the lounge is, it gets packed. And then some. When we visited, we found passengers sitting in the floor. There was nowhere for a couple to sit, let alone a group of four of us. The lounge felt less premium, and more pay-in. All in all, we eventually decided sitting out in the main terminal was more relaxing. Just be warned, at peak times - like whenever there is a longhaul flight about to depart - it is certainly not premium.
In the second part of this special report on Finnair, we'll take a close look at pre-booked Finnair meals, while in the third part we'll check out Finnair trans-Europe and have a closer look at the lounge.
Lux-traveller paid its own way for this Trip Report from Bangkok on Finnair, and travelled incognito.