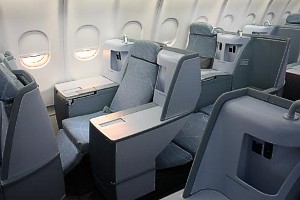 Finnair has received its fifth Airbus A330 aircraft. Business class on the new plane has a innovative style of seat. The newcomer's business class has a new type of full-flat seat, which reclines to fully horizontal, as well as a new lay-out with more seats, offering more privacy than before. The seats have been arranged so that nearly 90 per cent of passengers have direct access to an aisle. The cabin also has more storage space for hand baggage and clothing.
The new business class Contour Vantage seats recline to fully horizontal. Finnair is one of the first airlines in the world to introduce the seats, although one other European airline has already experimented with them. The new lay-out also allows the seats to be arranged so that more seats fit into the same space. Business class has 45 seats instead of the 42 seats of previous aircraft. A third of business class passengers can choose a lie-flat seat that sits on its own, without another seat beside it.
All classes have seatback TV units, and power points for laptops. It also possible to send text messages during flights.
This year the company has taken delivery of five new Airbus A330s. The Airbus A330 aircraft are part of Finnair's long-haul traffic fleet modernisation, to cut out its really rather tired MD-11s, which will reduce emissions significantly. The A330 aircraft is used on shorter long-haul routes, such as New York, Seoul, Delhi, and Nagoya.