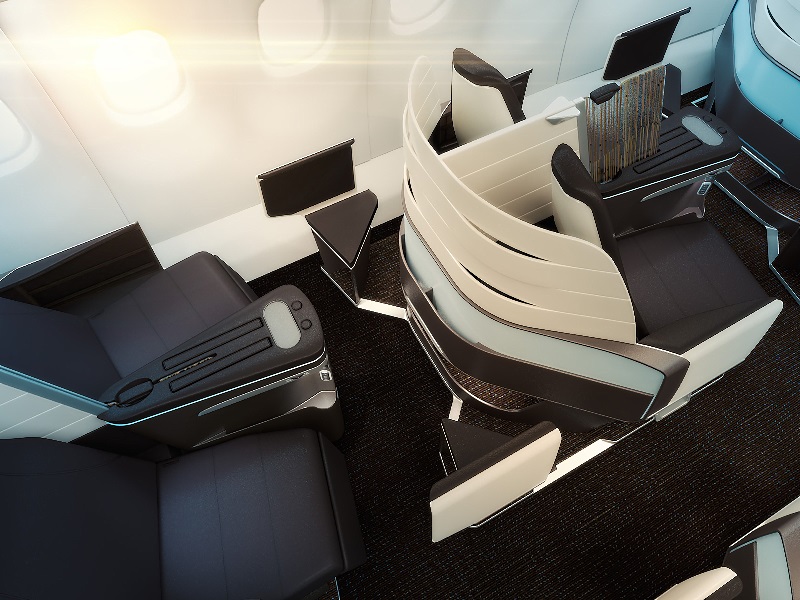 Hawaiian Airlines will upgrade its Airbus A330 business class seats to a fully flat seats. The inflight entertainment system also gets an upgrade, as does the inflight service.
Hawaiian Airlines has revealed its latest business class seats for international routes on using its A330 aircraft.
The new Business Class seats are arranged in a 2-2-2 layout, and will electronically recline into 76-inch beds.
There is a new inflight entertainment system too, with large-screen tablets fitted with a telescoping adjustable arm, allowing passengers to position the tablet for viewing when the seat is reclined. The tablets will be pre-loaded with films and TV programmes.
The new seats were designed by a partnership between US design and branding agency PaulWylde and Italian manufacturer Optimares. The design apparently reflects its Hawaiian heritage with "flowing curves evocative of the winds and ocean, while marrying organic textures, pops of bright saturated colour, and luxury materials like leather from Poltrona Frau" according to the airline.
Each Airbus A330 will have 18 business class seats, however the premium economy product called Hawaiian Airlines 'economy comfort' will increase from 40 to 68 seats. The cabin has 36 inches of pitch compared to 31 inches in standard economy, along with a power socket, and free inflight entertainment and priority boarding. The charge for entertainment in standard economy remains.
Mark Dunkerley, Chief Executive of Hawaiian Airlines says "the new premium cabin evokes an engaging bold, contemporary sense of Hawai'i, complemented by the warm aloha spirit of our cabin crew. We are creating an environment of tranquillity and comfort in the air."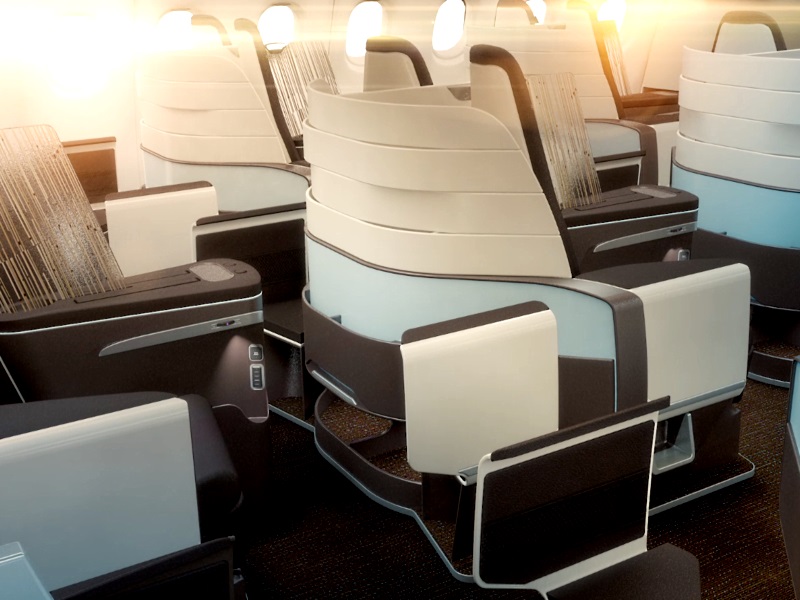 However Hawaiian Airlines has raised eyebrows with its decision to maintain the cabin in a 2-2-2 layout, unlike the new look A330 business class cabins operated by competitors like Qantas with a 1-2-1 layout, and the 76 inch bed includes an area where your ankles have to slot in a narrow triangle beside the seat ahead.
A bamboo and glass screen will add some privacy between the seat and it's neighbour, however passengers in the window seat will still have to hop over the passenger beside them to exit the seat.
The decision to use tablets, rather than a true inflight entertainment system with seatback TVs, is also unusual, however this reflects the generally lower cabin quality expectations on US based airlines, and reflects a very similar quality of service and hard product on Fiji Airways, another airline which describes itself as a boutique airline over the Pacific.
It is certainly a vast improvement on the current 1970 design recliner seats used by Hawaiian Airlines at present.
The first A330 retrofitted with the new seats will fly by mid-2016 and all the airline's 23-strong A330 fleet will have the seats by the end of 2017.