New KLM 787 Business Class seats
The new design of KLM Business Class seat is being readied to fit inside the airlines first Boeing 787-9 Dreamliner. The Zodiac seat is similar to Air France and Cathay Pacific's Cirrus seat, using lie-flat seat at an angle.
KLM Royal Dutch Airlines has given tantalising glimpses of the new design of the KLM Business Class seat, which will be fitted to the airlines first Boeing 787-9 Dreamliner. The aeroplane will start flying in October 2015.
The KLM 787 Business class has 30 seats, which are at a slight angle to the normal straight ahead look of the plane.
Seats lie fully-flat, with a 1-2-1 layout so that every passenger is one small step away from the aisle. There is a large side storage area and 16 inch HD video screen.
KLM says it will use warm colours for the cabin, with different shades of brown for every seat. There will also be large pillows and blankets to make the cabin more comfortable.
The business class seat KLM are installing is based on the new Zodiac business class seat used by sister airline Air France, which very similar to the seat initially used by Cathay Pacific.
"The Boeing 787-9 enables KLM to offer passengers even more comfort and privacy," says Pieter Elbers, KLM's Chief Executive. "KLM has chosen to add specific improvements to this special aircraft, which make it unique among other 787s. All these details add up to ensure our passengers can experience a new way to fly."
KLM's will also launch its inflight Internet service, with a wifi connection so passengers can use the internet, and email on board using laptops, tablets and mobile phones. KLM wifi has recently been trialled on other aircraft in the fleet.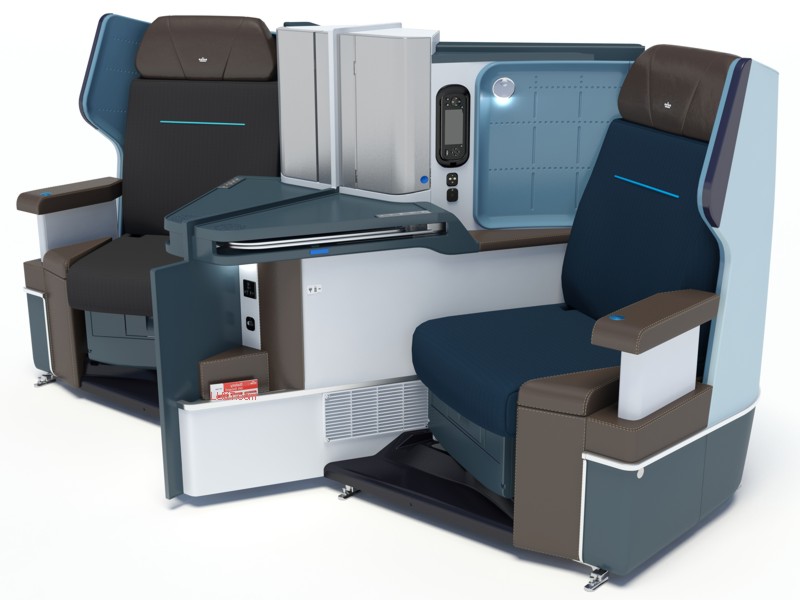 The Inflight Entertainment system now provides access to more than 150 films and 200 TV programmes in 12 languages, including a large number of local films. The new IFE also runs an app called Seat Chat, so you can talk to fellow passengers who are not seated nearby.
There is also a new seat for the Boeing 787 with KLM Economy Class. The new design means the seat can recline 40% further, and and all passengers have access to a power socket where they can recharge their mobile equipment. There is a new larger 11 inch seat-back HD TV screen, with an intuitive HD-quality touch-screens.
KLM's Boeing 787 Dreamliner inaugural flight will be on the 25th of October 25 from Amsterdam to Abu Dhabi and onwards to Bahrain. It will then fly routes including Rio de Janeiro, Tokyo and Shanghai in 2016.