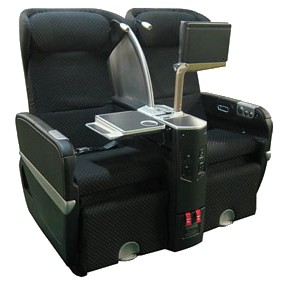 JAL Sky Recliner arrives when it receives four new Boeing 767-300ER aircraft
Japan Airlines will put into service, a brand new international executive class seat - the JAL Sky Recliner - when it receives four new Boeing 767-300ER aircraft from the manufacturer starting this month. The new 767s are also equipped with the most advanced version of JAL's in-flight entertainment system, with a terrible name of Magic V, which now offers a touch-screen function and what is called enhanced compatibility with personal electronic devices. In other words, you can now view pictures on a USB stick.
Similar to the JAL First Class seat on domestic routes, the JAL Sky Recliner is shaped like a squishy arm chair with removable armrests. No leather - instead there is just standard. The seats have a pitch of 51 inches, reclines to 132 degrees and are arranged in a standard fairly cramp 2-2-2 configuration.
A good point of the seat is the large partition that separates both seats to give a bit of privacy, as well as a larger seat pocket.
JAL's updated in-flight entertainment system, MAGIC V, is a standard AVOD system, with a 10.6 inch touch screen TV monitor, and a USB port as well as an electrical power outlet to provide power for iPods and laptops.
A nice touch - and one that many operators still haven't fitted - is that you can view your own videos or photographs by connecting a personal gadget such as an iPod, digital camera or video camera to the system. JAL have taken a leaf out of LAN's book, and added Picture In Picture so you can display a small flight map in a corner of the screen when watching a film.
The medium-sized Boeing 767-300ER is one of the main models in JAL's international fleet. The aircraft equipped with JAL Sky Recliner will be scheduled on routes to destinations like Singapore and Beijing from this month.