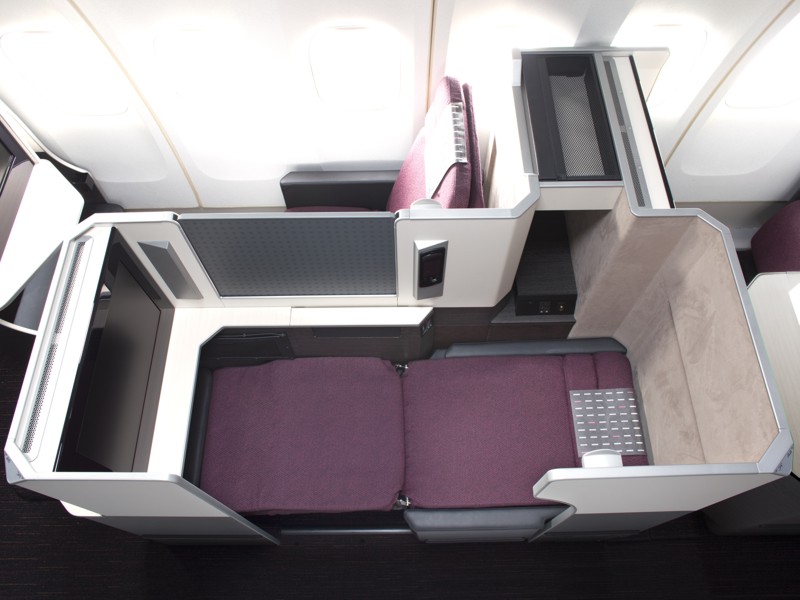 JAL create the most spacious twin aisle aircraft flying, by removing seats to give passengers more space.
Japan Airlines JAL have confirmed that their new Boeing 787 is to restart the Osaka-Los Angeles route, starting on March 20th 2015, a route the airline axed many years ago.
It is JAL's only long-haul route outside of Tokyo, although the carrier is reported to be considering re-opening the Osaka to London Heathrow route as well, as deliveries for Boeing 787s step up for JAL. It will operate 20 Boeing 787s in it's fleet, which opens up many more 'small-thin' routes, as opposed to its usual hub and spoke network out of Tokyo.
JAL have also confirmed the airline is considering a new Sao Paulo service via New York, and JAL will fly the new aircraft to Jakarta in July 2015.
JAL has also announced plans to retrofit its 787s, adding new business class SkySuites as well as premium economy, despite the oldest 787s in the fleet being only three years old.
The new cabin will cut the size of the current economy cabin by over one-third, moving the economy class to a layout of 2-4-2 instead of the current 3-3-3, with JAL removing one seat and focusing on seat width to create a spacious area. This is an area where airlines like Emirates have fallen notoriously flat - or rather, narrow. JAL economy seat pitch is 33 inches (up from 31 previously), and there is a 10 inch TV screen.
The new JAL 787s only have a small economy section at the back of the plane, which lux-traveller suspects may be the most spacious twin aisle aircraft in mainline service. Up front there are 38 business class seats and 35 premium economy seat, with premium taking up two thirds of the aircraft.
JAL's new Sky Suite 787 is based on the airline's Boeing 777 business class, and is very similar to British Airways new offering, with high walls, however ever passenger faces forward. The seat reclines into a fully-flat 188cm (74 inch) bed. There is more space at shoulder level, with the width being 65cm, but only 53cm at feet level.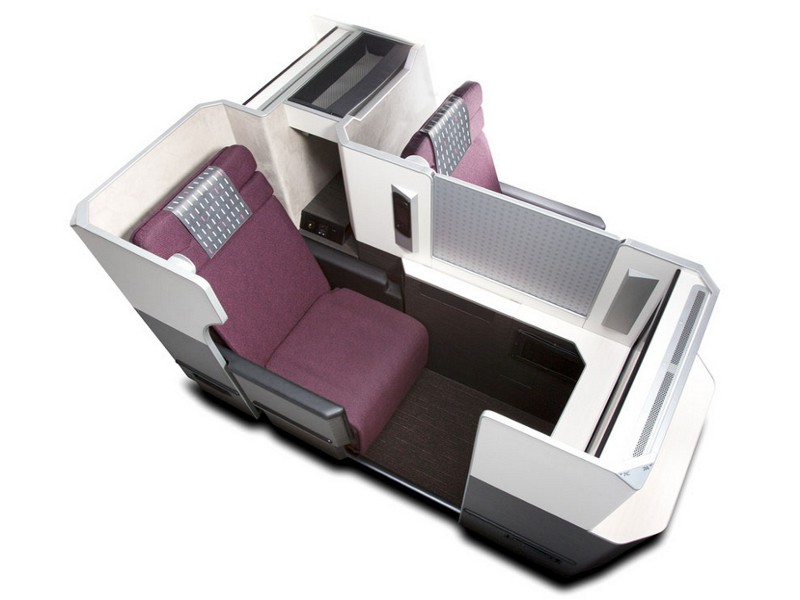 There is direct aisle access for every passenger, with the 2-2-2 layout, and the centre seats are directly aligned for travellers who want to sit together, although the window seats are staggered.
There is a high privacy screen, which is lowered at take off. There is a USB port for power (But no mains 110/240v socket) and touchscreen 23 inch HD TV screens.
Previously JAL's 787s were fitted in 2012 with an angled lie-flat seats in business class; for many this was a curious decision, considering airlines like British Airways and Singapore Airlines have flown with lie flat beds for a decade. JAL has now retrofitted its 767s and 777s with the new lie-flat mini suites, and that meant the the new 787 were starting to look very old and less desirable for passengers.
JAL Premium Economy is called Sky Premium, with a pitch of 42 inches, which is above the industry norm. Every seat has a 12 inch HD screen, except the bulkhead row where it is a 10 inch flip-out monitor.
The daily Osaka-Los Angeles with the Japan Airlines 787 leaves Osaka at 1520, arriving at LAX at 0920, and returns from Los Angeles at 1120, getting back to Osaka at 1550 the next day.