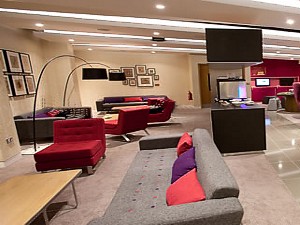 The Manchester lounge has a slightly unusual feature of a Scalextric track
Manchester Airport's new Escape Lounge in Terminal 1 has opened - featuring the usual delights of an airport lounge, and the slightly more unusual one of a Scalextric track.
Over 100,000 passengers are expected to use the facility each year.
The lounge is designed mainly to cater for the needs of business passengers, with computers, Wi-Fi and private meeting rooms. However, the luxury £1.7m Escape Lounge in Manchester Airport has also been fitted out with some quirky touches such as executive toys in what is called the attic area, such as a PS3, Wii and the well publicised Scalextric track.
The new Escape Lounge in Manchester Airport's terminal one is divided into separate areas for relaxation and business and will offer amenities including a choice of food and refreshments provided by Mosaic Hospitality. Freshly made dishes are created by the on-site chef, there is a wide range of alcoholic drinks served by a butler, and you can wind-down in what is called the luxury seating area next to a real fireplace.
An electric race car track using Scalextric in an airport lounge is a new one, but SAS Scandinavian Airlines did for a time have a table top icerink game in The London Lounge in London LHR Terminal 3. This was removed after 6 months following complaints by a large number of customers about the noise and disturbance - the regular kerplink sound driving those in the nearby business centre unhinged.
Interest in Scalextric has soared over the past few months, after it was featured in the BBC TV Series James Mays Toy Stories. A 3 mile track around the banked Brooklands race circuit in Surrey was created by the Top Gear presenter.
The new Terminal 1 Escape Lounge at Manchester Airport was initially announced in April 2010 alongside the launch of the Travel Extras Store on Manchester Airport's website. The airport already has an Escape lounge in terminal two and is in discussions to add a third facility in the near future. Alongside the opening of the new lounge, the airport also has plans to introduce a Control Tower Bar to Terminal 1 in a vacant tower by the end of the year.