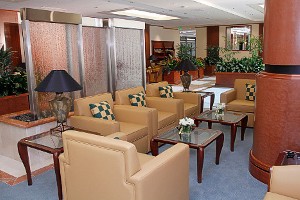 Emirates has opened a new Business and First Class lounge at San Francisco international airport
Emirates has opened a new Business and First Class lounge at San Francisco international airport. The lounge is a joint Business and First lounge, and takes all the elements of the standard Dubai lounge, including the large dining area and excellent bar.
The lounge is big - really big: seating 130, and at 9500 square feet, it is much bigger than the recently opened Cathay Pacific lounge. The airline says it cost US$4 million to construct it at its US outpost, and it includes all the bling of its normal Dubai lounges, including Italian marble floors, gold Rolex clocks and rich timber joinery. Emirates frequent flyers will be very familiar with its yellow blue and beige colour scheme.
The Emirates San Francisco lounge has several features unique among the large lounge complex in San Francisco. It offers direct access to the boarding airbridge. It is also the only lounge with a dedicated prayer room. It is also split over two levels, with lifts and a staircase that connects the reception entrance on level three with the lounge below.
Once you get to the lounge it looks very familiar, with the standard Emirates Lounge concept. There are 56 beige leather armchairs around orate glass and mahogany coffee tables, with leafy dividers separating the different sections of the lounge. It has the feeling of a smart, but slightly tacky, hotel in Essex. That feeling isn't helped by the two giant 60-inch LED TVs playing the sports channels: sometimes when there is a game on in the bay area, the volume is turned up high.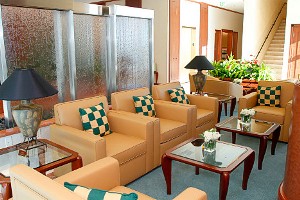 The back half of the lounge is the dining area - and Emirates say it is the largest dining area within a lounge at San Francisco airport. This is entirely believable. Thankfully food is very good, with all the usual Emirates salads, seafood and hot dishes. There is the usual round fridge, with plated salads, prawns, ham and cheese. Desserts are here too. Under the hot plates are quite a few hot alternatives, with curry and pasta on every day.
The bar is good too, with a vast array of spirits, real French Champagne, and three other types of whites and three reds.
There is a small business centre, free wifi, and also two showers.
The Emirates lounge San Francisco is open from noon-4pm daily, for the once a day San Francisco to Dubai flight (1545 in winter, 1645 in summer). It joins the other Emirates lounge in the US, at New York's John F. Kennedy International Airport.
Elsewhere at San Francisco airport, Cathay Pacific have also opened their new lounge.