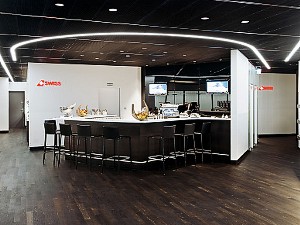 Swiss has opened a new arrivals lounge at its Zurich hub.
Swiss has opened a new arrivals lounge at its Zurich hub. It will be open to Business and First Class passengers, as well as Gold members of the Star Alliance.
It is relatively small, occupying only 700 square metres, however the interior is luxurious, with strong elements of the Swiss design coming to the fore. The main centrepiece is a distinctive limestone wall, mined from the nearby Jura mountains in Switzerland.
The main perk of the lounge, is the one that for many passengers will be hardest to come by. There are three private hotel-style bedroom, and one comes with a private bathroom.
However for most passengers, they will use the lounge simply for a quick wash, brush-up, and some food. Unlike many other arrivals lounges, there shouldn't be too many queues, with 20 showers including an ironing service: this is available through the unique double-doored wardrobe: just hang up your clothes and press the button.
Food is pretty good at the bistro which has a typical Swiss breakfast buffet, with plenty of cold cuts of ham, sausages and cheese. There is also a hot counter, with the swiss version of a full English. There is naturally no bar, but there are four types of juice, and a coffee machine.
There is a large business centre too, with 10 desktop PCs and free WiFi, plus an old fashioned telephone cubicle for private phone calls.
The Swiss arrival lounge is located landside, beside the public area of Zurich Airport's Arrivals 2 terminal, and open daily from 0545 to 1300.