Swiss International Air Lines has given a tantalising hint of its new Business and First Class cabins for the new long haul fleet, as it gets ready for the first of its nine new Boeing 777-300ERs.
The new Swiss Boeing 777-300ER aircraft has totally revamped cabins in all three classes, and will seat 340 passengers. Eight in First Class, 62 in Business Class and 270 in Economy.
Despite some speculation of a Swiss Premium Economy cabin, there is no middle class between economy and business.
Swiss will start flying the first of nine brand new Boeing 777-300ER aircraft in January, as it phases out its existing fuel hungry Airbus A340-300s, which were obtained second hand by Swiss over a decade ago.
The new cabins were Designed by London based Priestmangoode, and they certainly did a good job.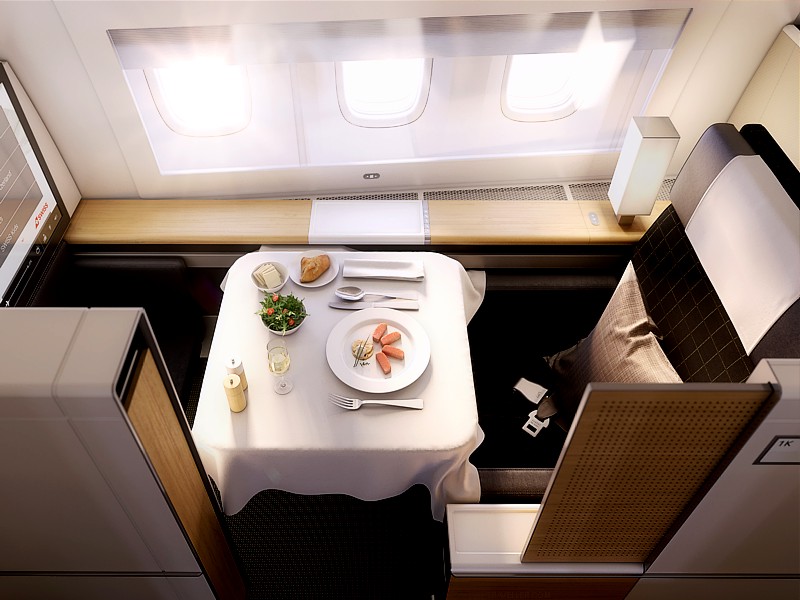 The cabins look familiar because they are more an evolution from the existing seats, but with more space, more storage and greater privacy. Priestmangoode has built on their long-standing relationship with SWISS and designed the airline's A330 First Class cabin back in 2009.
The colour tones throughout each cabin has been updated to a richer, more sophisticated palette, but it still keeps the same branding so the cabins feel familiar and Swiss.
Starting at the entrance to the Boeing 777, it is more like a reception area.
The Boeing 777 Swiss Air Lines First Class cabin has eight private first class suites right up front, where they should be. There are two rows of 1-2 -1 seating in First.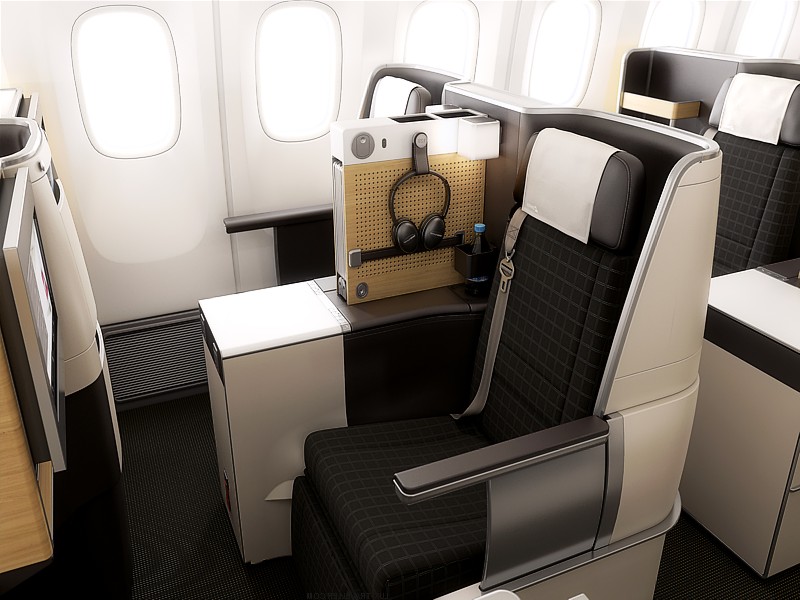 The seat itself folds down into a two metre long fully flat bed, which has sliding doors on the cabin to give three privacy modes that include fully open, semi-open or fully enclosed.
There's a 50% increase in personal storage compared with the previous first class seat, including dedicated wardrobe for amenities. The Corian cocktail table is covered with a surface called Corian (created by DuPont, derived from bauxite ore) which has integrated mood lighting, just adding to the upmarket feel.
The first thing you notice in the Swiss First Class seat is the 32 inch TV screen, which Swiss claim is the largest in the industry. Swiss also have electrically-adjustable window blinds, and a myriad of many lighting options, from small reading lights to warm overhead cabin lights, which enhances the homely feel of the Swiss frisk cabin. The Swiss tall oblong bespoke reading lamp carries on the design cues from Swiss lounge right through to the cabin.
There is a feeling of a contemporary residence in the First Class cabin, with chunks of wooden veneer, high quality textured fabric, and a deep earthy colour palette.
The same surface carries on into the Business Class cabin, which has a very masculine colour spectrum.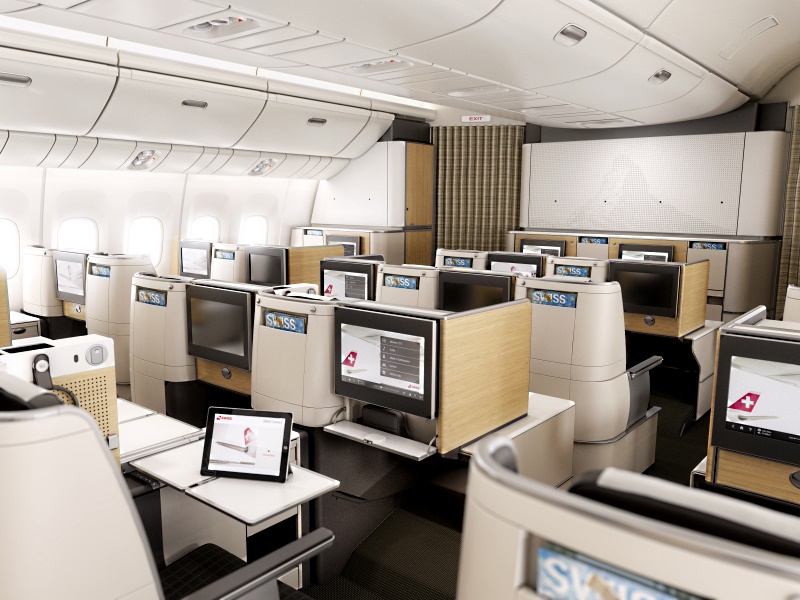 The Boeing 777 Swiss Business Class seat is a very familiar alternating staggered seat, similar to the Thompson Vantage and Vantage XL products, however it was developed from the airline's previous Business Class seat, which was designed as a bespoke model for Swiss Air Lines.
There are 62 Swiss business class seats in the new Boeing 777, with a micro-cabin of two rows right at the front of the Boeing 777-300 ER, and then a huge cabin with no less then eleven rows stretching back halfway along the length of the aircraft. At the front The Swiss Business Class best seats are 3A or 4K if you are travelling on your own.
Each Swiss Business Class seat converts into a fully flatbed that's over two metres long, with enhanced privacy thanks to the partitions between seats.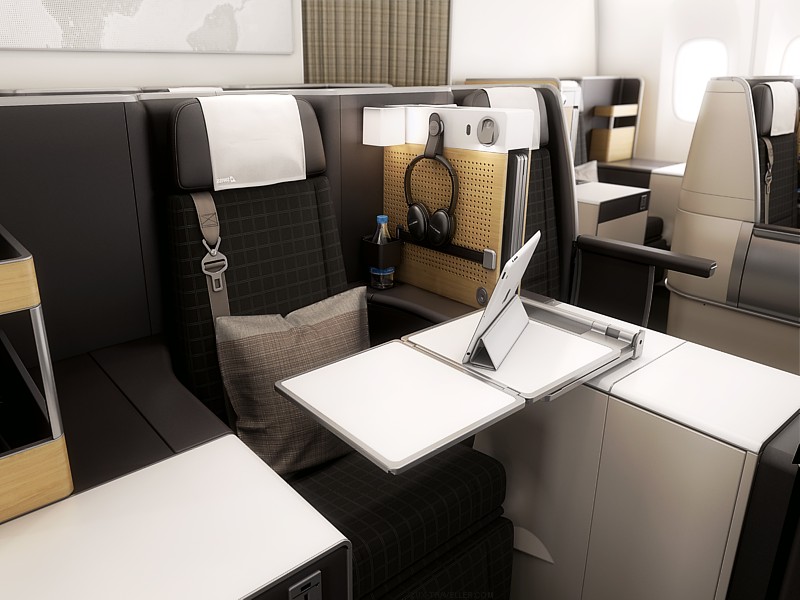 However with seats in a 1-2-2 layout, alternating with 2-2-1, there are as always a few seats which don't offer aisle access. Swiss Frequent Flyer Senator level members know to ask for what are called the 'throne seats' situated by the windows, which have tables on either side of the seat.
Each seat offers a 16 inch touchscreen, however it is screwed to the seat in front, and as Swiss have fond, some passengers have to lean forward to view it. There is also a small 'micro' screen in the handset of each seat, which displays the channel being watched and flight information, such as how long to go.
Alas, despite the joys up front, Swiss economy class on the Boeing 777 is a major disappointment, and also more cramped than the A330 and A340 which it is replacing. There are 270 seats.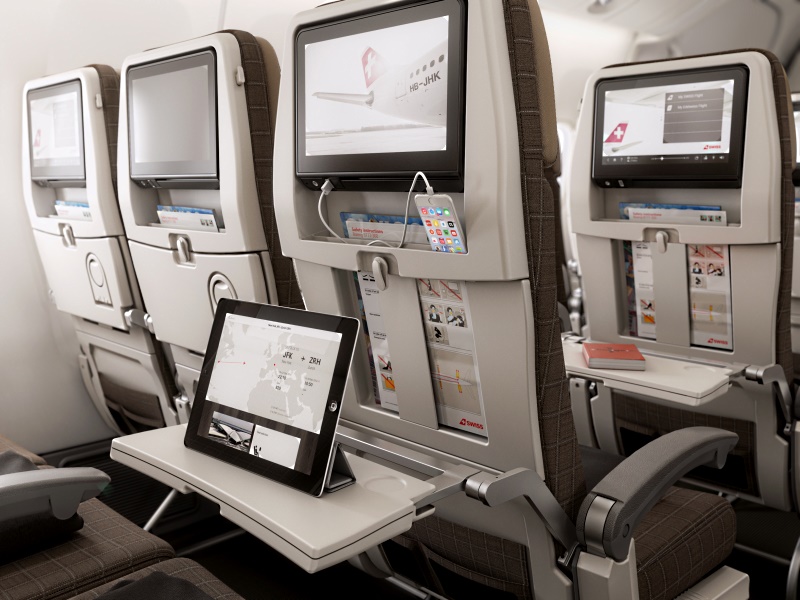 The major problem is that Swiss have chosen to install ten seats across rather than the nine in many other carriers. The 3-4-3 layout is also far from ideal for couples compared to the 2-4-2 on the A330, which offered just a one-step out to the aisle for many passengers. However on the new Boeing, single passengers may have to inconvenience two passengers to get up.
The seats have however been uprated somewhat with light beige fabric, and a self-service kiosk at the back of the cabin. There is a 12 inch touchscreen and a USB charging socket, plus a unique 'high' seatback shelf on which you can leave portable electronic devices to charge.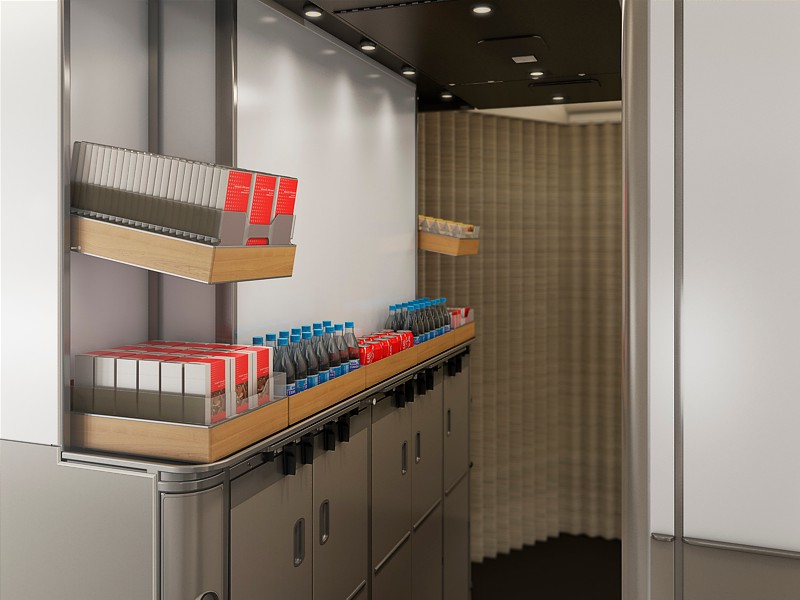 All Swiss Boeing 777-300ERs have inflight Wi-Fi internet, allowing you to browse on your tablet or laptop.
As you enter the Swiss Boeing 777-300ER there is a great reception area, with an illuminated welcome panel, plus a map of the world in a wood finish which reflects the reception of the Swiss lounges at Zurich airport. Additionally, in First and Business Class, the front bulkhead features a Matterhorn print, reflecting the almost perfect pyramidal peak in the Monte Rosa area of the Pennine Alps which can been seen as the aircraft approaches Switzerland on a clear day.
The first Boeing 777-300ER in the Swiss fleet will take flight in January 2016, and alternate on routes to Hong Kong, Bangkok and Los Angeles. As more Swiss Boeing 777s are added, they will replace the A330s on shorter flights to Tel Aviv, and replace the A340 to San Francisco and Sao Paulo.
The new Swiss Boeing 777-300ER were ordered in March 2013, and three more were added to the order in March 2015.
The first six aircraft will replaced the six second-hand Airbus A340-300s which were added to the Swiss fleet to launch new long-haul routes to the US in 2008. Three further A340s will be replaced by new Boeing 777-300ERs between 2017 and 2018. The redundant A340 aircraft will be transferred to Swiss Air Lines low-cost offshoot, leisure carrier Edelweiss.