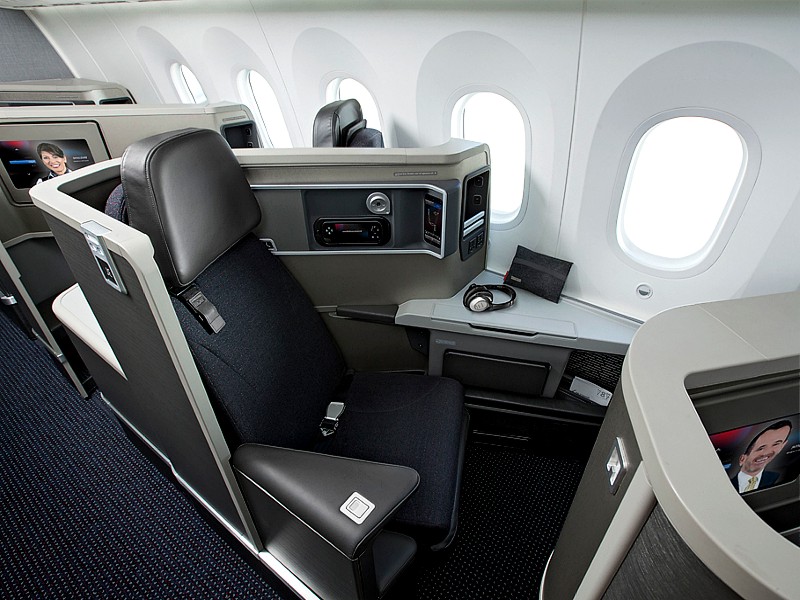 The new American Airlines 787 will fly from Dallas in May. Business Class seats are in a 1-2-1 configuration, with half the seats facing backwards.
American Airlines has shown off its newly launched Business Class seats and cabin, for the new AA Boeing 787 aircraft.
American Airlines' Boeing 787 has a two-class cabin, with 28 lie-flat Business Class up the front.
The seats are in a 1-2-1 configuration, giving every seat direct aisle access; however the seats are a little unusual, using a herringbone design favoured by Cathay Pacific and Air New Zealand, among others. However half of the seats are rear facing!
The Business Class seats are designed by Acumen Design Associates and transforms into a fully lie-flat 77-inch bed, providing infinite adjustability, and includes a unique "z-shaped" lounge position for comfort: in effect you can 'prop' yourself up while watching a film and enjoying a G&T.
There is a 15.4-inch HD Panasonic touchscreen TV with full AVOD. AA promise that up to 250 films will be loaded, along with 180 TV programmes. As expected, there are Bose QuietComfort Acoustic Noise Cancelling headphones.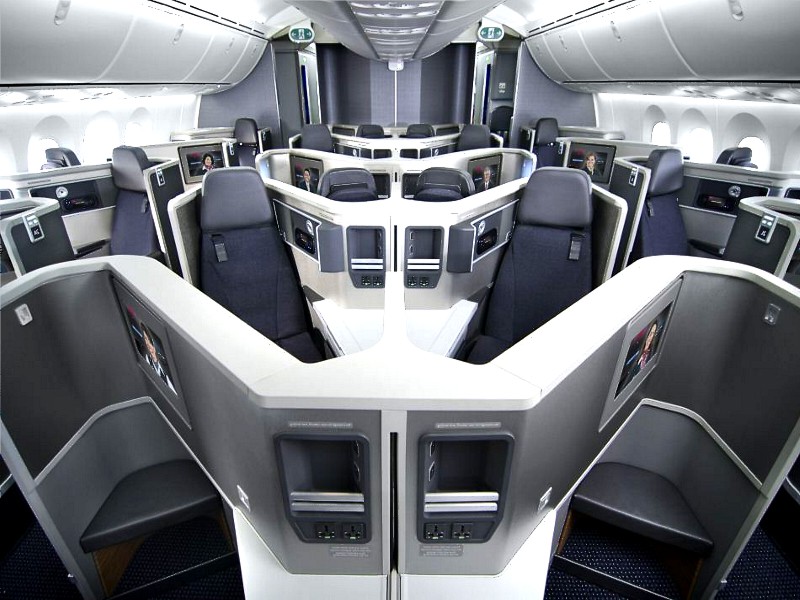 The seat also has AC power outlets and USB charging ports.
Unlike many airlines now there isn't a full staffed bar, but instead a walk-up snackbar, similar to the BA Club Kitchen or SAS snack cupboard, with chocolate bars, nuts, and soft drinks.
Economy (called Main Cabin, or Coach) is pretty standard on the AA 787, with American Airlines using a 3-3-3 configuration, and a pitch of 31/32 inches. There is a 9 inch HD TV monitor, and USB power.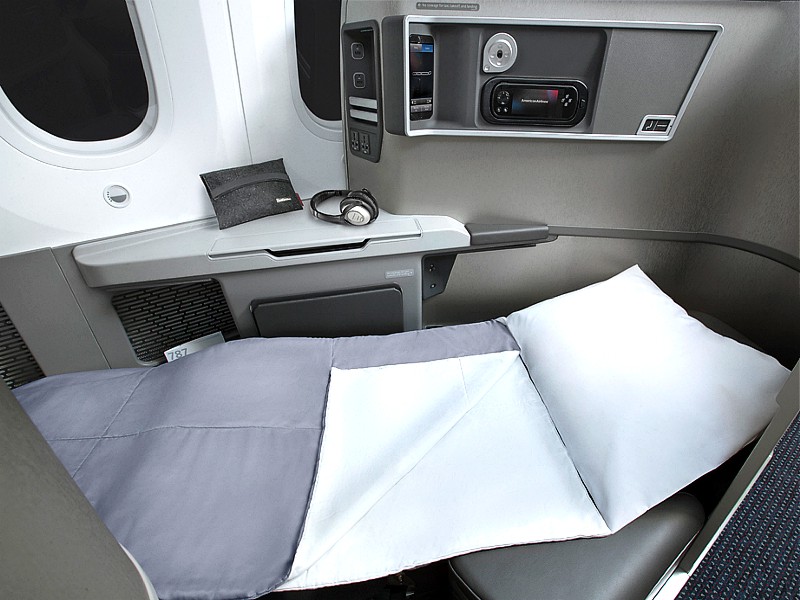 While AA don't market a Premium Economy offering, and sell the aircraft as a two class plane, American Airlines do have something similar to BA's World Traveller Plus, with up to six inches of additional legroom, but still in a 3-3-3 layout, and still with a 9 inch seatback TV screen. There are 48 seats in what is called main cabin extra.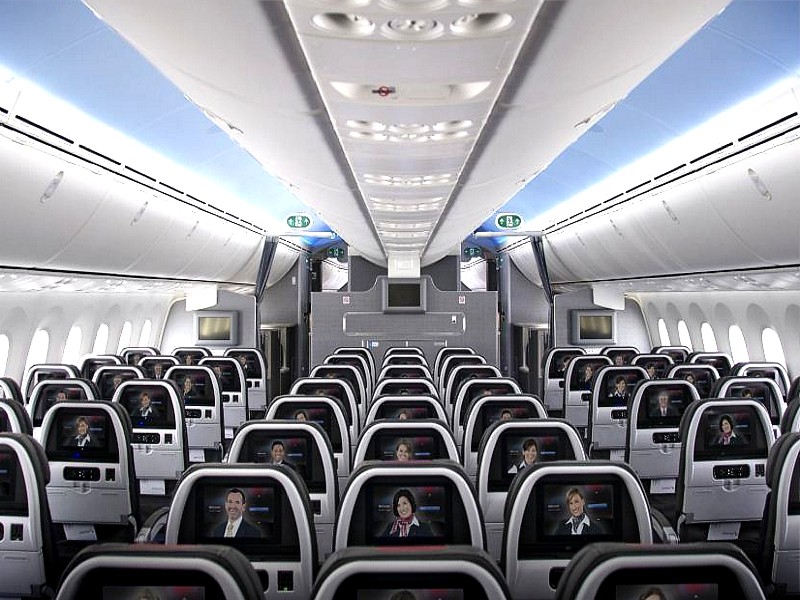 These premium economy seats are offered free to AAdvantage Executive Platinum or Platinum members and oneworld Emerald members buying a full-fare Main Cabin ticket. Otherwise you can buy it when you select seats, for between US$60 (short domestic flight) to US$280.
The first 787 will fly on staff training flights between Dallas Fort Worth and Chicago in May 2014. The first international routes is between Dallas and Beijing in June, and then down to Buenos Aires.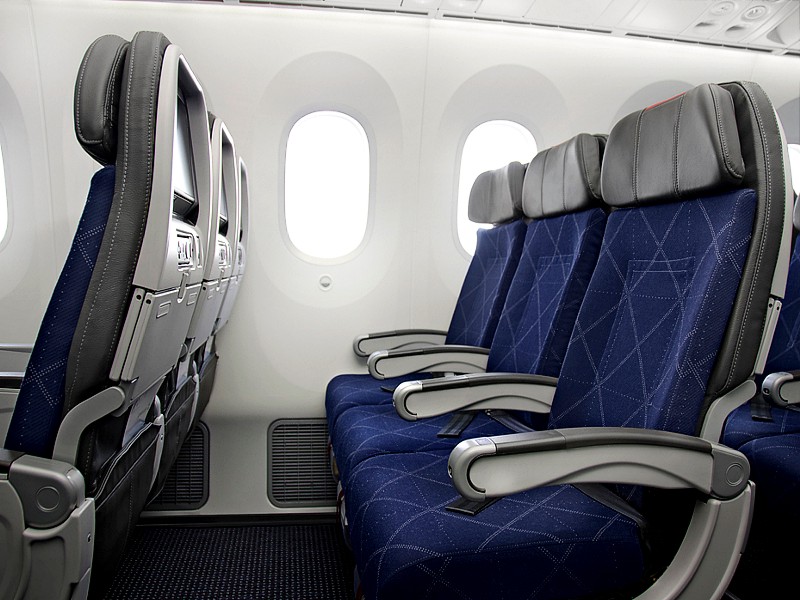 American Airlines has ordered 42 Boeing 787 Dreamliners and has plans for a possible total of 100. AA will take two new aircraft per week, replacing the old 767 fleet.