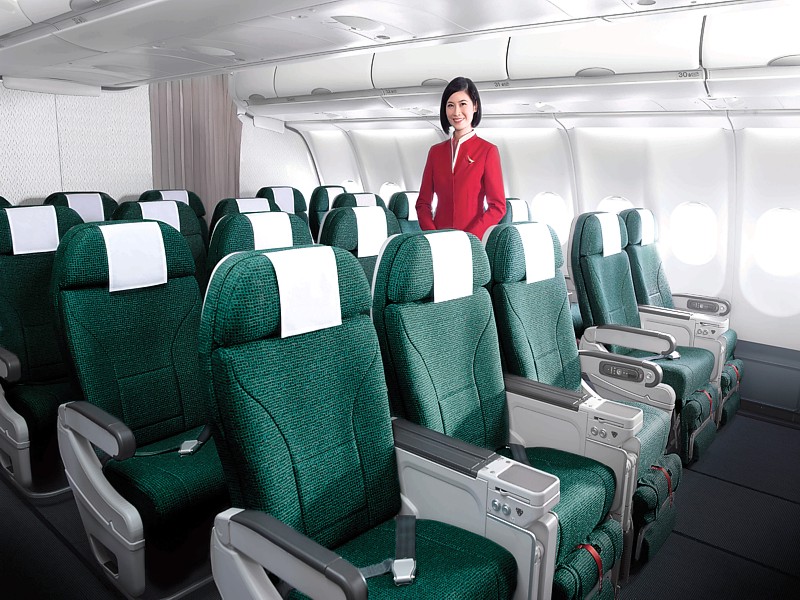 Cathay Pacific has launched its new premium economy product, with a larger seat.
Cathay Pacific has launched its new premium economy product, with a larger seat placing it firmly in the business-minus class, rather than economy-plus. It has also revamped its basic economy seat, reverting back to a more conventional non-sliding version. Both seats have been launched on a Boeing B777-300ER aircraft, but are rolling across the fleet.
Cathay Pacific Premium Economy is all about the seat. It has 19.5-inch width, 38-inch pitch and an 8-inch recline. The pitch is certainly impressive, giving plenty of legroom, and Cathay Pacific add to this with soft cushioning and a headrest that slides up. The seat gives an extra six inches of legroom, and feels very familiar from shorter-haul Cathay flights, where it is in fact the regional business class seat, but with some slight tweaks to suit 'long haul' international flights. Each seat has a power socket (low down, and with the usual international style, that fits UK and Hong Kong plugs, but at 110v) plus a USB charging socket. There is a small leg rest, or in the front row a swing-out bar leg rest. Each pair of seats also shares a small table on the armrests, and has its own tiny swing-out cocktail table, although as experience shows on other airlines where this device is used, it tends to be knocked over. Beside the seatback TV screen is a coat hanger hook, while below it is a trough for storing ipods, pens and glasses.
Cathay's Premium Economy cabin is half way between business and economy, with a curtain behind, and the usual bulkhead in front with an eye-viewing a slot (on use on most airlines such as BA, so you can see into the cabin for safety). The cabin is compact space with four rows of seats. Cathay Pacific Premium Economy is in a a 2-3-2 layout on the Airbus A330 giving 28 seats, while there are 32 seats on the Boeing 777, in a 2-4-2 layout.
There is one dedicated member of the cabin crew of Cathay PE, and the pillows provided in premium economy are the same as those found in business class, as are the noise-cancelling headphones. However the amenity kit (with toothpaste, eyeshades, and earplugs) is distinctly economy while the only bathroom can be found way back in economy. There is no lounge access with Cathay Pacific Premium Economy, however there is a dedicated check-in counters and up to 25kg of free luggage allowance. There is pre-flight sparkling wine, and three out of the four meal options that are served in business class, however this food is brought to you on a tray, rather than to you in person.
Cathay Pacific new economy class seats are also on the new Boeing 777 aircraft. These new seats are a definite improvement on the innovative old ones with the shell back. These were quite uncomfortable, and now instead of sliding forward, the seats recline by six inches. They also feature the same cushioning as the premium economy seats and are an inch or so wider.
However First Class is being axed on most of the latest Boeing 777s. Cathay Pacific are seeing demand for this class slump, and consequently most of these three class planes have economy, premium economy, and business class, except for a few four-class 777s that will be used to Tokyo and New York.
Cathay Pacific inflight entertainment has also been upgraded. In Premium Economy there is a 10.6 inch screen, with AVOD films and TV shows on the Studio CX network, however it is not a touch screen, unlike in regular economy. You can also play video from your ipod on the screen, using a round multi-pin video plug below the USB socket, using an adaptor lead which can be borrowed from the cabin crew.
Cathay Pacific premium economy is now on sale at prices about half as much again as economy, for routes starting in April including Hong Kong to New York (CX830/831), Sydney (CX101/100), Toronto (CX826/827, CX828/829), and Vancouver (CX888/889). Los Angeles, Melbourne and San Francisco get the seat by the Northern summer.