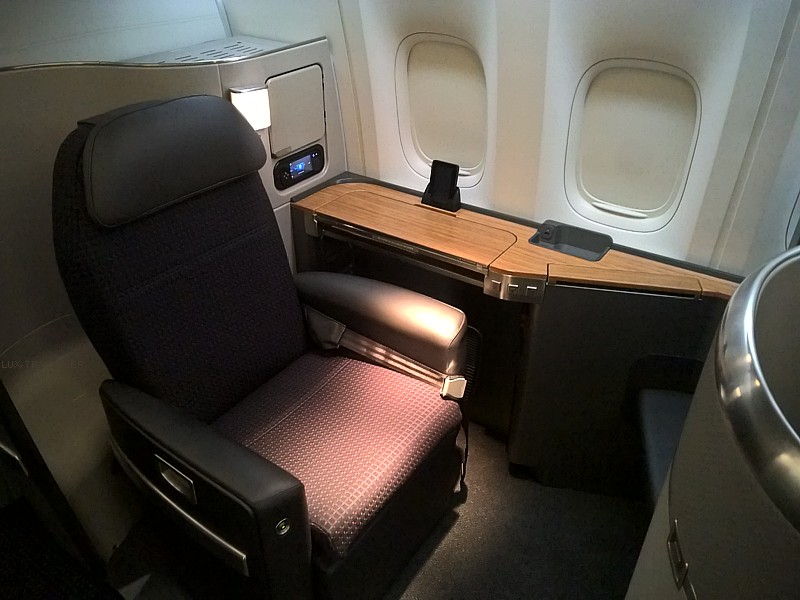 American Airlines has confirmed it will match the inflight service of Qantas with its new flagship Boeing 777-300ER to Sydney in Australia, including an uprated meal service, and pyjamas in Business Class. However Qantas are axing one of its two LAX flights a day.
American Airlines are to return to Sydney with its first flights Down Under since quitting the continent in 1992, in a joint agreement with Qantas, which is halving the number of flights from Sydney to Los Angeles.
Qantas are pulling one of its two daily flights on the popular Sydney to Los Angeles route, handing the second flight of the day to American Airlines, which will fly a brand new Boeing 777-300ER daily.
View the American Airlines Boeing 777-300 seat map with photos of every seat.
Many customers expecting to fly on the 'red roo' will instead end up on an unfamiliar American Airlines aircraft, on which the airline will serve a special 'Australianised' service including an uprated meal service, which will cost the airline around AU$22 per passenger. The cost is to uprate the long-haul service on American Airline which is below expectations on other airlines, such as Qantas.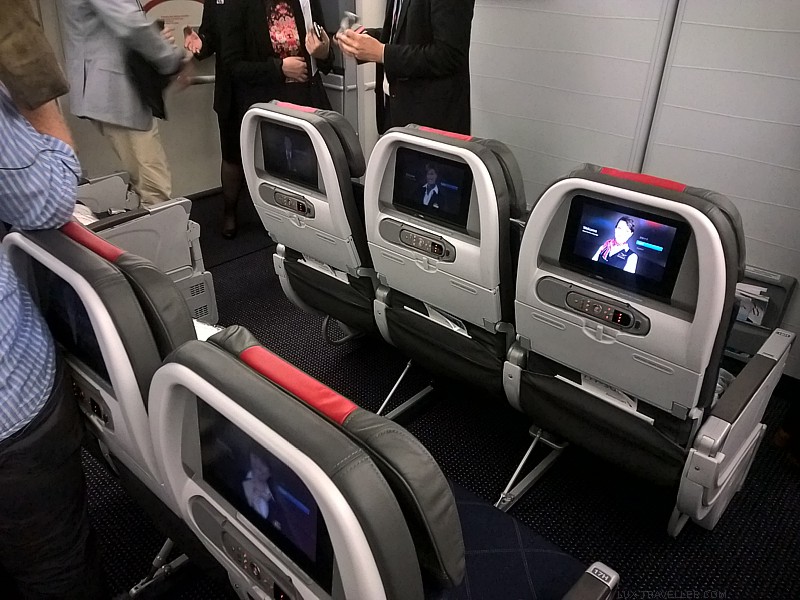 However some passengers booked on Premium Economy in Qantas will be disappointed with the offering on American Airlines, which doesn't offer the class. The Boeing 777 is three class and-a-bit, with the space between Economy and Business occupied by what the airlines calls Main Cabin Extra.
At the launch in Sydney lux-traveller caught up with AA chief executive Doug Parker, who confirmed that although the airline had looked at Premium Economy, he said there were no plans to install the seats on American.
"We looked at it, but at the moment we don't feel it's quite right for the market," he said. "However, I will never say never. American is continuing to invest in its fleet, putting on one new aircraft every four days, and we continually evaluate the market to ensure we remain competitive."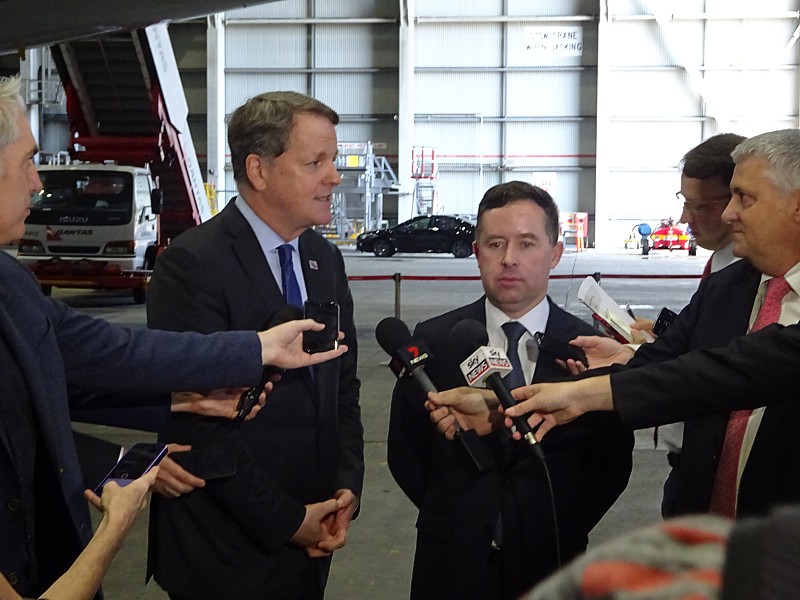 When lux-traveller quizzed Qantas chief exec Alan Joyce before being given a tour around the new cabin, and sampling the service of the new 'Australianised' AA inflight quality, he said "we're making it clear to every customer booking what they can expect. Either they will be on Qantas with a full Premium Economy, or on American without. There will be no confusion."
Qantas chief Joyce said he expected the service - which increases capacity over the Pacific - will be given a boost thanks to the Aussie dollar now trading at 71 US cents, compared to $1.10 recently. "It is a sweet spot, making travel to Australia affordable, however it is equally not too low to price Aussies out of America," he said.
On board the new American Airlines 777-300 ER, which was delivered to AA just last week from Boeing in Seattle, not only was there a 'new aircraft smell', but there was also plenty of examples of the $2 billion American has spent, in part in upgrading on-board products to satisfy the demanding Australian market.
American Airlines is now to put pyjamas into business class, changing their coffee to the stronger, less milky UK version preferred in Australia, and increasing the beverage service in economy, with more beer and wine available complementary.
Passengers will enjoy the new seats - with a revolution in each class, with lie-flat beds in business, and large, comfortable suites in First. It is a good 'hard' product and a big step up from what AA have offered in the past. 20 years ago, American flew to the capital of New South Wales with DC-10s from Dallas via Honolulu.
The biggest improvement comes in with every seat having a TV screen.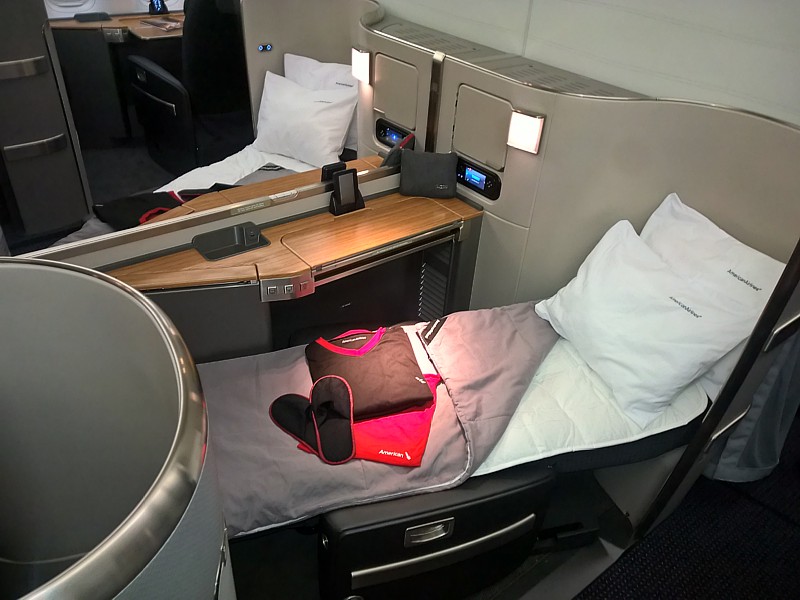 American Airlines Boeing 777-300ER inflight entertainment
American Airlines inflight entertainment on the Boeing 777-300ER comes in the form of seatback TV in all classes. Screens are 17 inch in First, 15 inch in Business, and 12 inches in economy (called Main Cabin). IFE is AVOD as you would expect, so you can start and stop films and TV shows, with a mixture of mainstream Hollywood releases, and a few arthouse films. Curiously, UK movies are relegated to the international section.
However the 777 IFE is a real contrast to most of the 767s used trans-Atlantic, which just have one, mainscreen TV, with small flip down screens in economy. The 777-300ER cabin is similar to the newly retrofitted AA 777-200ERs.
The aircraft features wifi in all classes, with internet access available for the entire flight at $19USD, or $12USD for two hours.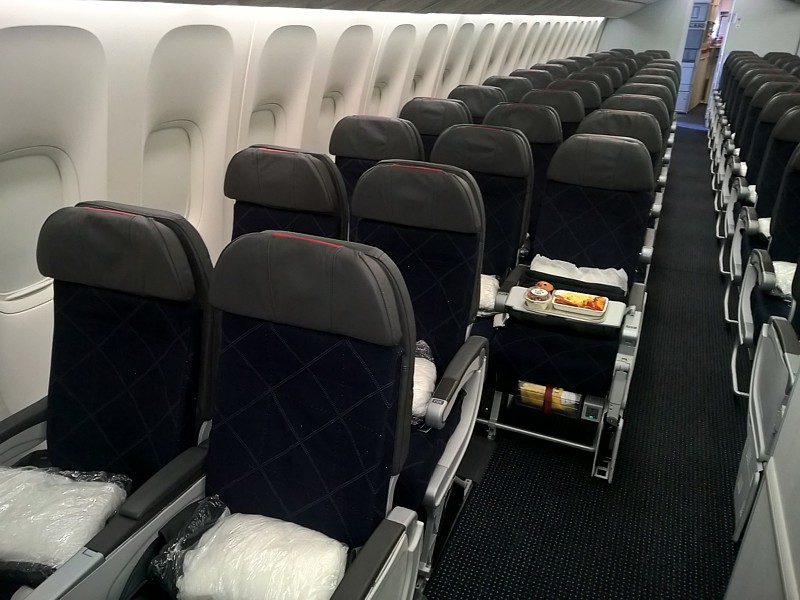 Economy Class - American Boeing 777-300ER
At the back of the plane, things see the biggest improvement, not just due to the improved IFE and large seatback TV screen.
The new American Airlines economy seat is more comfortable, with USB and mains power sockets, and offers plenty more pockets to place your carry on devices.
There are 220 seats in what AA call Main Cabin, or economy (or, indeed, what is quaintly called 'Coach' in American).
However, unlike most airlines like British Airways which only fit 9 seats abreast in economy, American Airlines has a high density economy class product with 10 across seating. On a long 14 hour Pacific flight, this can mean a seriously squashy flight, with just 31 inches of pitch.
There are typically two meals on AA 777 flights, and free wine and beer. The longer AA Boeing 777 flights over the Pacific will also feature what AA call a midnight snack, and an extra service run offering another serving of beer or wine after the main meal.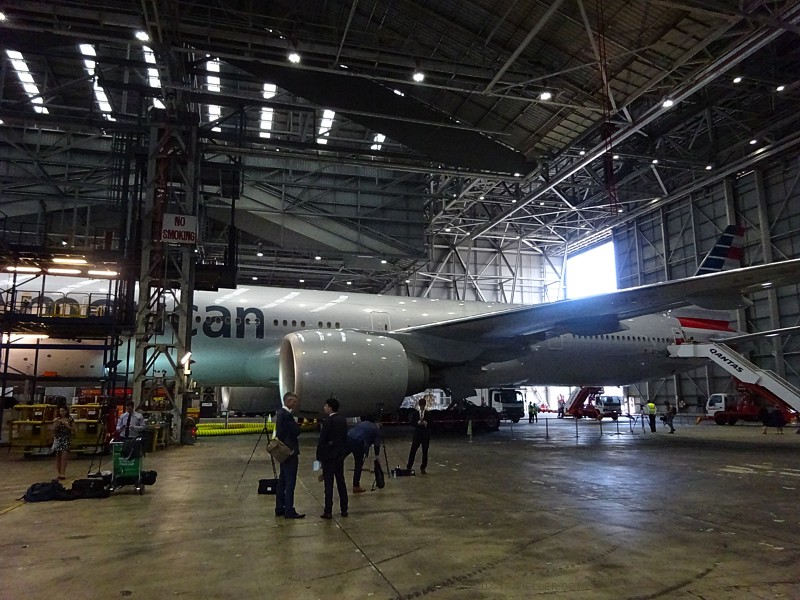 American Airlines also offer a form of Premium Economy, with only 9 seats abreast, and an extra legroom of 36 inches, called Main Cabin Extra.
You can upgrade for free if you are an AAdvantage Executive Platinum / Platinum members or a oneworld Sapphire or Emerald member. For example British Airways Gold membership gets you a free seat, but a Gold member on American Airlines does not.
However, this is no Premium Economy like you would find on BA, Cathay, or Qantas, which offer larger seats, and an improved meal service.
If you want to pay for fly in Main Cabin Extra it costs around $180 a seat each way. With a typical return ticket on American Airlines over the Pacific costing upwards of $1200, that is still only a marginal premium.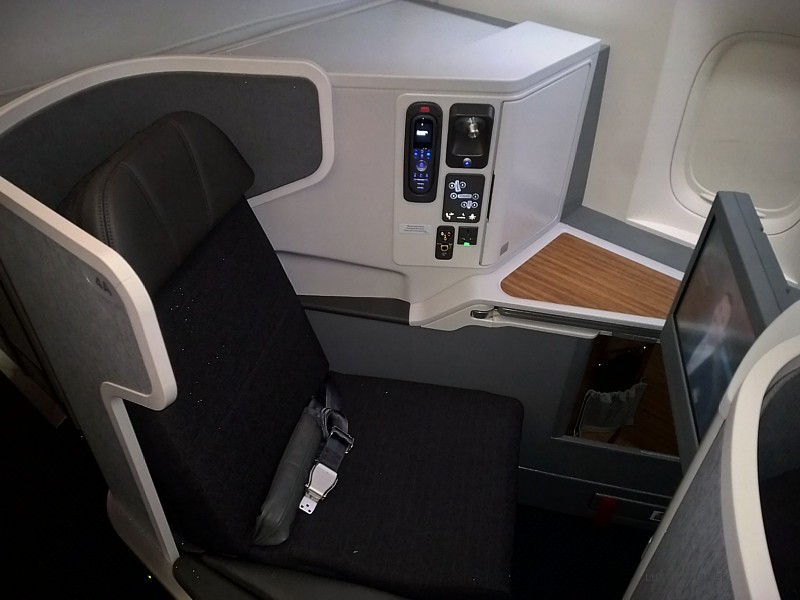 Business Class - American Boeing 777-300ER
If the seat on American Airlines Business Class looks familiar, that's because it is. American Airlines is using the same seat design as Cathay Pacific.
Due to the width of the 777, the new seat configuration also offers passengers by the windows solo seats, and those in the centre section two seats together, facing towards each other. However these are distant enough to be private enough as a solo traveller.
The American Airlines Boeing 777 business class seat has a fully-flat bed with direct access to the aisle from every seat avoiding all those 'jumps' over your seatmate late at night. The seats are 73 inches long (198cm) and 26 inches wide (66cm), giving more than enough shoulder room.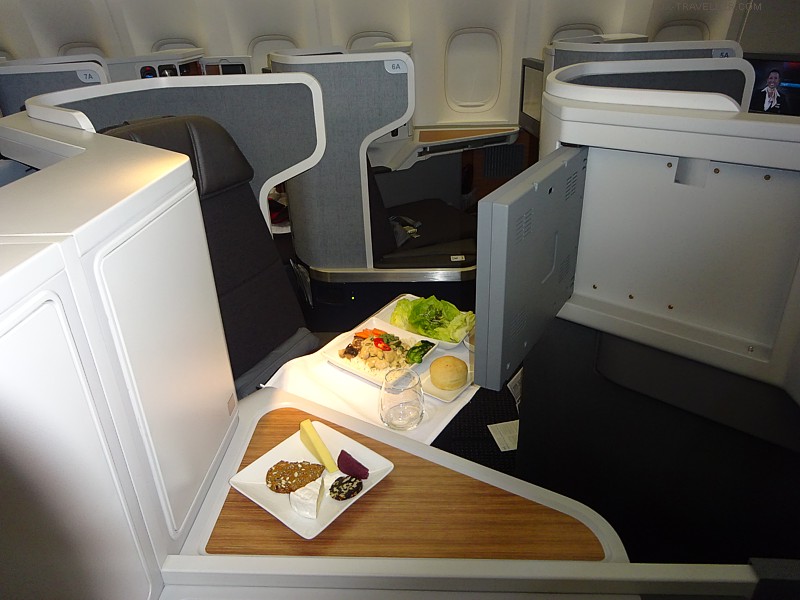 There are two main cabins in Business Class on the AA 777s, with a small micro cabin of just two rows, row 3 and 4, and then the vast main Business cabin from row 5 to 15. In total there are 52 business class seats on the 777-300ER.
Service is almost exactly the same compared to Qantas, with three hot options for both meal services, and as in economy, a mid-flight snack. There is also an upgraded custom sundae option after the first meal.
Add to this in American Airlines Business Class there are the famous pyjamas, which American triumphed at the launch, and offered lux-traveller a pair to try. Red, fluffy and comfortable, they match the new pillows, blankets and amenity kits in business class.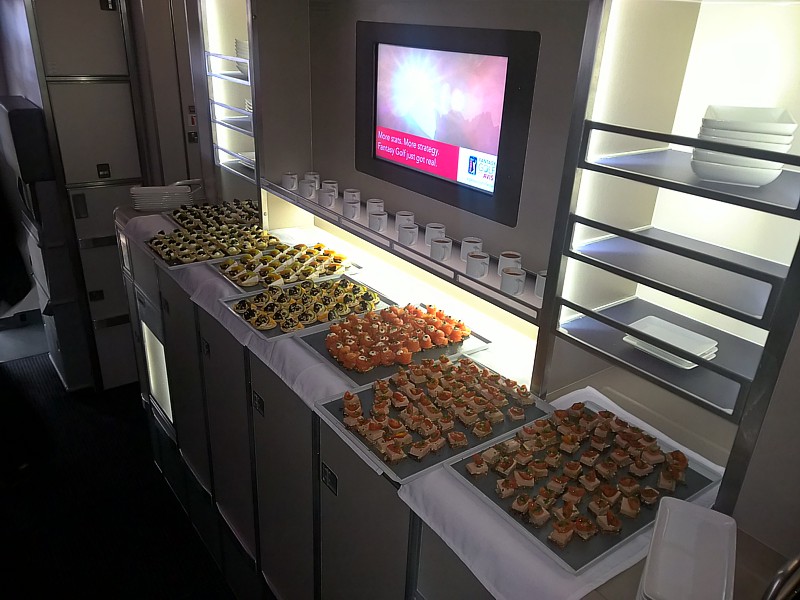 However there is one treat that Cathay don't have, and which BA have pretty much abandoned with the reduction the Club Kitchen.
There is a walk up bar in Business Class, claimed by AA to be the first of any USA based airline. Like and extended version of the galley, there are no stools to sit on unlike on Virgin Australia's 777s service, or a barman, however self serve drinks will be available here throughout the flight.
There is also a small snacks area with sandwiches and wraps.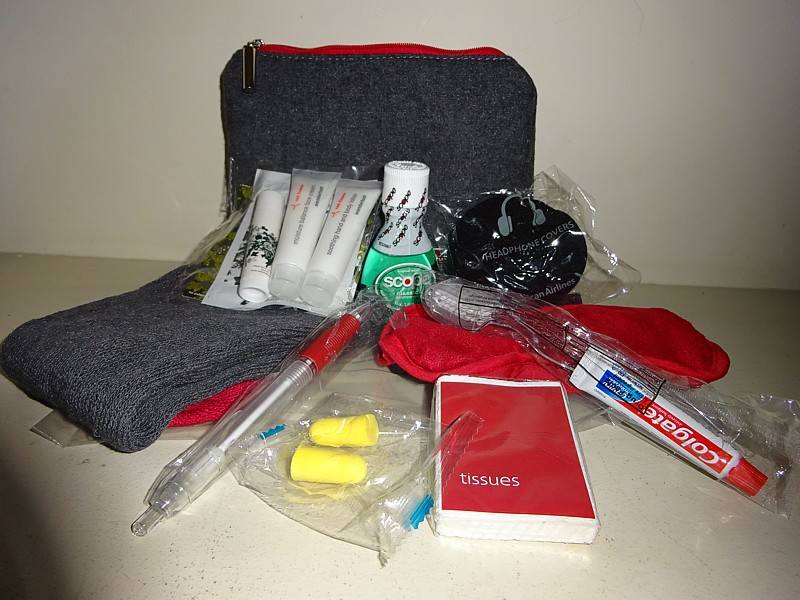 First Class - American Boeing 777-300ER
Of course, all the attention will be focused on what is up the pointy end, with just two rows of four seats in American Airlines First Class.
Seats transform into 203cm long and 73cm wide beds at night. There is also an ottoman opposite your seat, either to rest of legs on, or to have someone dine with you.
The First Class seats transform into an office aloft, with the seat rotating to face a desk if you really must get some work done. There are of course two multi-country power outlets that accept UK plugs without an adaptor, plus a USB charging slot.
Like Business, there are also pyjamas in First, and an amenity kit, plus a mattress, duvet and pillow for your fully-flat bed. The meal service is very similar to Business Class, however there is an extra soup course during the first meal.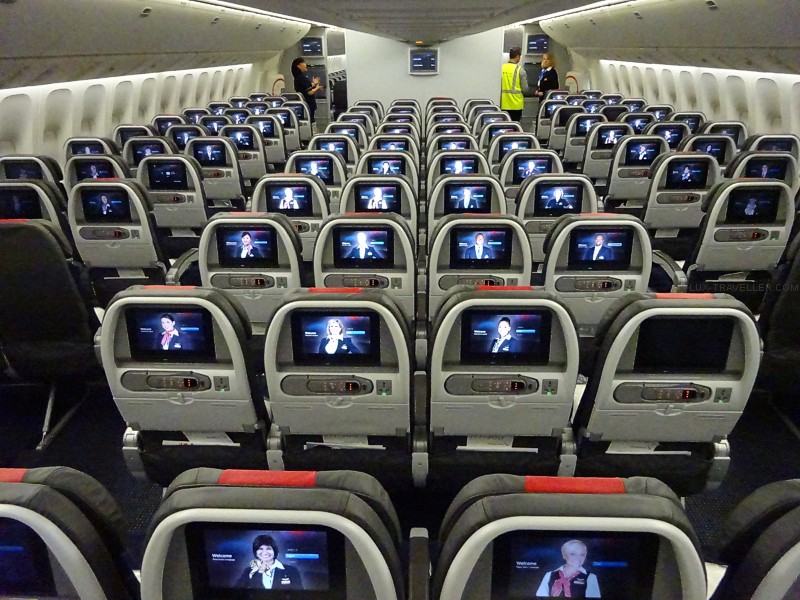 American Boeing 777-300ER - First Sydney flight
American Airlines is increasing the number of Boeing 777-300ER in the fleet, and plans to have 18 in service, compared to a whopping 47 older style Boeing 777-200ER.
Flight from Los Angeles to Sydney on American Airlines begin on the 17th December, leaving LAX at 9.50pm, arriving at 8am. On the return flights leave at Noon, arriving at 7am.
---
Updated: Qantas have now confirmed the airline is axing one of its two daily flights from Sydney to Los Angeles.
QF17 is being removed from the schedules come April, and down to three times a week in December. It was always popular, leaving in the late afternoon at 6pm, allowing a full day in Sydney or in the Qantas First lounge.
However Qantas' daily Airbus A380 flights will continue. These are the flagship QF11 flights leaving at 10am.