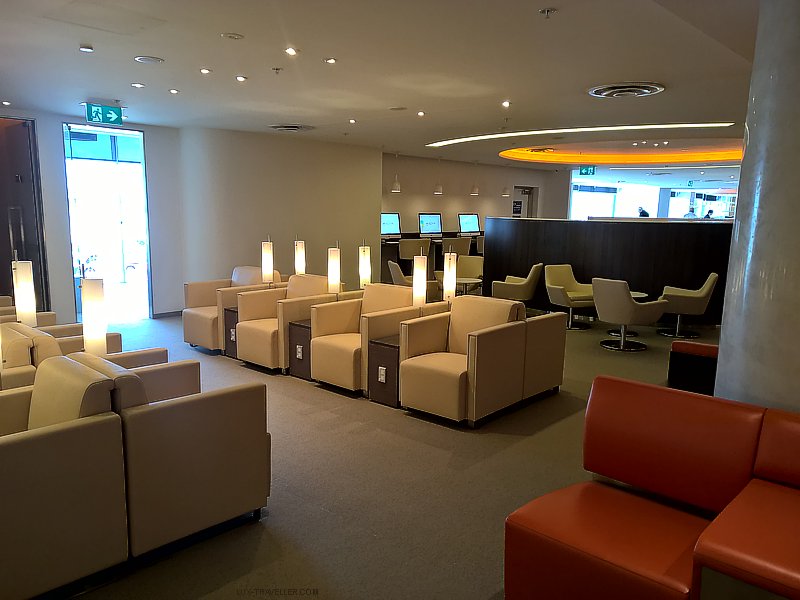 Skyteam's new Sydney Airport lounge has undergone a small facelift, with the opening of the new massage room, and an uprated catering service.
The Sydney Airport SkyTeam lounge has been open for a few months, and the long-awaited lounge has now opened fully, following its somewhat delayed and hesitant opening at the start of the year.
A major improvement has come in the form of an upgraded offering at breakfast time, with many Asian delicacies now available in the buffet section.
This makes sense, considering that may Skyteam departures to Asia are in the early morning, from Korean Air, to Garuda Indonesian. Inevitably, lux-traveller swung by the lounge to see the improvements.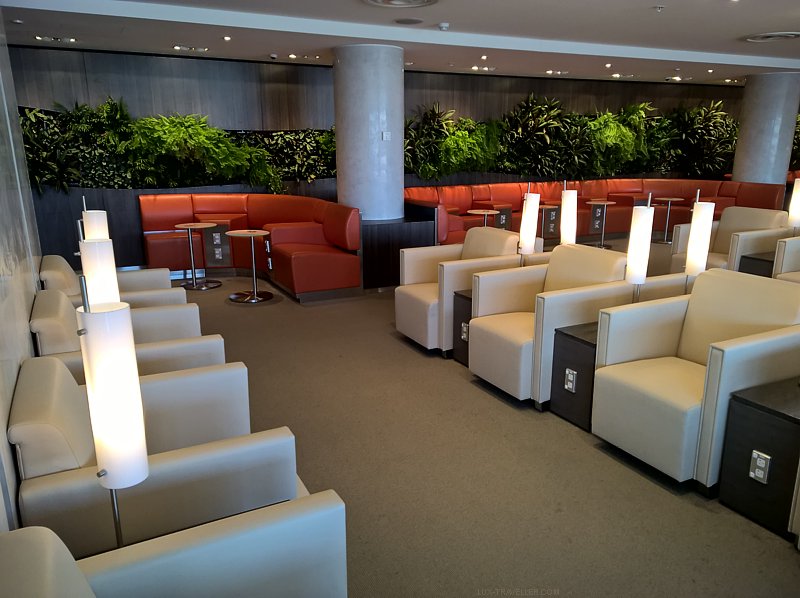 The Sydney Skyteam lounge has a good number of places to park up before a flight, mainly to the left as you enter the lounge, and now seats 160 passengers.
The airline alliance's lounge occupies about 300 square yards.
There is a complementary buffet and bar (open all day), complementary wifi and computers, showers, and best of all a power socket at each seat.
Starting with the basics, the lounge is adjacent to the American Express lounge at gate 24 and both of them are managed by Plaza Premium.
There are similarities with the other Skyteam lounges at London Heathrow and Istanbul, with all three having a living wall, and a circular wine bar, but the Sydney lounge is certainly the smallest.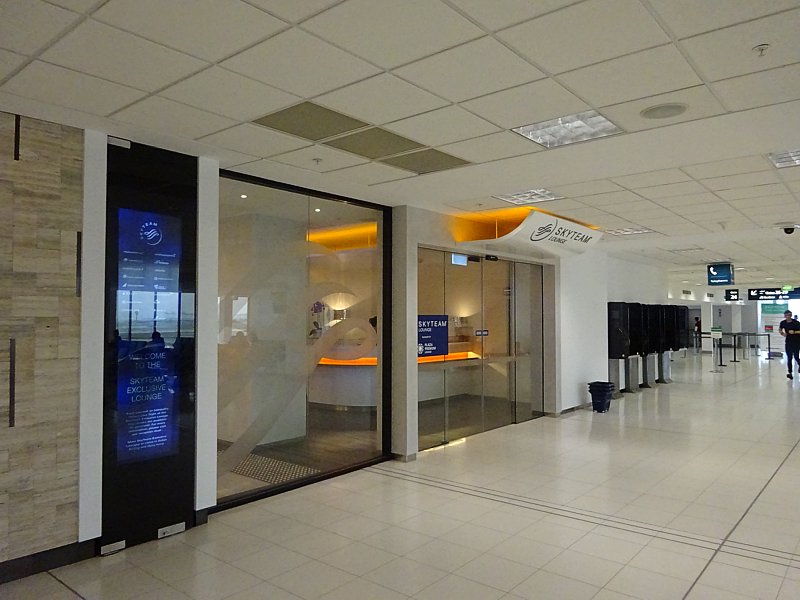 The lounge itself is located on the lower level of the terminal, with an escalator and lift from the reception area, which is just past the American Express 'stone wall'.
As soon as you enter - via the rather noisy escalator - you can see the seating area spread out in front of you, but naturally enough, many people choose to sit where there are views, however there isn't so much an impression of the airport apron, but instead tarmac views and a view of the nose-wheel of your plane.
This is thanks in part to the fact that it is down in the basement, actually underneath the American Express lounge, and with low ceilings.
However, the furnishings are bright, there is that famous living wall of plants all the way along one wall, and the lounge has a great 'almost new' feeling.
As lux-traveller mentioned when the Sydney Skyteam lounge first opened, there is a bank of armchairs, or along the left under the living wall there are red sofas, with all seats having power sockets for recharging your phone or tablet.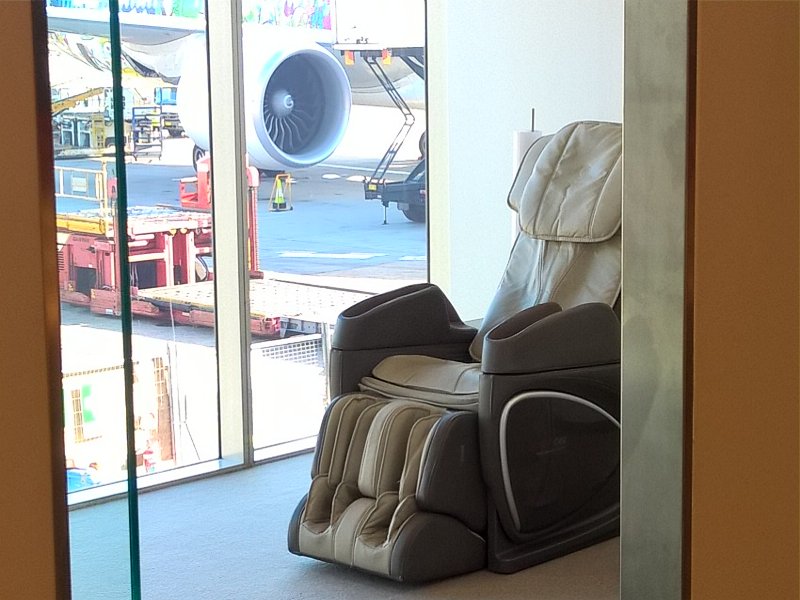 However it was the massage room at the far end which lux-traveller wanted to see.
This has been upgraded with new massage chairs which weren't present at the opening, and which give a great electric massage.
They are also good as a recliner for a snooze before flights.
Read our full review of the lounge on our sister site, loungeindex.com SYD: Sydney Skyteam Lounge including two video walkthroughs.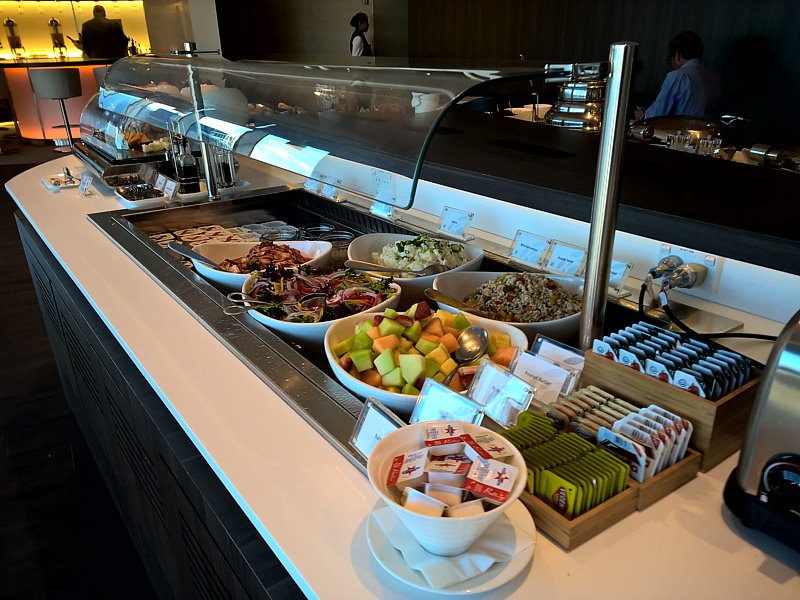 Sydney Skyteam lounge food
There's a buffet in the right 'wing' of the lounge. When you swing in, walk past the newspaper rack, and the buffet is ahead of you.
There are some great bench-and-stool type seats here near the buffet looking out at the windows and - inevitably - the nose wheel of the plane you are about to fly out of Australia on.
The island buffet counter has silver tourines or hot tubs on one side, and a salad bar on the other.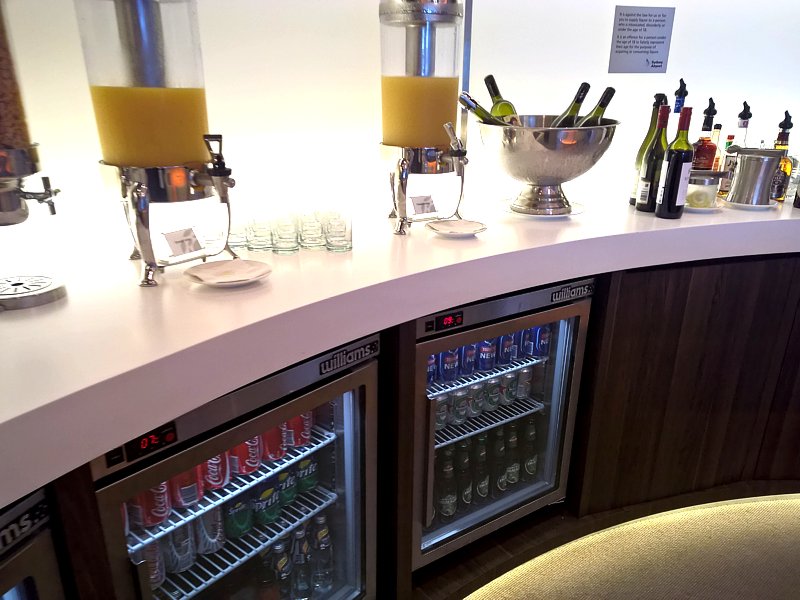 Food in the Sydney Skyteam Lounge has been upgraded with a vast array of hot Asian specialities.
Nasi Goreng is sitting right there in the hot tub, along with all the trimmings.
A bit unpalatable to some Europeans, it is commonly eaten by Indonesians for breakfast, and in the Sydney lounge the Nasi Goreng stir-fried rice comes with Balinese spice paste (Base gede) in a little tub. Inevitably, it goes down well before the Sydney to Denpasar flights.
That's not the only Asian dish.
There is a vast dish of Congee with condiments including soy sauce, three herbs, nuts and chillies for breakfast.
Other food for an early Asian style meal include Roasted Chats with diced herbs, and poppadums, plus chicken sausages.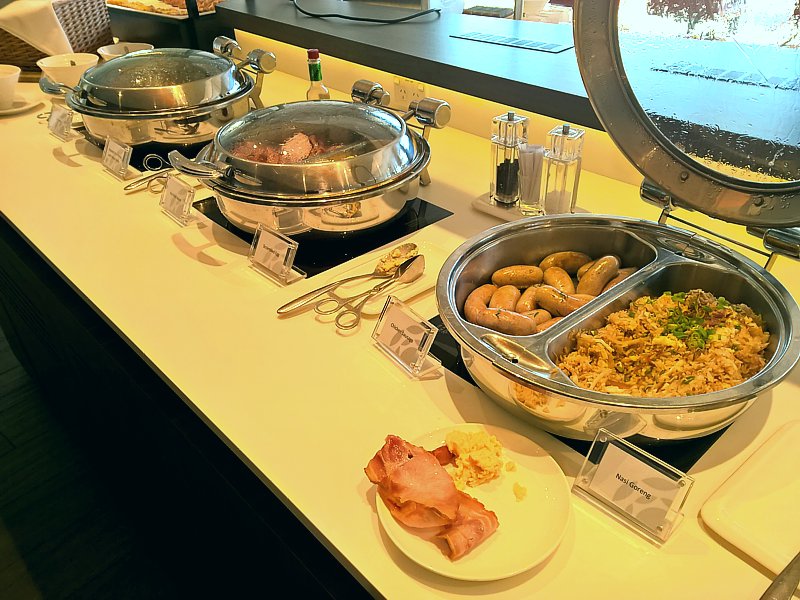 Keeping you in a Bali mood, on the other side of the island buffet are bowls of Kimchi, Mesclun lettuce, and fresh tropical fruits.
However recognising that not all passengers are heading to Asia, there are also elements for a European Continental breakfast, with a vast cheese plate including a good selection of blue cheeses, and cold cuts.
For those who really want a taste of home, you can also make up elements of a Full English, with scrambled eggs, bacon, and mushrooms.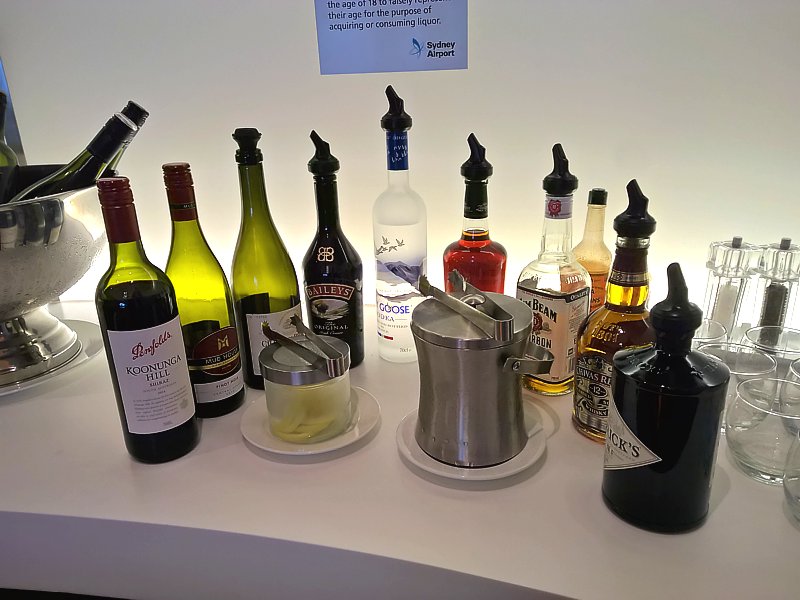 Sydney Skyteam bar
The free complementary bar is open for breakfast, and there is complementary French sparkling wine, plus all the ingredients of a good Bloody Mary, with Grey Goose vodka on free pour, and Worcestershire sauce. Gin is Hendricks.
SkyTeam's Sydney lounge is open for first & business class passengers on China Southern, China Eastern, Taiwan's China Airlines, Delta, Garuda Indonesia, Korean Air and Vietnam Airlines, as well as travellers on those airlines who hold top-tier SkyTeam Elite Plus frequent flyer status.
Sydney Skyteam lounge day pass
Paid access to the Skyteam lounge is on offer, which is a distinct rarity on the network, largely because there are no other pay-in lounges at Sydney Airport.
However a Sydney Skyteam lounge day pass comes at cost - and some cost. No less than AU$77 for two hours use and a shower, or $132 for five hours.
If you have to pay, it can make a pricey breakfast.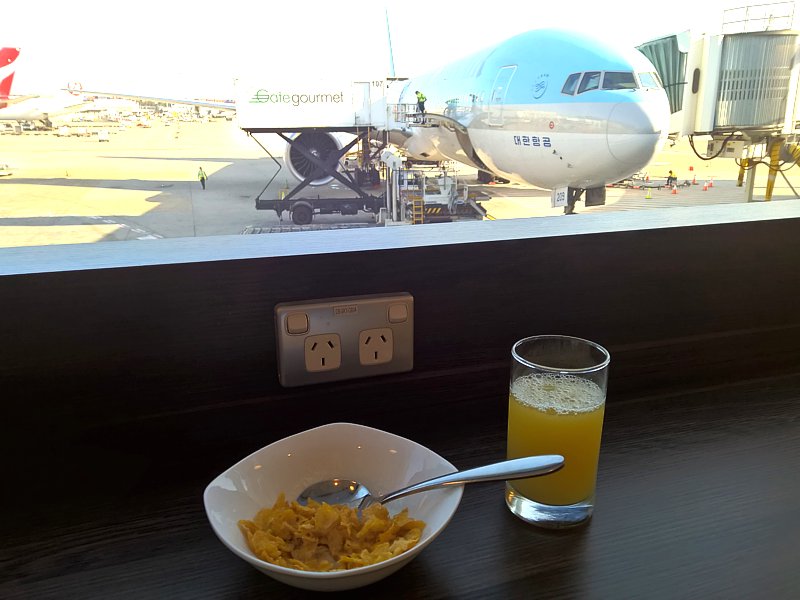 Skyteam status match
If you don't currently have SkyTeam Elite Plus status, but you have British Airways Gold, you can match it for the SkyTeam Elite Plus tier with the Platinum Freccia Alata Plus Club with MilleMiglia.
This will give you business class lounge access before any SkyTeam international flights.
You can unlock the Alitalia Skyteam status match at any time until December 31st 2015, by emailing a copy of your elite card to StatusMatchMilleMiglia@alitalia.com along with your first and last name, and your MilleMiglia membership number.