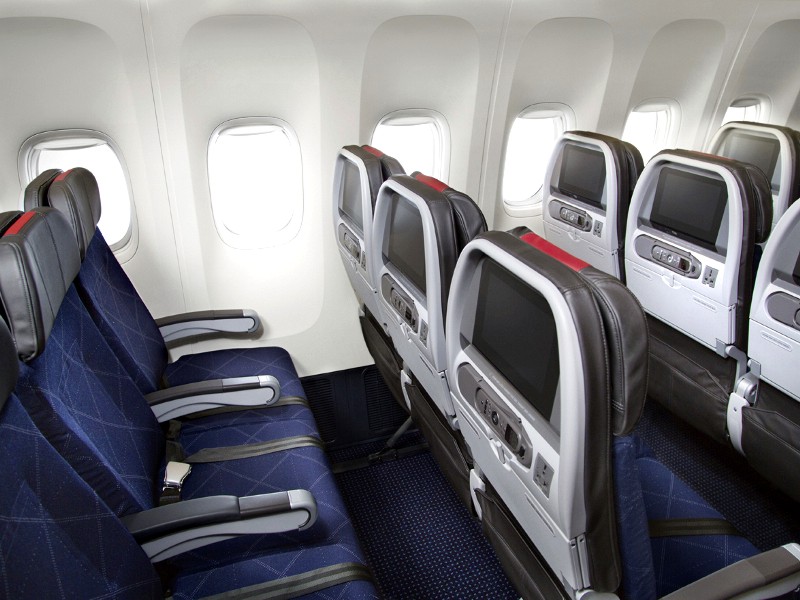 American Airlines are continuing to extend the number of routes flown by its flagship Boeing 777-300ER, with Sydney in Australia to gain the next service in December.
American Airlines are justifiably proud of their new Boeing 777-300ER, finished in American's silver bird livery of silver mica paint and a stars and stripes flag-inspired tail.
For passengers however they will enjoy the new seats - with a revolution in each class, with lie-flat beds in business, and large, comfortable suites in First. It is a good 'hard' product and a big step up from what AA have offered in the past.
However, the biggest improvement comes with every seat having a TV screen.
American Airlines Boeing 777-300ER inflight entertainment
American Airlines inflight entertainment on the Boeing 777-300ER comes in the form of seatback TV in all classes. Screens are 17 inch in First, 15 inch in Business, and 12 inches in economy (called Main Cabin). IFE is AVOD as you would expect, so you can start and stop films and TV shows, with a mixture of mainstream Hollywood releases, and a few arthouse films. Curiously, UK movies are relegated to the international section.
However the 777 IFE is a real contrast to most of the 767s used trans-Atlantic, which just have one, mainscreen TV, with small flip down screens in economy. The 777-300ER cabin is similar to the newly retrofitted AA 777-200ERs.
The aircraft features wifi in all classes, with internet access available for the entire flight at $19USD, or $12USD for two hours.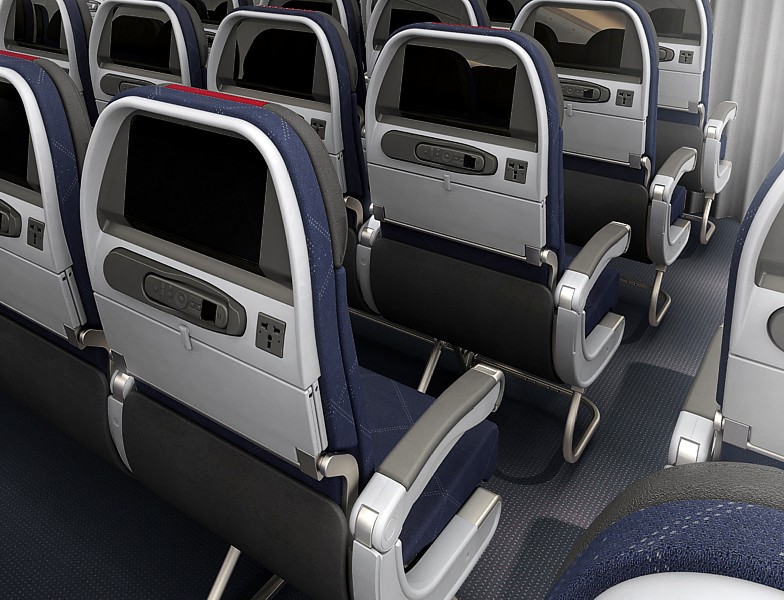 Economy Class - American Airlines Boeing 777-300ER
At the back of the plane, things see the biggest improvement, not just due to the improved IFE and large seatback TV screen.
The new American Airlines economy seat is more comfortable, with USB and mains power sockets, and offers plenty more pockets to place your carry on devices.
There are 220 seats in what AA call Main Cabin, or economy (or, indeed, Coach in American).
However, unlike most airlines like British Airways which only fit 9 seats abreast in economy, American Airlines has a high density economy class product with 10 across seating. On a long 14 hour Pacific flight, this can mean a seriously squashy flight, with just 31 inches of pitch.
There are typically two meals on AA 777 flights, and free wine and beer. The longer AA Boeing 777 flights over the Pacific will also feature what AA call a midnight snack.
American Airlines also offer a form of Premium Economy, with only 9 seats abreast, and an extra legroom of 36 inches, called Main Cabin Extra.
You can upgrade for free if you are an AAdvantage Executive Platinum / Platinum members or a oneworld Sapphire or Emerald member. For example British Airways Gold gets you a free seat, but AA does not.
However, this is no Premium Economy like you would find on BA, Cathay, or Qantas, which offer larger seats, and an improved meal service.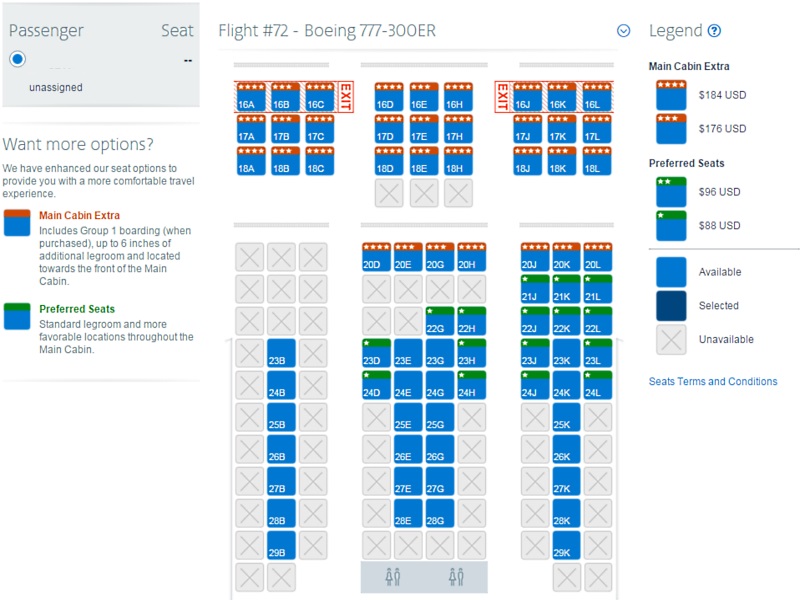 If you want to pay for fly in Main Cabin Extra, it can be very difficult to book online: avoid the older americanairlines.amadeus.com, and instead make a booking using the newer aa.com/reservation pages, and once you have selected your flight you are given an option to book into Main Cabin Extra, for around $180 a seat each way. With a typical return ticket on American Airlines over the Pacific costing upwards of $1200, that is still only a marginal premium.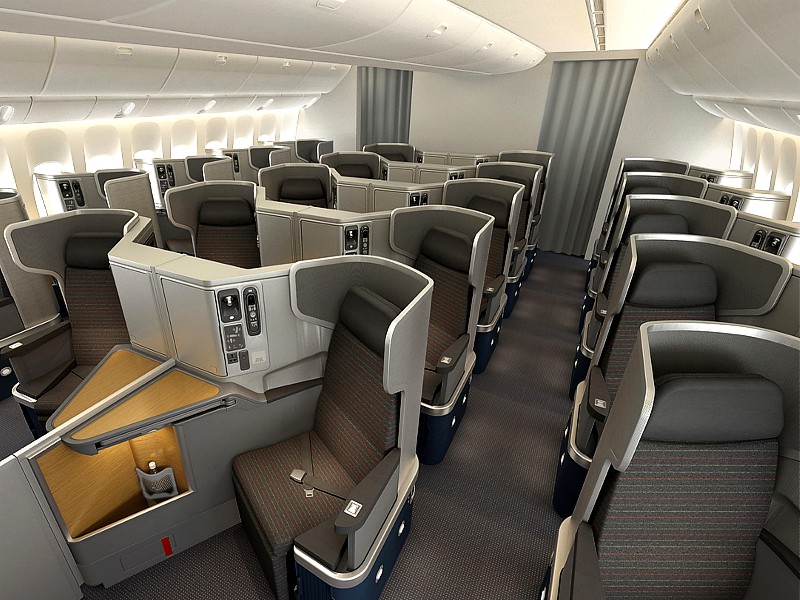 Business Class - American Boeing 777-300ER
If the seat on American Airlines Business Class looks familiar, that's because it is. American Airlines is using the same seat design as Cathay Pacific.
Due to the width of the 777, the new seat configuration also offers passengers by the windows solo seats, and those in the centre section two seats together, facing towards each other. However these are distant enough to be private enough as a solo traveller.
The American Airlines Boeing 777 business class seat has a fully-flat bed with direct access to the aisle from every seat avoiding all those 'jumps' over your seatmate late at night. The seats are 73 inches long (198cm) and 26 inches wide (66cm), giving more than enough shoulder room.
There are two main cabins in Business Class on the AA 777s, with a small micro cabin of just two rows, row 3 and 4, and then the vast main Business cabin from row 5 to 15. In total there are 52 business class seats on the 777-300ER.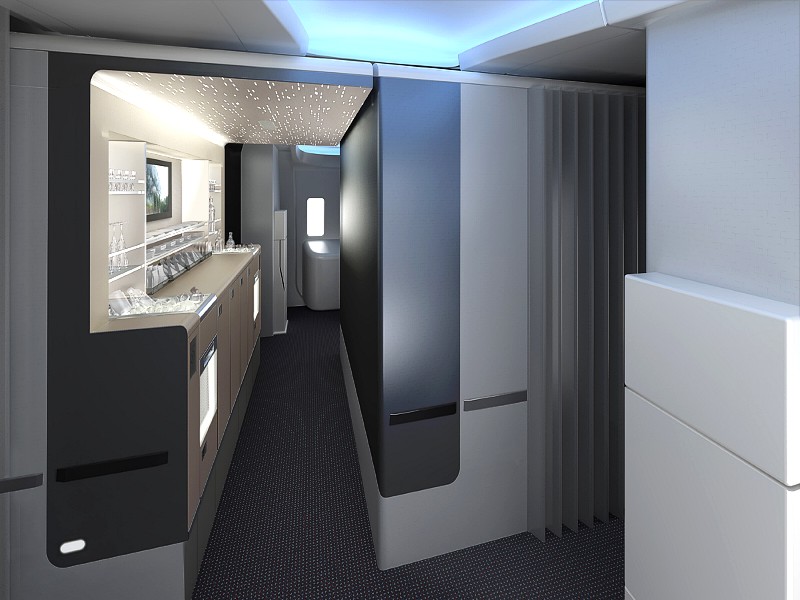 Service is slightly reduced compared to Qantas, with a more minimal meal service without the trimmings, but still offers three hot options for both meal services. There are pillows, blankets and amenity kits in business class, but no pyjamas or turndown service.
However there is one treat that Cathay don't have, and which BA have pretty much abandoned with the reduction the Club Kitchen.
There is a walk up bar in Business Class, claimed by AA to be the first of any USA based airline. Like and extended version of the galley, there are no stools to sit on unlike on Virgin Australia's 777s service, or a barman, however self serve drinks will be available here throughout the flight.
There is also a small snacks area with sandwiches and wraps.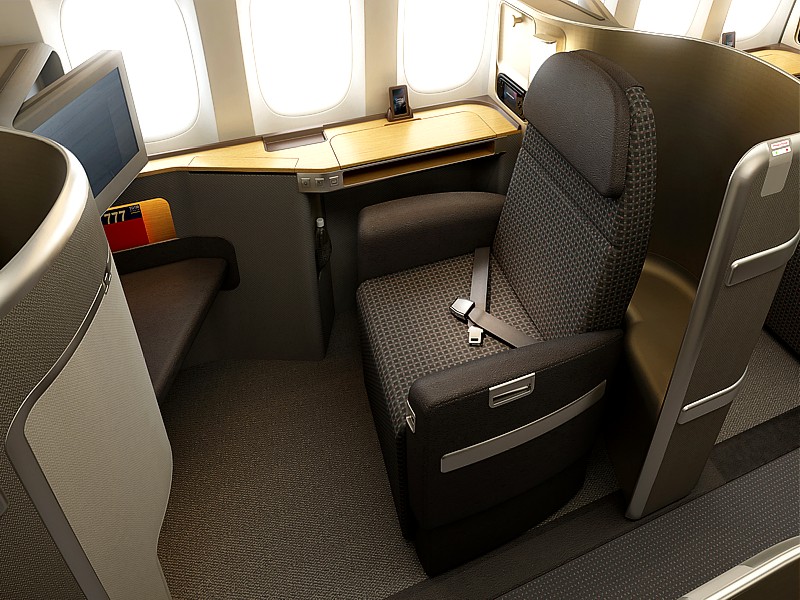 First Class - American Boeing 777-300ER
Of course, all the attention will be focused on what is up the pointy end, with just two rows of four seats in American Airlines First Class.
Seats transform into 203cm long and 73cm wide beds at night. There is also an ottoman opposite your seat, either to rest of legs on, or to have someone dine with you.
The First Class seats transform into an office aloft, with the seat rotating to face a desk if you really must get some work done. There are of course two multi-country power outlets that accept UK plugs without an adaptor, plus a USB charging slot.
Unlike Business, there are pyjamas in First, and an amenity kit. a mattress, duvet and pillow for your fully-flat. The meal service is very similar to Business Class, however there is an extra soup course during the first meal.
American Boeing 777-300ER - First Sydney flight
American Airlines now has ten Boeing 777-300ER in the fleet, compared to a whopping 47 older style Boeing 777-200ER.
Flight from Los Angeles to Sydney on American Airlines begin on the 15th December, leaving LAX at 9.50pm, arriving at 8am. On the return flights leave at Noon, arriving at 7am. Unfortunately these replace four weekly Qantas flights, operated by a Boeing 747-400. Given the markedly different cabin service in flight, this may be a disappointment to some passengers, however the impressive new seats will be what matter to most travellers, particularly those in premium classes.
It'll be the first time American Airlines has flown to Australia since 1992, and lux-traveller.com will of course be there to check out the bright new jet in full.