British Airways plans to make its seats smaller on Boeing 777 aircraft flying from London Gatwick, as it moves towards a plan it calls 'Densification'.
British Airways plans will see an extra seat added to each row, which will result in each row having ten seats rather than the current nine for the 25 Boeing 777 aircraft based at Gatwick.
Two toilets will also be removed per aircraft, and replaced by additional seating. The plan will increase the number of seats on its Boeing 777 aircraft by almost 20%, from 280 to 332, with economy increasing from 216 to 252, Premium economy up from 24 to 48, however Business Class will be reduced from 40 seats to 32.
Low cost airlines, and Emirates, have started fitting 10 seats abreast to Boeing 777 aircraft, however British Airways along with other full service airlines traditionally have nine per row.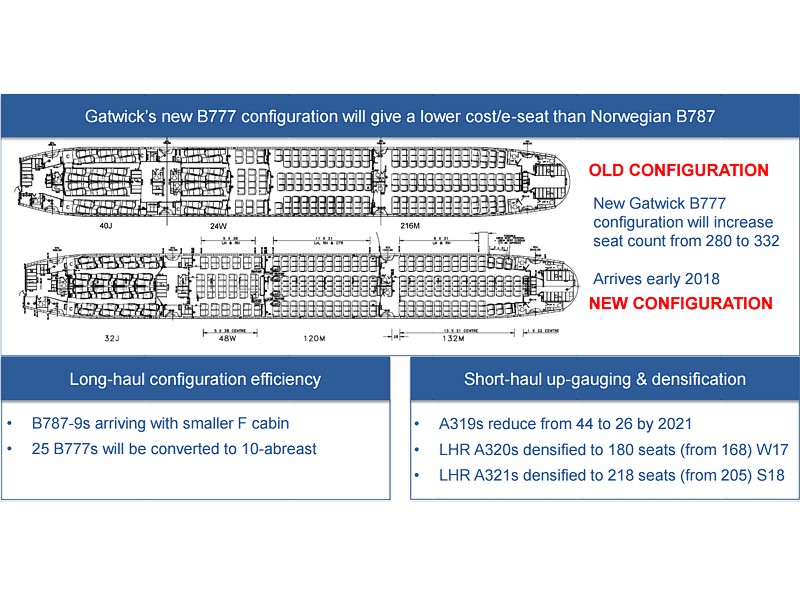 British Airways originally tried this 777 seating plan at Gatwick in 2001 with an off-shoot called Flying Colours, which was rapidly abandoned due to customer complaints.
British Airways said it would also be upgrading its in-flight entertainment systems with bigger screens.
In an odd, expletive laded presentation to investors, explaining the plans to 'up-gauge and densify' aircraft, British Airways also said that it planned to reduce the size of the First Class cabin on Boeing 787s, and increase the densification of A320 to 180 seats (from 168) and 218 seats (from 205) on Heathrow based A321 aircraft.
British Airways said in a statement "We are flying more customers than ever before. To meet this demand, we are updating our cabins to bring us into line with many of our competitors."