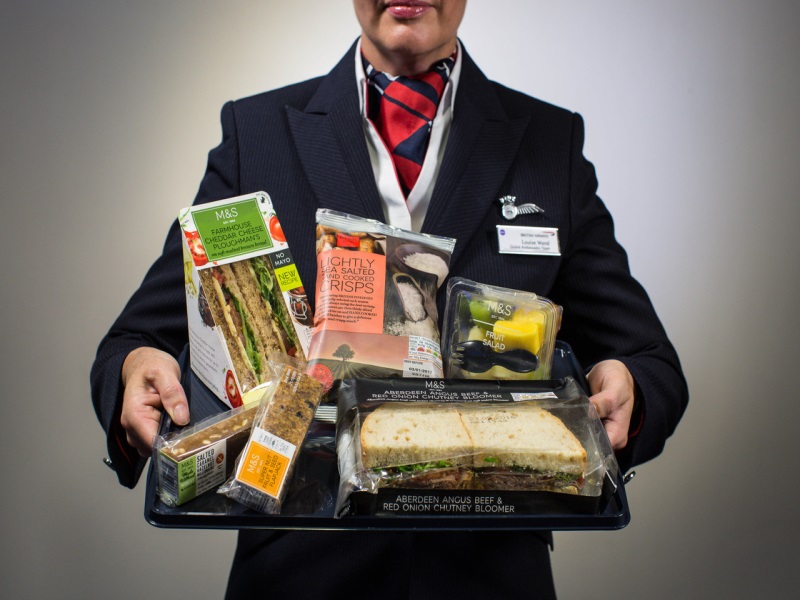 British Airways will scrap free food and drink on short-haul flights and offer buy on board Marks & Spencer snacks and sandwiches.
British Airways is to remove free food and drink on its short-haul flights and instead sell passengers snacks and drinks. There will even be a charge of £1.80 for water, or £6 for a gin and tonic.
The change impacts both UK domestic and European flights, with passengers now being asked to purchase snacks and sandwiches provided by Marks & Spencer.
The introduction of Buy on Board for food and drink for short haul economy flights will start on 11th January 2017 for Heathrow and Gatwick flights, with London City seeing the new catering in the summer of 2017.
In economy, passengers will be offered sandwiches from Marks and Spencer's usual range, including a ploughman's sandwich, a bacon bap, or a bag of Percy Pigs sweets.
Cash will not be accepted on British Airways flights, with payment only possible via credit or debit card. However, there is a novel way to pay, with members of British Airways' executive club able to use frequent flyer points. A £3 ploughman's sandwich will cost 375 Avios points.
The move marks the end of an era for the UK flag carrier, which had for many years advertised complementary food and free bar to differentiate itself from low-cost rivals, such as EasyJet and Ryanair. In 2009 BA axed free meals on some shorter European flights, but always maintained a free bar.
In April 2016 BA also changed its economy fare structure, with the cheapest Basic fares no longer including checked luggage or the ability to change your flight and passengers must pay to pre-select seats.