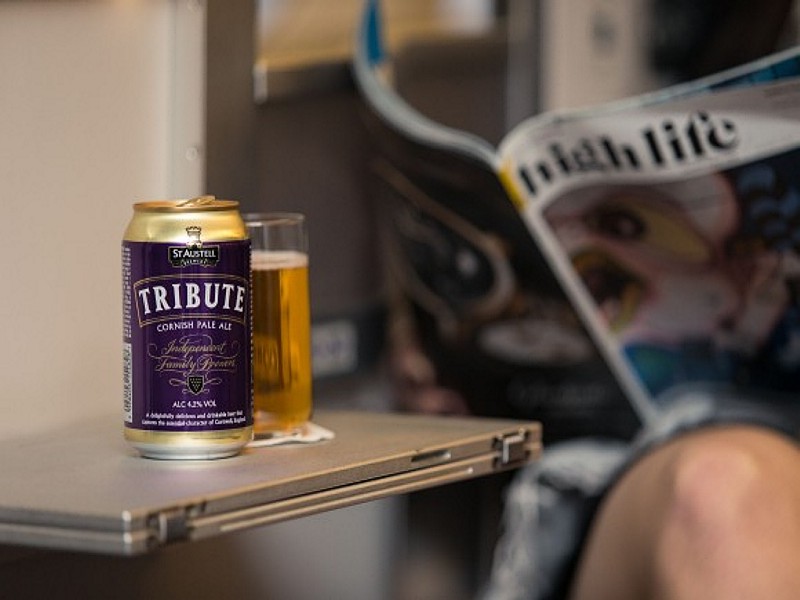 Cornwall's St Austell Brewery has been selected to provide ale on British Airways flights.
From this week, British Airways passengers will be able to sip a taste of Cornwall at 38,000 feet.
Its Tribute Cornish Pale Ale will be available complementary for customers flying long-haul and for those in Club Europe on short-haul flights, however not in economy (Euro-Traveller).
It will also be in British Airways' lounges in the UK and in the remaining lounges (Amsterdam, Athens, Berlin, Brussels, Geneva and Munich) around Europe.
Family-owned St Austell Brewery has stepped up to the bar to work in partnership with the airline to offer its craft-brewed beers to millions of British Airways customers flying all over the world.
St Austell Brewery is producing a specially commissioned 330ml can for the airline.
Founded in 1851 by Cornishman Walter Hicks, today St Austell Brewery remains an independent and family-owned business, offering a wide range of top quality award winning beers and operates an estate of 170 pubs, inns and hotels.
The brewery said the agreement would open up Cornish brand to millions of the airline's customers every year. The Great Western Railway company already sells St Austell Tribute in cans to rail passengers.
James Staughton is the managing director of St Austell Brewery. He says "Tribute Cornish Pale Ale has experienced huge success over recent years, but this agreement truly marks it out as the beer of the moment."
"It is testament to the quality and flavour of our locally produced beer and also to the growing strength of the unique Cornish identity that Tribute was chosen as the only ale to be served on all British Airways flights."
British Airways have commissioned a video to celebrate the launch of the new ale.
Tribute Pale Ale will replace London Pride as the main British Airways ale available.
In other British Airways beer news, Tiger beer is being exchanged for Amstel Light.