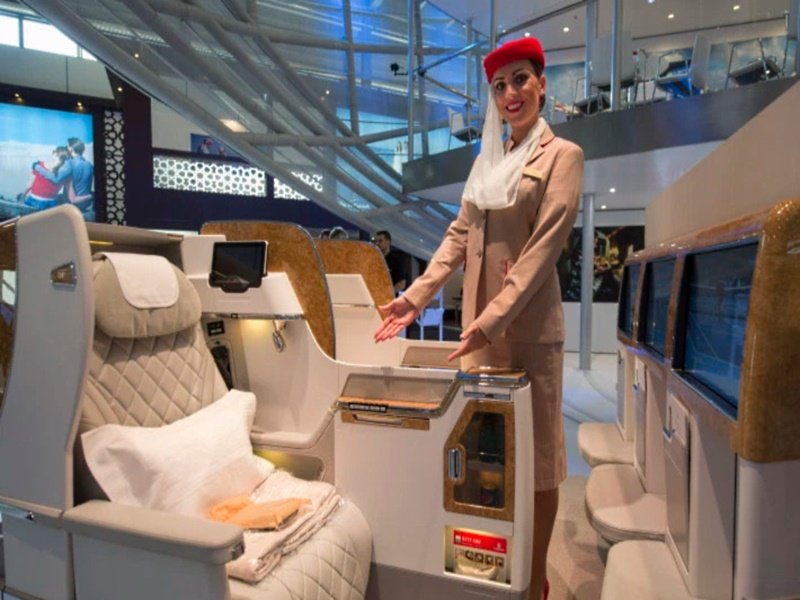 Emirates' new business class seat will offer passengers more legroom, a private minibar and 23in television screen. However it will still come in rows of threes with no direct aisle access.
Emirates has unveiled its new business class seat, which will start to be fitted to the Boeing 777- 300ER which the airline expects to receive in November 2016.
The new Emirates Business Class seat has a pitch of 72 inches and can be electrically moved into a fully flat sleeping position at 180 degrees.
This is to be welcomed, as it will replace the carrier's now ageing lie-angle seats, however Emirates will retain its current seat layout of 2-3-2 across its Boeing 777 business class cabins, as well the total number of business class seats per aircraft at 42.
This means each row still has a dreaded middle seat - something other airlines moved to abandon a decade ago. British Airways in the 1990s managed to give direct aisle access, but still with a 2-3-2 layout, by using a fractionally staggered seat layout.
Emirates has moved to cut down on the bling of the cabin, and has gone for a diamond stitch pattern on a light grey full leather cover, similar to the ones on British Airways. Launching the seat at the international travel trade show ITB Berlin Emirates said the design of the seat was inspired by the interior of a modern sports car although it still has the walnut veneer, synonymous with Emirates premium cabins as part of the finish and trim.
Every seat now has a minute private mini-bar, although strictly non-alcoholic, with just soft drinks and water.
There is also a large TV screen. At 23 inches this is rapidly becoming the industry standard, and there is also a slight update to the in-flight entertainment system with a new touchscreen controller for the seat.
There are power sockets (universal mains 120 volt) and a USB port to charge tablets and phones. There is also an HDMI port to stream content from their personal devices directly onto the IFE screen, despite it being exceptionally rare for any passenger to ever use this.
There are also improved lighting options.
Emirates also redesigned the privacy panel between seats, foot rest, shoe stowage area, the l meal table has got slightly bigger.
There is also a newly-designed headrest that the airline hopes offers more comfort to the passenger.
The new seat is set to make its commercial debut on Emirates' 170th Boeing 777- 300ER at the end of the year.
There are no plans to retrofit the seats on current aircraft, which will retain the unpopular recliners. With exceptionally narrow 10 abreast in economy, it is interesting to see that Emirates are being left behind by many other airlines, including their chief Gulf competitors and Asian airlines, who now almost all have lie flat seats in business and wider seats in economy.