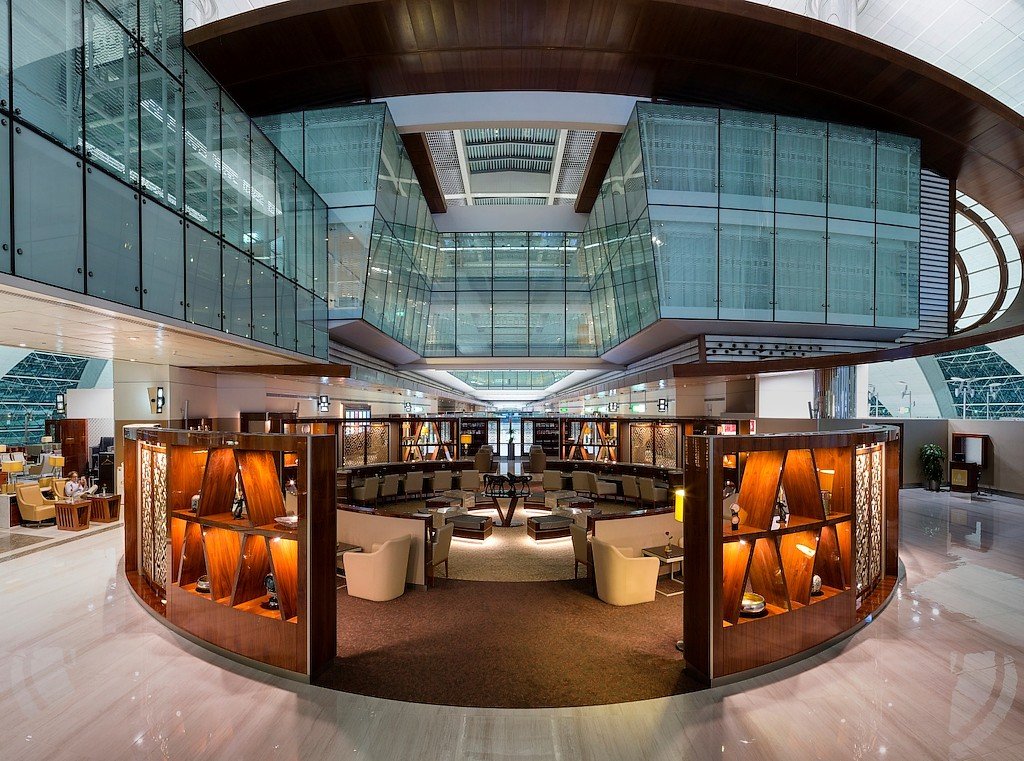 Emirates Airlines has teamed up with the UK coffee brand Costa Coffee, to offer dining and drinks at the First Class and Business Class lounge in Dubai.
The brand new Emirates Lounge Dubai at Dubai International Airport's concourse 2 has now partially opened, and includes seven new dining and drinking experience areas.
The vast new Business Class lounge has cost 8 million pounds to renovate, and occupies most of the top floor of the terminal. There is what the airline calls 'gourmet cuisine' prepared by on-site chefs and a complimentary full bar service includes sparkling wine, and of course coffee. Lots of coffee.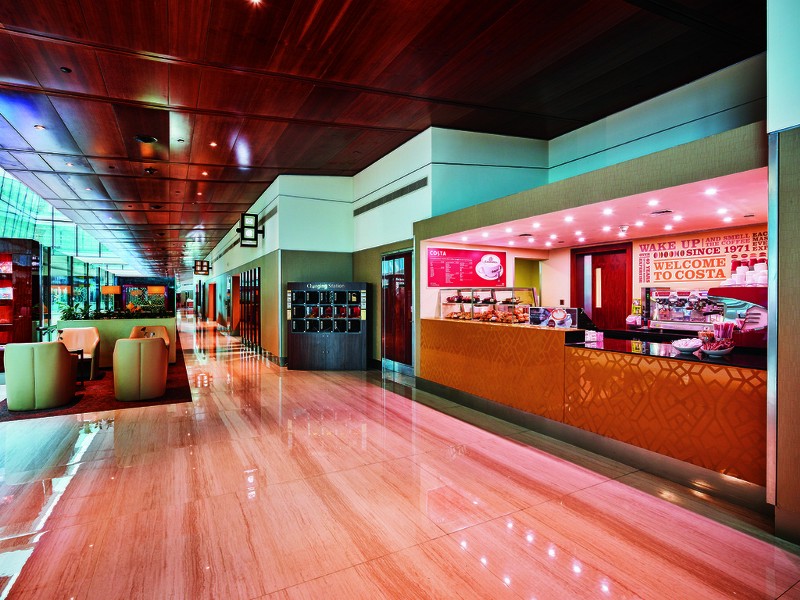 In the new lounge Costa is bringing that most English of experiences, a Barista making lattes and iced coffees, along with its signature pastries, cheese cake, sandwiches, wraps and sausage rolls. All drinks and food is complementary. Paying homage to the number of Australia customers transferring on Qantas flights, the coffee waiters will also make flat whites (a type of coffee very popular in Sydney, and not a glass of still white wine).
If you want to avoid caffeine the new Emirates Lounge Dubai also has what is called a 'Health Hub', with a stall providing Voss water and a healthy menu of salads, juices and smoothies.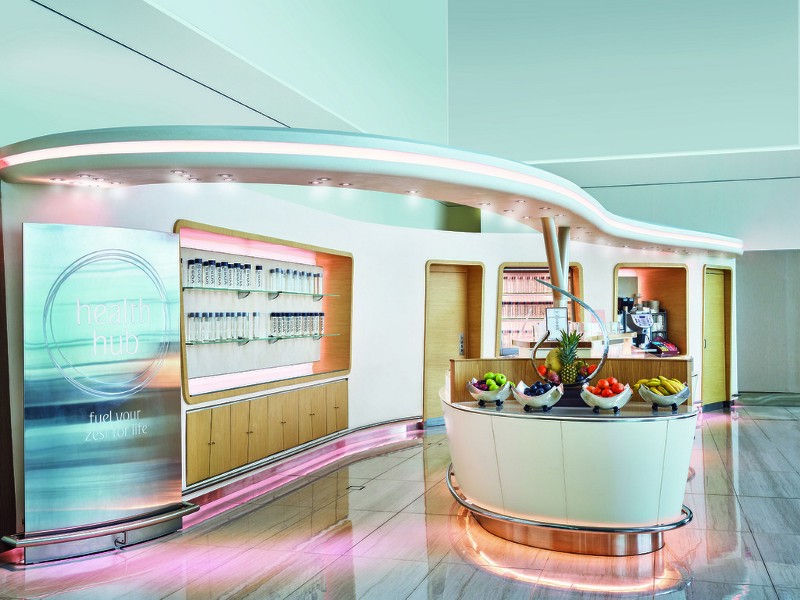 However, most passengers are likely to make their way in the Dubai Emirates Lounge to the gold leaf covered Moet Hennessy bar. Featuring a wall with over 2,400 gold leaves applied by hand, the self-service bar features four prestigious bottles: Moet Imperial, Moet Rose Imperial, Moet & Chandon Grand Vintage and Moet Nectar Imperial.
Chefs from Emirates flight catering are collaborating with Moet & Chandon, to create a unique selection of canapes to go with the sparking wine. The sweet and savoury canapes menu will be changed monthly and includes everything from smoked salmon wrapped in nori with wasabi mayonnaise to complement the Moet & Chandon Grand Vintage 2006, to passion fruit and jasmine tea macaroons to be paired with Moet Nectar Imperial.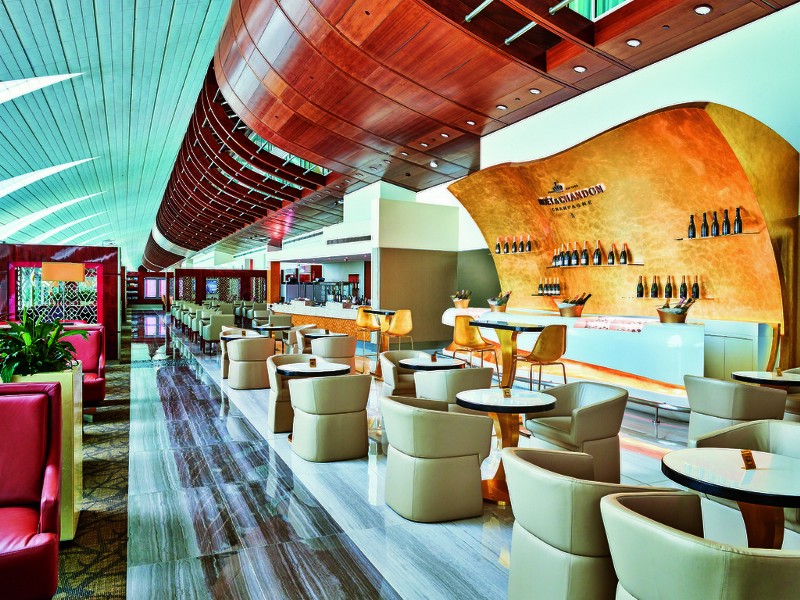 The new Emirates Dubai Lounge in DXB Concourse 2 has been given a 40 per cent expansion to almost 3,000 square yards with seating for over 1,500 passengers. Work is still underway to build a cocktail and sports bar.
Opening hours of the Emirates Lounge are 24 hours a day, all day and night.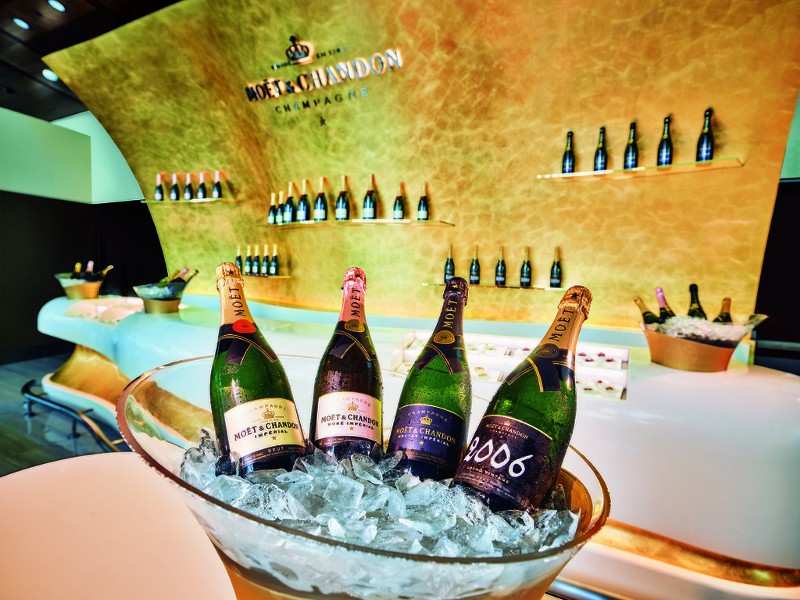 Access to the Emirates Dubai business class Lounge is given to first class and business class passengers, along with Platinum, Gold and Silver members of the Emirates Skywards frequent flyer scheme; and Qantas Platinum and Gold frequent flyers, plus Qantas passengers in Business and First.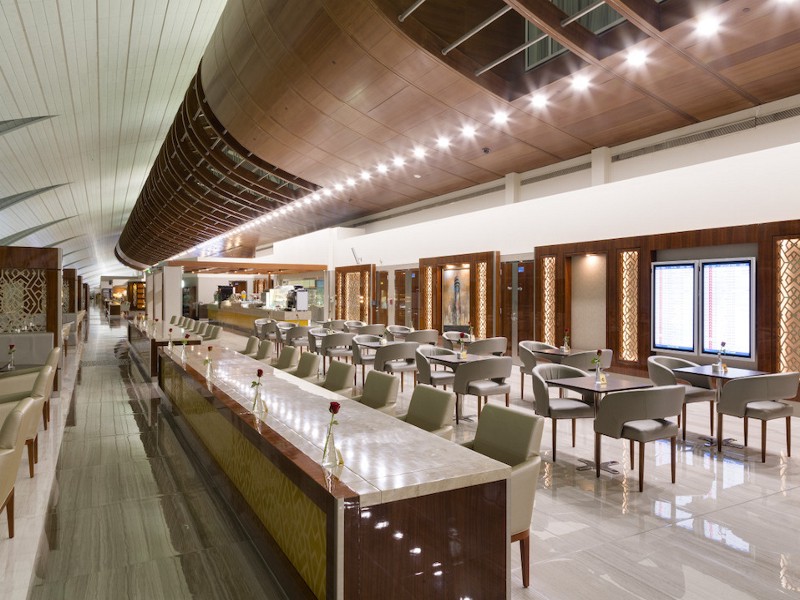 Emirates fly the giant Airbus A380 no less than nine times a day to London (with two flights to London Gatwick), along with codesharing on two other A380 Qantas flights to London.