SkyTeam has opened a new lounge at Dubai. With a large bar and complementary hot meals all day, the large 960 square meter lounge maintains the sleek, modern curves of the five generic Skyteam Lounges.
The new SkyTeam Dubai lounge is now open, and offers a comfortable seating and dining space for First and Business Class passengers plus Elite Plus card holders of the ten SkyTeam member airlines serving the airport.
With a very familiar light, bright, white and cream colour scheme, while using accents of wood to add warmth, the Skyteam lounge at Dubai International Airport is located in Terminal 1's Concourse D.
Open all day, every day, and set over 960 square meters and has seating for 180 customers, the Dubai Skyteam lounge has floor to ceiling windows overlooking the airport and the gates where many of Skyteam's airlines fly from, including Air France and KLM.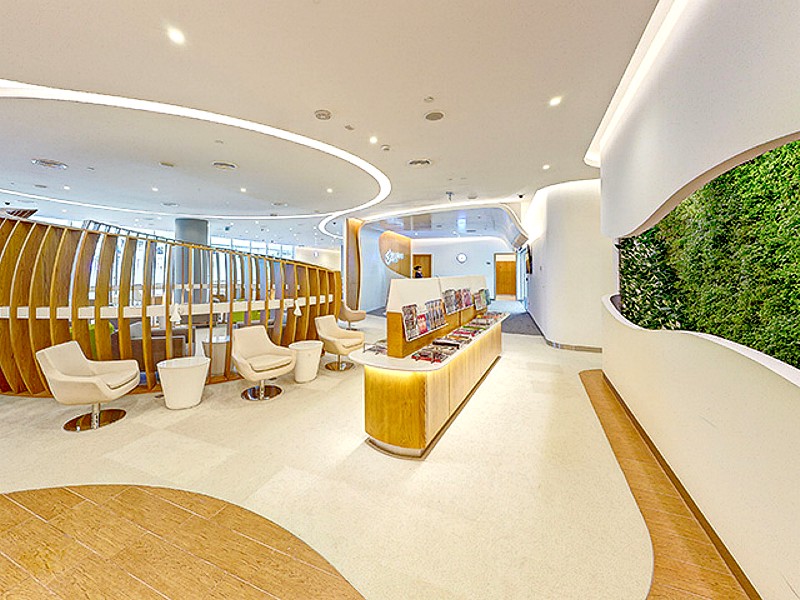 The Skyteam lounge features an elegant bar, and a similar wine bar to that found at London and Sydney, with wines arranged around an elegant curve with tasting notes, and a central bar table, which is sure to become a hub for many travellers flying out of Dubai.
There is a separate buffet with a selection of hot and cold items that reflect that of the home country of each SkyTeam airline serving Dubai, plus of course Middle Eastern cuisine.
The core part of the lounge features many comfy armchairs, in grey, beige, and a few in startling lurid green.
There is also a new feature for Skyteam lounges, a long curved bench with high bar seating.
Shower facilities are available for passengers wishing to freshen up.
There is a great 'living wall' of plants, just as in the Skyteam lounge in Istanbul and Hong Kong, which as the airline grouping says "brings nature into the airport experience". The lounge also features a Digital Art Gallery, featuring works by different artists.
There is free, fast, wifi in the Dubai Skyteam lounge, and a business centre with printing facilities for corporate travellers, which includes a decent newspaper rack.
Mains power sockets are located throughout the lounge to recharge electronic devices.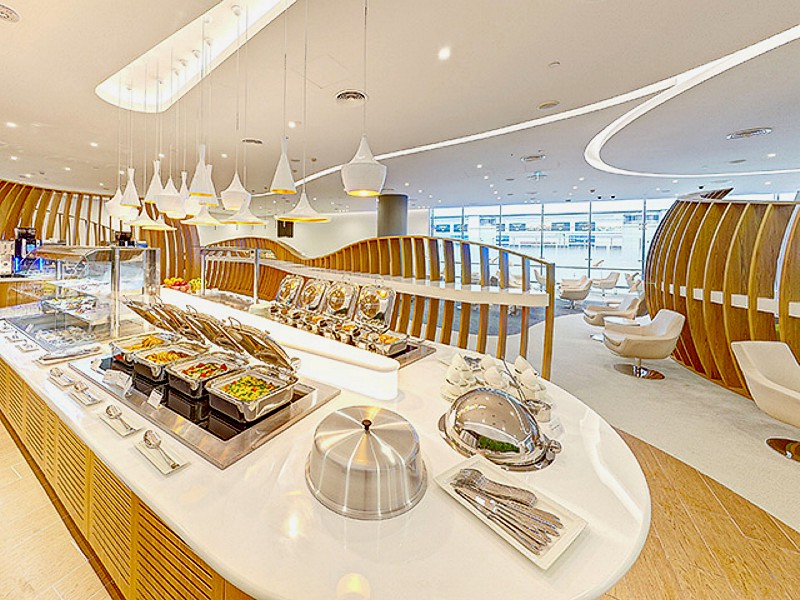 There is also a separate TV room and a dedicated children's room.
SkyTeam customers benefit from more than 630 members lounges throughout its global network. This is in addition the SkyTeam-branded facilities in London Heathrow, Sydney, Hong Kong, Istanbul and now Dubai.