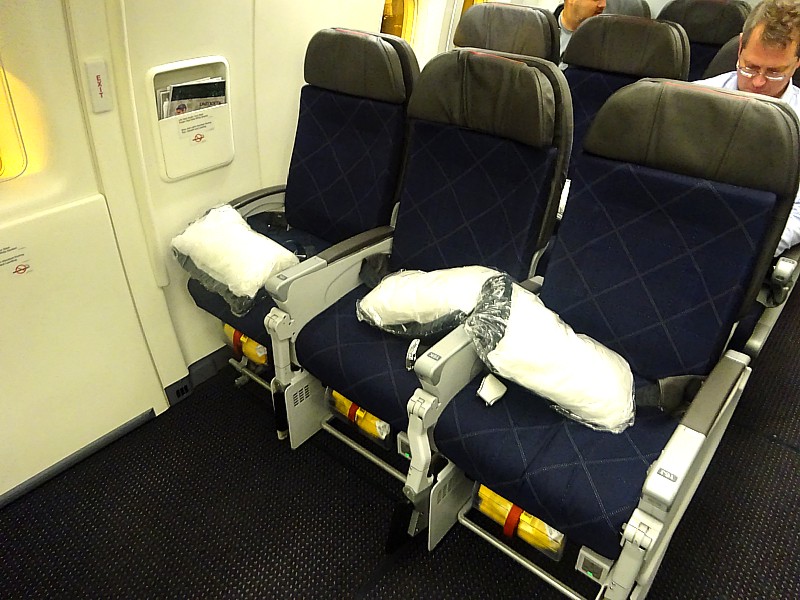 Lux-traveller.com reports on American Airlines new Boeing 777-300ER service over the Pacific from Los Angeles to Sydney to bring you this exclusive review and Trip Report from LAX to SYD on the AA73.
Following the recent debut of American Airlines' Boeing 777-300ER in Sydney, as we exclusively reported in November, the aircraft is now flying between Los Angeles and Sydney.
As a result, passengers now have more choice than ever when heading to Australia. Indeed, thanks to American Airlines linkup with British Airways, and neatly aligned flight schedules, there is also a new kangaroo route from the UK to Sydney, admittedly a very long one. You can leave Heathrow at 4pm on BA, in time for a 7.30pm landing in LA, and then head out to Australia on the 11pm departure, or head instead to JFK and go across country to LAX, which is what we did.
Fitted with the new almost-premium-economy, called Main Cabin Extra, lux-traveller took a close look at just what this flight offered for the longest of long haul.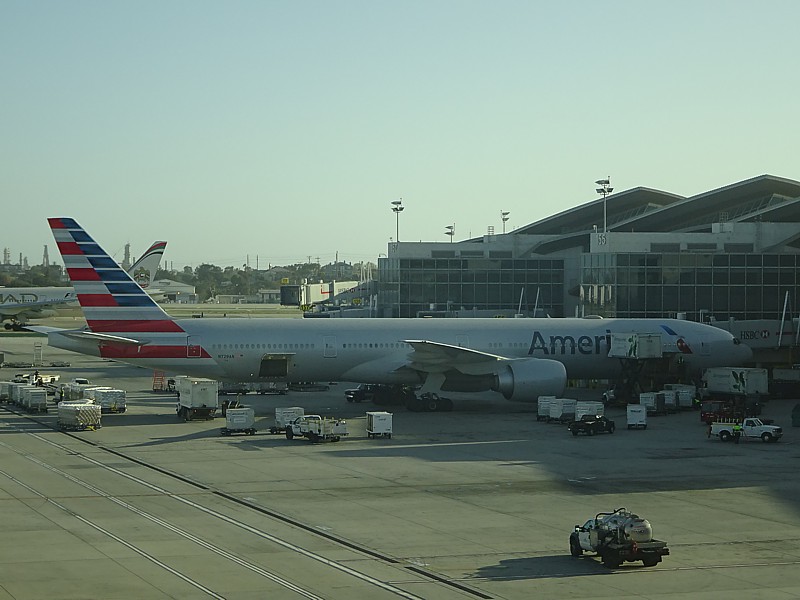 Check-in
Since lux-traveller.com had travelled from Europe, and already entered the US on the east coast, we were on a domestic flight which connected into LAX, and as such were already airside, and in the terminal. However without a boarding card to Sydney.
We immediately headed from our arrival terminal though the airside tunnels which connect all the southern terminals at LAX. American Airlines flight to Sydney, although it is an international flight, actually departs from Terminal 4 like all the domestic flights.
AA's new partner Qantas however departs from the International Terminal TBIT (Tom Bradley International Terminal). Qantas depart at 10.30pm using an A380, while American Airlines follows behind at 11pm with a Boeing 777.
Los Angeles may be the city of the stars, the sun, and Hollywood. But the terminals are disparate, connected airside by tunnels, and what a miserable much of tunnels they are, rather like a 1960s council building. This showed off Los Angeles airport at its worse. Disneyland, and the beautiful people are nowhere to be see among the 70 million passengers who use the USA's third busiest airport. With depressing interiors and chaotic connections, lux-traveller.com got lost.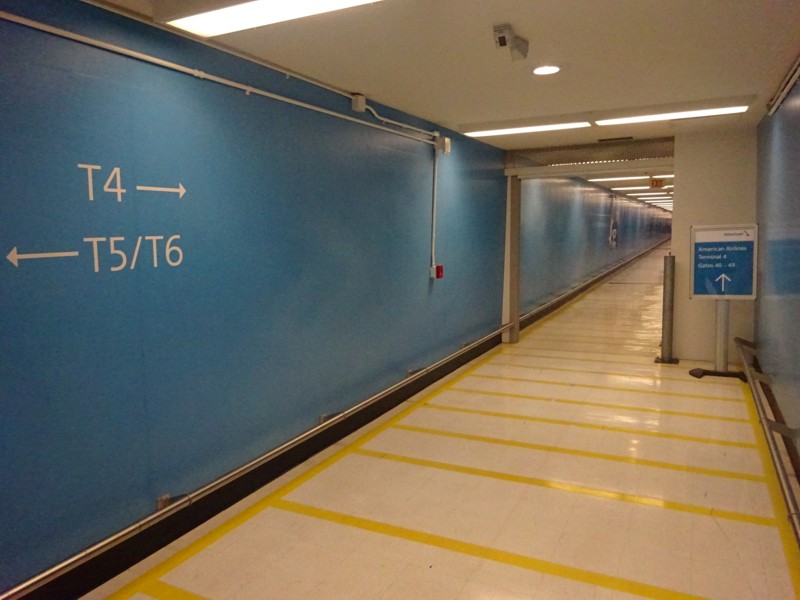 Amazingly, at the top of the hidden tunnel heading airside to American Airlines terminal 4, there is no sign saying it is to terminal 4. We had to ask the waitress in the nearly eatery called The Filling Station and she resigning told us 'everyone complains about that'.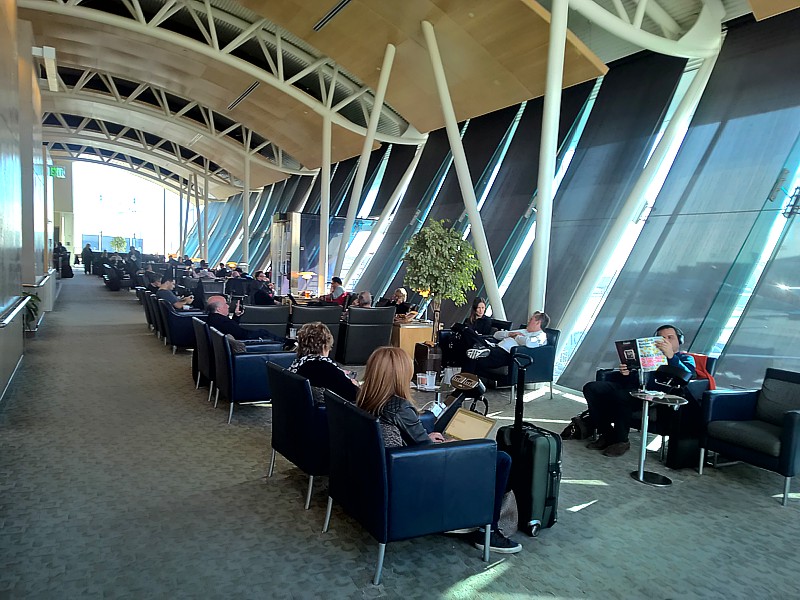 We headed to the LAX Terminal 4 Admirals Club to check in, however the crew on the desk there seemed very surprised to be checking in someone, and I was told they'd only done it a handful of times for an international flight. Finally, and with some help from the manager, out popped a boarding card. However our British Airways Executive Club Gold card - the top elite frequent flyer card in the UK - was initially mistaken for an American Airlines Gold card, which didn't give access to the American Admirals Club in economy. A hurried conversation about oneworld Sapphire, and with profuse apologies, and we were waved through.
Los Angeles American Airlines Lounges
Much has been written about the current American Airlines Admirals Club in Los Angeles Terminal 4, which doubles up as the Business Class lounge, and not much is complementary. Thankfully, it is slated for demolition and a complete rebuilt next year. Read the full story here.
Thankfully the brand new connector from LAX Terminal 4 to the international terminal TBIT opened this week, so we were able to take a short walk down the long pier, and head to the much better Qantas lounges in TBIT.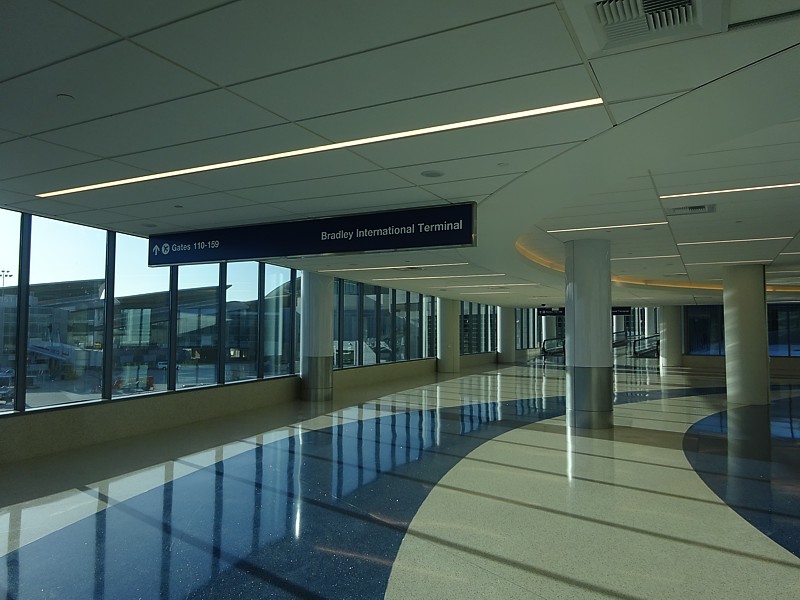 Heading straight for the Qantas First Lounge, lux-traveller.com was quickly welcomed, and settled in.
Designed by Marc Newson, the lounge takes its design styling from Newson's work on Qantas' highly-praised Sydney and Melbourne first class lounges but strikes an updated, more contemporary note.
The lounge was empty when lux-traveller.com first arrived, but quickly filled up with flights to Heathrow and Sydney. The Qantas Los Angeles First Lounge includes a 74-seat restaurant with a view to the open-style kitchen, and it was this that was a little bit off putting - the staff here can't but help clang and clink with pots and pans, and the noise travelled throughout the lounge. There was also a distinct lack of power sockets for charging our phone.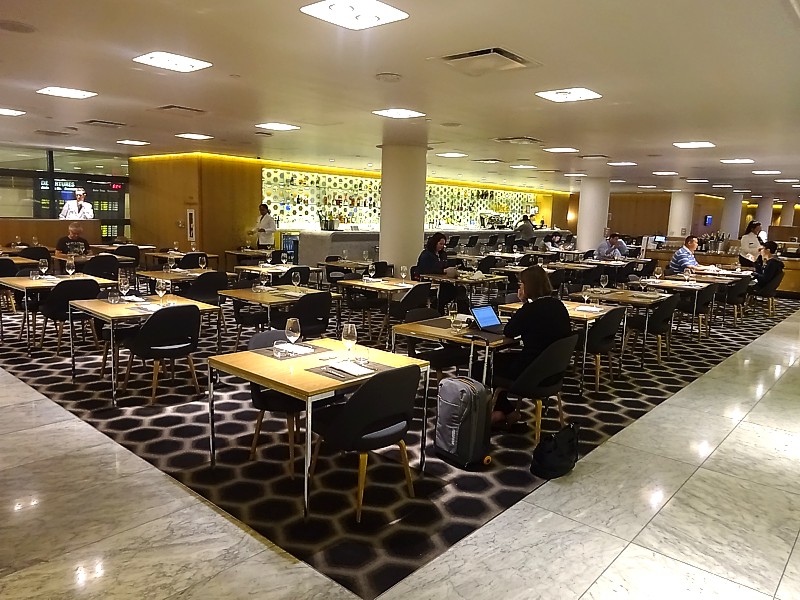 However, the food is superb, and the wine top notch. Taking a seat at the 50 foot long bar lux-traveller enjoyed a Mezcal Margarita cocktail, and then moved onto the wine, with a great Australian Sauvignon Blanc, which was perfect with the cheese and ham toasty lux-traveller started with, and a top quality Californian Merlot which went well with the Black Angus minute steak with chipotle butter and lime.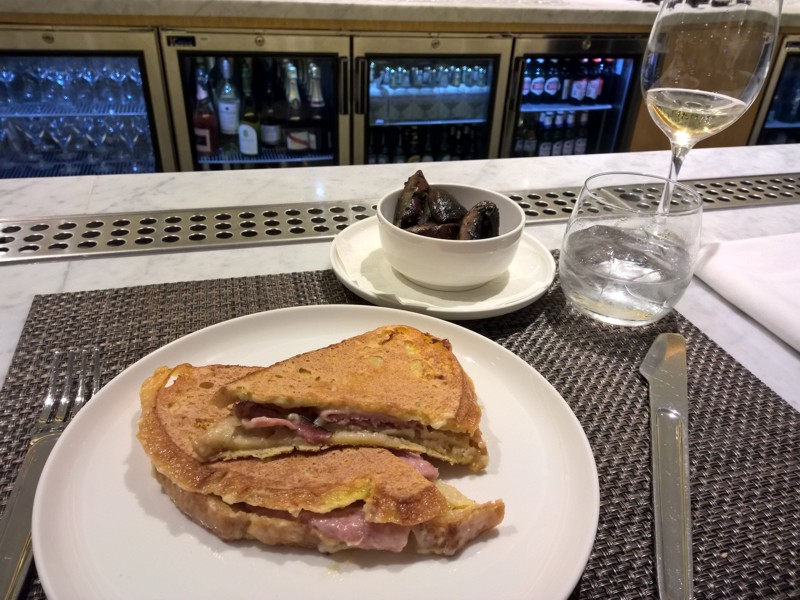 The shower suites were also deserted, so we were able to freshen up before heading back to Terminal 4, passing the signs warning us that the earlier Qantas codeshare had been cancelled. As Lux-traveller has previously reported, Qantas used to fly this route twice in the evening. However, when American announced it would fly the route, Qantas swapped the earlier flight to depart from San Francisco, leaving one Qantas and one American flight per day, both of which carry AA and QF codes. However, that didn't stop quite a few passengers arriving for the earlier Qantas flight, and one passenger was in tears as they were told they were on standby for a space on the later flight. It was also clear from the scrum at the gate - and the long list of passengers on standby - that the American Airlines flight AA73 to Sydney was completely full.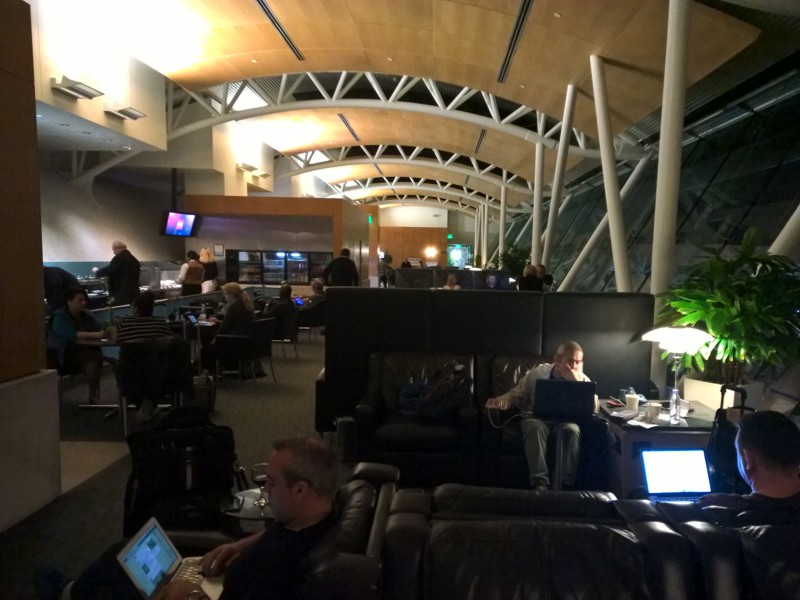 The flight was also late in from Florida, as the Boeing 777-300ER that American use to Sydney first completes a leg from Miami to Los Angeles. With an hour and a half to kill, there was just time for a quick visit back to the American lounge, and this time head to the hidden lounge within the lounge, the Flagship Lounge LAX. Designed for First Class passengers and oneworld Emeralds, alas it wasn't a patch on the Qantas First lounge. With just a small buffet selection, behind a half height wall next to a few dining tables, it is rather like a Debenhams cafe.
Finally, boarding began, and what a scrum it was. Every passenger seemed to be holding elite status, however lux-traveller.com quickly found our seat, in the first row of Main Cabin Extra.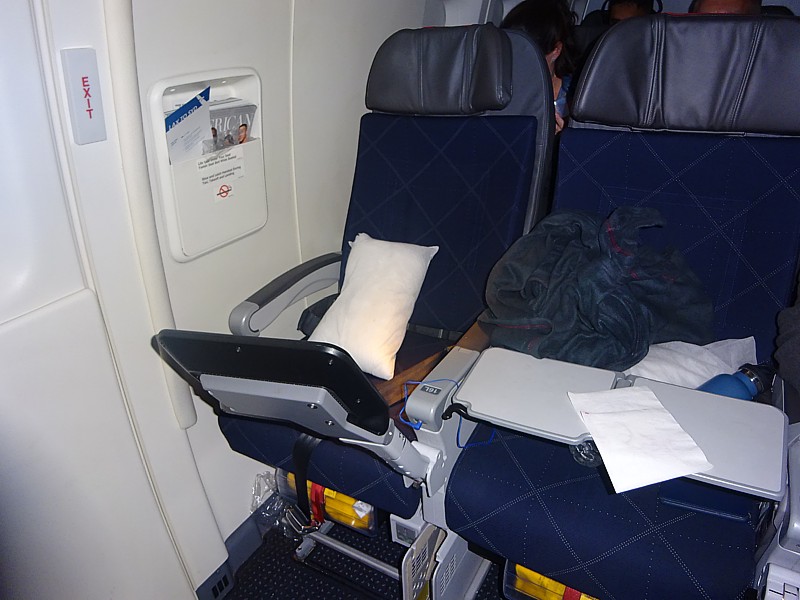 The Seat - Main Cabin Extra
The first thing to say is that American Airlines Main Cabin Extrais no Premium Economy.
With 9 seats abreast, and an extra legroom of 36 inches, it is certainly larger and wider than the standard economy seats on the plane.
This is because American Airlines has a high density economy class product with 10 across seating, unlike most airlines like British Airways which only fit 9 seats abreast in economy.
On a long 14 hour Pacific flight, this can mean a seriously squashy flight, with just 31 inches of pitch.
Main Cabin Extra avoids that, with only 9 across - however this is the same as booking economy on BA or Qantas. The seat pitch is better though, as 37 inches, and with a BA Gold Card you can book the front row of Main Cabin Extra for free, giving almost infinite legroom. There is no window at seat 16L, however there is a window in the door ahead of this seat, and unlike many emergency exit seats the door slide doesn't intrude into the legroom area.
However, if I had paid the extra $480 requested for a front extra row seat in Main Cabin Extra, I would feel seriously short changed.
Thankfully you can upgrade for free if you are an AAdvantage Executive Platinum / Platinum members or a oneworld Sapphire or Emerald member. For example British Airways Gold gets you the larger seat for free.
Furthermore, this is no Premium Economy like you would find on BA, Cathay, or Qantas, which offer larger seats, amenity kit, and an improved meal service.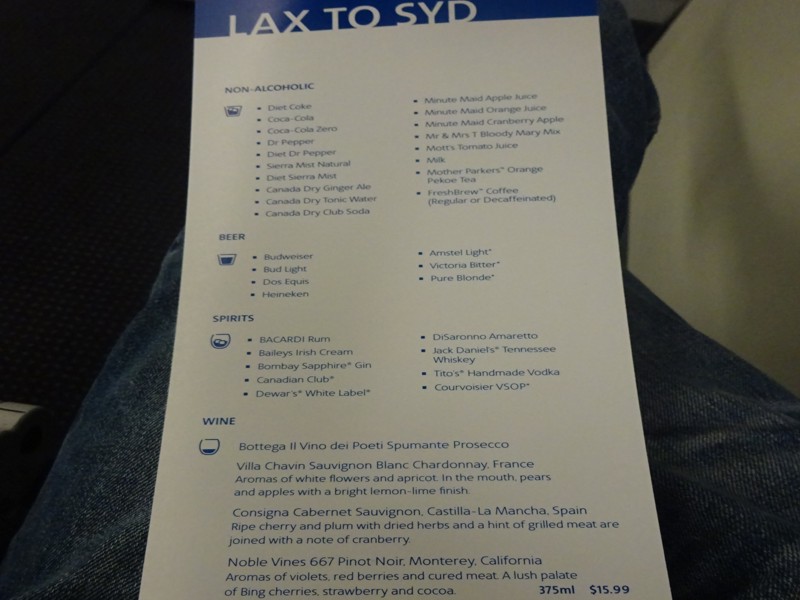 The reverse of the menu cards lists the drinks available. Surprisingly, even in Main Cabin Extra, American Airlines charge for anything other than the most basic wine. At $16USD, this worked out to be $22AUD on our credit card, and with a $3 overseas transaction charge to boot.
However the seat is a big improvement on the older seats American Airlines had for some time. There is a big improvement in entertainment, with the improved IFE having a large 10 inch wide seatback TV screen.
The new American Airlines economy seat is also more comfortable, with USB and mains power sockets, and offers plenty more pockets to place your carry on devices.
View our renown Seat Maps, with American Airlines Boeing 777-300ER seat plan, with images of every seat.
There is no amenity kit offered on American Airlines in economy or Main Cabin Extra. However, there is a small pillow and a blanket, which we found we needed as the cabin was decidedly chilly overnight.
American Airlines Boeing 777-300ER inflight entertainment
American Airlines inflight entertainment on the Boeing 777-300ER has been radically updated, and lux-traveller found it rather good.
The screen is 12 inches across in economy (called Main Cabin). IFE is AVOD as you would expect, so you can start and stop films and TV shows, with a mixture of mainstream Hollywood releases, and a few arthouse films. Curiously, UK movies are relegated to the international section. UK films included Castles in the Sky and a Royal Night Out. However UK TV shows were limited to Broadchurch and Top Gear.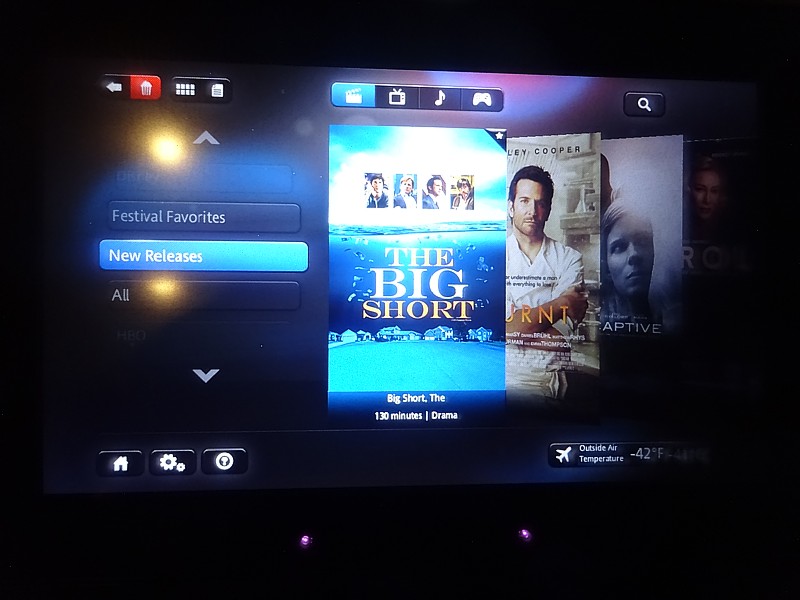 The aircraft also featured Wi-Fi in all classes, with internet access available for the entire flight at $19USD, or $12USD for two hours.
However the entertainment system isn't turned on until the flight is in the cruise, and is turned off half an hour before landing, so if you sleep like most passengers on this flight, you won't see a lot of it.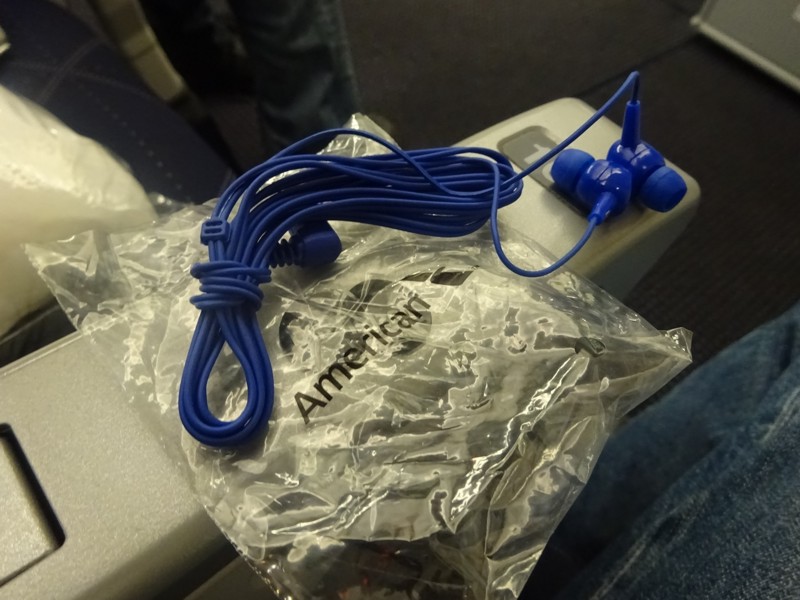 Also, it must be said the American Airlines ear bud headphones are pretty dreadful. You are far better taking your own higher quality ones - AA use a normal 3.5mm jack plug.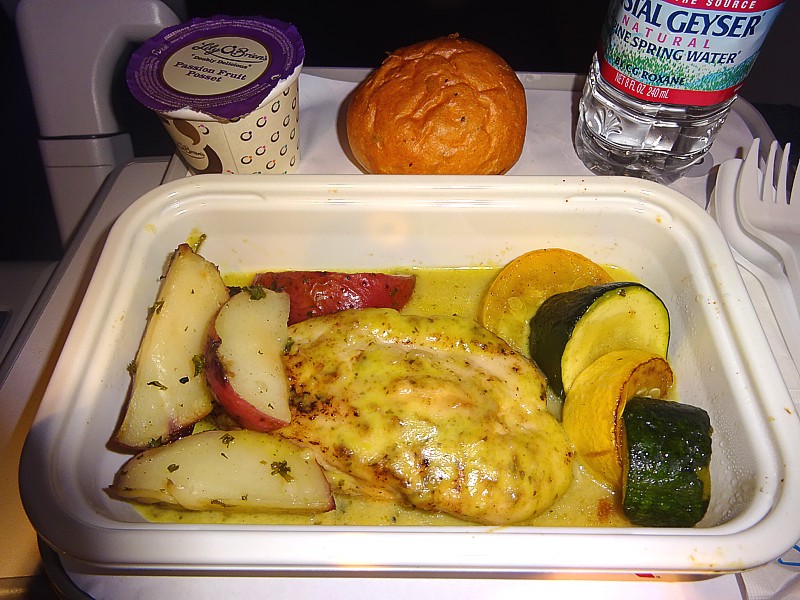 American Airlines Boeing 777-300ER trans-pacific meals
American Airlines have made much of the fact that the new food and beverage service is more closely aligned with what passengers may expect on Qantas. Wine and beer is now free, and meals are larger.
The AA73, like all longer American Airlines Boeing 777 flights over the Pacific, have two and a half meals, with a midnight snack half way through the flight.
A real novelty for American Airlines is handing out a menu in economy - our cabin crew made much of this perk, commenting that it was one of the very few flights where AA have economy menus. It comes on a half A4 size card.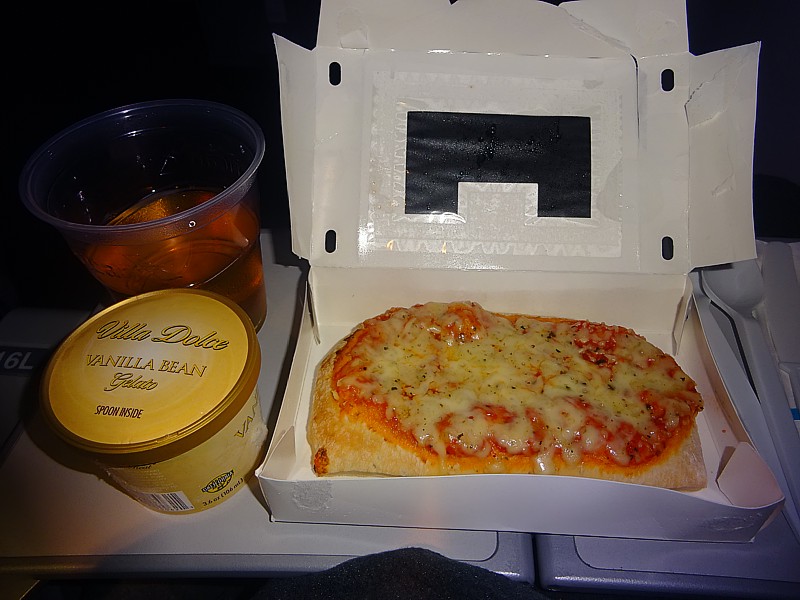 The flight took of an hour and a half late, and it was an hour and a half into the flight, so it was getting on for 2am when the first meal was served, with two trolleys per aisle, and two in a row, one serving the food the other with drinks.
The drinks menu offered Australian beer like VB or Blonde, however the crew were obviously having a hard time with the new service, and were unable to find any of the beer listed on the menu, and said they could only offer Amstel or Heineken as on normal American Airlines flights.
The chicken with potatoes and veggies was surprisingly good, hot, with decent tenderness in the chicken.
Service was quick, but tray clearance was slower. All in all, it was 4am departure time before the coffee trolley and second beer cart came around.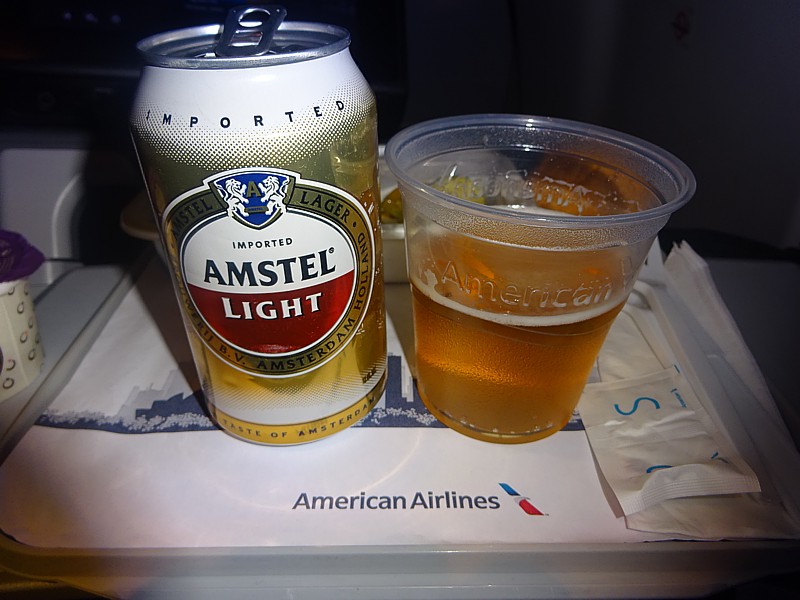 Seven hours into the flight the midnight snack was offered, however there appeared to be few takers. The midnight snack was a slice of cheese pizza, and it had clearly seen better days.
Two hours before landing the lights snap on, the breakfast was served.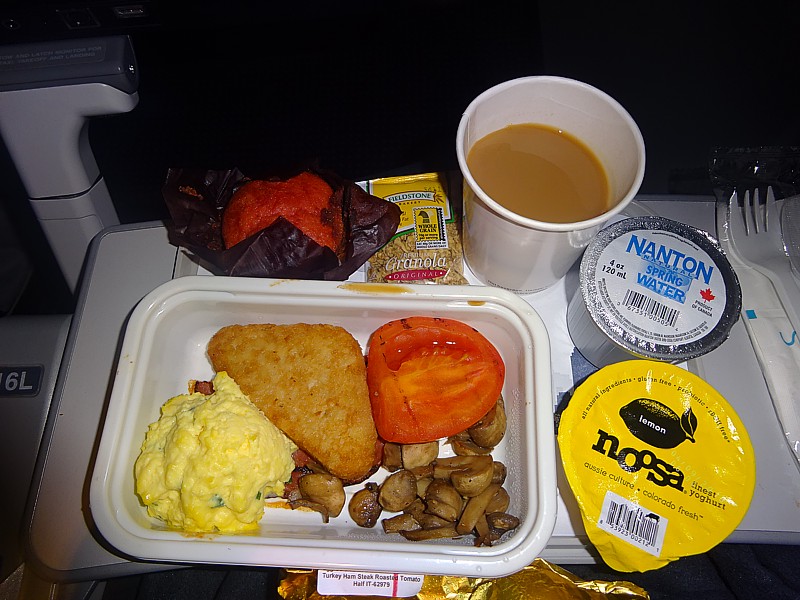 With bacon and scrambled egg, plus mushrooms and a hash brown, it was also rather good, and served with a Noosa yoghurt (oddly, not the Noosa in Australia - it was made in the USA).
American Airlines Boeing 777-300ER quick facts
The Boeing 777-300ER is by far the best aircraft American Airlines have in their fleet, and the new service levels over the Pacific dramatically raise the game for the carrier. Service in flight is certainly better than Delta or United, who also fly the route.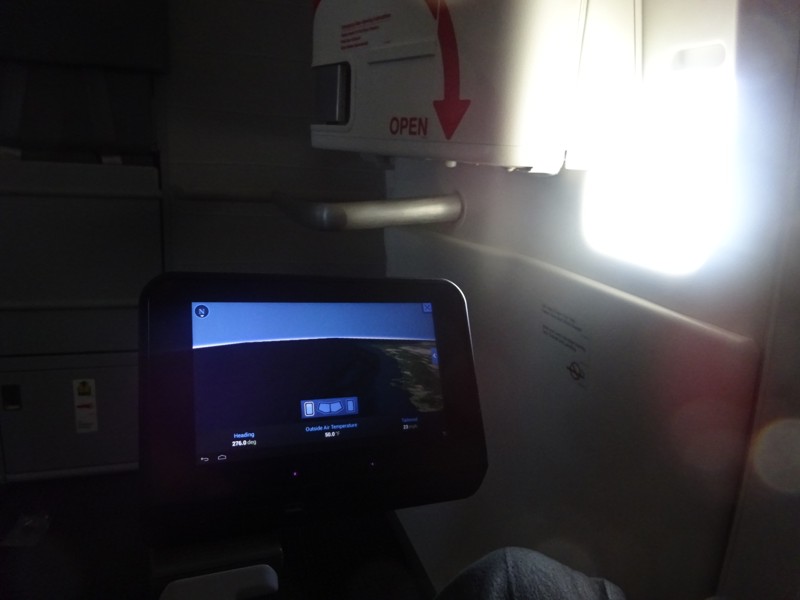 However, a direct comparison with Qantas is perhaps more relevant, and here it must be said American have an equally good soft product - the food, and the in flight entertainment. However the hard product in economy - the seat and the lounges - falls short of what Qantas offer. American Airlines realise that, and are trying hard to improve their lounges, with the LAX lounges slated for a 2017 rebuild, and American Airlines Premium Economy is just around the corner.
Lux-traveller paid its own way from Los Angeles to Sydney on American Airlines, and travelled incognito.