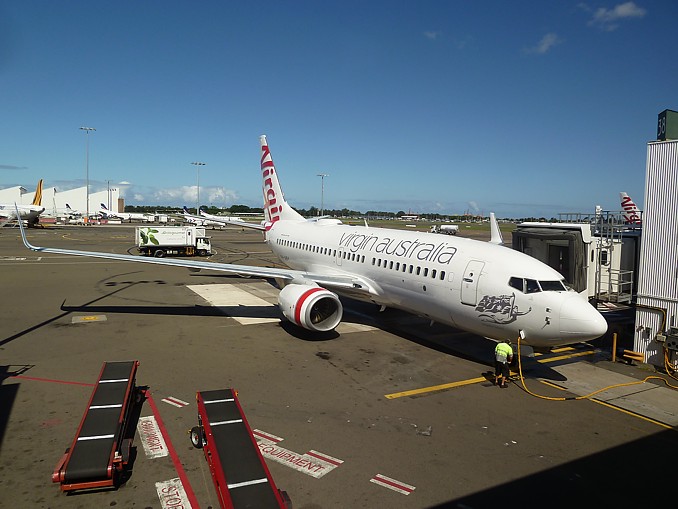 New Status Credit earning tables are coming in to Virgin Australia. In many cases passengers will earn fewer Status Credits in most fare classes when travelling domestically with Virgin Australia. However cheaper fares are now up-gradable with points.
Virgin Australia is changing the way frequent flyers earn status, and can also upgrade flights.
In many cases passengers will earn fewer Status Credits in most fare classes when travelling domestically with Virgin Australia.
For all travel from January 30th 2017, new Status Credit earning tables reward those paying the most. These Status Credits enable passengers to increase status to Silver, Gold or Platinum, and hold onto these levels which come with a host of benefits, including lounge access on economy fares.
Short flights up to 750 miles, such as Sydney to Brisbane, will now only earn 5 status credits, compared to 10 at the moment, on the cheapest Getaway ticket. In an Elevate fare, it now earns 15. Long flights such as Sydney to Perth now earns 15 status credits, down from 20, in Getaway, but 30 in Elevate, and 45 in Freedom.
International flights remain unchanged.
Virgin Australia Status Credit changes
Miles
Example
Fare classes

Getaway T, S, M
Elevate E, N, V, Q, G
Freedom Y, B, H, K, L
Business Saver I
Business J, C, D

0-750
SYD-MEL
5
15
25
50
55

751-1500
MEL-BNE
10
20
30
60
70

1501+
SYD-PER
15
30
45
90
105
New Fare Structure
The change comes as Virgin Australia revamps its fare structure, with Australian economy fares rebranded Getaway (MST), Elevate (QVNE) and Freedom (LKHBY) from this week.
Virgin will also start charging seat selection fees to passengers in the cheap seats, excluding Velocity Gold and Platinum frequent flyers.
Velocity Gold and Platinum frequent flyers will also continue to benefit from the 'Fly Ahead' scheme, whereby they can move to an earlier domestic flight for free, without paying a change fee or fare difference, except for the Getaway (MST) fares.
Silver members will see their tier bonuses axed.
New Upgrades
However all but the cheapest fares are now upgradable with points, which was previously not possible. Flexible Fares are still upgradable for the same number of points as before.
Go Plus and Getaway bookings are now upgradable from economy to Business Class for roughly 40 per cent more miles than Flexible fares. For example a simple Sydney-Melbourne flight on a Go Plus fare costs 8,000 miles to upgrade. On a Freedom Flexible fare it is 4,900. A longer flight, such as Sydney to Perth or Auckland, costs 12,000 miles on Go Plus, or 9,900 on Freedom. Bali is 24,000 miles.
However, there are no changes to the upgrade rules for the longest flights - Los Angeles and Abu Dhabi (both, coincidentally, 7502 miles out from Sydney) are out of bounds for upgrades unless you are both a Velocity Gold or Platinum frequent flyer, and travelling on a flexible economy or premium economy ticket.