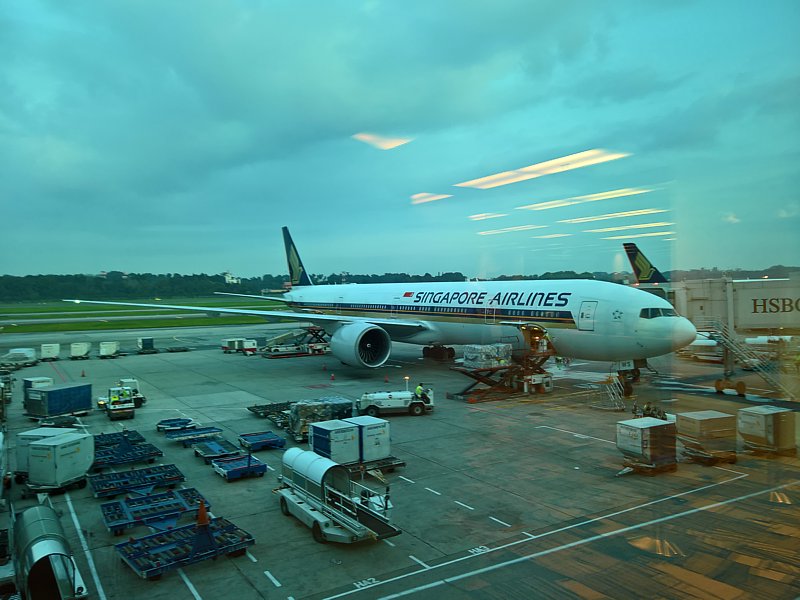 Things to do at Singapore Airport may include a cheeky pre-flight drink. However, can you spend all night on a pub crawl of every bar in the airport on a Singapore stopover? Singapore airport says there are so many bars, you could never drink at them all between planes. Lux-Traveller puts that to the test.
Singapore Airport bills itself as THE place to stop over on the kangaroo route between the UK and Australia, and many other places besides. A vast cathedral to aviation, it is a huge shopping and dining mecca. However, few people want to spend the night there, and it is a rare passenger indeed who picks up the challenge to drink at every single bar between flights.
There are those who hold that pre, or even between, flight drinking is a no-no, and just increases the risk of DVT.
However, Lux-traveller takes up the baton, and aims to try every bar and pub at Singapore Airport. In one night.
Arriving on the Business Class flight from Melbourne on Singapore Airlines, before heading out to Shanghai early the next morning, is enough to drive anyone to drink, and gave me 14 hours drinking time.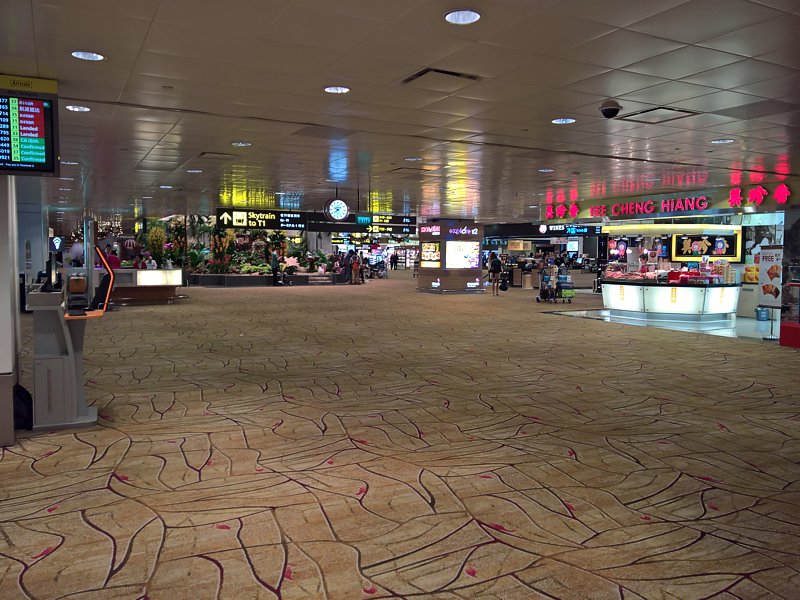 I was not only already well oiled, but up for the challenge which started out in Terminal 2. The plan was to have 6 or 7 pints, take the train to tick off terminal 3, for a few chasers, and then walk around to terminal 1 to carry on the lubrication.
It was a tough challenge, but someone had to do it, and I was absolutely determined that that someone was going to be me. Drink a pint in every single bar at Singapore Airport between flights. Plus, check out all the fun things to do at an airport in the middle of the night.
Singapore Airport Terminal 2 - Things to do
Printing out maps in advance before things started getting hazy, the first port of call was the "Enchanted Garden" in the middle of the terminal with waterfall and carp. It's getting a bit old by now, but still a good place to spend a few minutes and get my bearings, and pick up a quick cup of coffee in Starbucks directly opposite.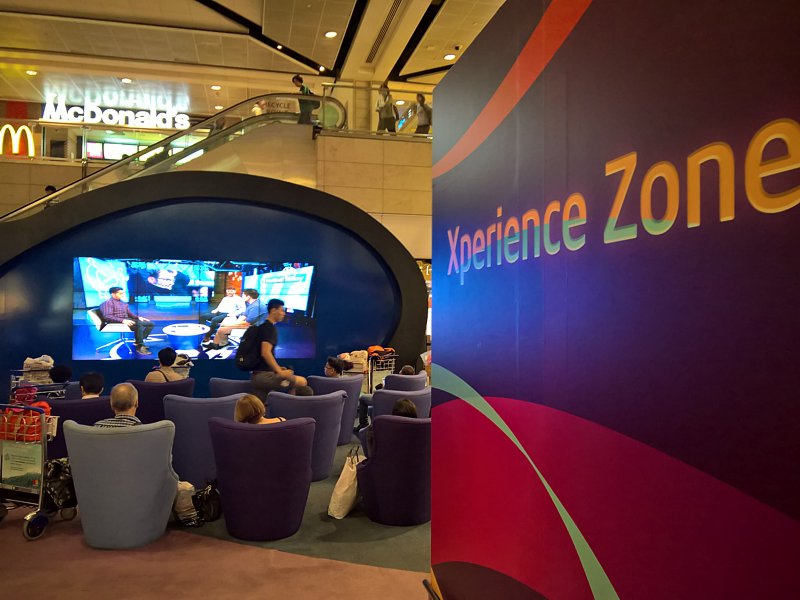 There is also the "Xperience Zone" with huge TV screens showing, well, not a lot, but at least the seats are comfy, and there is an interactive e-Postcard booth which lets you email a photo to show you've made it.
O'Learys Bar Terminal 2
O'Learys Sports bar and Grill has outlets in all three terminals, but Terminal 2 is the biggest, and with a more welcoming atmosphere.
O'Learys Bar Terminal 2 is towards the windows from the garden and sells itself as an Irish Sports Bar, which is not only a nonsense but an Oxymoron to boot. However, it is a decent boozer, and also serves up a decent fried breakfast for $22 SGD. But lux-traveller was here for the beer, and there is Guinness on tap, along with Heineken and Tiger.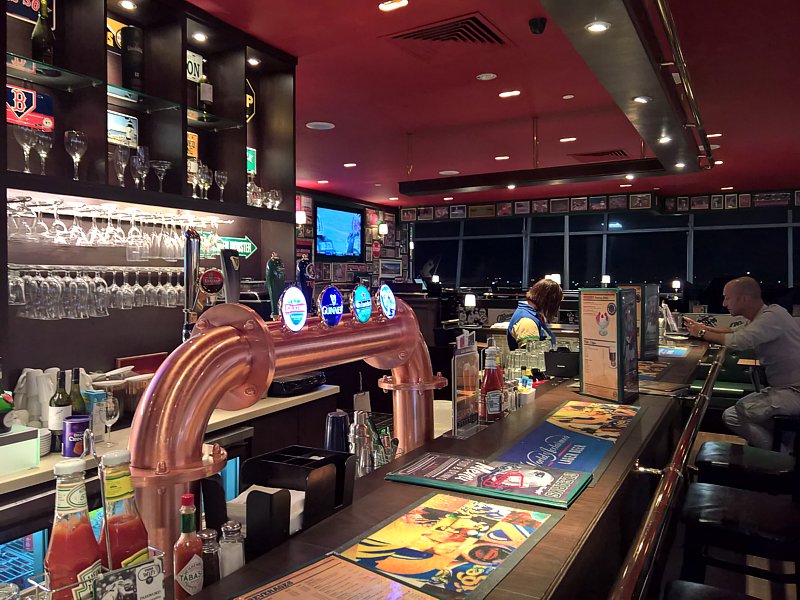 Pricey though at $20 a pint, and the American football on the TV screens behind the bar doesn't add to the charms. However, there are good window views of the aircraft outside, and the air con keeps it cool.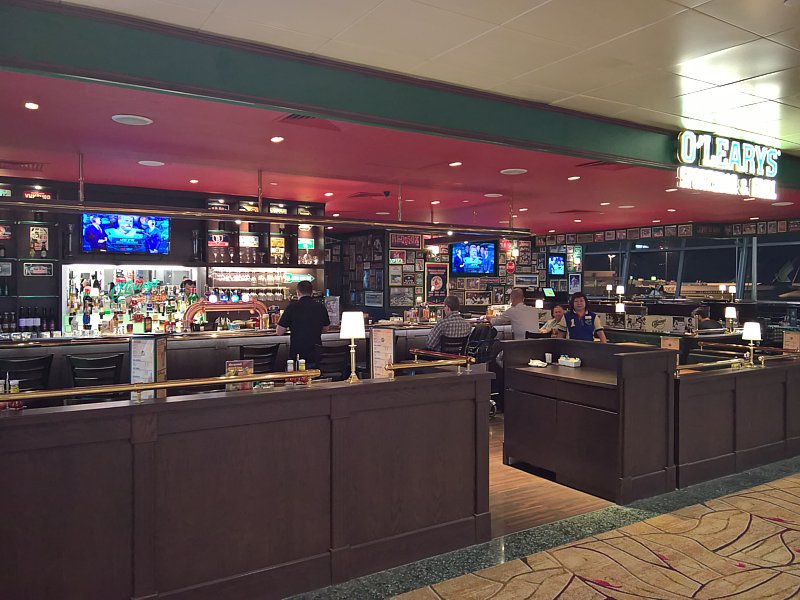 The clientele is mainly single travellers (for whom Oxymoron might be accurate), and soon I was having a chat to an ex-soldier from Sarajevo and an Israeli diplomat, which is a bit of an unusual mix, but in context as we got through the pintage it worked.
Straits Food Village Terminal 2
Upstairs from the bar area is a much more Singapore experience, with lots of stalls selling Sim Sum, Congee and Noodles.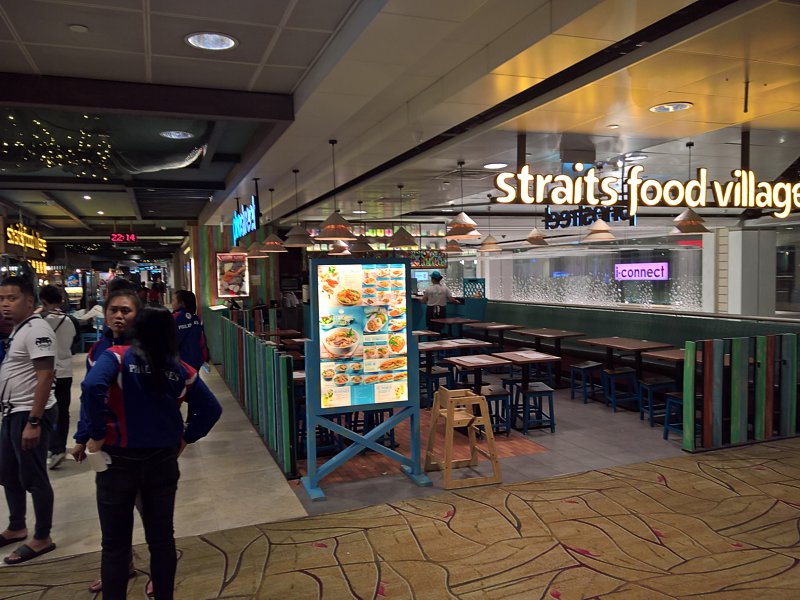 Making it slightly more wacky are the self order kiosks, which spits out a ticket, and then you got to the food stall for your noodles.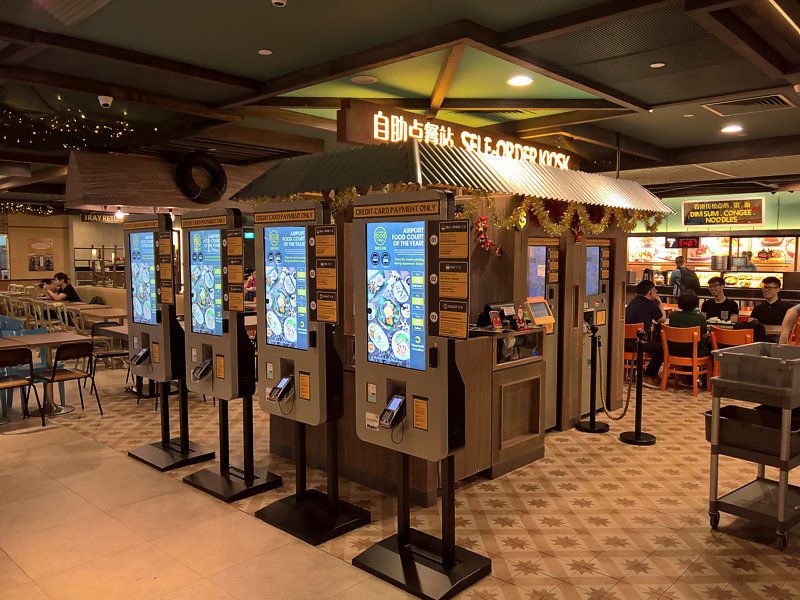 There is of course plenty of very fast wifi, and all the staff spoke excellent English.
Jack Daniel Bar Terminal 2
Next door is the Jack Daniel's shop and bar at Singapore Airport - as they say, proudly, it is the first of their outlets in Asia.
Beside this is the travel trunk-inspired Johnnie Walker House, which is the first in Singapore but it feels almost like a whisky tasting room in the UK, and sure enough lux-traveller was invited to try a wee dram or two.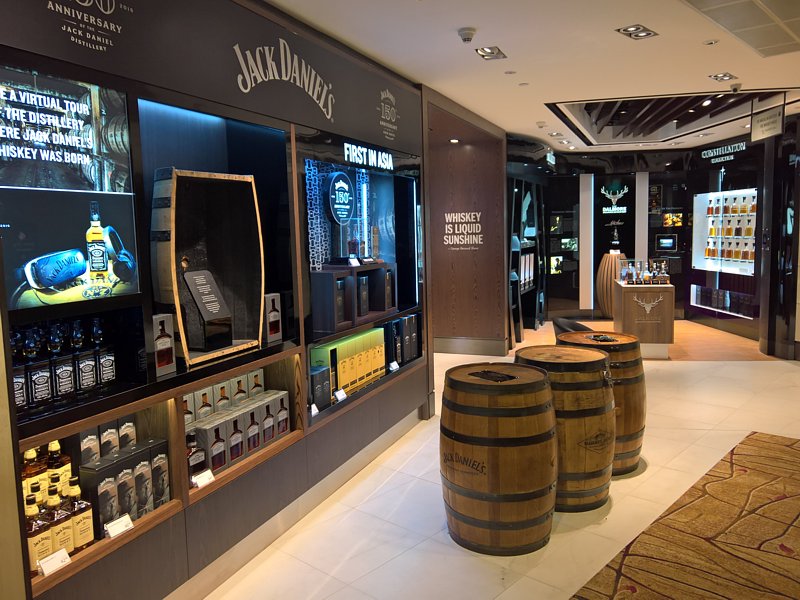 After these giddy excitements, it was back to the more mundane process of checking out the bars, but the beer could wait a minute.
Singapore Airlines Kris Flyer Gold Lounge Terminal 2
I actually had lounge access, thanks to Singapore Airlines, and popped into the Kris Flyer lounge in Terminal 2, which was pretty empty.
There is of course Tiger on draft here, so I poured myself another pint for a quick tasting.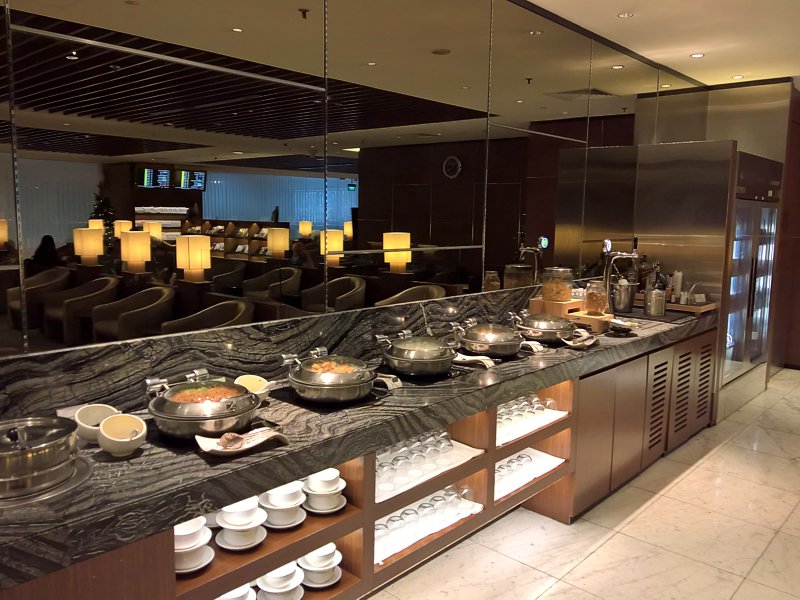 I'm pleased to confirm it was cold and drinkable.
Harry's Bar, Terminal 2
Next up, and other Singapore intuition, and also one that has a bar in every terminal. Harrys Bar. Right behind the Starbucks I started at a couple of hours ago.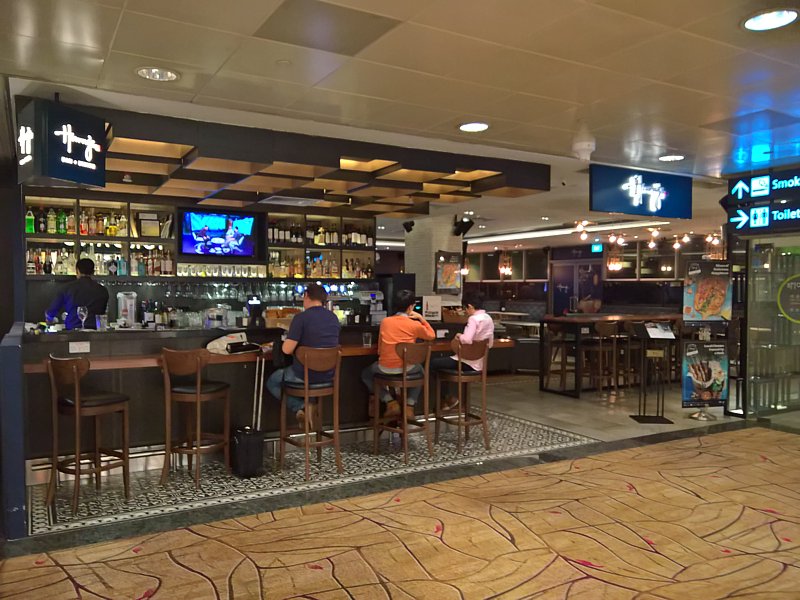 Just like O'Learies, its arch-rival a couple of doors down, there is a dining area with a great view of the aircraft on the right with windows overlooking the tarmac. However, as I've discovered airport staff are pretty bored with looking at planes and think their customers would do likewise, and have arranged benches all along with windows with backs to the glass, and facing the TV, which shows obscure sports from the US at ear splitting volume. Not surprisingly, this area is normally deserted.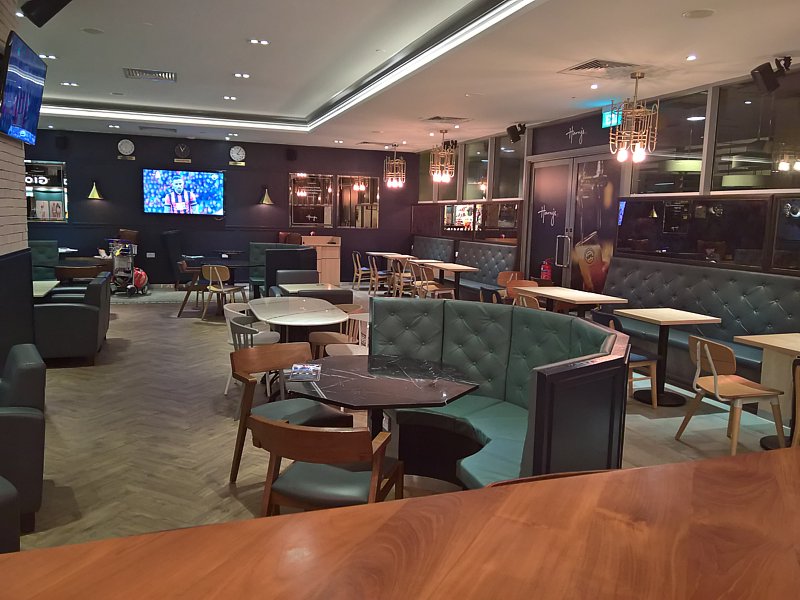 Singapore Airport Entertainment Deck Terminal 2
Upstairs from here, and along the balcony, is the famous Singapore Terminal 2 Entertainment Deck. A revelation when it first opened, there is a cinema showing films all through the night, and this would be a lovely place to bunker down for a few hours sleep, except the chairs are hard, upright, and unmovable. There were a few backpackers in darkened corners attempting to get down to some serious Zzzs, but I seemed to be the only one checking out the film.
Beside the Terminal 2 Entertainment Deck is one of the last Internet Cafes still going. Again, amazing when it first opened, it allowed you to send emails when you stopped off between planes - it seems a long time ago, back in 2001, when this was a real novelty, and few people seems to use, or service, the rather old computers now.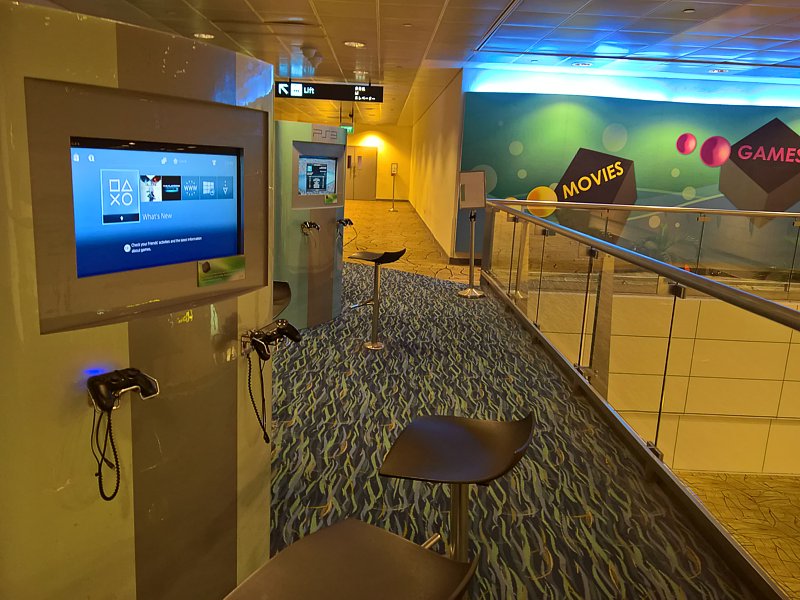 Outside there are Xbox 360s on pillars, and the Xbox Kinect room, with a gaming experience based on your movements and actions, including your facial expressions and voice. There is also an MTV booth showing 24 hour a day music videos on a small 50-inch plasma television.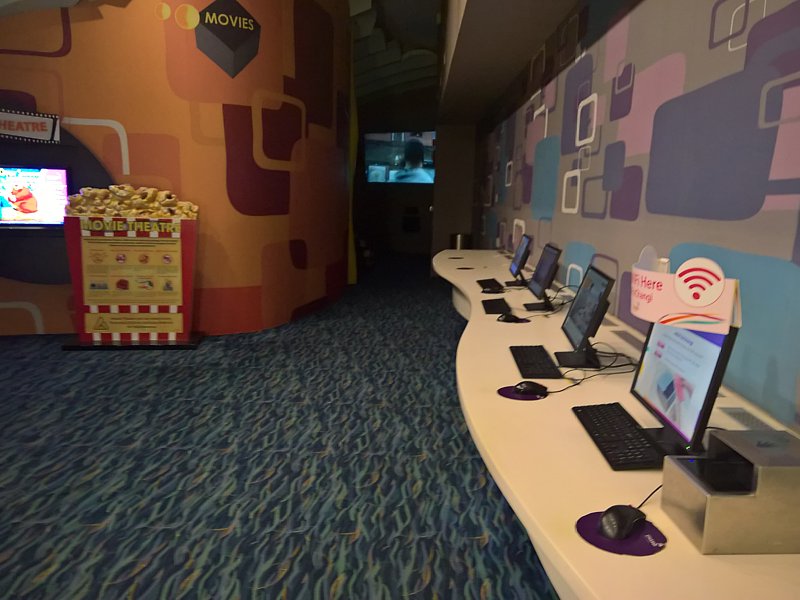 Sadly, the cafeteria at the Entertainment Deck was closed, or I could have had another pint with my one-stop integrated, multimedia all round good times, as the banner says.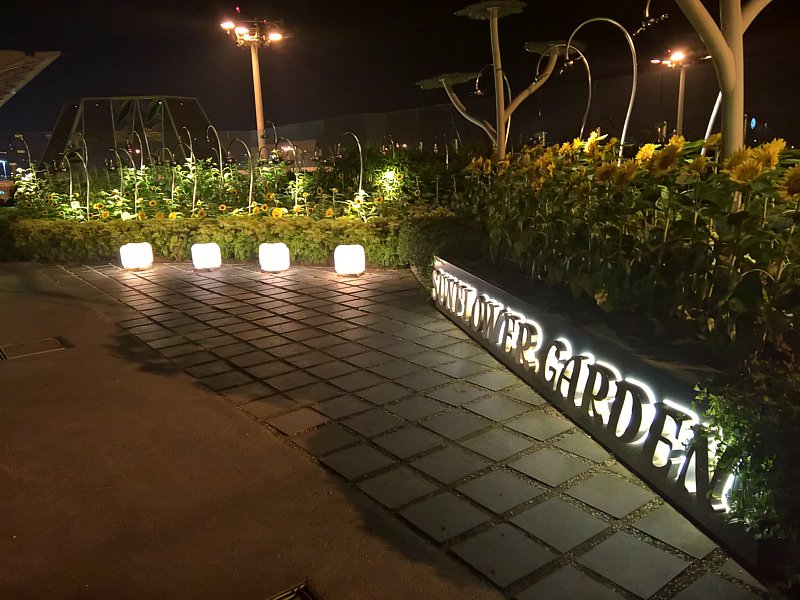 Next door is the Singapore Terminal 2 sunflower garden, which for once really is worth a visit. The garden features several varieties of sunflowers grown in Changi Airport's very own nursery, and at night there is low level lighting to keep the flowers happy.
Singapore Airport Terminal 3 - Things to do
There was little time to admire the flowers. I had a train to catch, and six more pints to down in the next couple of hours.
It was time to take the train to the new terminal, Terminal 3.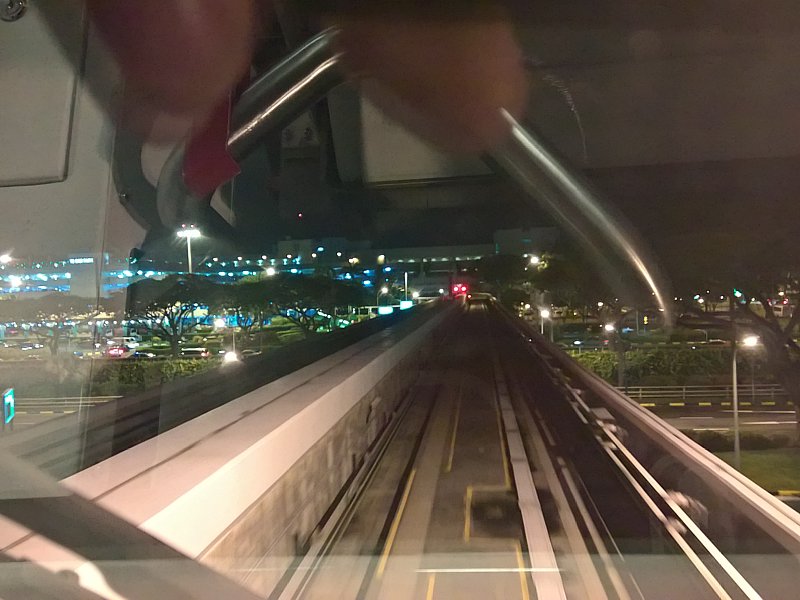 Terminal 3 really is lovely, with a great balcony overlooking the waterfall at what is called the 'Crossroads'. There is also a Koi pond, and a butterfly garden.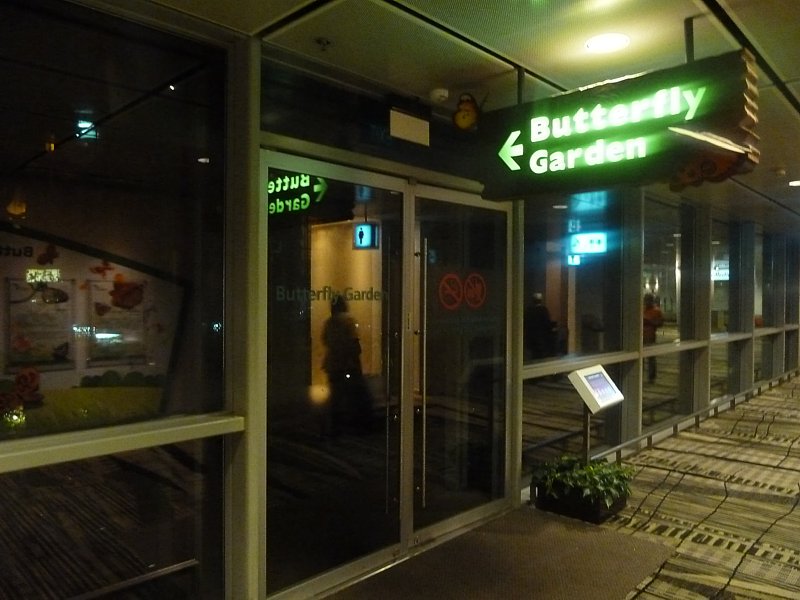 A new sight here is the Terminal 3 Carlsberg Bar.
Carlsberg Bar, Terminal 3.
Airports around the world are getting Carlsberg Bars. They are even a familiar sight at Dublin Airport, which as any native of Ireland will tell you is no surprise. The Singapore Carlsberg Bar is no different.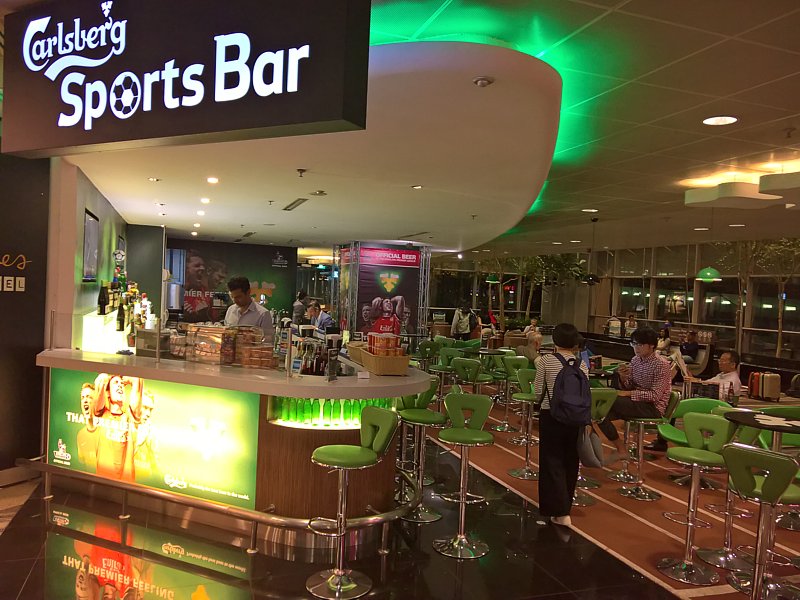 The Terminal 3 Carlsberg Bar boast a full sports theme complete from interior decor to staff attire and what is called "an exciting new bar menu", with burgers and chips.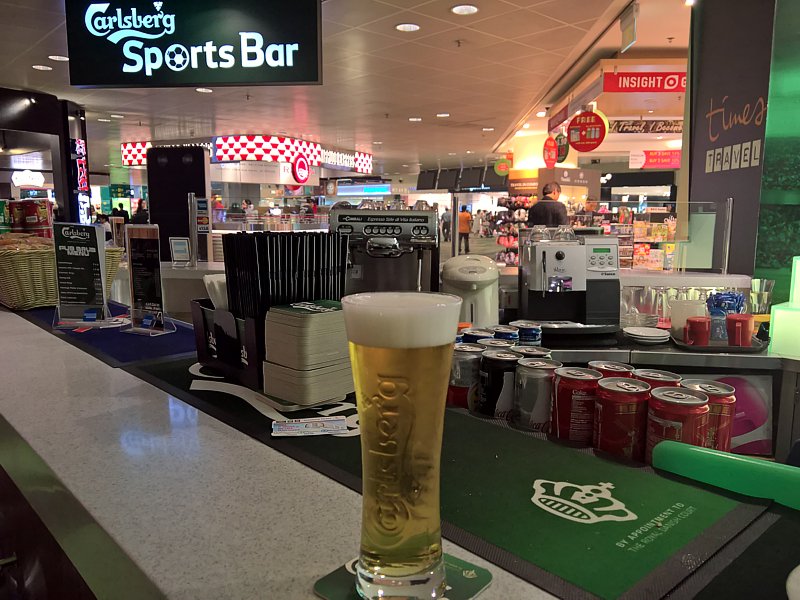 I just stuck to the beer, and found it was one of the cheapest places to drink in the Terminal.
Around the corner from here there is also another free internet cafe, with computers on posts, if you really didn't bring your own device and want to email or browse.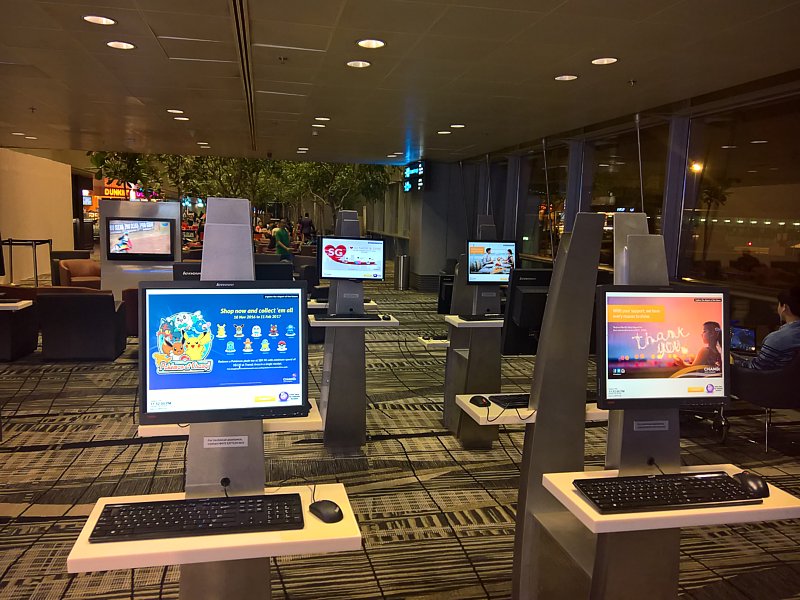 The Long Bar, Terminal 3.
Half shopping centre, and half bar, there is a DFS at Terminal 3 with a double-height 8 meter atrium, , a wines and spirits store, and yes, Raffles long bar.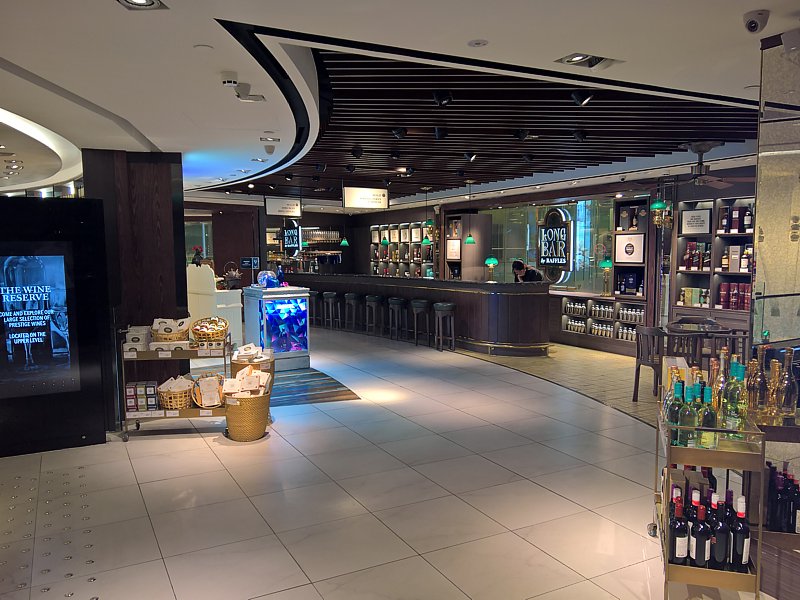 The Raffles Long Bar at Singapore Airport also serves its well known cocktail invention, the Singapore Sling. It comes pre-mixed in large vats, in collaboration with one of Singapore's most historical landmarks, the Raffles Hotel, which DFS say is one of life's great "lifestyle and cultural experiences".
Sling done, it was time to head to another historical landmarks, Harry's Bar.
Harry's Bar, Terminal 3
By now I was feeling a little light headed thanks to the walking and bar hopping, so I was looking a comfortable bar to put my feet up in the seven minutes I'd allocated for the next two drinks.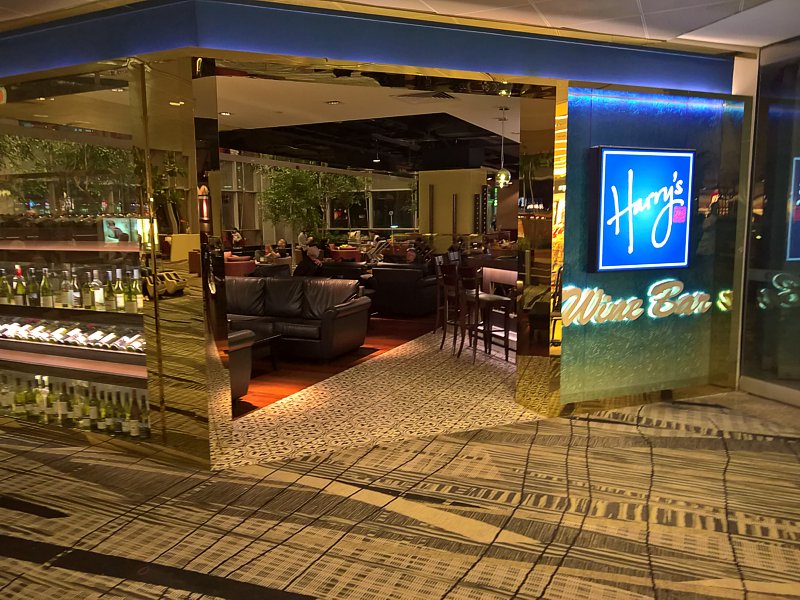 The bar has now created a shooter called the Bank Breaker (at SGD$10) which is mainly served on the boat quay.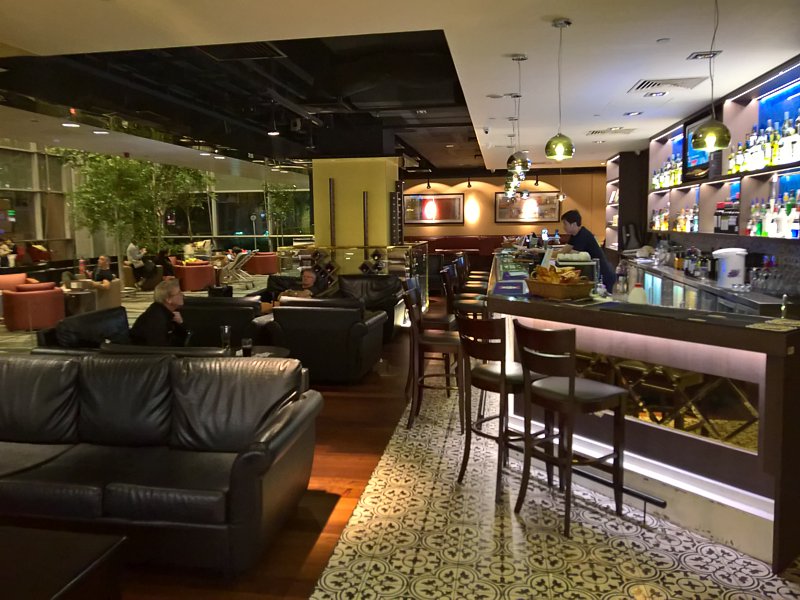 Also served at the airport, it is a sweet concoction of a potent shot of Midori muskmelon liqueur, whisky, and soda water.
A couple of these, and onto the Hard Rock.
Hard Rock Cafe, Singapore Airport Terminal 3
Closing shortly, the Hard Rock Cafe at Singapore Airport Terminal 3, describes itself as a high-energy vibe serving burgers & American classics. I found it totally empty.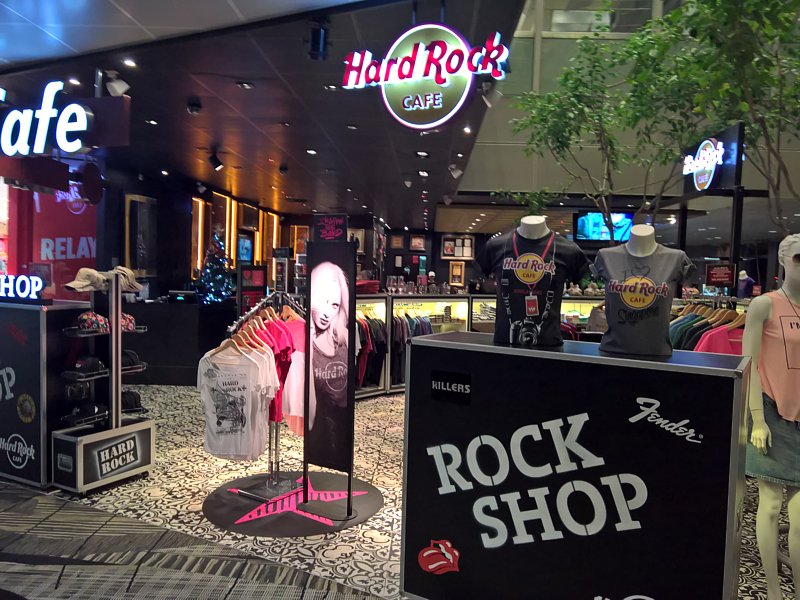 Beer on draft is Guinness and Tiger. The bar staff seemed happy to have a customer, and remarked it was late for drink.
Certainly the racks of empty sofas, which were roped off for cleaning, didn't add much to the atmosphere.
Singapore Airport Tiger Bar
The Tiger Signature Bar at Singapore Changi Airport is justly famous - as famous as the beer is for backpackers hopping around Asia.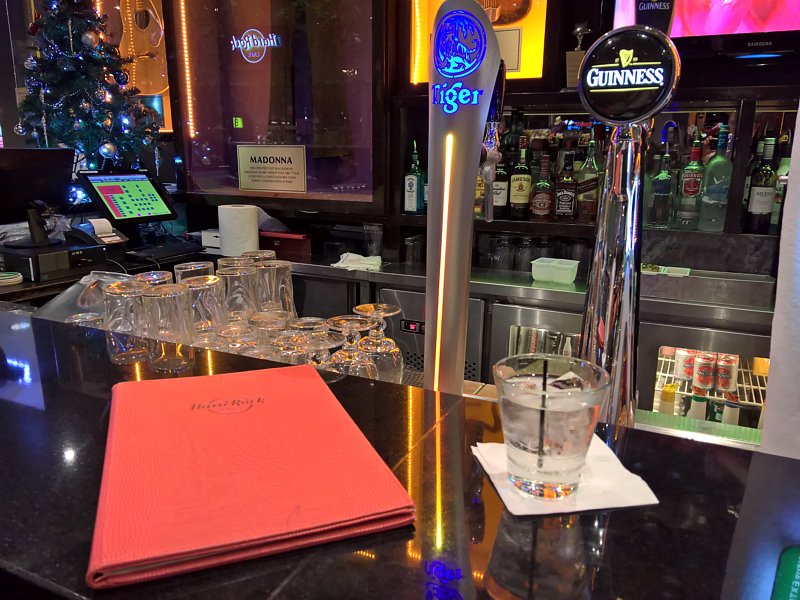 The beer isn't just Tiger though, there is also Fosters and Erdinger, which is served in the correct glass and sprayed with water in the German fashion for wheatbeer.
OK, but very expensive food. Decent sport on the TV above the bar.
Food halls, Singapore Airport Terminal 3
I found the eating options are best in terminal 3, where on the upper level there is a whole indoor 'street' dressed up like a Singapore lane, with food stalls.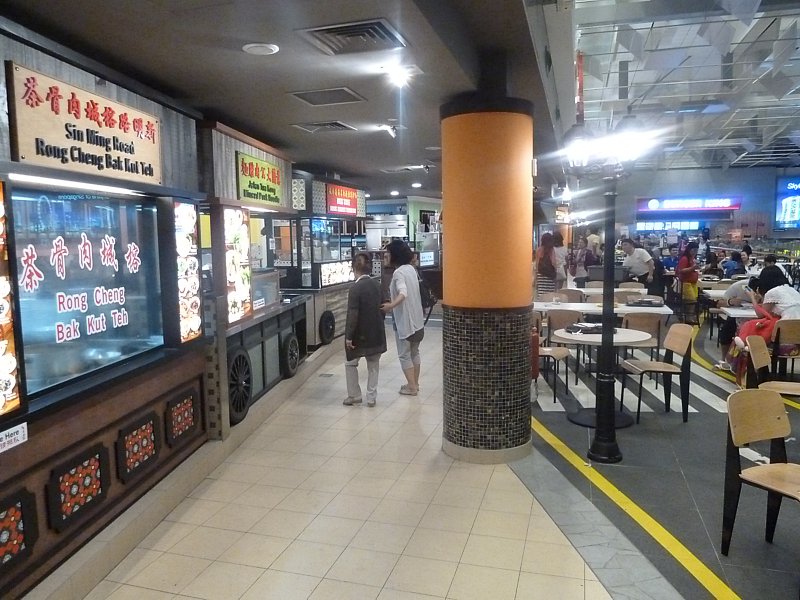 However, it was time to walk along to the oldest terminal, Terminal 1.
Singapore Airport Terminal 1 - Things to do
I've always had a soft spot for Singapore Airport Terminal 1, with its familiar Social Tree, and Lily Pads garden. As soon as the doors of the train open, you are also hit with the familiar smell of the Terminal 1 carpet. It has a unique aroma, which anyone who has been to Terminal 1 over the decades will instantly recognise.
O'Learys Sports bar and Grill Terminal 1
Another pint, another sports bar. It's upstairs in Terminal 1, and pretty similar to the other two at the airport.
The famous chain (at least in Singapore) of O'Learys Sports Bar & Grill is now in all three terminals at Singapore airport. It claims to be an Irish bar. It's not of course, but there are far worse places for drink in the terminals.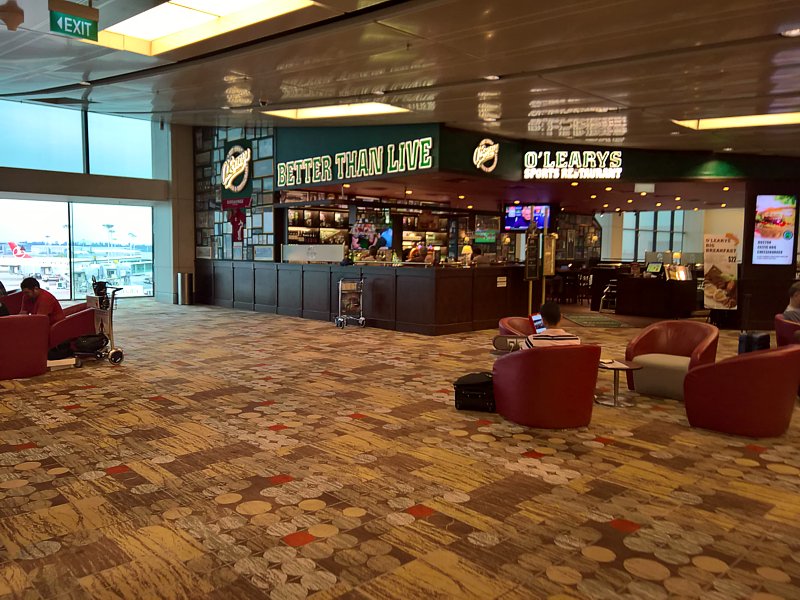 In terminal 1, the bar is hidden high up, next to Burger King, in a small corner of the upper level. However, it is the newest and most authentic. It also does good food: the Big Breakfast is great, and the mushroom soup better than in many places. However, it can be hard to get the attention of the staff: if you want quick service, sit at the bar and wave frantically.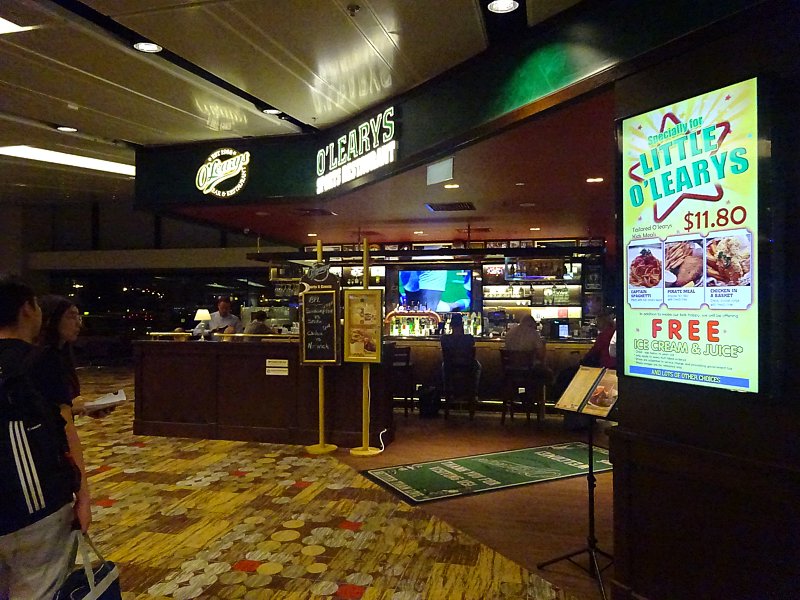 The bar has the great advantage that it will take a huge pile of foreign currency, so you can get rid of your last Sterling or Aussie dollars, although change comes in Singapore dollars.
Traveller's Cactus Pub, Terminal 1
There is a large open air bar in Terminal 1, up in the Cactus Garden which features a gorgeous array of cacti and succulents from around the world.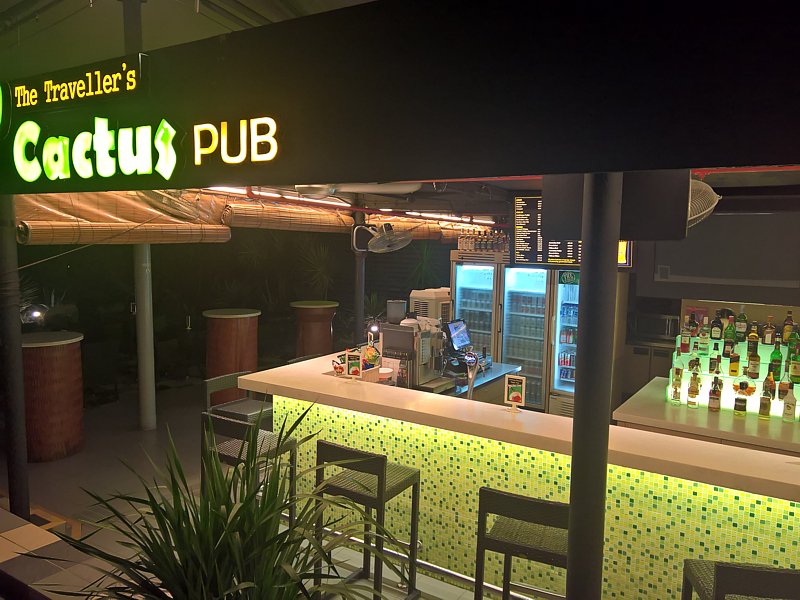 The Traveller's Cactus Pub says it is an oasis at which you can "have a splendid meal, and drink to your heart's content". Really?
Replacing the old La Cave Bar at Singapore Airport, this is a gorgeous little 'hut on the roof', which few people find: to track it down, head to the cactus garden on the roof of Terminal 1.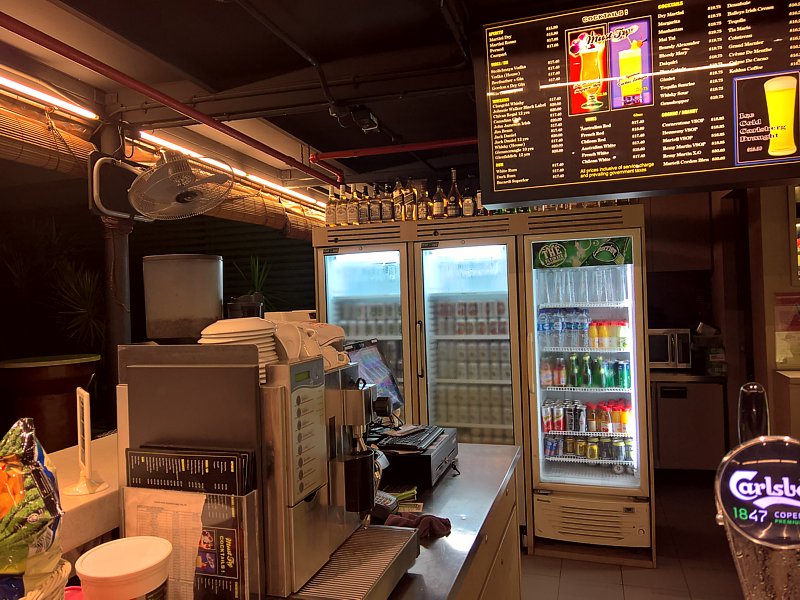 Deserted, and really really expensive. It is by far the most expensive place to drink at Terminal 1.
However, it is good to be outside, and smell the heady aroma of Jet A1.
Harry's Bar, Terminal 1
Another Harry's Bar. The one in Terminal 1 is little more than a counter in the main departure hall.
I ought to explain that Harry's bar is an ancient institution in Singapore, being established way back in 1992, down on the Boat Quay.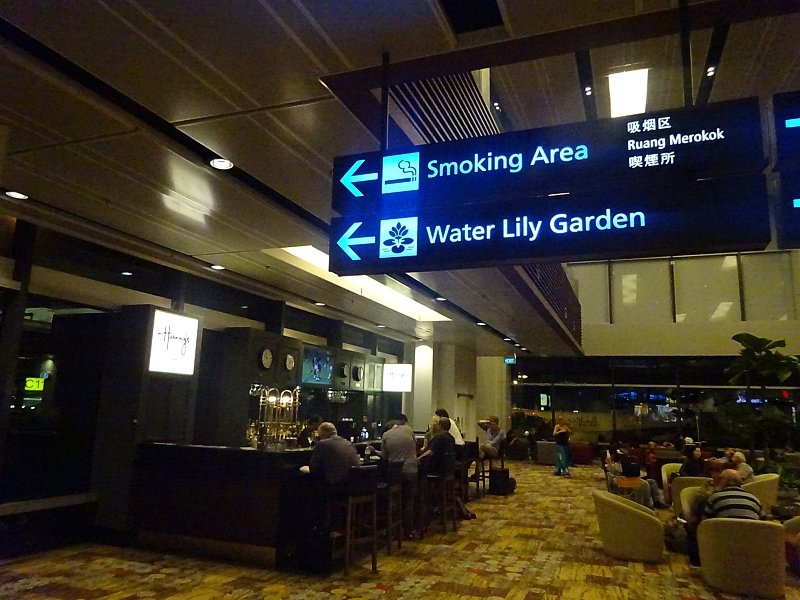 Harry's bar had an infamous regular, Nick Leeson, who caused the collapse of UK's 230-year old Barings Bank in 1995. He spent night after night in Harry's and the bar has now created a shooter called the Bank Breaker (a mere SGD$10), which I tried another one. They get better as the night goes on.
Swimming Pool bar, Terminal 1
One last stop for a nightcap, at probably the best bar at any airport in the world. The bar here is justly famous, with its own swimming pool, right on the roof of Terminal one. The bar itself serves a mean beer - just right for a short stopover after the long flight from the UK - although the bar staff do get a bit shirty if you want a beer at 7am in the morning, even though this would be a late evening where you've flown from.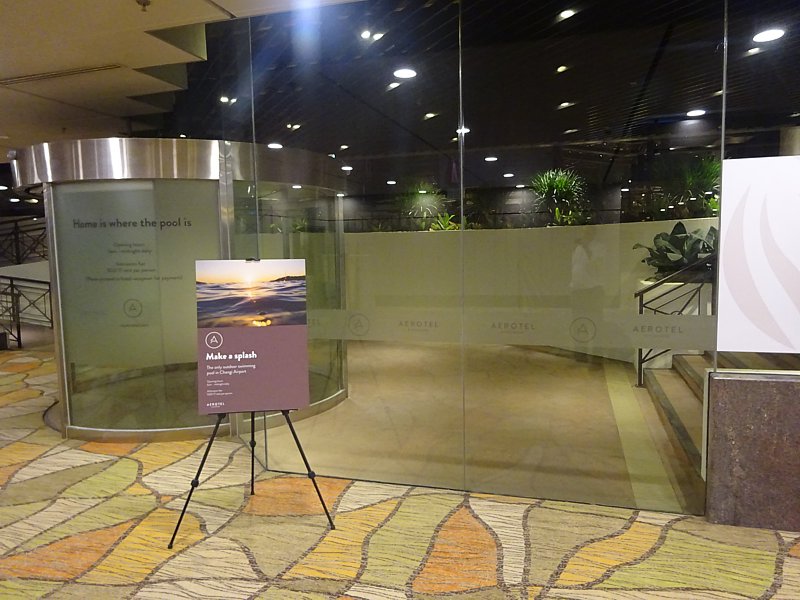 It is right by the outdoor pool, which is fairly small but worth the detour. It costs S$10.30 to use the pool, although there are few checks on who is in it. There's also a small sub-tropical garden.
By now it was the middle of the night, and I really needed to get my sleep.
Next door to the swimming pool is the new AeroHotel.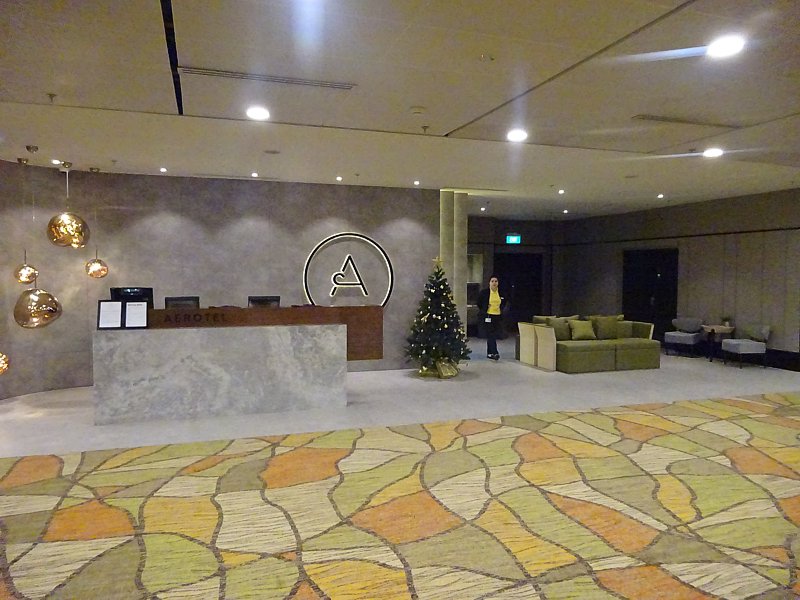 Aerotel, Singapore's Changi Airport, Terminal 1
Because the Aerotel is located inside the terminal itself, and indeed right beside the bar, I didn't waste time going through customs and immigration.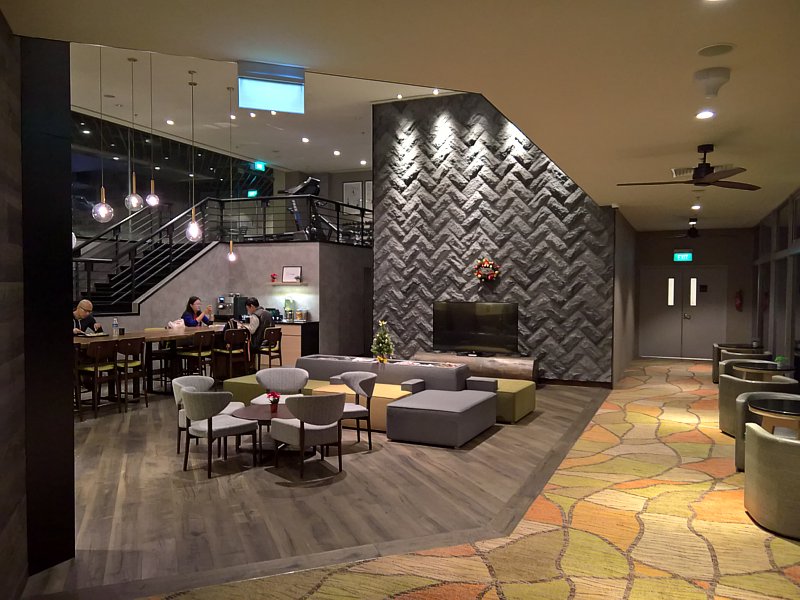 The hallways were spacious and clean and pretty much brand new.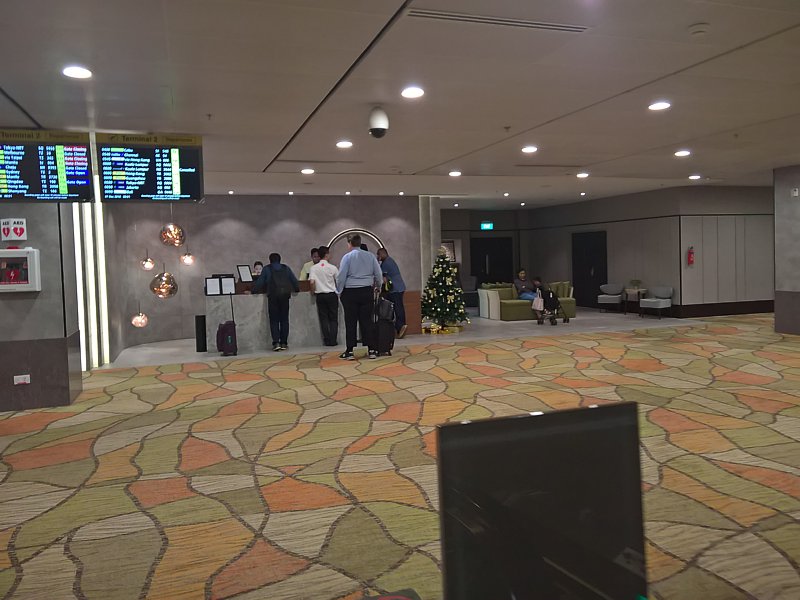 Alas, as a walk up customer, the only rooms left were the 'Hall of Residence' rooms, with a tiny single bed and a shared bathroom right down the hallway.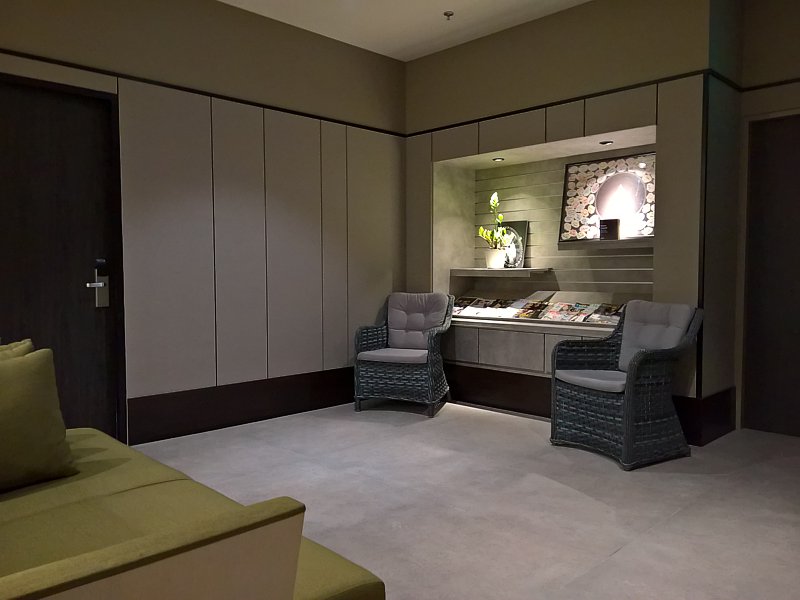 There were complimentary toiletries and towels, but the shared bathrooms had only a small shower and could do with a clean.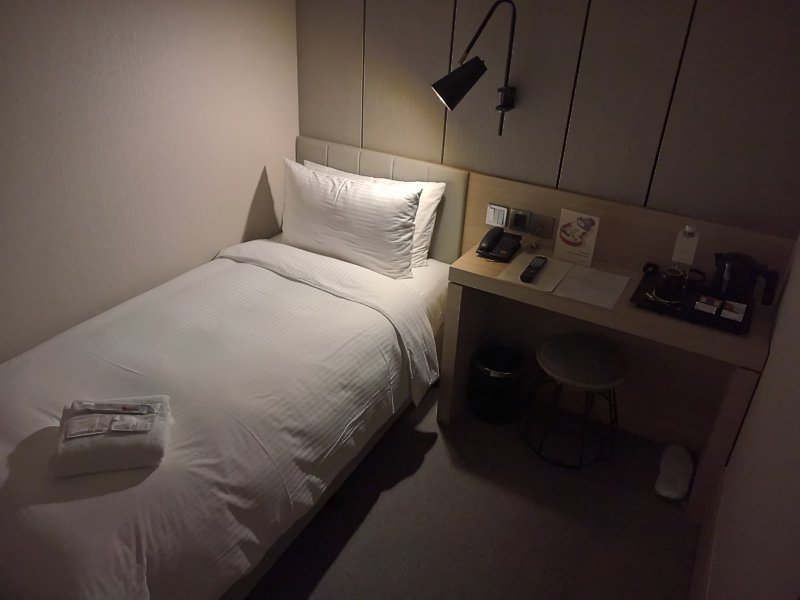 They were amazingly noisy too, with lots of hammering as construction work took place on the floor below.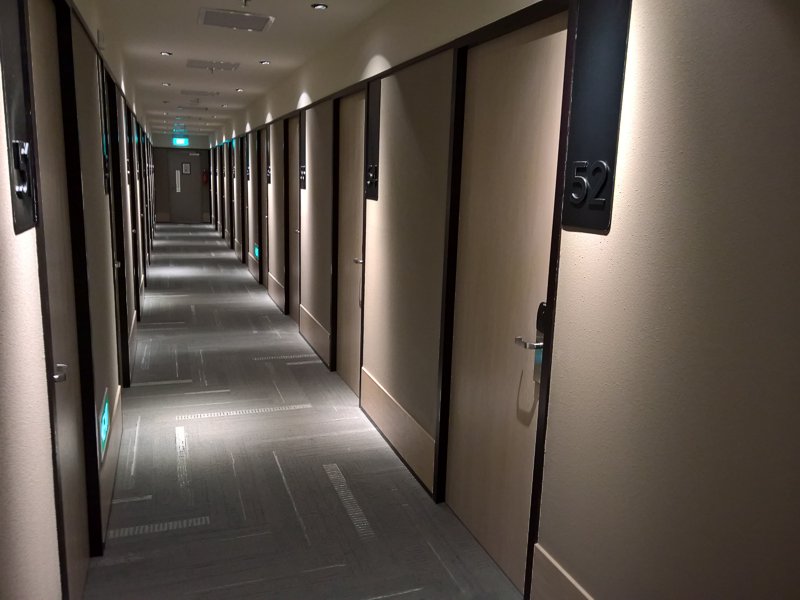 There was breakfast included, in the guest lounge area which had lots of seats and some good pastries and coffee. There was a small library section, but most of the books seemed to have 'walked'.
Singapore's Airlines Lounge, Terminal 1
However, I nipped around back to Terminal 3, and used the Singapore Airlines Gold Lounge, which was packed as always. Indeed, as a lounge at the hub it is remarkably poor, and a real step down from the Business Class lounge.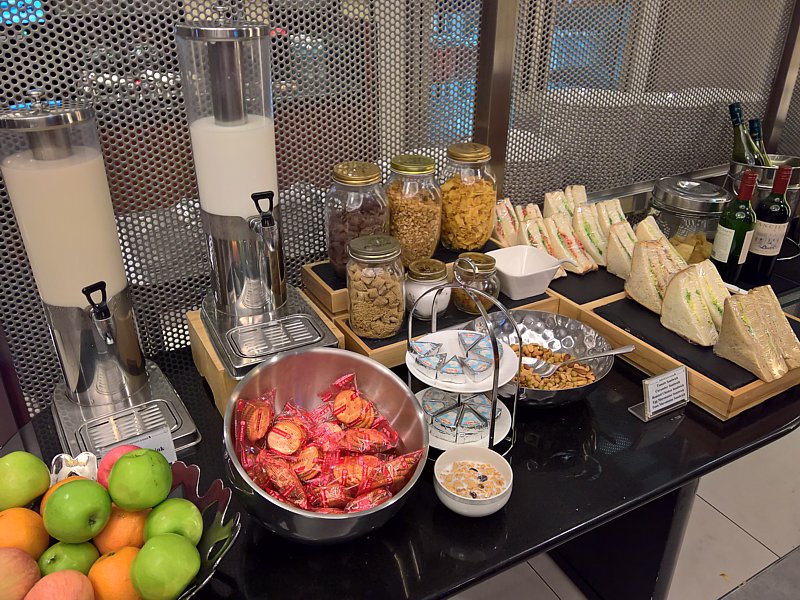 And with that, at 8am, my Singapore Airlines flight left and it was time end the nights session.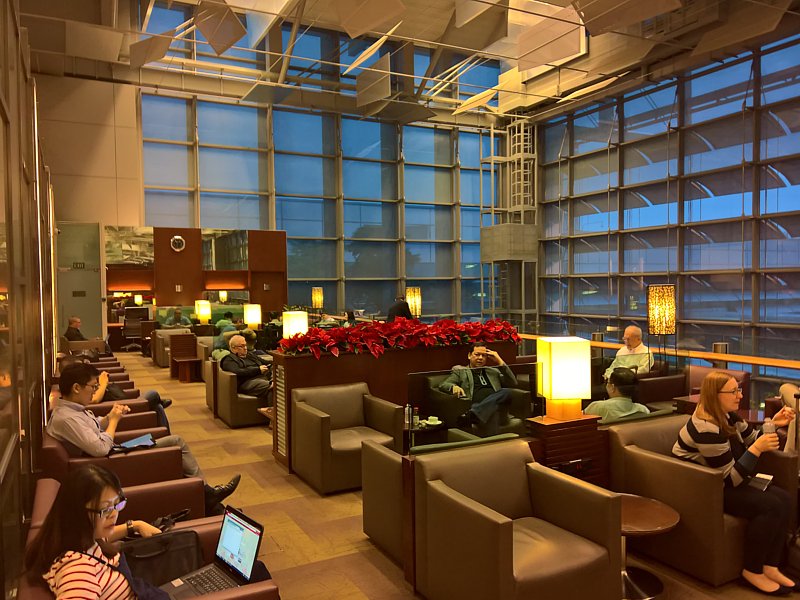 Would I recommend a Singapore Airport bar crawl? Wholeheartly. I'll now wring out my liver and leave it out to dry.