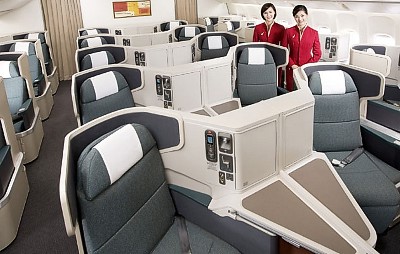 A Side Cabinet and Shoe Locker provide secure storage for small valuables and shoes
Cathay Pacific has unveiled its new business class cabin, with longer wider seats. The new passenger-designed seats, which will be featured in all Airbus A330 and Boeing 777ER aircraft, are a significant step forward, and a move away from the older coffin like Business Class seats which were introduced a couple of years back. Cathay Pacific claim they refine comfort, versatility and function offering both privacy and openness.
A significant improvement is that the experimental layout with high walls running the length of the bed are gone: instead there is a very conventional seat which also offers views out of the window for seats A and K. The seat has high wings, and there is an extended partition at shoulder-height enhances privacy but angles away from the headrest, giving a significant feeling of personal space.
The design also offers what is called an infinitely adjustable seat that converts into a flat bed. Dimensions have increased - slightly - so that what Cathay Pacific calls the 'usable bend length' is a long to 75 inches (190cm) and unlike most current designs, the lower section of the has a consistent width, increasing the 'usable bed width' up to 26.4 inches on the A330 and 26.6 inches on the 777, thanks to a 'bed extension' which unfold automatically when the seat is reclined. When upright the seat width is only 21inches.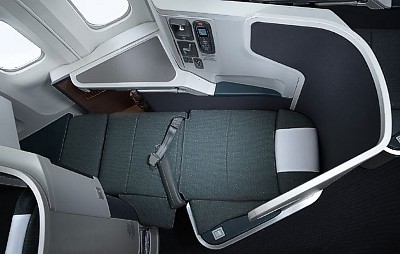 So is it any good? It is certainly a vast improvement over the old Coffin Class, and unlike the herringbone layout of Cathay's current business class cabins the novelty of being able to see out of the window in a window seat on Cathay is lauded. A Side Cabinet and Shoe Locker provide secure storage for small valuables and shoes. A Vanity Mirror is concealed under a flap inside the Side Cabinet door. During the flight the Side Cabinet can be fixed in the open position to double as a privacy screen.
Each seat is equipped with a universal power supply outlet (at 110v alas, but it does take UK and Hong Kong plugs), a multi-port connector, an iPhone/iPod connector and a USB port, which can charge mobile phones.
Entertainment is however unchanged, although on Cathay it was pretty good to start with. Business Class offers widescreen 10.4 inch personal TVs. There is an AVOD Movies on Demand service called StudioCX that offers 29 films, and fairly decent noise cancelling headsets.
Inside the cabin, the new Business Class will feature artwork - all original designs - by Hong Kong artist Maria Lobo. The new Business Class features natural leather, brushed steel and richly woven fabrics that blend soothing green, brown and beige tones. Abstract patterns on table tops, fresh-cut flowers and splashes of colour in storage areas provide elements of warmth.
A subtle bamboo print on the front cabin wall has lineage with reception wall in the new Hong Kong lounge, The Cabin. This provides a crisp, clean backdrop for original artwork created by Hong Kong artist Maria Lobo. Maria's unique abstract works incorporate both Western and Asian techniques, supplementing the sophisticated, international appeal of the cabin with an Asian flavour.
The first aircraft to feature the new Business Class product will be an Airbus A330-300, which is planned to enter service on some of the flights on the Sydney route in March. The new seats will be rolled out rapidly, being installed on all Cathay Pacific's new long-haul A330-300 and Boeing 777-300ER deliveries and progressively being retrofitted on existing aircraft.
By February 2013, all 30 Boeing 777-300ER and 20 long-haul A330-300s in the fleet are expected to have the new product.