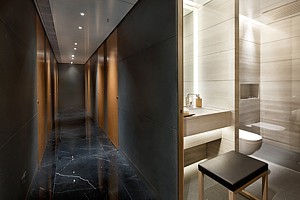 The refurbished lounge offers 28 comfortable armchairs and nine of the unique Cathay Solus Chairs.
Cathay Pacific are now halfway through their rebuild of their iconic The Wing lounge at Hong Kong. Half of the Business Class Lounge, located on Level 6, has reopened following an extensive renovation.
The Wing is the airline's flagship lounge at Hong Kong International Airport. The Wing renovations, designed by London-based architects Foster+ Partners, will be completed in full by the autumn of 2012.
The second phase of the refurbishment of The Wing begins in May, when the Level 7 section of the Business Class lounge closes down for an eight-month refit. The third phase of the renovation will commence in the first quarter of 2012 when work begins on the First Class Lounge.
The newly opened Business Class Lounge on Level 6, located by Gate 2 at the airport, covers 1,002 square metres.
Major changes introduced as part of the revamp are that the computers and the showers have moved downstairs, as part of a plan to have the upstairs much more airy and open plan. The vastly uprated showers (24 in total) are very good indeed offering a large shower cubical lined with large sandstone tiles, access off a dark black granite corridor.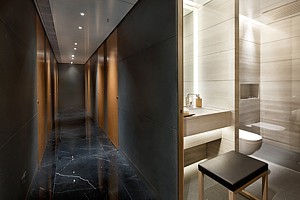 The refurbished lounge offers the usual Cathay range of seating including 28 fairly comfortable armchairs and nine of the unique Cathay Solus Chair. Just incase you don't spend enough time in one seat while you are on the plane, you can get the same experience on the ground. This is a purpose-built pod where you can eat, work and sit. Costing thousands of pounds, and after years of trials with Marco Polo Club members it is rather like a curved portaloo, with acres of red leather, with a flip-down table to eat your meals (also known as a shelf) and to complete the in-flight experience, there is a small TV screen in the form of an iPad, which comes pre-loaded with apps.
There is even a power outlet (UK design 13 amp plugs only) for your inflight-laptop. Foster + Partners jointly created this unique chair, refined the chair's functionality and ergonomics, and it has then been handcrafted by Poltrona Frau in Italy, before being air freighted in, which is the nearest this seat comes to flying.
These Cathay Solus Chairs, unlike the ones in the Cabin, are made out of grey leather, but feature the usual flip down tray and slightly uncomfortable padded leather seat. These line the wall of the room, while in the centre are red leather armchairs, and at the windows, black leather swivel chairs.
There is also a new self-serve buffet counter featuring the usual selection of Asian and Western hot dishes along with cold food selections, in large brushed aluminium tureens.