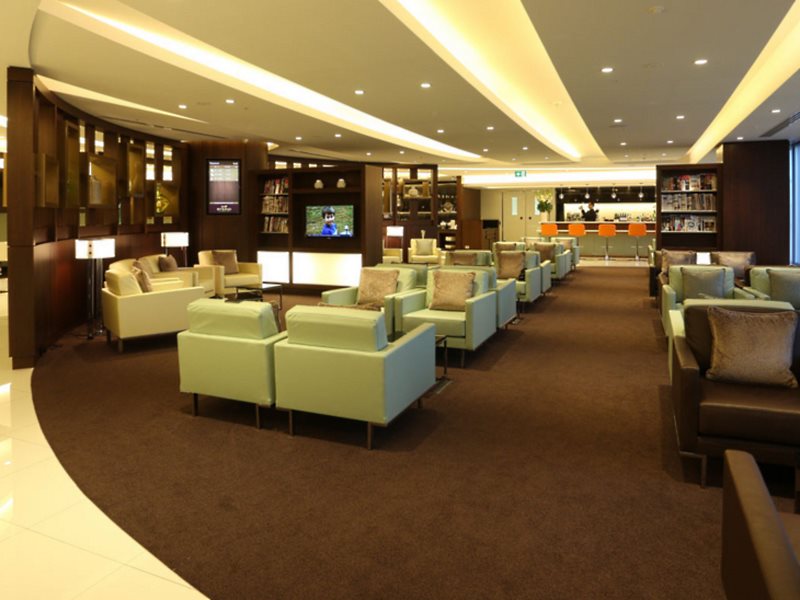 Lounge features include a restaurant, bar, comnputers, free wi-fi; showers and a play room for children.
Etihad Airways has opened a new lounge in Sydney, located airside in the international terminal, adjacent to Gate 51, close to where the old 'security' desks were, before the entrance was moved. It is now a ten minute walk after security & passport control.
The new Etihad lounge Sydney is a joint First and Business class lounge, and it is spilt across two levels with the entrance and reception located on the upper level, and the main part of the lounge downstairs, occupying just over 600 square meters on the main lounge level.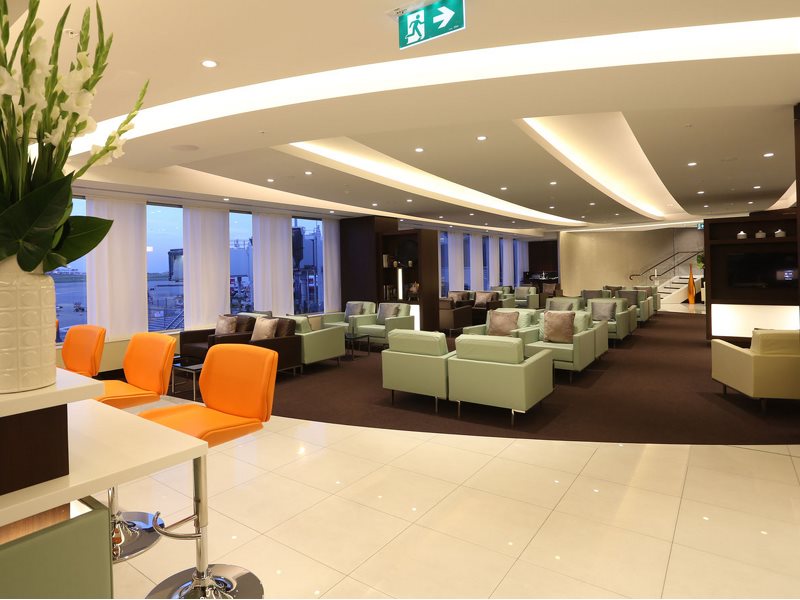 There is a large restaurant area at the most 'inland' part of the lounge, with food available with waiter service at the a la carte dining (the menu changes every two months), and there is also buffet dinning anywhere in the lounge.
Up the corridor from here there are the usual Etihad lounge features including a small business centre which has three Apple iMac computers plus a printer and photocopier, free wifi in the lounge, two bathrooms with showers, and a play room for children. There are also separate male and female prayer rooms.
In the middle of the Etihad Sydney lounge there are two curved wooden dividers, with orange swivel seats, and then a rack of large arm chairs. Indeed, the lounge is fairly small, and the prime spots in the lounge will go quickly. There is a line of comfortable leather armchairs with small wooden tables along with windows, facing Gate 51, which is normally used by Etihad and Malaysian.
At the far end of the lounge is the bar, with those orange seats again. Indeed, it is also a 'staffed' bar, with a barman on hand to serve cocktails. There is also a small coffee machine, which doles out the signature Etihad lounge touches such as Arabian coffee - flavoured with rose water and cardamom - plus Arabic dates.
There is a small children's play area, with lots of bright primary colours and a large screen TV.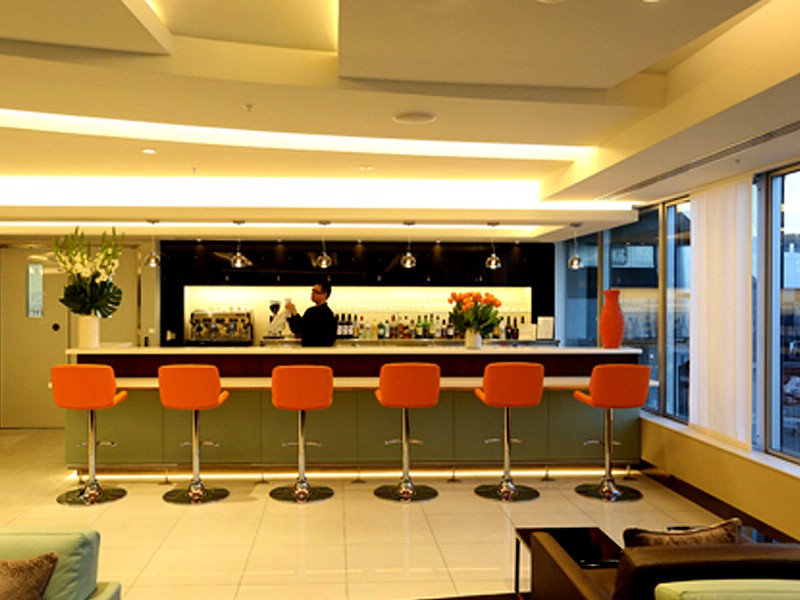 The Etihad Sydney lounge is a vast improvement over the old Koru Club which Etihad previous used, and which was getting both overcrowded (now the UnitedClub has closed) and quite tired.
Access to the Etihad Sydney lounge is for First and Business Class passengers, as well as Etihad Guest Silver, Gold and Gold Elite members of the Etihad Guest loyalty program, on the two daily flights (4pm and 10pm) from Sydney to Abu Dhabi.
Etihad of course have close ties to Virgin Australia, and these members also get admittance on Etihad flights, and on Virgin Australia flights to Abu Dhabi, but not the US.
Etihad run lounges at London Heathrow, Dublin, Frankfurt, Manchester, Paris, and Washington, as well as at its Abu Dhabi hub. The airline plans to open premium lounges in Los Angeles, New York (JFK) and Melbourne over 2015.