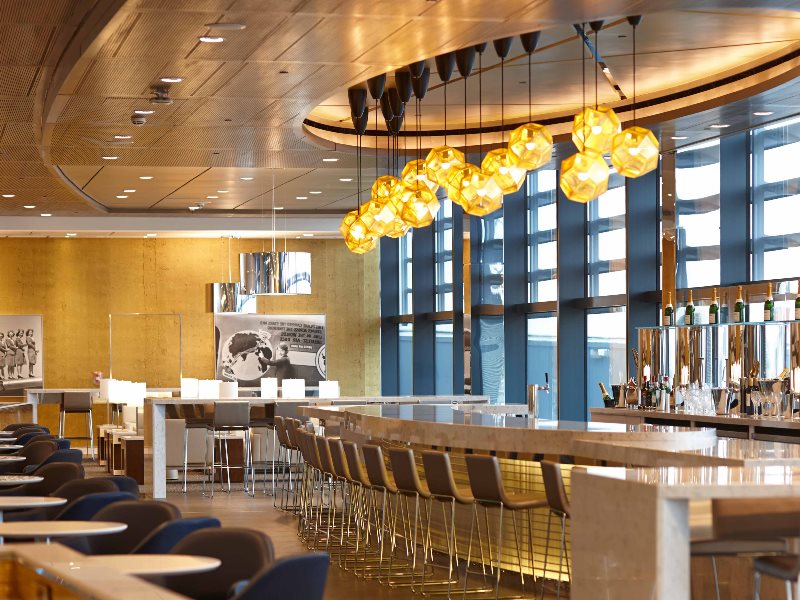 United Airlines has opened two new lounges at London Heathrow Terminal 2.
United Airlines has opened two new lounges at London Heathrow Terminal 2.
The United Global First Lounge and the United Club LHR have both opened for premium customers and members of the paid for membership United Club.
In total they occupy over two thousand square yards, and have floor to ceiling windows offering a great view of the apron, good seating and free food & drinks.
Designed by Solomon Cordwell Buenz, the company had a brief to create a distinction between the clubs and to have it as a unique experience.
Around the centre of the lounge, a section houses iconic lounge pieces such as egg and Platner chairs. Blue screen dividers and a sculptural piece topped with twigs are designed to segment the spaces.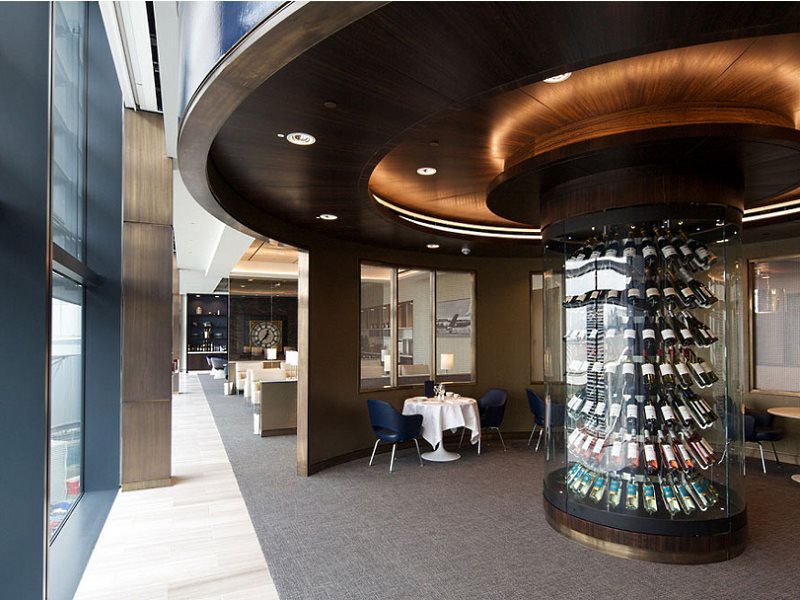 The main area of the United Airlines lounge Heathrow is the United Club, with access for United Club members and business class (what United call BusinessFirst), plus gold Star Alliance in economy, and business-class customers operated by other Star Alliance carriers from Terminal 2. You can also buy a daypass to the LHR United Club for US$50. Priority Pass is also accepted on any flight (even from LHR T1), and you can walk airside from LHR Terminal 1 to Terminal 2 to reach this lounge, if you are on a British Airways flight.
The Heathrow UnitedClub has the new United design concept for lounges, which SCB helped create. Taking similar design cues to the new Lufthansa lounges, the new UnitedClubs have a large 'open' concept, with it must be said rather unimaginative light grey seating for 280 passengers. There is a lot of light, polished, marble, and several pieces of art, including by reception what has come to be known already as the 'three spoons of Heathrow', a pun on the usual watering hole at LHR of the 'spoons, or Wetherspoon's Heathrow pub.
The highlight of the UnitedClub Heathrow is the 25 seat full service bar, and although not the shiniest or brightest of lounge bars at Heathrow, it offers house wines and spirits, and cocktails. The bar is reputed to be the longest at Heathrow, and has three bar staff working during the day. Indeed, as there is nowhere to get a self-serve drink, they are needed. In line with usual UK practice, tipping at the bar is not only not expected, but rather frowned upon.
Behind the bar is the most amazing array of bottles, with about fifty different spirits on show, and these go to mix up the cocktails on offer. Normally there are four, with the Signature Cocktail of the UnitedClub London Heathrow the Rhapsody in Blue. Cosmopolitans however are more the go, along with non-alcoholics Californian treats. The bar also has a wine list with two reds and two whites, all very old world.
Beer is Becks or Bud, Heineken or Guinness, along with a good UK ales - London Pride. There is also Bulmer's cider.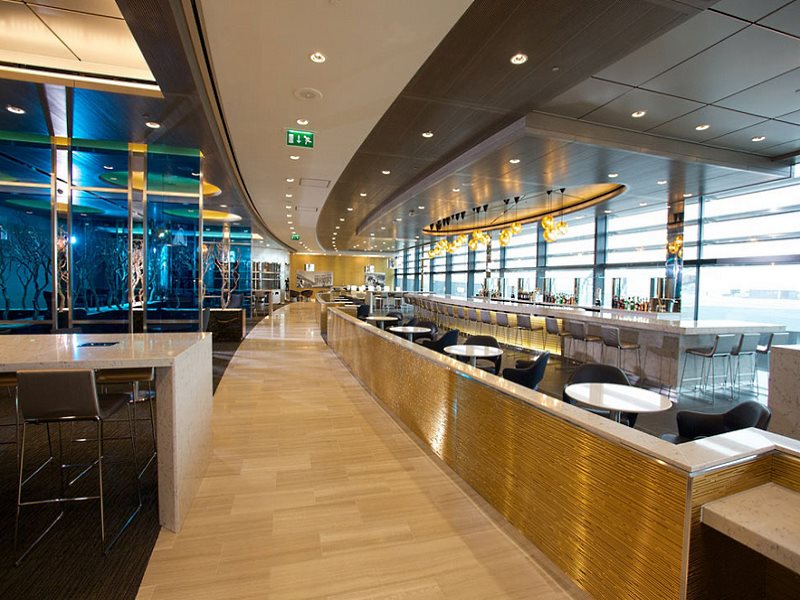 There is a large L shaped buffet (plus two other smaller buffet areas). There is hot food at lunchtimes and in the evenings, with typically a curry, pies, and a pasta dish, in three large silver serving trays. There are bowls of mixed vegetables, and a hot soup of the day.
In another open top fridge there are trays of sandwiches, and four bowls of salad, with a thin tray of cold cuts and cheese.
The dining area is quite pleasant, inland from the bar, but oddly on carpet and with very dull plastic chairs.
Further into the lounge, behind the 'twigs', is a large TV lounge and the rather quaint private phone booths for those passengers who want to make a phone call in private. At the end of the lounge is a small circular reading nook, with newspapers from the UK and a few - a very few - magazines. Plug sockets are dotted around the lounge, with one UK style, one USA style and two USB ports. There are no euro round pin sockets.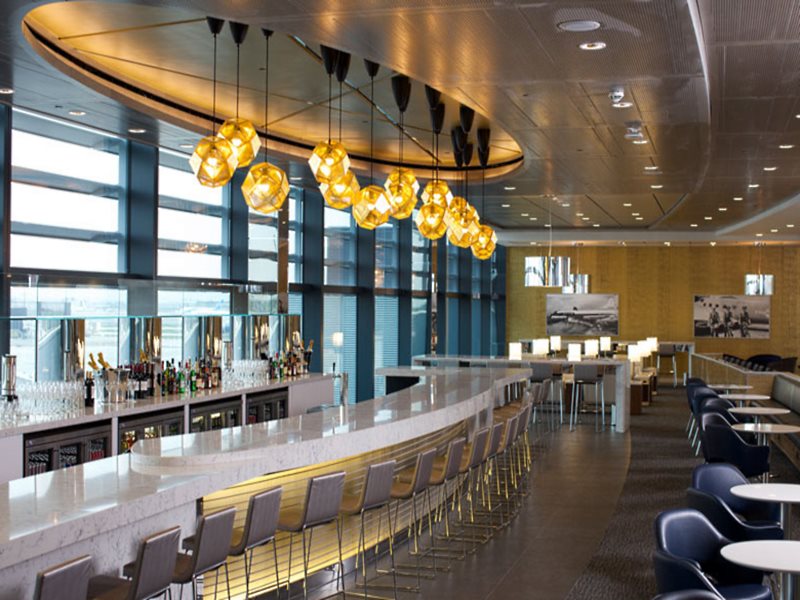 Much more upmarket is the United Global First Lounge Heathrow which is just for passengers in First Class (United Global First). The main area is a bar, called a tea lounge, with an oversized Big Ben-style clock. Next to this is a wine room, and a buffet area, although there is also pre-flight dining from an a la carte menu.
Adjacent to the United Club are eight shower cubicles with complimentary toiletries and garment steaming.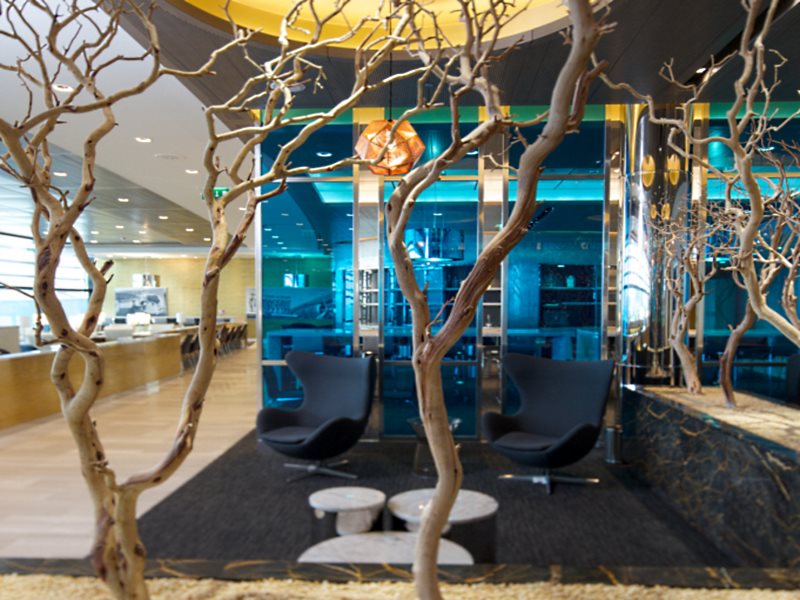 However, for Arrivals there is a new United Arrivals Lounge Heathrow, if you arrive on United at T2 in a premium class. It has showers and a buffet breakfast.
The new UnitedClub Heathrow is a world away from the old United Red Carpet Club in London Heathrow Terminal 1, which was looking seriously tired and down market.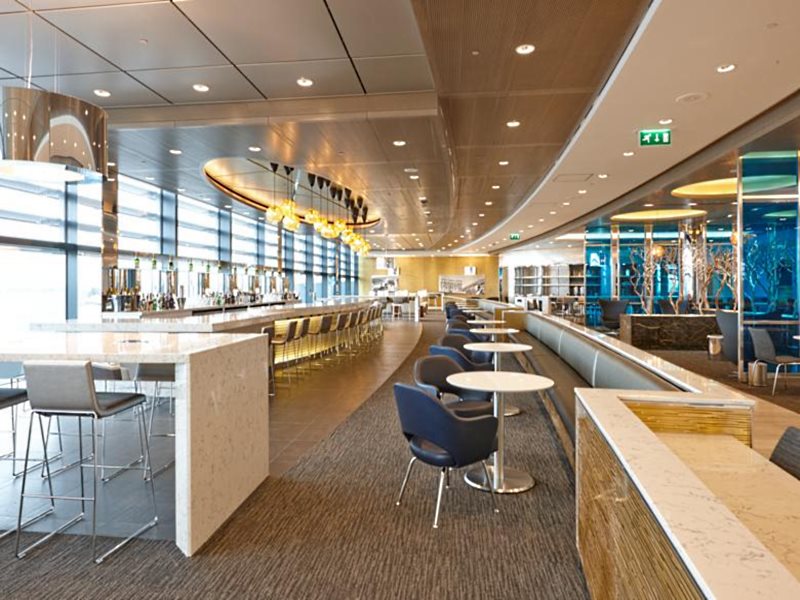 United have 17 daily flights from London to six US hubs: Chicago, Houston, Los Angeles, New York/Newark, San Francisco and Washington, D.C./Dulles. United however no longer fly to JFK from LHR.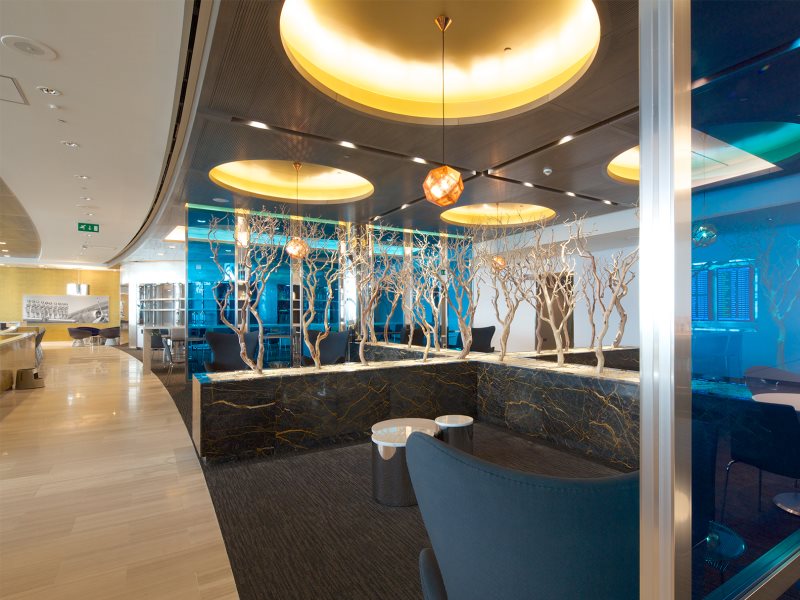 There are three other Star Alliance lounges at Heathrow. Lufthansa run the main lounge in the T2A terminal, while Air Canada and Singapore Airlines also operate lounges, but in the T2B satellite terminal.