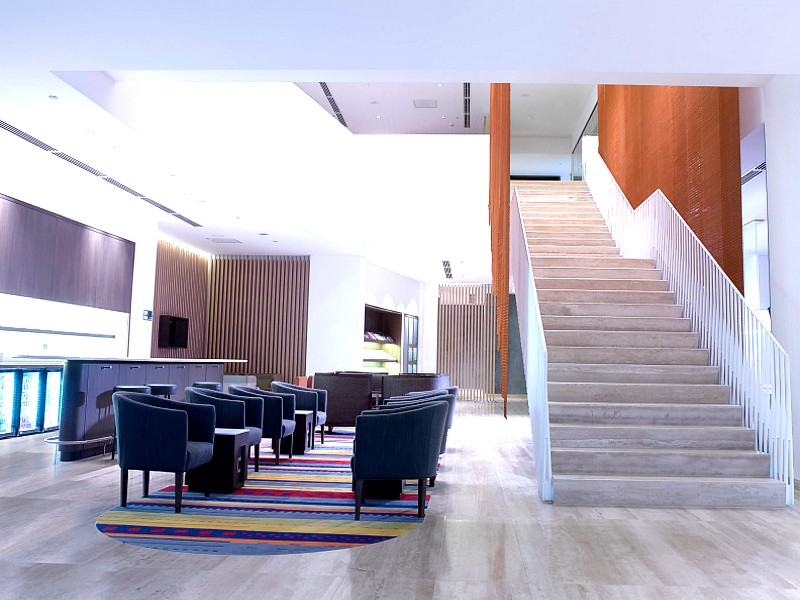 The new Santiago LATAM oneworld lounge has bright, refreshing feel, and a vast sense of space.
A new lounge for oneworld passengers has opened in Santiago.
LATAM's two-storey facility for LAN, TAM, British Airways and other eligible oneworld passengers has opened in the Chilean capital.
It is claimed to be the largest airport lounge in South America, and so it seems to be, with seats for 460 travellers, in 23,000 square feet of space (which is has half the footprint of a football pitch).
The Santiago oneworld lounge has bright, refreshing feel, and more importantly a vast sense of space, with large open areas, and lots of light.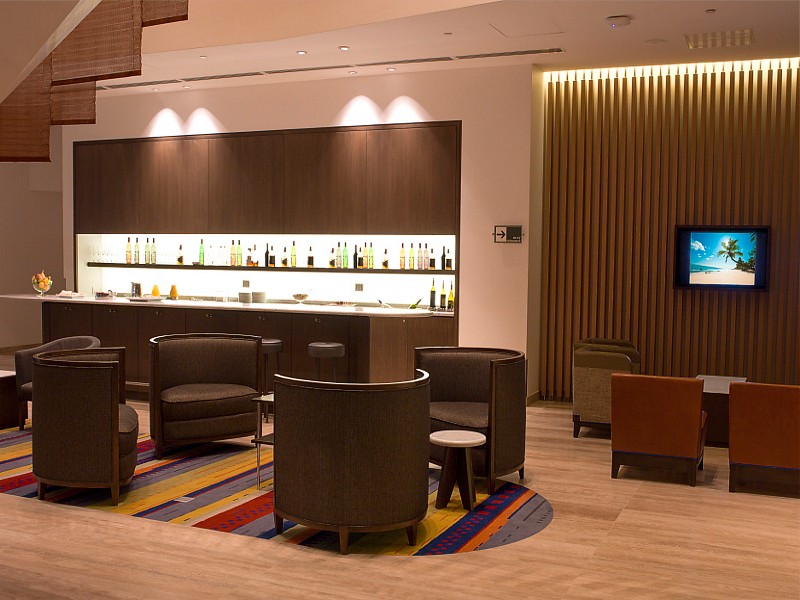 The LATAM Santiago lounge was designed by Chilean designer Mathias Klotz, architect Lillian Allen and global concept lead by Studio Putman from Paris. They used a concept of a personal living space - rather like Cathay Pacific's "Living Room" concept. It has the inevitable series of zones, which are familiar to any traveller in other oneworld lounges, including seating nooks, dining areas, large bathrooms with showers, a snooze zone with dedicated sleeping rooms, a lounging relaxation area with a balcony overlooking the terminal, a business centre and an entertainment and video game room, similar to that offered by Qatar at Doha.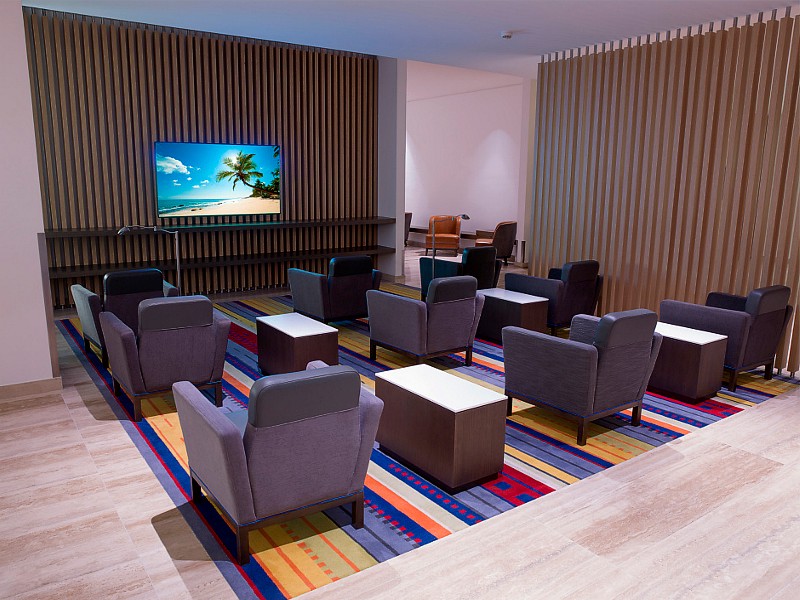 LATAM Airlines Group, combining the merged assets of LAN Airlines and TAM Airlines, created in 2012, has opened four new lounges recently - in Sao Paulo, Buenos Aires and Bogotá - but this is the largest for Latin America's largest airline group.
Featuring a wealth of stone including marble, and onyx, plus leather and copper, the LATAM Santiago lounge interior reflects the natural minerals found in Chile.
As soon as you walk in, there is a copper lined staircase connecting the two levels of the lounge together.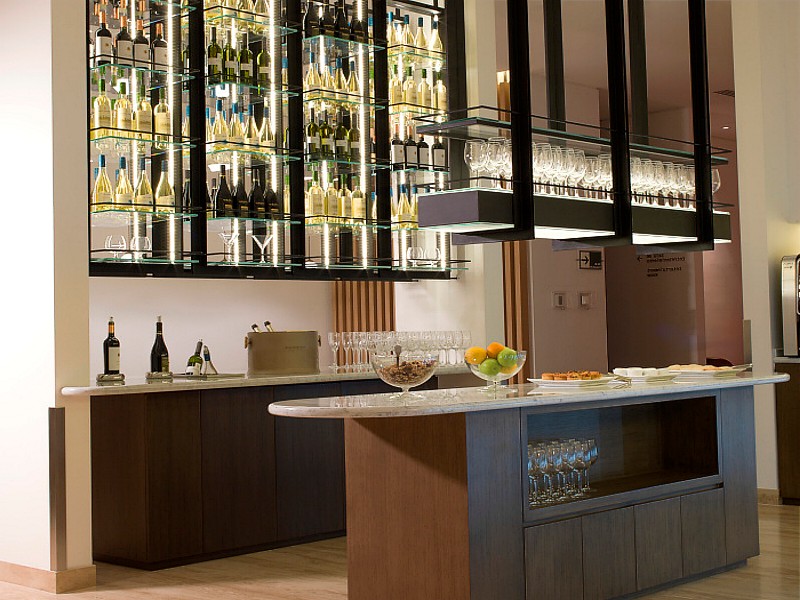 Described by the group as an airside experience, it is a bit of an assault on the eyes, with mind-boggling coloured carpet everywhere as far as the eye can see. That, combined with the red plastic curvy chairs in the children's room can leave weary travellers with a mind boggling on all cylinders.
There is however lots of comfortable seating throughout the lounge, with footstools close by many of the eats, and power sockets in the floor, underneath the metal panels, to power all your electronics.
One of the best areas in the lounge is on the top floor, where there is a rack of seats with foot stools, overlooking the apron, in a manner similar to the Qantas First Class lounge.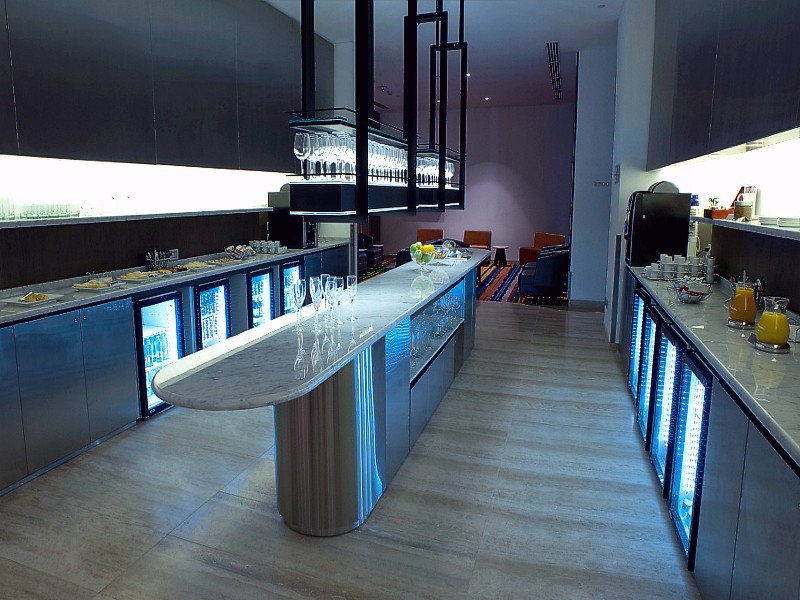 Dining is well catered for in the LATAM Santiago lounge, with a long sweeping buffet counter where there are 5 different services throughout the day.
There is also a well stocked self-service bar, complete with martini glasses, and with three white and three red wines, plus South American beer.
There is a small unmanned self-serve bar under the stairs, with a dozen or so spirits on free pour.
There is also a TV room, with nine armchairs racked up to the 50 inch TV screen.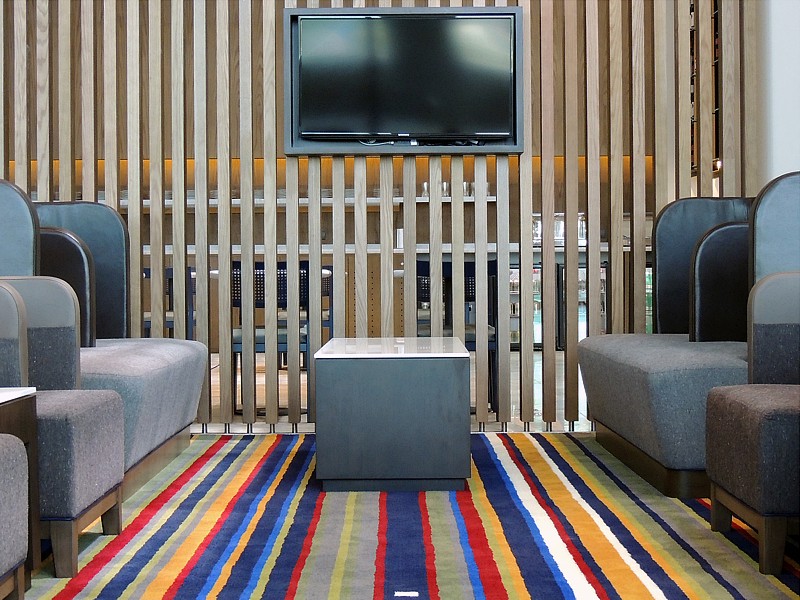 The Business Centre has two iMacs, which also run Windows, and a combined laser printer / copier. There is also a small games room, with funky red chairs, yet more of the eye popping carpet, and video game machines.
There are 10 private shower suites and a shoeshine service around the back of the lounge.
The new LATAM lounge in Santiago is open 0330 to 1230.
The LATAM Santiago lounge is available for business and first class passengers of LAN, TAM, American Airlines, Qantas, British Airways and Iberia. Oneworld Sapphire and Emerald members are also welcome, with a oneworld boarding card that day.
There is also an Admirals Club lounge in the same Santiago terminal.