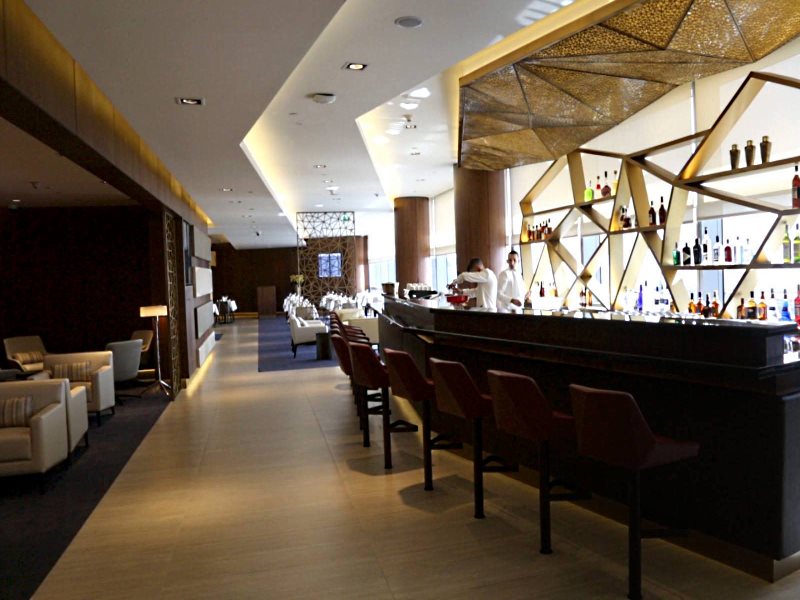 Etihad Airways has today officially opened its new flagship First Class Lounge & Spa at Abu Dhabi Terminal 3. The spectacular new space highlights the investment the airline is putting into its premium classes.
The new Etihad First Class Lounge Abu Dhabi is finally open.
The lounge is big, at 1,700 square metres, and features no less than 16 zones.
There is an a la carte restaurant, showcase bar, fitness room, cigar lounge, Six Senses Spa, Style & Shave barbers, nail bar, TV room, secluded relaxation room, prayer room and children's play room.
Etihad says the lounge is inspired by the world's most prestigious hotels, private members' clubs and fine dining establishments.
The lounge is designed as an ultra-exclusive lifestyle environment, using the principles of serenity with Etihad Airways' distinctive 'Facets of Abu Dhabi' branding. With its geometric patterns and colour palette inspired by the UAE landscape, the lounge can only be described as very 'angular'.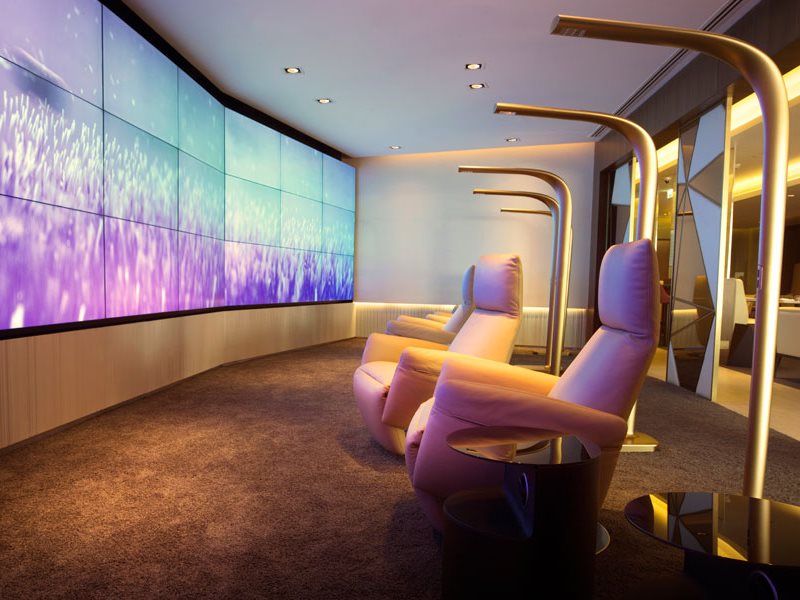 It is undoubtedly passengers travelling The Residence who enjoy the lounge the most, with a private space discreetly located adjacent to the main lounge entrance.
The secluded area boasts a dedicated Savoy-trained Butler, custom-made Poltrona Frau Italian leather armchairs and sofas, its own shower room stocked with a range of Acqua di Parma products, a prayer room, and private dining.
In the main Etihad First Class lounge, the sculptural showcase bar is the main event, and it is stocked with 75 premium spirits, champagne and aperitifs. The bar design, overlooking the runway, is a striking feature of Etihad Airways' collection of global lounges including the recently opened New York and Melbourne lounge.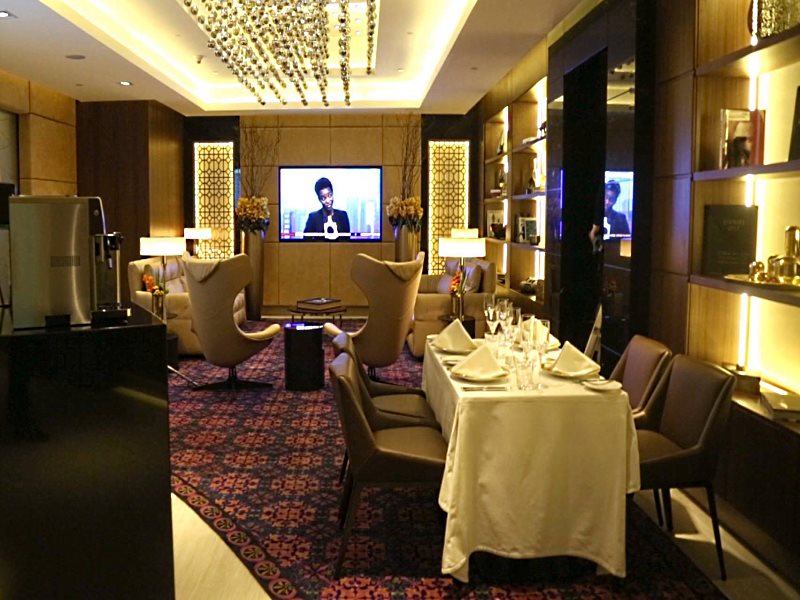 There is a bespoke cocktail menu developed in partnership with leading London-based beverage consultancy Fluid Movement.
The signature mocktail drink is the Abu Dhabi, which uses Middle-Eastern flavours such as aromatic cold brew coffee infused with cardamom and sprayed with delicate rose water and garnishes such as candy floss and dehydrated rhubarb.
The bar also offers a selection of 'modern classics', such as the Mach 10 Mojito. Negroni lovers will be delighted to see their favourite aperitif is mixed, barrelled and aged behind the bar.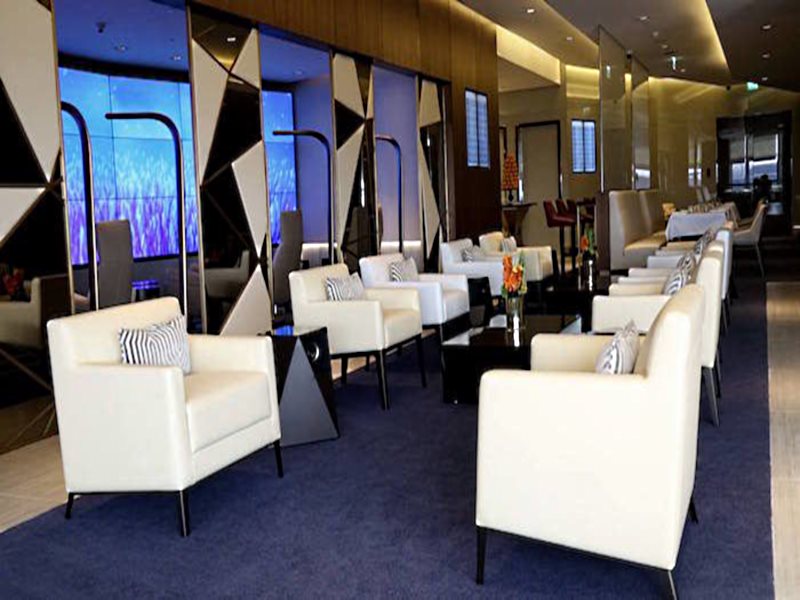 The lounge includes a general manager, concierge, matre d'hotel, Savoy-trained butlers, chefs and mixologists.
In terms of food, the menus feature a choice of Arabian, Indian and international cuisine made to order at any time of day. A casual dining and bar snack menu is also provided.
The Six Senses Spa comprises three treatment rooms with shower facilities. First Class guests can enjoy one complimentary treatment, while guests in The Residence are offered two complimentary treatments.
The Relax & Recline area features a large video wall made up of 27 individual screens, soothing sound and lighting, and is furnished with six Poltona Frau leather recliners.
There is also a fitness room - a distinct rarity in airline lounges. It is equipped with state-of-the-art Technogym treadmills and cross trainers, and male and female washrooms and showers.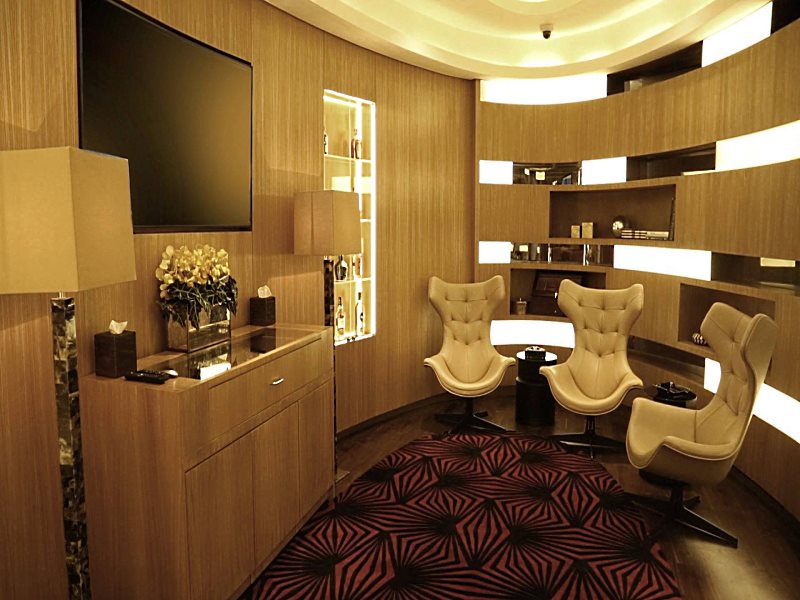 The Style & Shave area is staffed by talented barbers offering a series of hair and shave services, including one complimentary express treatment and a shoe shine service. The nail bar provides hair and nail services, including nail art, and one complimentary express treatment.
A cigar lounge stocks nine premium brands including Hoyo de Monterray, Cohiba, Bolivar, Montecristo, Arturo Fuente and Romeo Y Julieta from its own humidor - with each cigar matched with a number of whiskies and cognacs.
The new facility adds to the airline's expanding collection of 14 Premium Lounges including those recently launched in New York and Melbourne in addition to Premium Lounges in Abu Dhabi (Terminals 1 and 3), Frankfurt, London, Manchester, Dublin, Paris, Washington DC, and Sydney. A new First and Business Class Lounge at Los Angeles LAX airport will follow in the coming months.
Alas, visiting the lounge could be hard. The new facility is open 24 hours a day in the International Airport's Terminal 3, but for the exclusive use of guests of The Residence, Etihad First Class, Etihad Guest Exclusive, Etihad Guest Platinum members (plus one guest), Etihad Airways Partner (EAP) airline First Class guests, EAP 'Invitation only' members (plus two guests) and EAP equivalent Platinum members (plus one guest). Access to the Etihad First Class lounge at Abu Dhabi is not permitted for Virgin Australia's Velocity Platinum.
Etihad have created a new webpage to promote the lounge.